Remember a few months ago when I said Malaysian food was highly underrated? Well, I think I just found a type of food that is even more underrated (and possibly even more delicious)– Filipino food.
Filipino cuisine is the result of island life mixed with the country's rich history of once being colonized. You'll find Spanish, American and Chinese influences blending seamlessly together, with an assortment of fresh seafoods, tropical fruits and almost every meat imaginable.
There were a few dishes in particular I knew I needed to try while there, but knowing the names of different dishes is only half the battle. The real challenge, as my friend Agness quickly found out, is finding true Filipino food.
Yes, that's right, finding Filipino food in the Philippines can be quite difficult– especially if you're on a backpacker budget. You see, what most people don't realize is that most Filipinos rarely eat out. Therefore, all the foods people will typically be looking to try, will only be found in a Filipino family's home kitchen.
So unless you know a local or are willing to shell out a lot of cash at fancier establishments, it can be a challenge.
Luckily, we did have the help of a few locals who showed us some of the best of Filipino cuisine– dishes that we have since been craving upon our departure. So today I wanted to share 10 of our favorite Filipino dishes.
BIBINGKA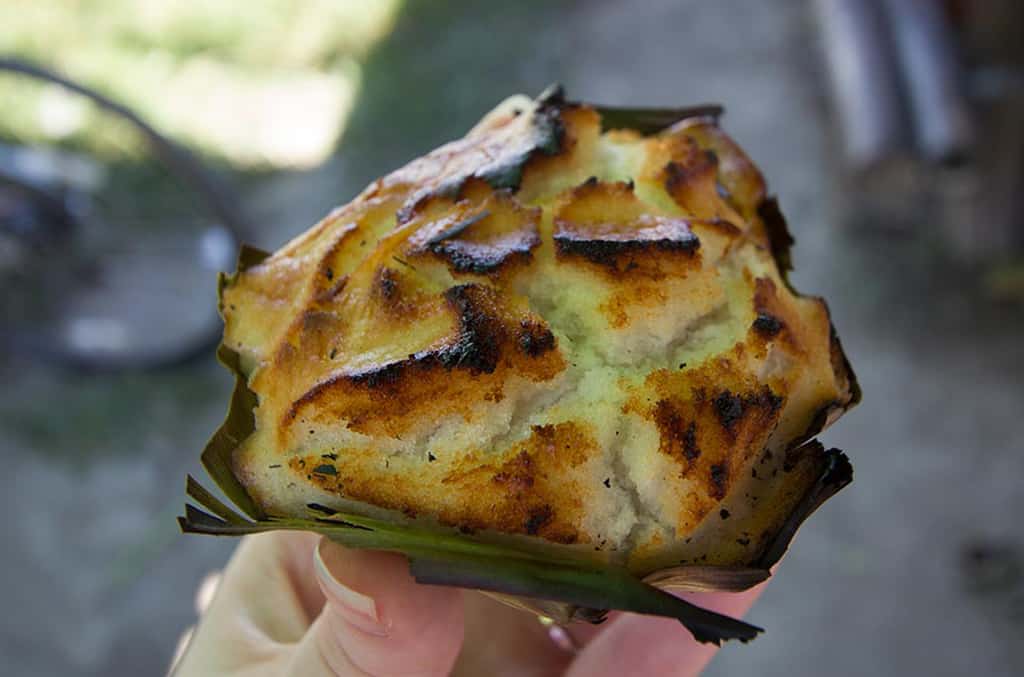 These painstakingly prepared snacks were the first things we tried in the Philippines, and they set our expectations pretty high. The batter is made from rice that has been ground by a mortar and pestle, mixed with coconut milk and sugar.
The mixture is poured into small terra cotta pots lined with a single banana leaf, and then it is covered in coal to cook. The cooking takes well over an hour, but the result, and scent, is phenomenal. This was unlike any sort of rice cake we've tried anywhere in Asia, and it had the consistency of literally cake.
It was fluffy, slightly charred, sweet, and had the slight aroma of bananas. These are apparently enjoyed especially at Christmas, but I'd gladly eat them all year round.
HUMBA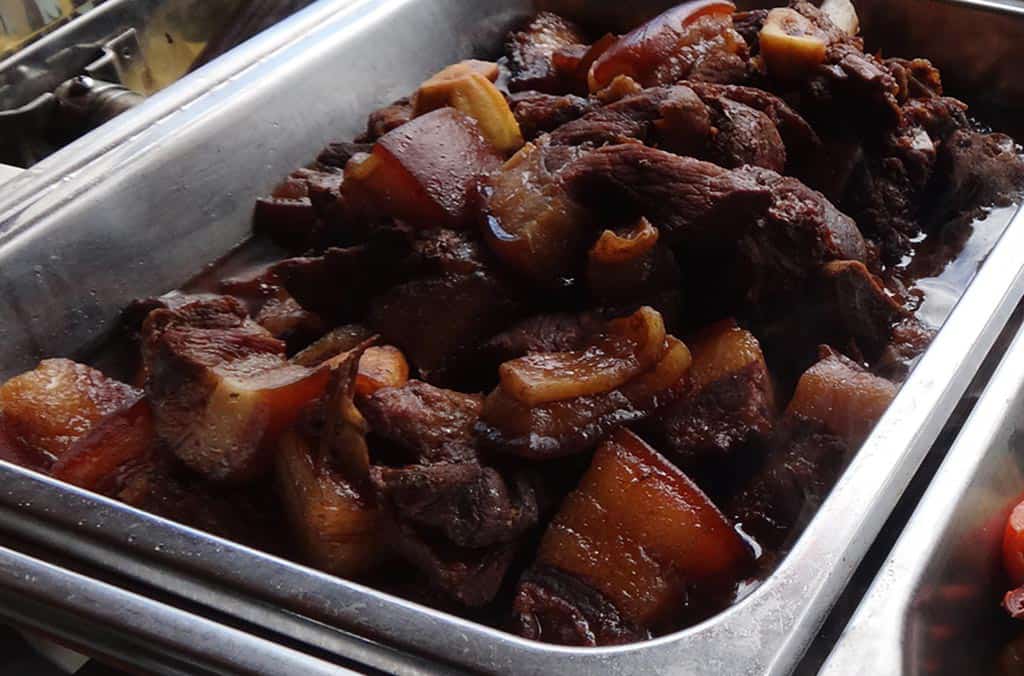 Humba is a dish where Chinese influence really shines through. Found mainly in the Visayan region, it is a favorite of most locals and is seen as a type of comfort food.
Humba is delicious, moist pork belly made in a particular way so that additional preservatives aren't needed. The pork belly is marinated with different peppers and brown sugar, as well as vinegar, which is what causes the meat to last several days without spoiling. In the traditional recipes, the meat swims in its own oil while being served.
Not typically being a fan of overly fatty meats, I almost passed on my opportunity to try humba, and I'm so glad I didn't. This is probably one of the dishes I crave most– and one of the harder ones to find outside the Philippines.
SINIGANG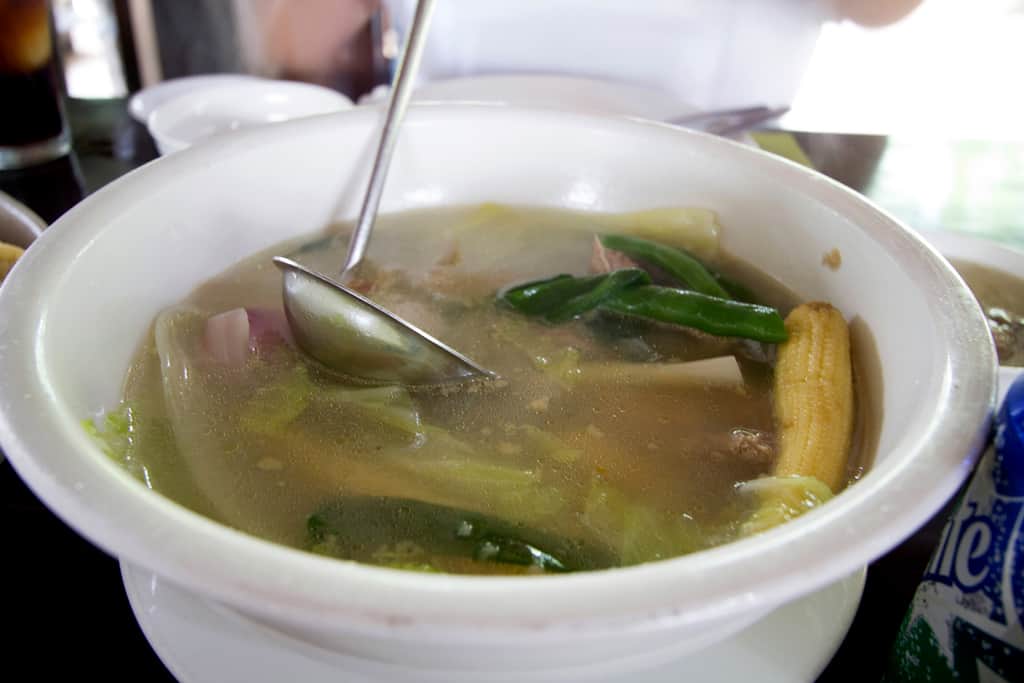 Sinigang is a clear soup made from various sour fruits that are native to the Philippines, like tamarind or calamansi, amongst others. The fruits used depend on the season, region or simply the chef's personal preference.
There are various meats that can be used in sinigang, including seafoods.
Something about this soup's mix of savory-salty-sour was quite addicting and I found myself consuming multiple bowls!
PANCIT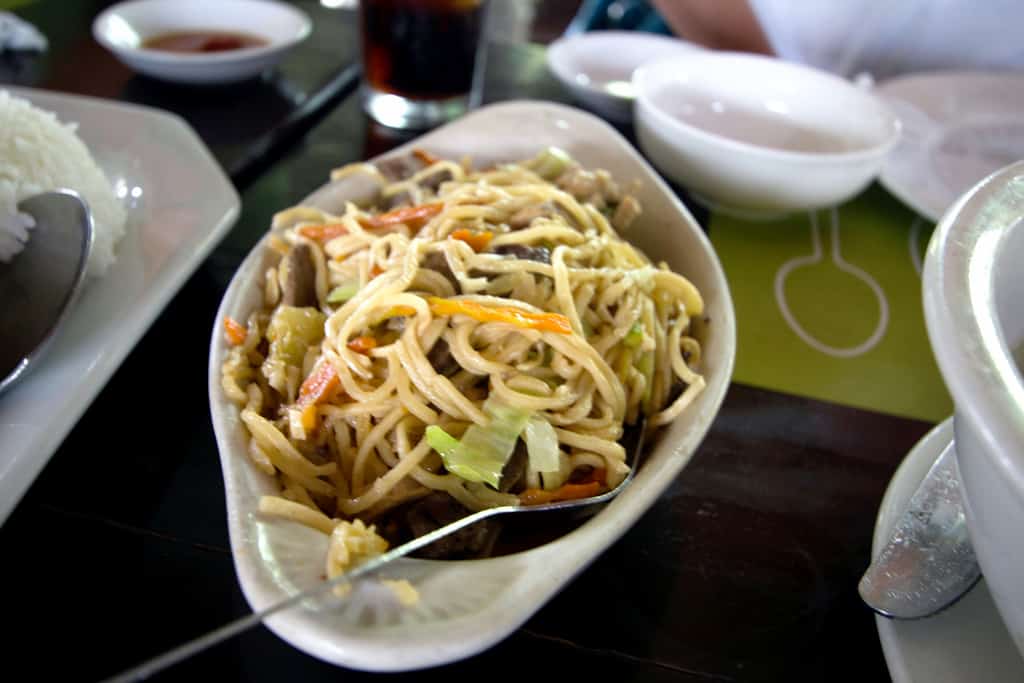 Another dish with heavy Chinese influence is pancit. Noodles were introduced to the Philippines from China, and pancit is probably the Philippine's most famous noodle dish.
Made from a variety of ingredients including pork, chicken, shrimp, onions to even more obscure things like pork rinds or squid, these noodles are a favorite of Filipinos across the country.
Due to the ease of consumption and mass production, they are considered another comfort food and are guaranteed to be served at most Filipino parties and gatherings.
LECHON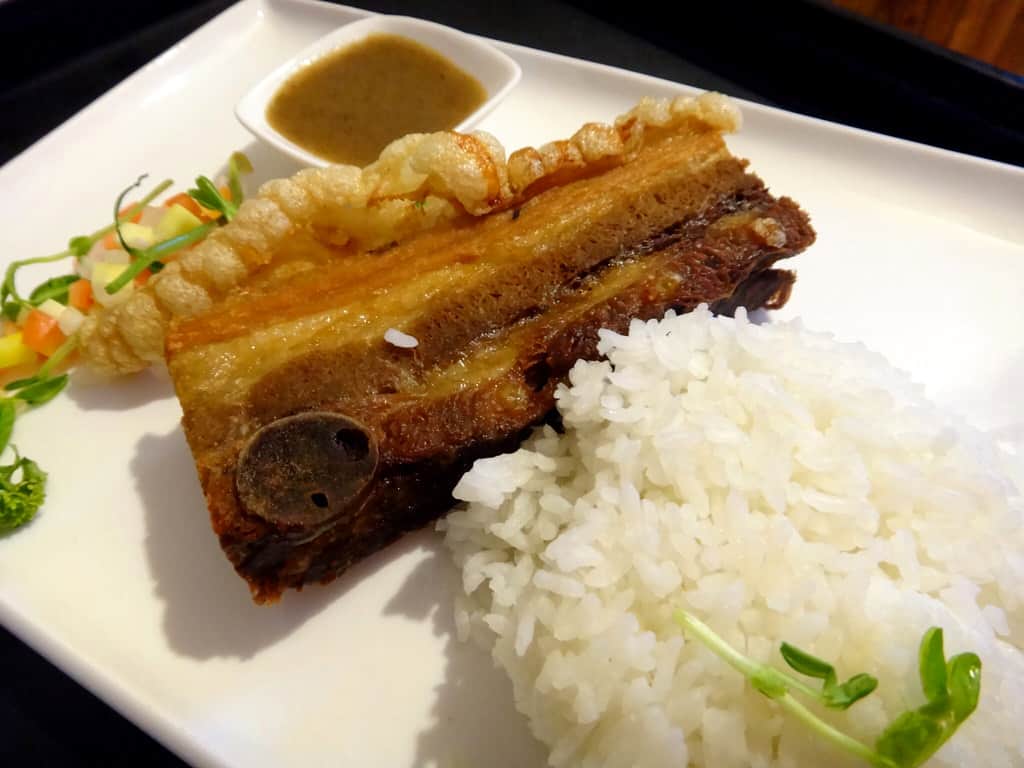 Lechon is Spain's delicious gift to Filipinos, which is now considered the national dish of the Philippines. Made from an entire pig that has been spit-roasted over coals for hours, it's not a party until the lechon arrives.
The moist inside meat mixed with the crispy browned skin is served with a liver sauce (in case you need more meat) that is to die for.
ADOBO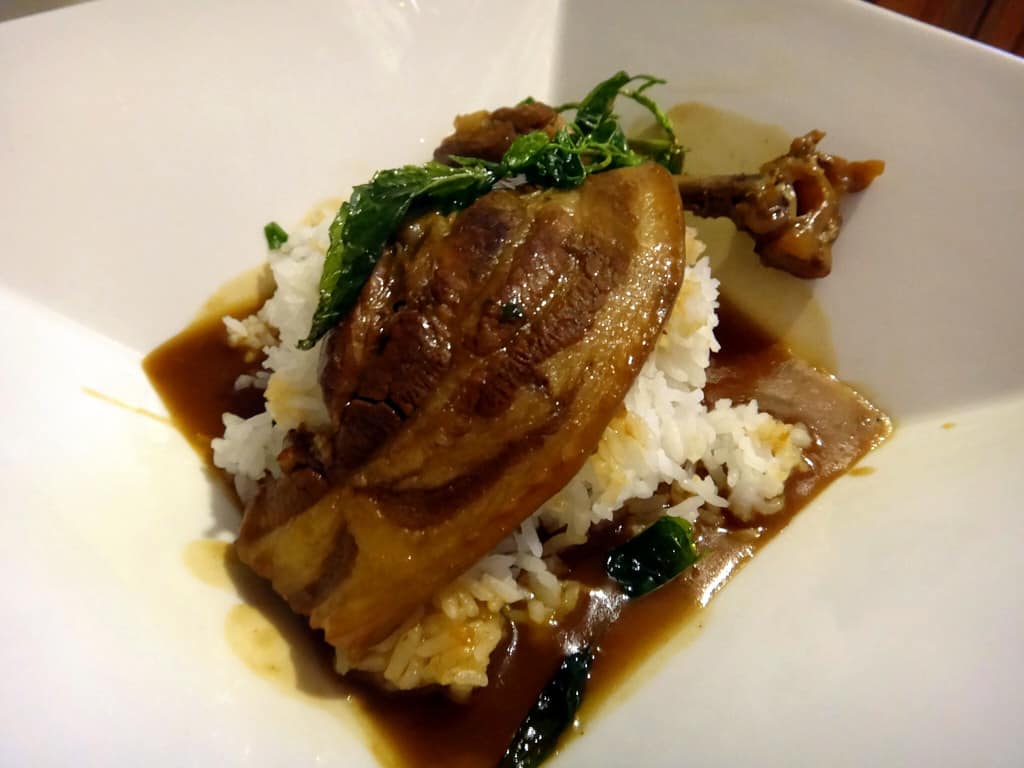 If I had to name one staple food of the Philippines, it would have to be adobo.
Although it's Mexican in origin, Filipinos adapted adobo for their own purposes of using it to preserve meat without refrigeration. You can find a wide variety of adobo from chicken to pork to seafood.
Made from a combination of vinegar, soy sauce and peppers, I can't think of one reason not to love this dish.
RELLENONG ALIMANGO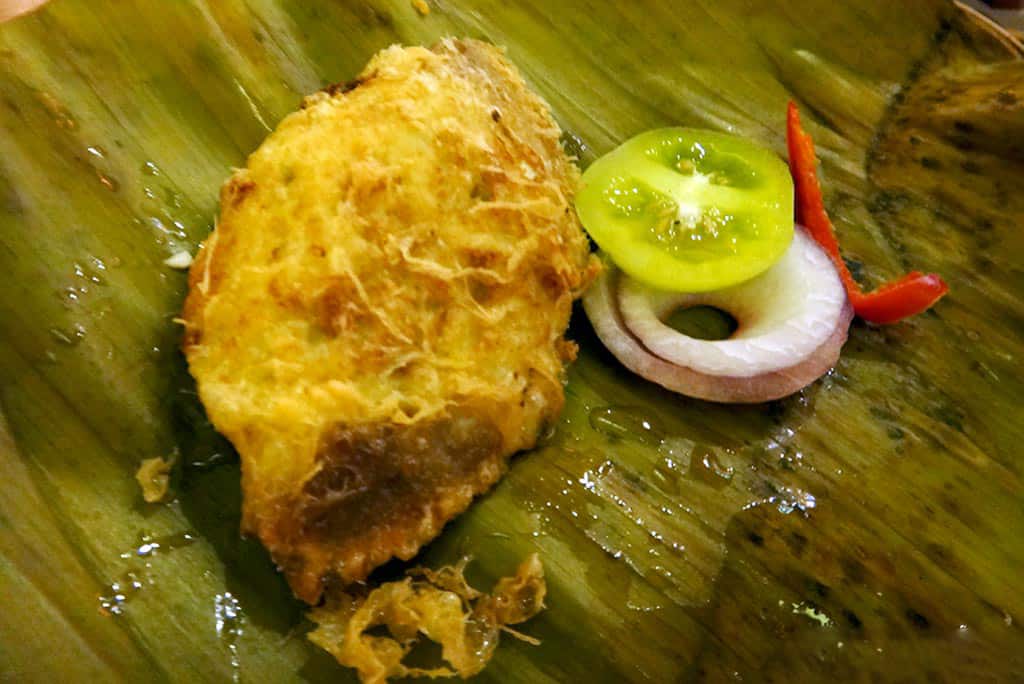 A lot of Filipino dishes are not just tasty, but they're creative as well, and rellenong alimango is a great example of this.
To prepare the dish, crabs are cooked and carefully peeled to reveal the meat. It is then sautéed with herbs, tomatoes and onions before being stuffed back into the empty crab shell.
Then, the whole shell is deep fried in thin, crunchy batter.
CHICKEN INASAL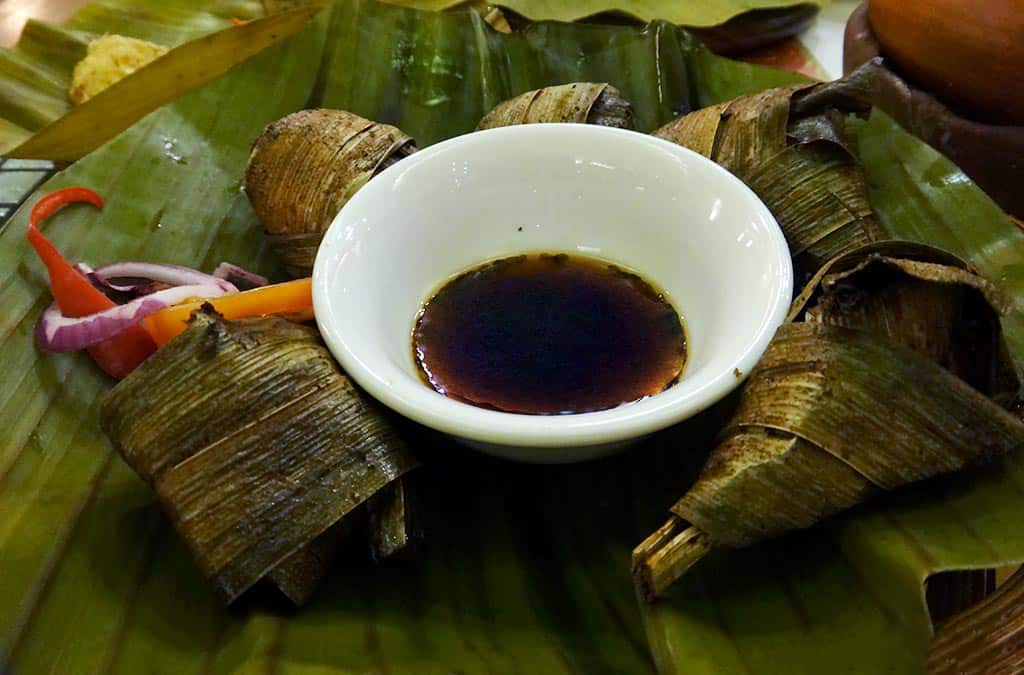 Chicken inasal is grilled chicken at its finest. Made using every part of the chicken– including the gizzard, liver and heart, the meat is marinated in lemongrass, calamansi, garlic and peppers.
Where we ordered it, it actually came wrapped in pandan leaves, which gave it a nice smell, but normally we saw it just skewered.
SUTUKIL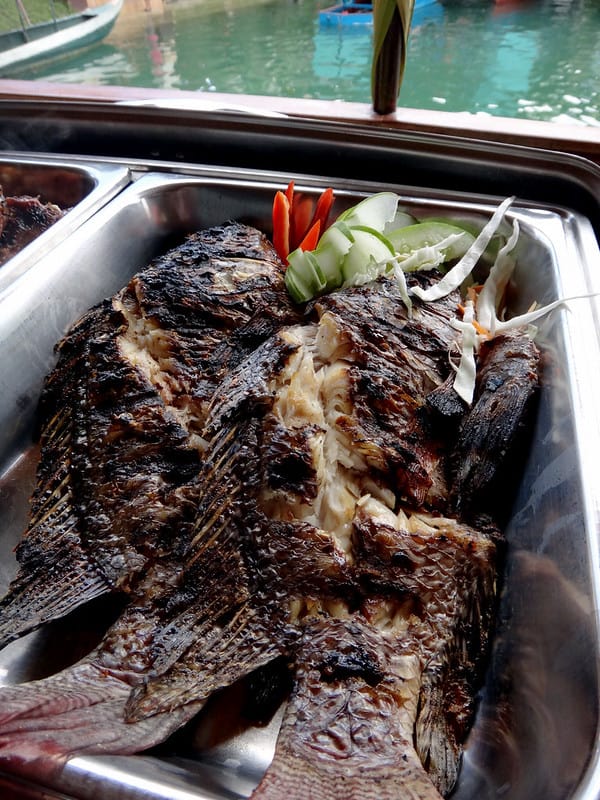 A specialty of Cebu and Mactan Island in particular, sutukil is where customers can choose their own fresh seafood and then decide how they want it prepared by the chef.
The word "sutukil" actually stands for the three main methods of cooking done in the Visayas region, which are "sugba" (to grill), "tula" (to stew), and "kilawin" (soaking in vinegar to eat either semi-cooked or raw).
Fresh seafood cooked how you like? You can't go wrong.
THE SNACKS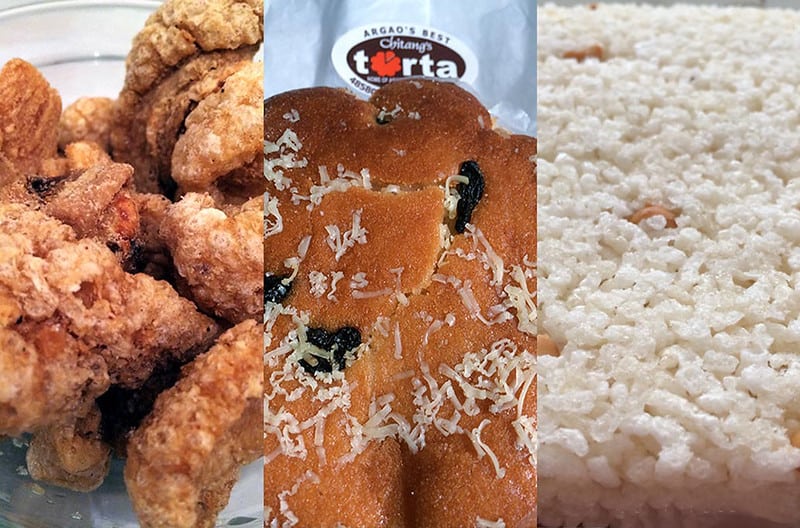 I probably could have written a whole separate article on snacks in the Philippines, but I decided I'd just include it here because we actually made meals out of them. We tried many snacks that were famous in the region we were visiting. All of them came from street stalls carefully chosen by our local guide, but three of them in particular really stood out to us.
Chicharon baboy (pork rinds), torta (a giant cupcake of sorts made from butter, sugar and coconut wine) and ampao (like a rice krispie treat, only instead of marshmallows holding the bits together it's lemon juice and peanuts. While not particularly healthy, we quite enjoyed them nonetheless.
HAVE YOU SAMPLED FILIPINO CUISINE BEFORE? WHAT DISHES WOULD YOU LIKE TO TRY?
A huge thank you to the Philippines Department of Tourism and Bluewater Maribago Beach Resort for hosting our stay in this wonderful country. As well as our amazing guide Mary Grace who introduced us to many of the amazing dishes listed above. As always, all opinions and love of food are entirely our own.