Every Friday I'll be sharing a photo from someplace in my travels.
This week's photo is of towering towers of buns in Hong Kong.
It's that time of year again, when the people of Cheung Chau–a small island fishing village in Hong Kong, are busy preparing paper-mache deities, sewing beautiful costumes, baking "lucky" buns, and sticking them together to create sky-high bun towers.
The Cheung Chau Bun Festival is a very unique event to say the least, and it's one of my favorites. Lasting over a weekend, there are all sorts of colorful parades and events located around the island.
The highlight event though is the Bun Scramble Competition. Towering towers of bamboo that reach over 60 feet tall are covered in over 9,000 buns. Now, because of the amount of buns, they actually use plastic replicas to try to cut down on food waste, but I can assure you, this doesn't make this event any less crazy.
At midnight, climbers scramble up these bun towers, trying to gather are many buns as possible. Of course the higher up on the tower the more points the buns are worth.
It's quite an intense event to witness, but you don't really get a true feel for the madness that is the Bun Festival until you're standing underneath one of the towers.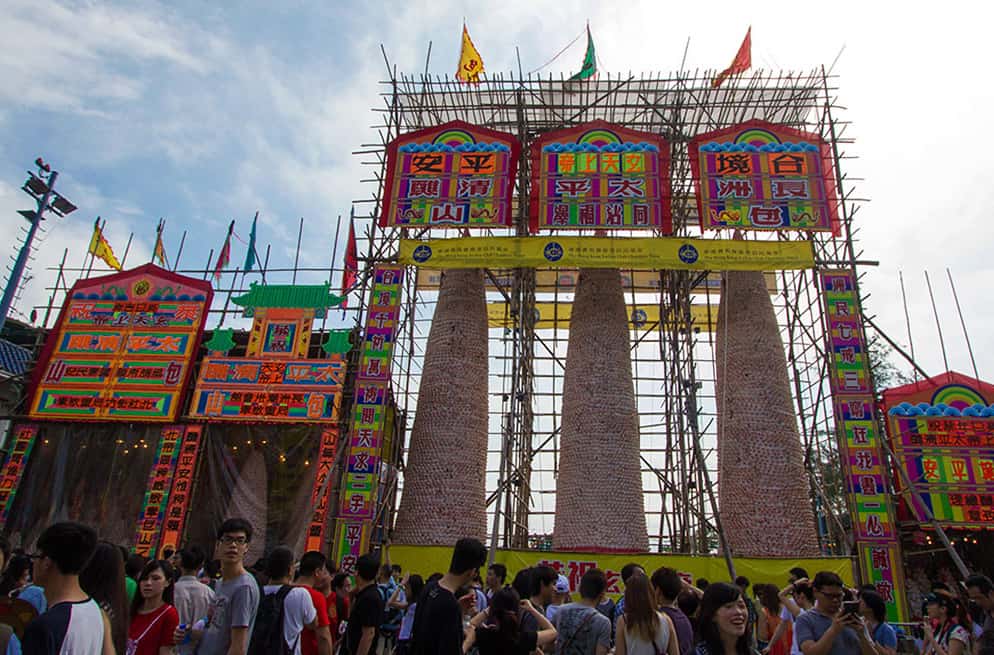 IF YOU ENJOYED THIS PHOTO, PLEASE SHARE IT!