While we usually stick to more budget-friendly hostels, one resort in particular kept sticking out as we researched hotels for our upcoming trip to the Philippines– Bluewater Maribago Beach Resort.
Not because it had gorgeous beaches or a great design, although it did have those too, but because the resort prided itself on showcasing the best of Filipino culture.
With my ingrained appreciation and background in Asian culture, I knew I needed to experience this resort.
Their slogan "Very Filipino" perfectly describes our experiences there.
We were welcomed into the resort and checked in with an outpouring of yes ma'ams and okay sirs. I was a bit taken aback by just how friendly and polite the staff was. I've been to plenty of hotels where they are, of course, friendly at check in, only to become a bit more cold and distant during the remainder of the stay, but that wasn't the case here. The staff at Bluewater Maribago were constantly laughing and smiling, checking in with how our day was going, and of course, following up every sentence with a sir or ma'am.
The general atmosphere of the resort was very warm and welcoming. We instantly felt as though this was a place we could relax at.
And then we were taken to our room.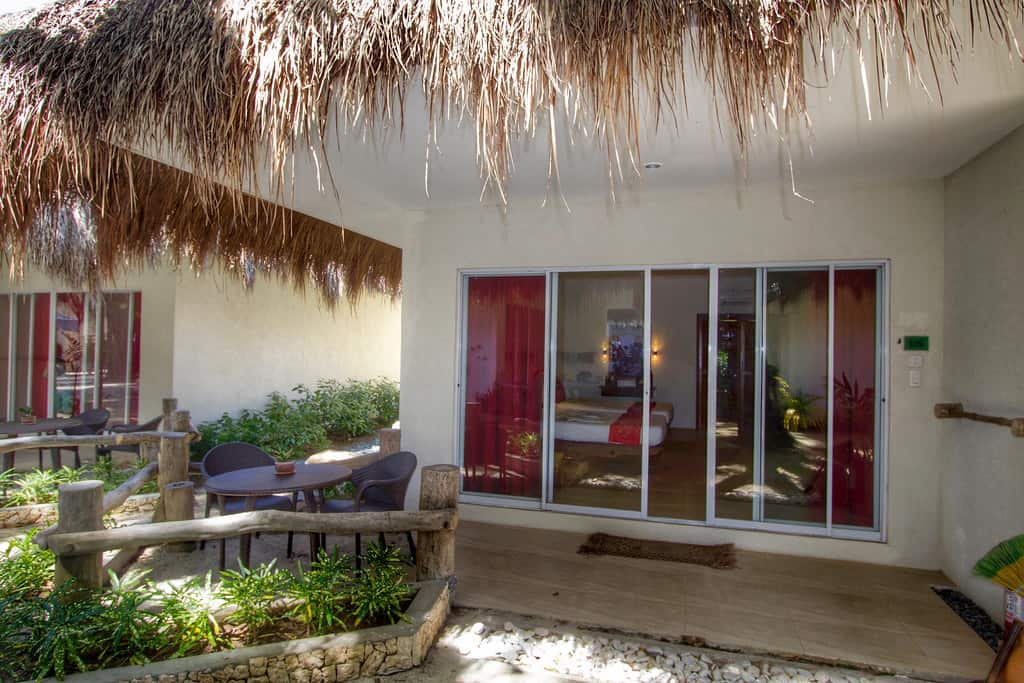 Each room has an outside porch with a large glass sliding door as the main entrance. At first I almost thought we were at the backdoor to our room!
It was certainly a unique feature, but I enjoyed keeping the door open (it did have a screen for bugs) flooding our room with natural light during the day and letting the fresh air in at night.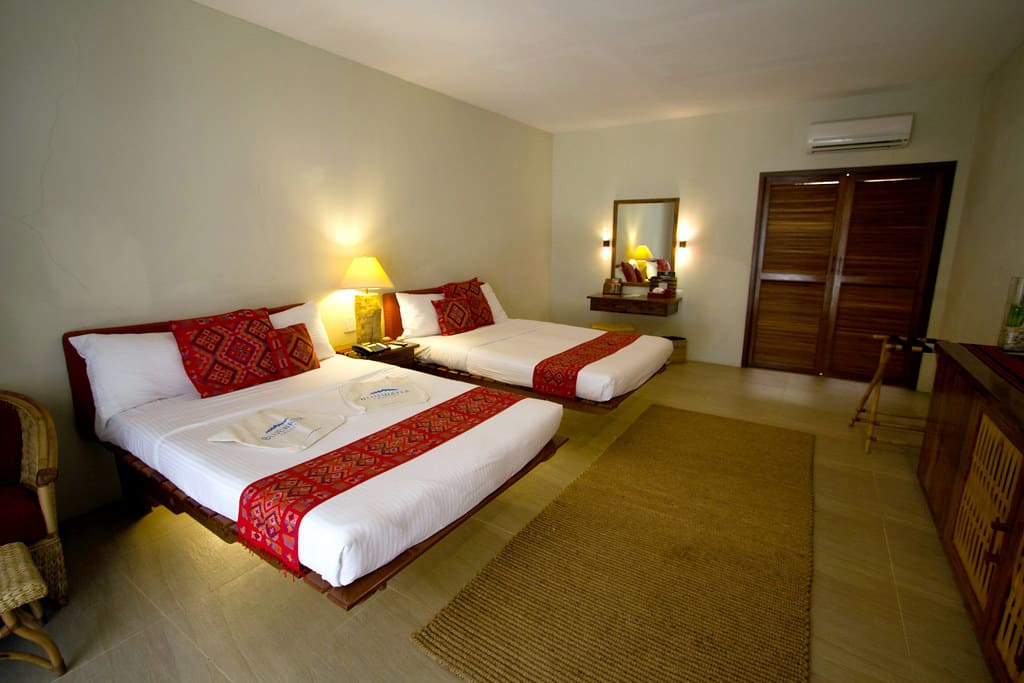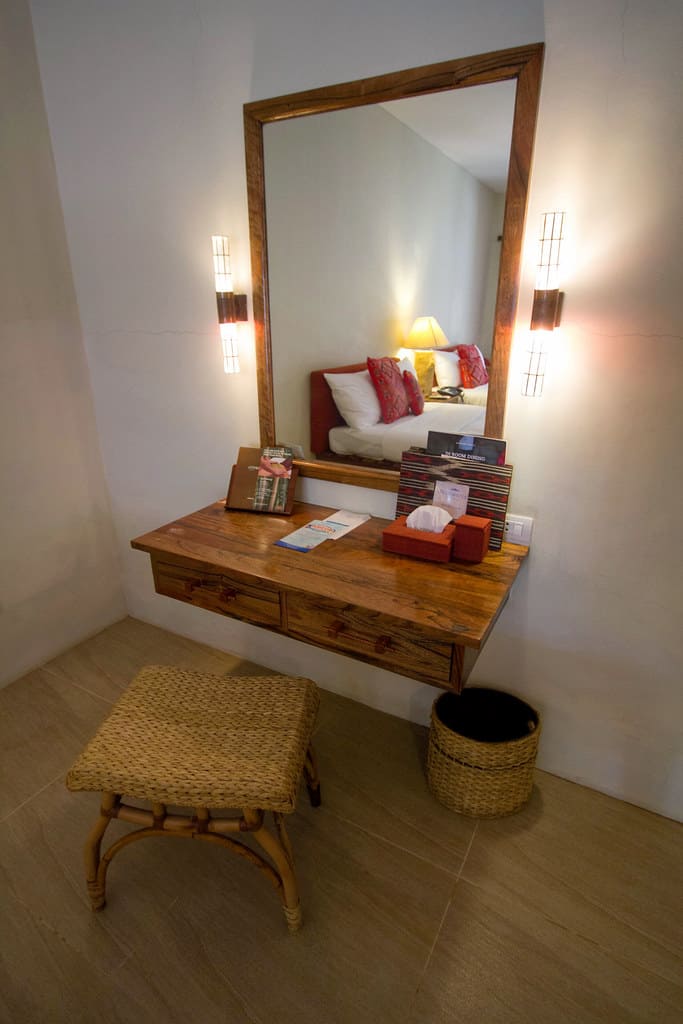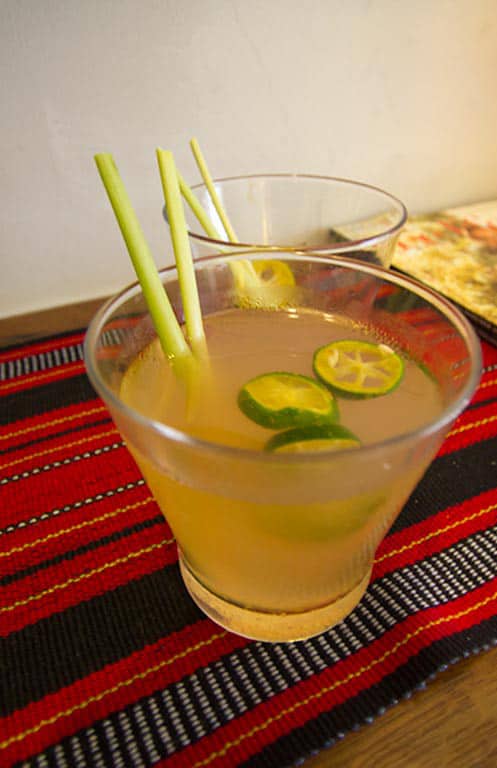 I was shocked at how spacious our room was. We stayed in a Premier Deluxe, which was one of their cheaper room categories, but you'd have never guessed that from looking at it.
It took a lot to stop myself from instantly collapsing onto one of the two queen-sized floating beds, at least not before taking photos, since they looked so inviting.
We sipped our refreshing welcome drink of lemon grass and calamansi, a Maribago speciality, while examining our room.
As we pushed open the doors to the bathroom, I was again amazed at the size.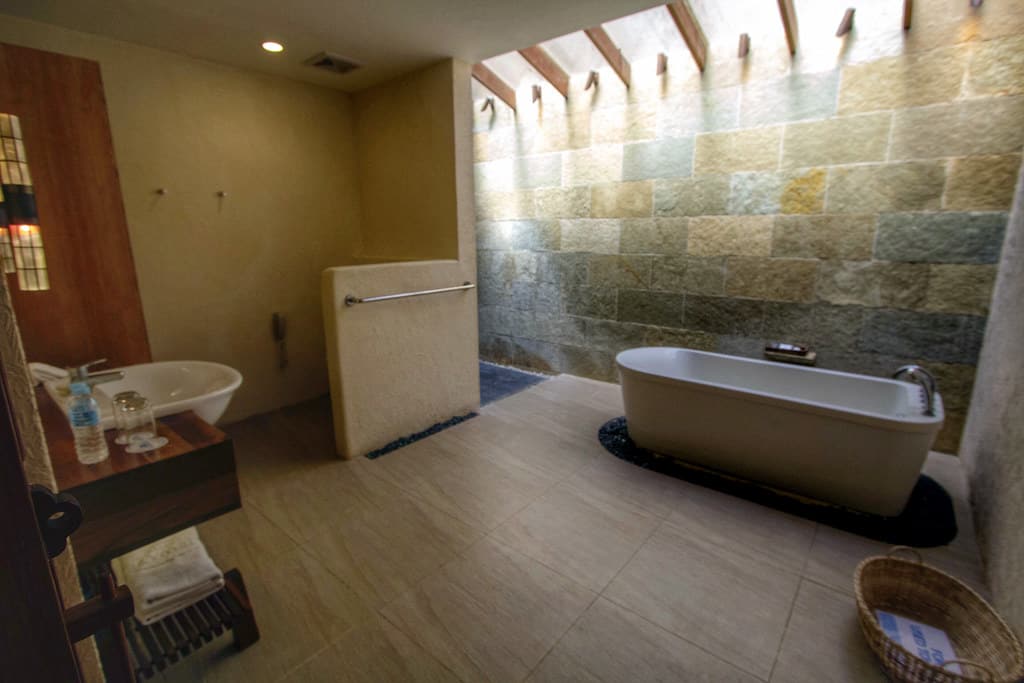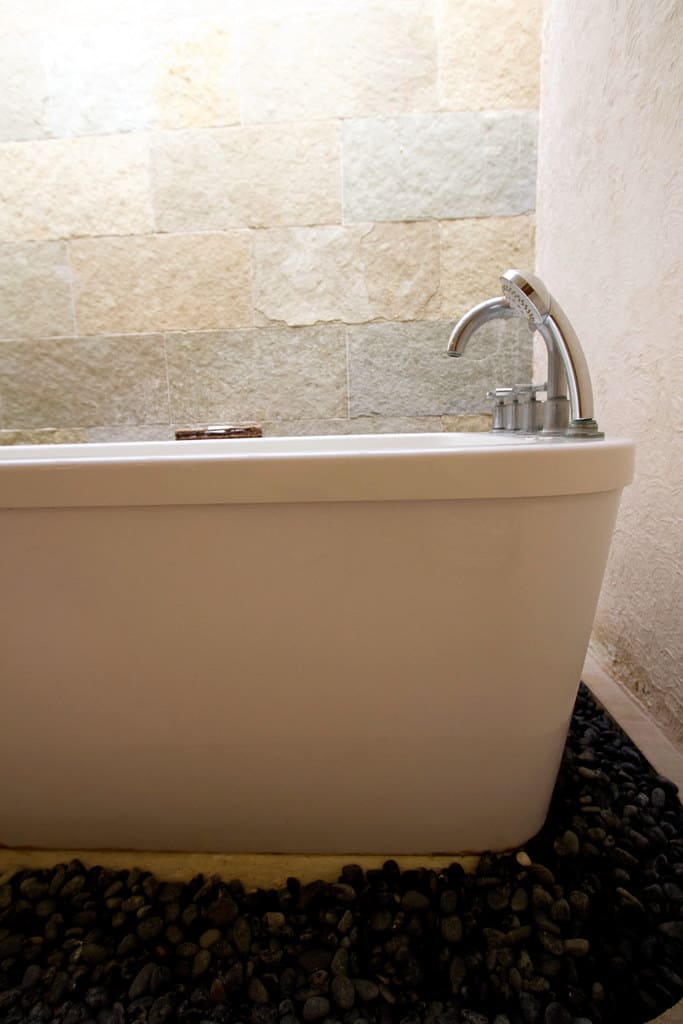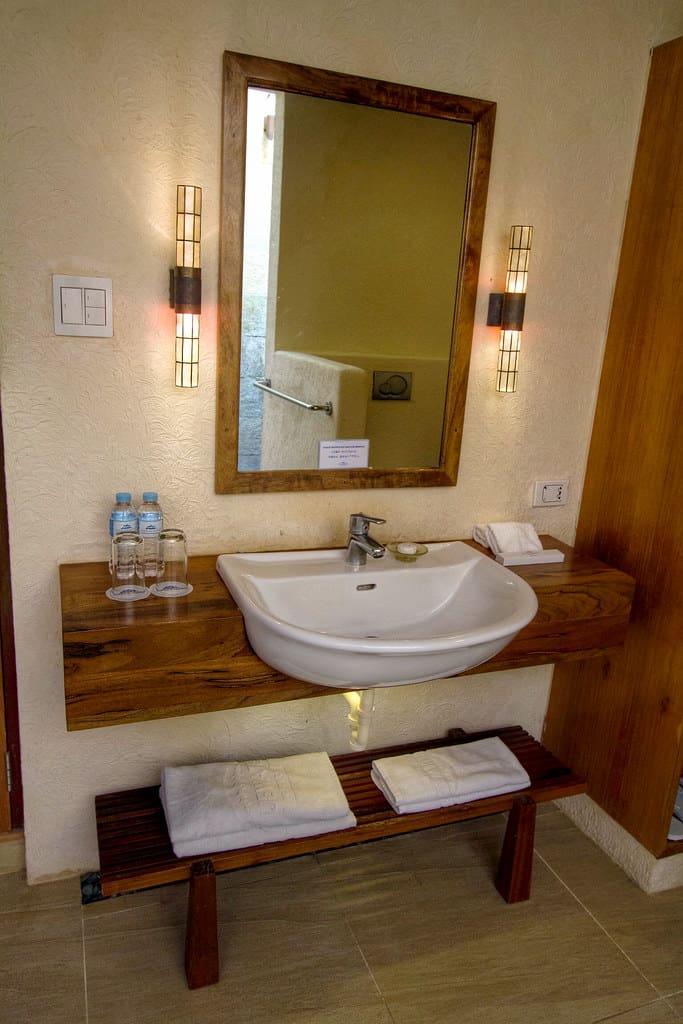 The bathroom was almost as large as the other part of our room. Reminiscent of our stay at Kurumba, I had fallen in love with another bathroom design. There's something about an open-air bathroom that I can't get enough, and while this wasn't exactly open-air, this skylit bathroom was, by far, one of my favorite features of the entire room, along with the giant free-standing bathtub with separate shower.
With such a busy schedule exploring downtown Cebu City and ferrying out to Bohol for a day, we sadly didn't get as much time at the resort as we had hoped for, although we did spend a fair amount of time just walking around to enjoy the beauty of the property.
The reception, the recreation center, the dining– everything was open-air, which, as I said before, I love. The manicured walkways with small ponds and gardens had an intrinsically Asian feel to it. One of the ponds even had sharks residing inside, and every day at 4pm people would gather to watch them being fed.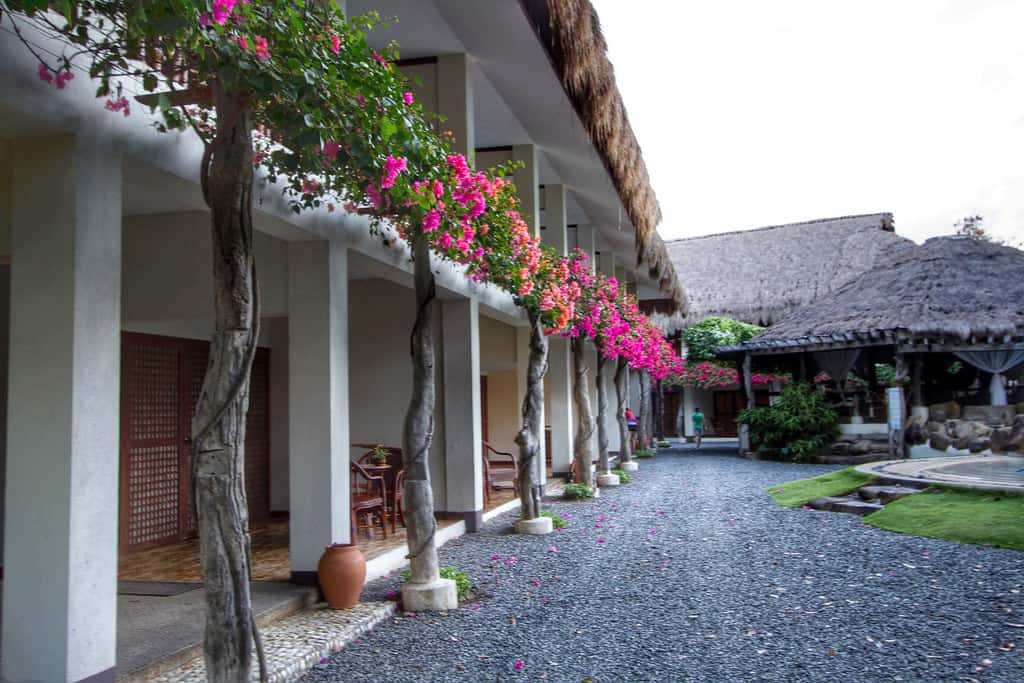 Then there was the beach.
The beach was one of the first things we visited, as it was only a mere few steps away from our room. Dipping our toes into the water it felt warm and was much clearer than I thought it would be.
A bit further out there is a small island that is owned by the resort. During low tide it is easy to walk out to the island, but otherwise you'll need a boat to get there. Of course an assortment of paddle boats and kayaks are available on a complimentary basis.
We really wanted to make it out to the island, but unfortunately never got to. Although even from the shore we still saw an array of little fish, crabs, and that giant starfish.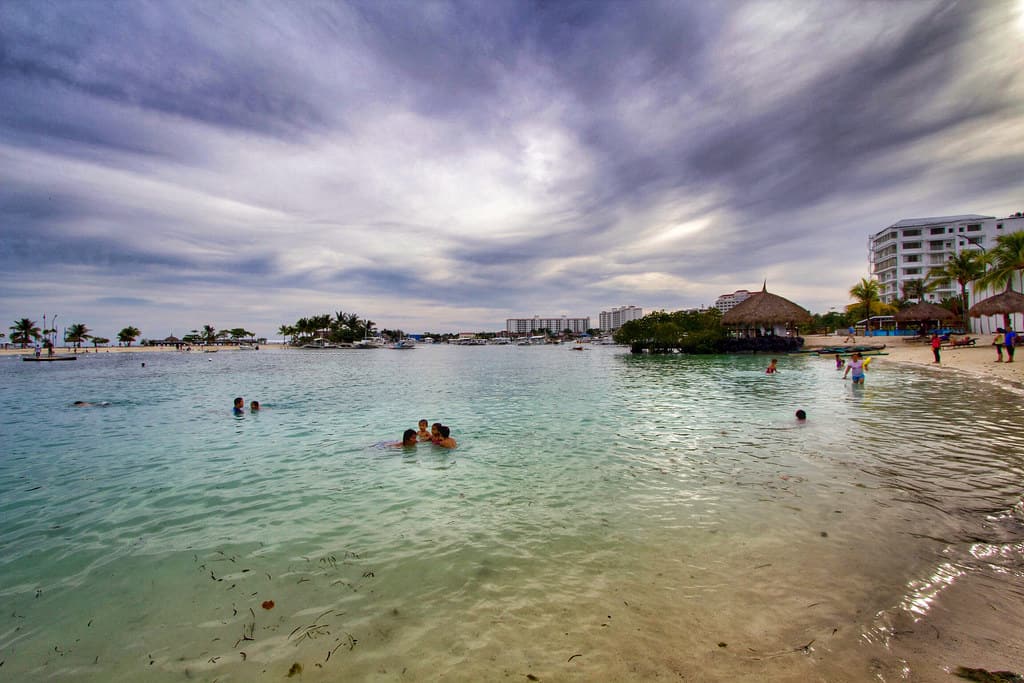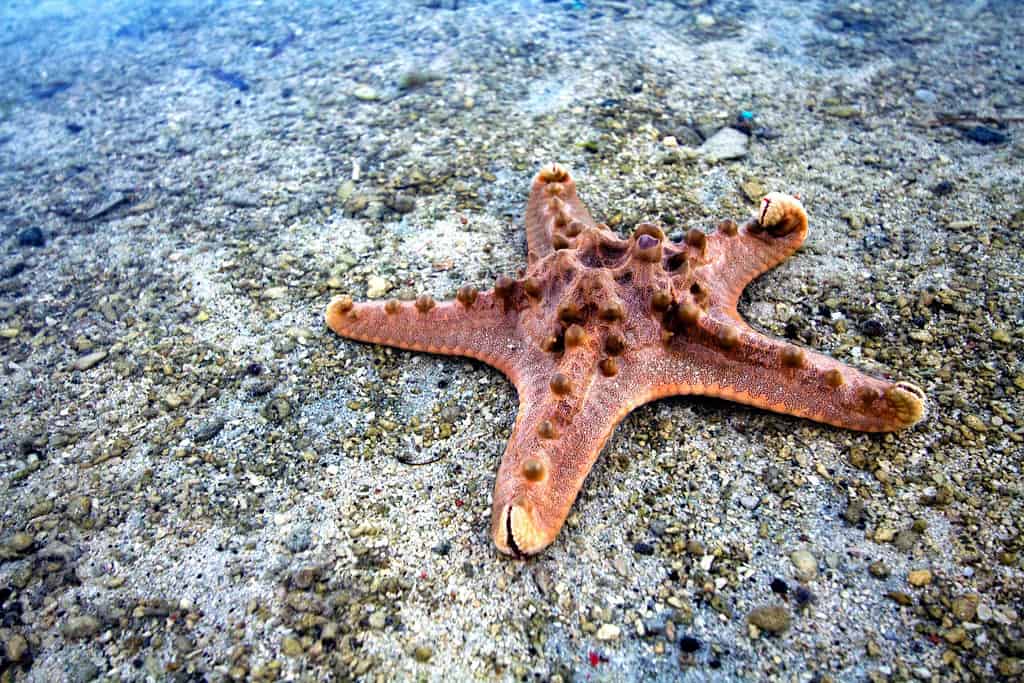 Each night they would set up a special dining area right along the beach. Surrounded by lanterns and a beautiful sunset in the distance, it looked incredibly romantic.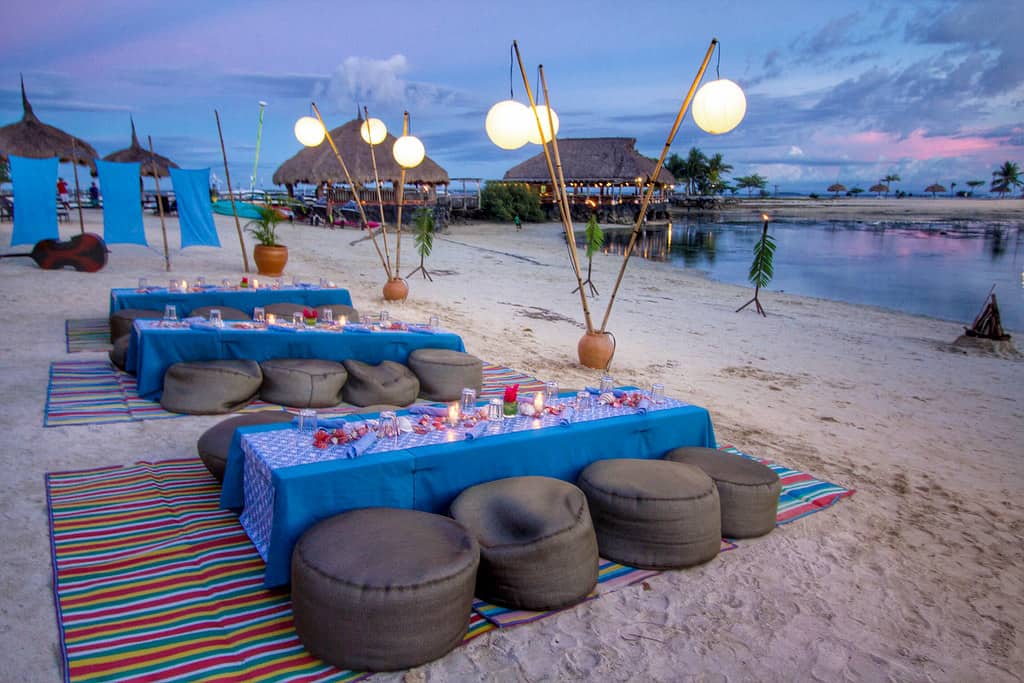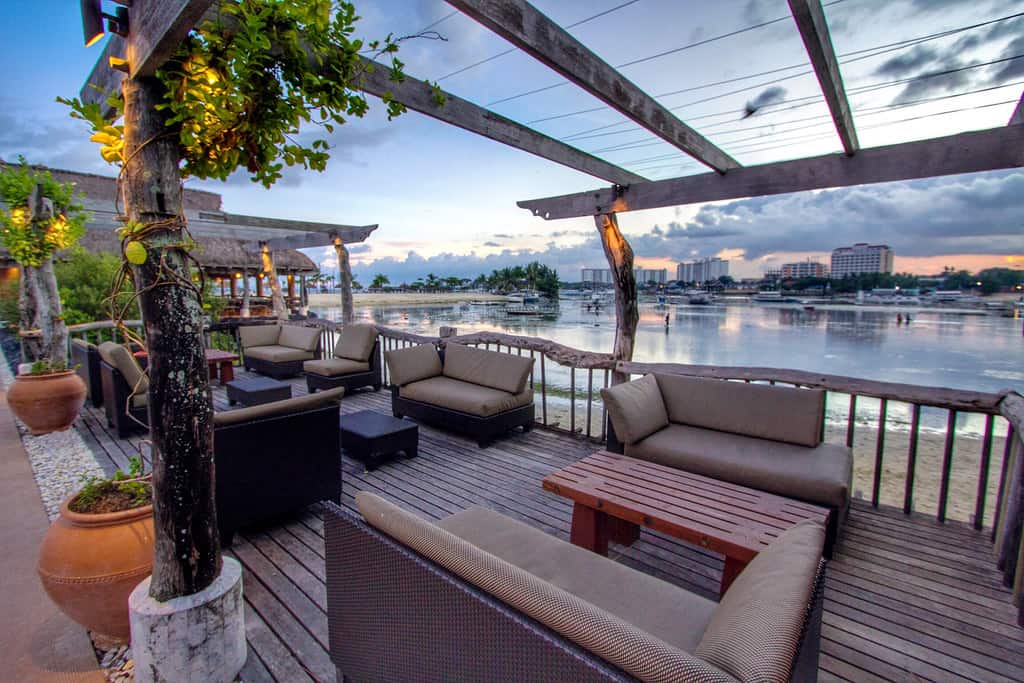 While we didn't get to try such romantic dining, we did get to try Allegro, Maribago's main restaurant. Allegro is open 24-hours a day, and it's where we got to experience all of our breakfasts, lunches, and dinners.
I thoroughly enjoyed their large assortment of foods for breakfast and loaded my plate with both Western and Asian food choices.
Dinner each night followed a different theme, and the food was set to match. I was especially fond of all the fresh fruits and delicious local delicacies like their adobo and lechon.
The entertainment also changed each night and involved anything from traditional Filipino dance to exhilarating fire dancers.
We even ordered room service one night when Johnny wasn't up to going out, and we were surprised at how affordable all the a la carte options were. Not to mention, delicious!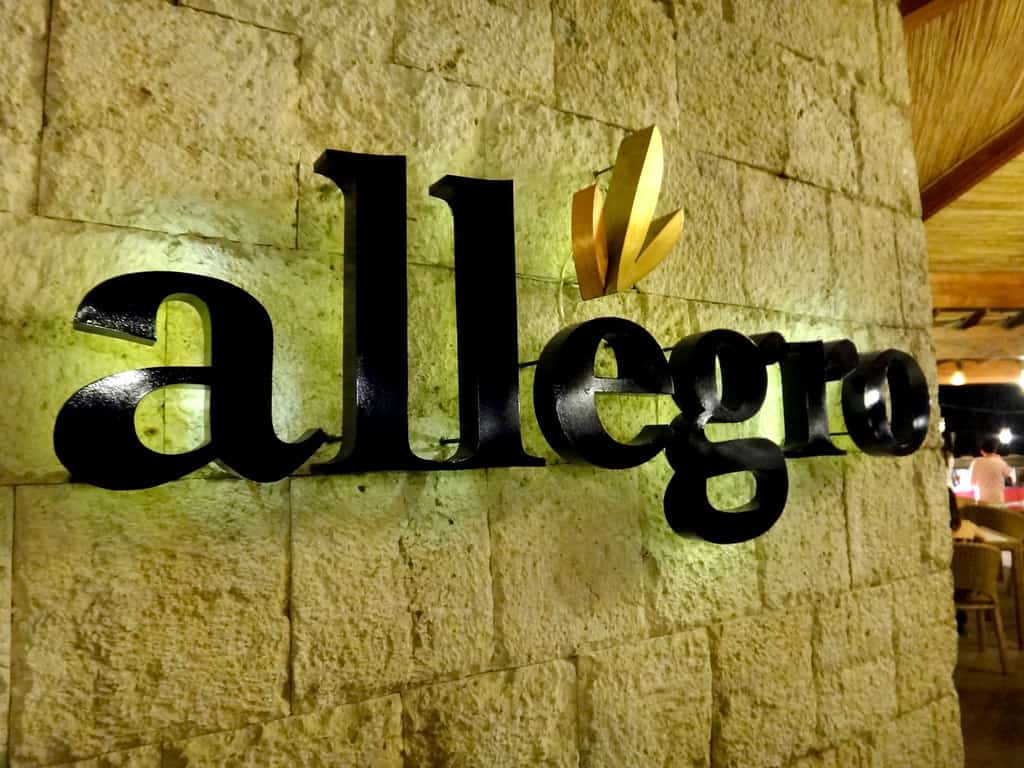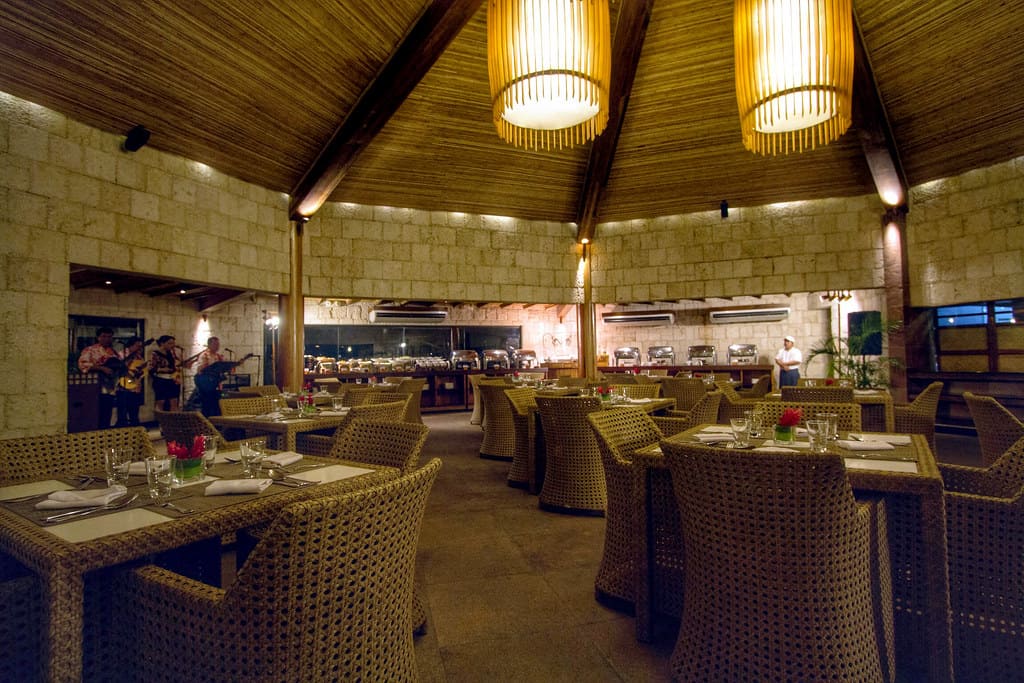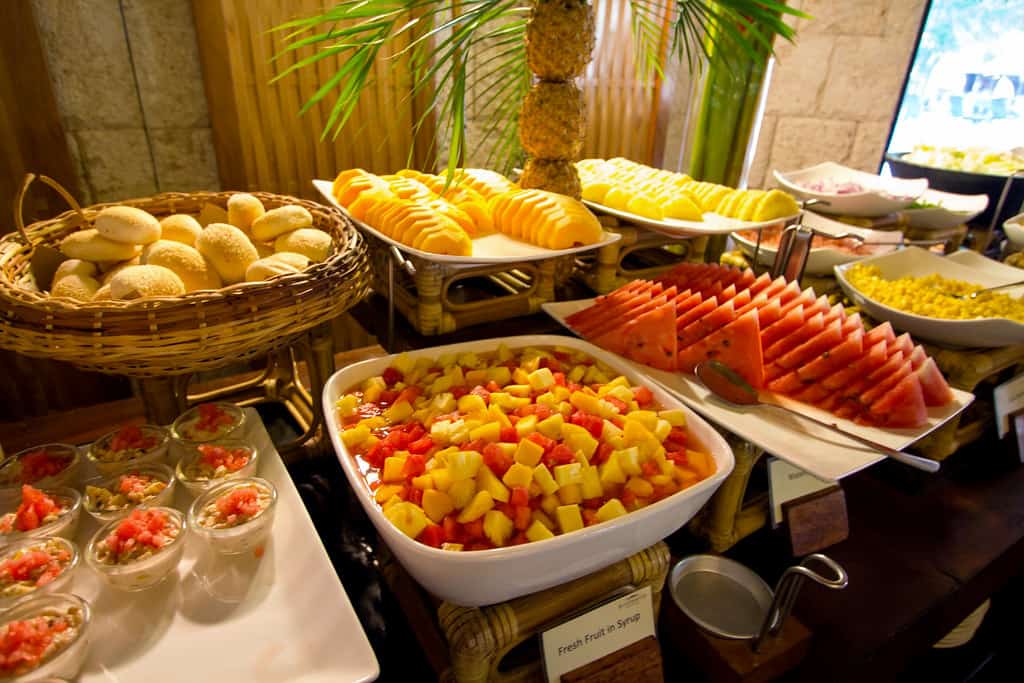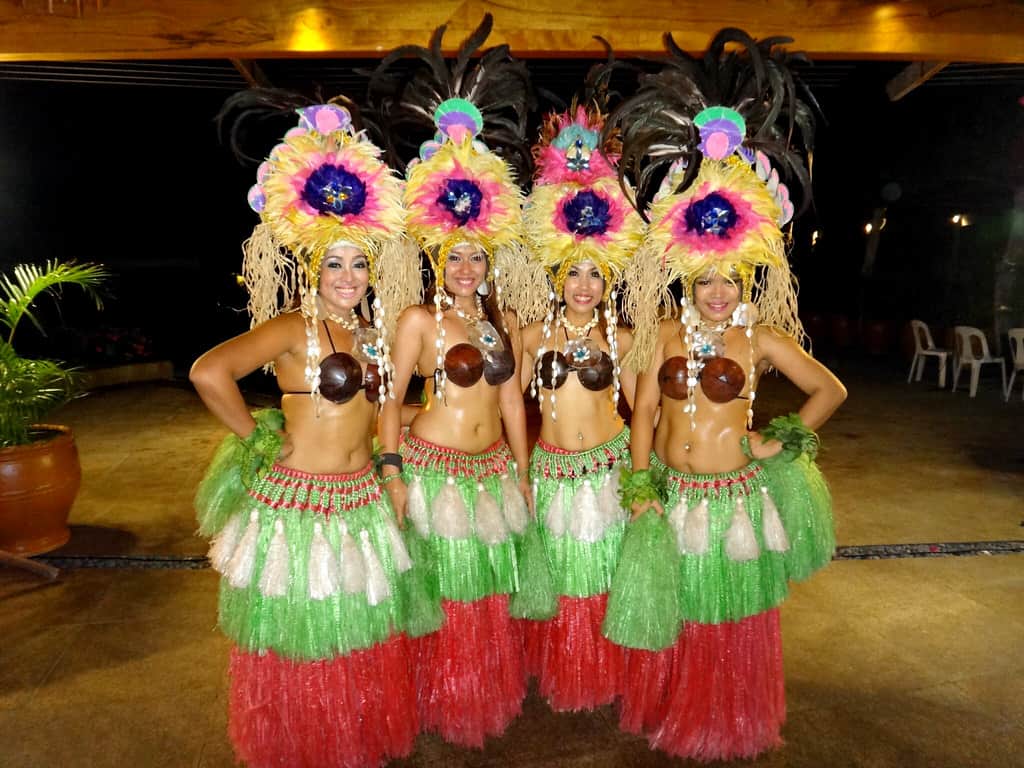 From the sincerely sweet staff, to the Filipino design and details, our stay at Bluewater Maribago Beach Resort left a lasting impression.
There were so many small details and gestures that really made the resort stand out, such as receiving complimentary beach bags at check in and a batch of freshly baked macadamia nut cookies upon checkout.
Bluewater Maribago helped us to have a great first impression of the Philippines, and is truly a resort we hope to one day return to.
Have you been to a hotel that left a lasting impression?
A huge thank you to Bluewater Maribago Beach Resort for their generous hospitality. We were guests of their beautiful resort, but as always, all opinions are our own, regardless of who's footing the bill.