Every Friday I'll be sharing a photo from someplace in my travels.
This week's photo is of Wat Chedi Luang in Chiang Mai, Thailand.
Wat Chedi Luang is one of the most popular wats in all of Chiang Mai. Located in the middle of the historic Old City, both tourists and Thais alike flock to this ancient stupa. Constructed in the early 14th century, it was the largest building in all of the Lanna Kingdom. It was also this wat that once contained the Emerald Buddha, Thailand's most sacred object. However, it was moved to the nearby city Luang Prabang after an earthquake destroyed the upper portion of Wat Chedi Luang in the 1550s. Parts of the wat were finally restored in the 1990s, but the spire was never recreated since nobody knows what it actually looked like.
Wat Chedi Luang has a huge presence in Chiang Mai as it towers above the surrounding area. I loved seeing all the statues around it's perimeter, especially the Nagas and elephants. As we walked around the structure, I noticed this pristine golden Buddha shining against the brown deteriorating ruins in the background. Somehow, the blend of modern and ancient seemed to go effortlessly together.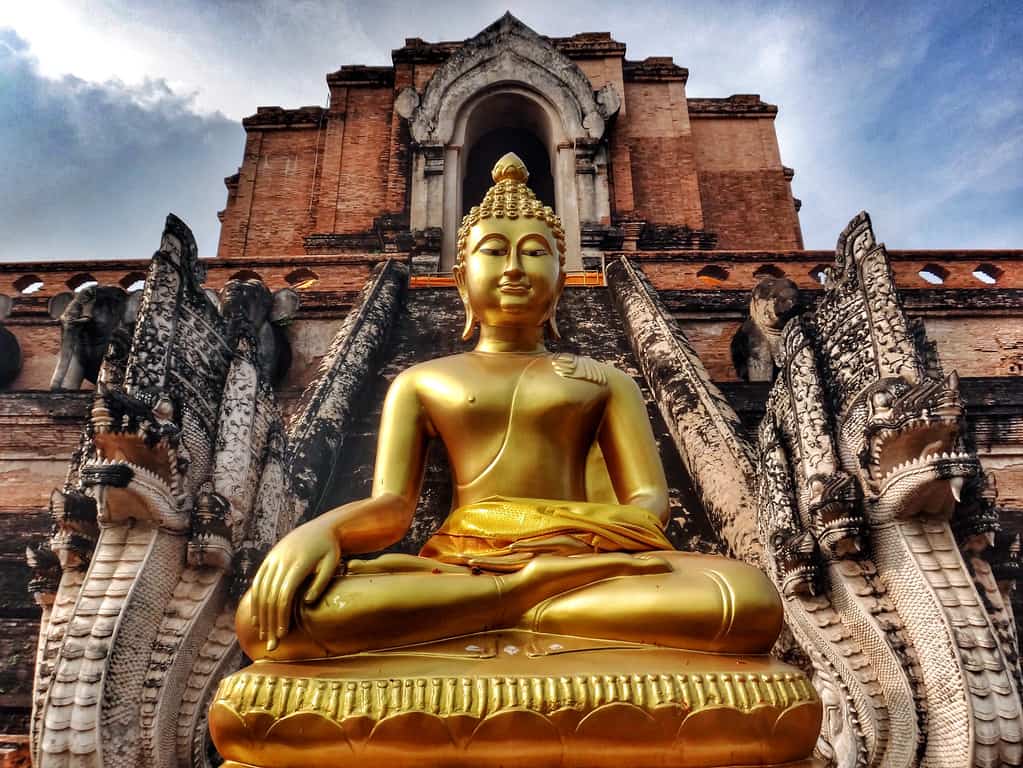 IF YOU ENJOYED THIS PHOTO, PLEASE SHARE IT!