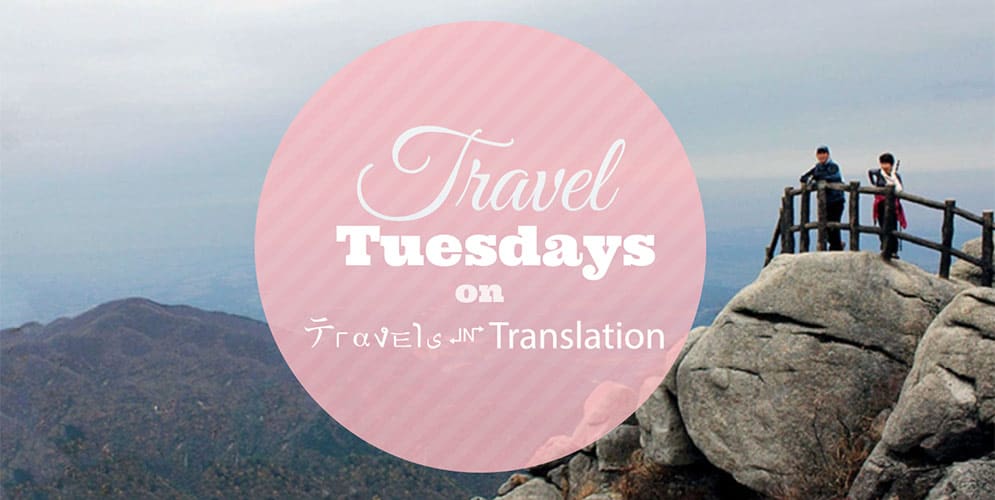 This week we would like to introduce La Carmina, a 20-something travel TV host, author of 3 books, and blogger, who you may have seen on TV networks like Travel Channel, National Geographic and Food Network. Growing her whole business from her blog, La Carmina, she specializes in stories of youth subcultures and fashion in Asia, and worldwide. She even co-hosted the Japan episode of Bizarre Foods with Andrew Zimmern, and has appeared on programs like The Doctors, Today Show, Oddities, Taboo, World's Weirdest Restaurants and more.
1. What inspires you to travel, and how would you define the word 'traveler'?
Every time I travel somewhere, I learn and let go in some way. I think nothing opens a person's eyes like being somewhere new, experiencing a different culture, finding surprises while wandering streets, and tasting new foods. It isn't even necessary to go far away in order to be inspired: I was just in San Francisco, where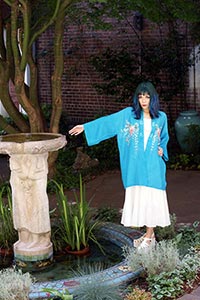 I tried desserts made with a Peruvian fruit called lacuna, and was dazzled by the drag queen theatrics at a long-running club night called Trannyshack. For me, travellers are people who say YES – to immersing themselves in the culture, living like locals, and experiencing something far from the usual tourist paths.
2. For those who don't yet know you, can you explain your travel style? 
My home base is in Vancouver, but I travel somewhere an average of once a month, for a variety of projects (TV hosting jobs, appearances, journalism, travel company or tourism board partnerships). This year alone, I was in Toronto, Israel, Jordan, San Francisco, Japan, LA, New York… and somewhere exciting, to be announced very soon!
3. How do you afford your travels?
My travels are all connected to my work in some way, so I very rarely pay for flights or expenses. My La Carmina blog and online channels (Youtube, social media etc) are monetized, and I work as a TV presenter and fixer (production coordinator) – my company, La Carmina & The Pirates has arranged shows for Canal Plus France, NHK Japan, Travel Channel, Food Network, Discovery Network and more. I am also a travel journalist for a number of publications, published three books, and freelance with a variety of companies on travel-related projects.
4. Where was your first international trip and how old were you? 
I was one year old, and my parents took me to visit relatives in Hong Kong. 
5. Where has been your favorite destination? Where has been your least favorite?

I will never get tired of visiting Japan – every time, I discover some new quirky cafe or pop culture phenomenon. I never hated any particular destination, and am open to returning to places if there's a chance to see them from a new perspective.
6. If you had to settle down in one location forever, where would you choose and why?

These days, digital nomads can work from anywhere, and it's freeing that I don't have to be bound to any single location. However, I grew up on the West Coast, and love the climate, healthy food and vibe here. Vancouver, San Francisco, Portland and LA are my happy places.
7. Have you ever had high hopes for a destination, tour, etc., only to be disappointed in the end? Or any travel mishaps?
My first press trip was a "put the journalists on a bus and take them around to the same locations" type of deal. While I still found unique and personal angles for my stories, I didn't enjoy being taken around to the same places, with the same people. Ever since then, my travel filmmakers and I have only accepted individualized FAM trips through tourism boards or companies, meaning that we are the only three people on the hosted trip. The locations and schedule are 100% tailored to my audience and passions – including underground attractions, such as punk clubs. It's fantastic that tourism bureaus are now very open to working with travel bloggers and online media.
8. What's the funniest or weirdest cultural idiosyncrasy you've either witnessed or experienced?
I have tons of funny stories from my journeys. In Japan, I filmed a German TV show where we rented a fake family! Anyone can hire a Japanese mother and father, and they will pretend to be your doting parents.
9. What keepsake do you have to get at all your destinations?

I'm not a souvenir collector, but I take hundreds of photos a day with my DSLR camera when I'm traveling. To me, images convey a sense of a place in an immediate and compelling way. One of my filmmakers, however, will pick up a magnet wherever we go. Her fridge door is becoming quite filled!
10. How about the one thing you cannot travel without?
I always bring my DSLR camera and "Miffy book," a journal with the cute bunny rabbit mascot on the cover. My film team and I write down what happened every day, highlighting funny conversations, encounters, mishaps, foods and memories. It's easy to forget these details that truly make a trip special, so we find time to "Miffy" as often as we can.
11. Why did you begin blogging? And how did you come up with your blog name?
I went to law school but felt more inspired to write and share my passions for subcultures, art, fashion and travel — so I started a blog about these topics.La Carmina is a nickname, since it is a flamboyant spin on my real name (Carmen), and a tip of the hat to Italo Disco singer La Camilla (of Army of Lovers). I didn't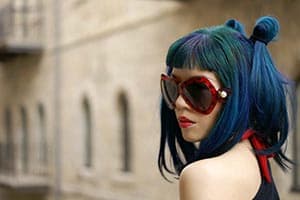 expect blogging to take off, since I started in the very early days (2007) – but before long, it had grown into an ever-shifting and exciting career. I'm very grateful for the opportunities that blogging has opened up for me, from doing TV shows to seeing dream destinations. I never thought this type of life was possible.
12. What's next for 2014?
After San Francisco, I will be in New York for a secret project, and then somewhere far away… on a continent I've yet to visit. I have also been teaming up with a Japanese company on a travel project, which we will be making public soon. I hope you'll enjoy my upcoming adventures — tons of San Francisco coverage coming up on my site. You can also check out my alternative travel guides, to places such as Osaka, Tokyo, Hong Kong, Portland and Berlin.
Traveler Toss-ups

Backpack or suitcase? I need to travel with a suitcase, since personal fashion is a strong element of my travel TV and writing work.
Window or aisle? Aisle, ideally with an empty seat (or two!) next to me.
Solo or group? I typically travel with my professional film crew, who are also two of my best friends. Since my travel videos and blog posts rely heavily on visuals, I always have at least one cameraperson with me.
Tapas or sushi? Depends on the location, and quality of the ingredients and preparation! In Spain, tapas all the way. In Japan, sushi of course. I always try to eat the local food, especially specialties that you can't get elsewhere. For example, in Croatia, I ate sheep cheese from local farms and other items that are never exported outside the country.
Beach or mountains? I grew up in Vancouver and am often in LA, so I love the beach.
Be sure to follow in the fashionable travels of La Carmina around the world:
Visit La Carmina's site: La Carmina
Follow La Carmina on Twitter: @lacarmina
"Like" La Carmina on Facebook: La Carmina