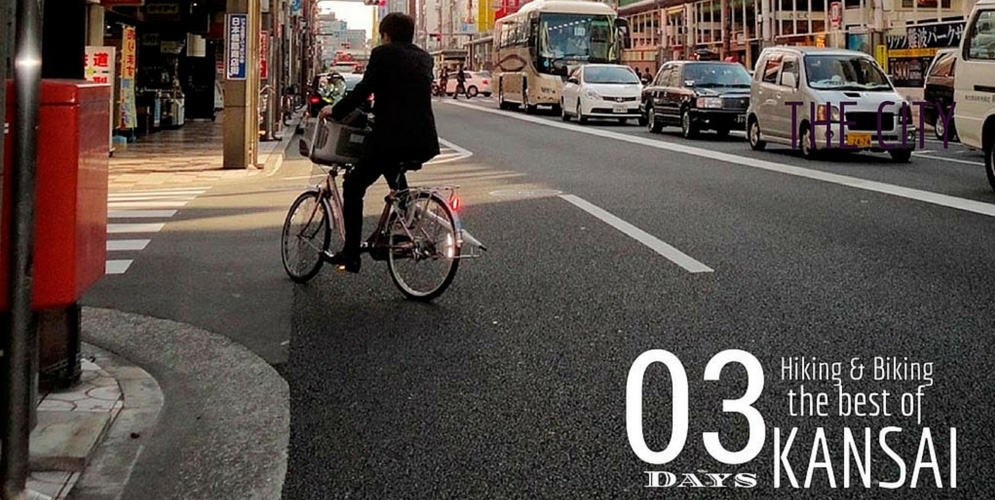 Located in the middle of Japan, the Kansai region includes of two of the country's most visited cities: Kyoto and Osaka.
Kyoto is a city steeped with Japanese culture and history. This previous capital city is known for its shrines and temples as there is almost one on every corner– with 17 of them being registered UNESCO Heritage Sites. Osaka on the other hand, is a foodie's paradise. Filled with great eateries and local delicacies you won't find elsewhere, it's no wonder its nickname is "Japan's Kitchen".
Japan in general is a biker's paradise filled with designated bike lanes, cheap bike rentals, and even organized biking tours, all which make getting around the city a breeze.
Here's a look at how to cycle the best of Kansai in three days:
DAY 1 – THE BEST OF THE WEST
Kyoto is quite a large city, but it's grid like patterns make it easy to navigate. Rather than paying hefty public transportation fees, start your trip by renting a bicycle early in the morning. Bicycle rentals can be found through the city, and many hostels also offer this service. One of the most popular rentals is conveniently located right next to the massive Kyoto Station downtown, which start at around 1,000 yen per day.
Kick off your bicycle tour by heading to Nishi Honganji. Located just north of Kyoto Station, this temple is a registered UNESCO World Heritage Site and is the head of Jodo Shinshu Buddhism.
After exploring this temple, head north on the same road to visit Kyoto's famous castle Nijo-jo. It's hard to miss this castle, as it's located in the center of Kyoto. Surrounded by a huge moat, the inside castle grounds feature a beautiful garden with shrines located around the premises. Constructed in 1603, Nijo Castle may not resemble your typical castle because it's a single-story flatland castle, but that doesn't mean it's not impressive. The rooms inside are all beautifully decorated with paintings, gold leaf, traditional rice paper doors and tatami mats.
The next destination will be a bit of a ride, so stop along the way to enjoy some lunch. I'd recommend trying some local specialties like 'Mamezen Soba'or 'Kyo-kaiseki'. After lunch continue on your journey to Kinkaku-ji or Japan's famous golden pavilion.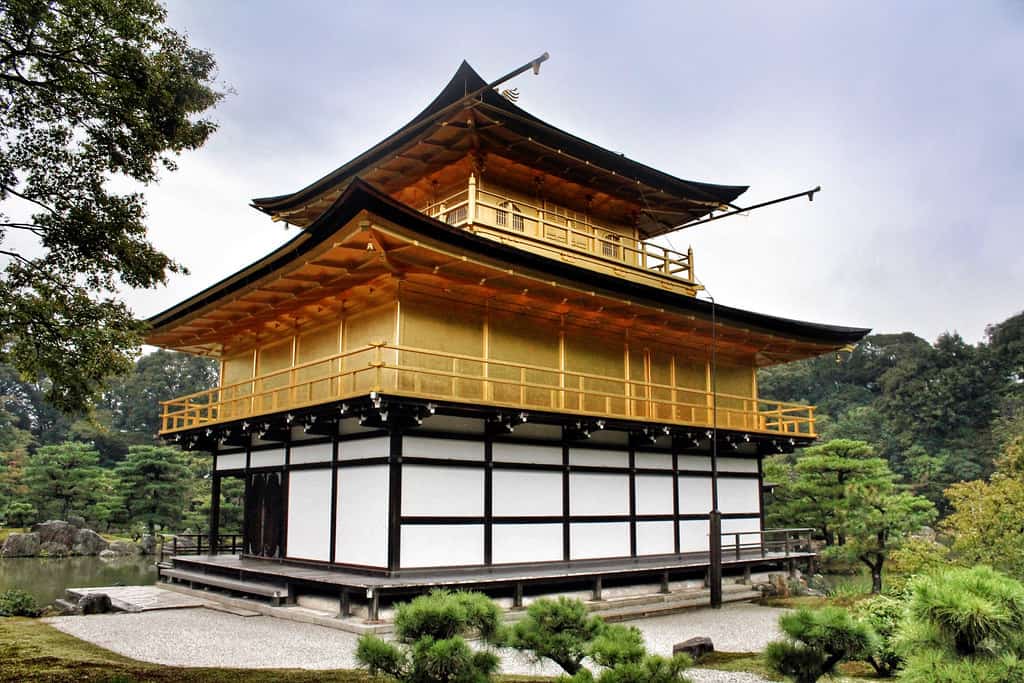 Kinkaku-ji is one of Kyoto's most popular tourist attractions, so it's possible there could be crowds. Covered in gold leaf, the pavilion reflects brilliantly into the pond surrounding it. Spend some time wandering the temple grounds and the gardens. The entry fee is 600 yen, but it's worth it to see this beautiful temple.
Located nearby is another famous UNESCO Site, Ryoan-ji  This is a popular Zen temple famous for their rock garden. People come to sit and contemplate the rocks often for hours at a time, so stop by to check out these unique site and maybe walk away a bit more enlightened.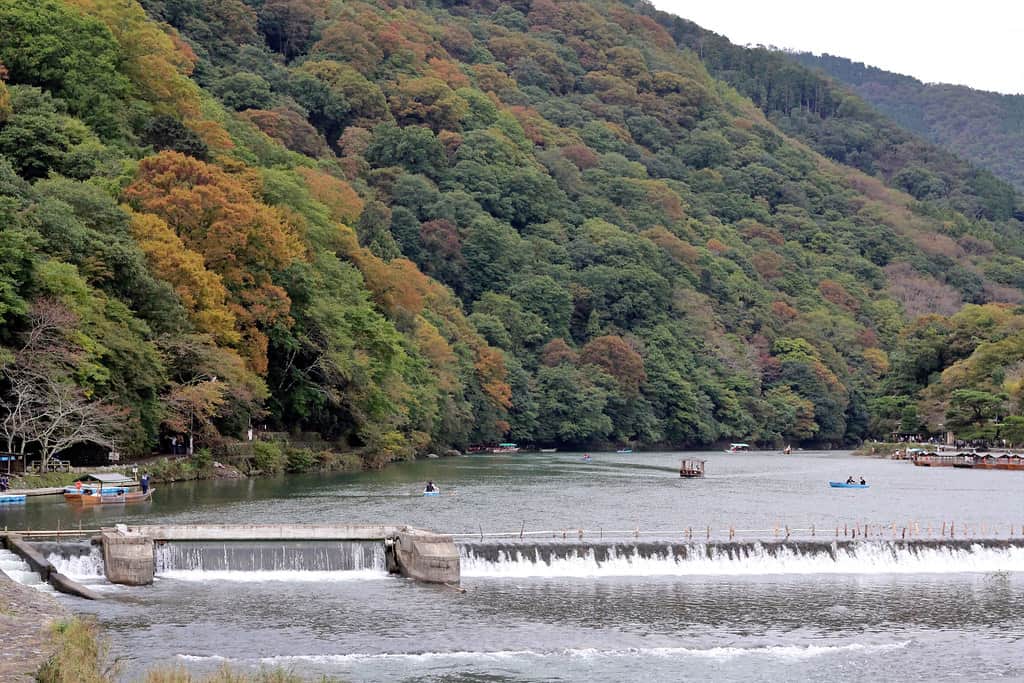 End your tour by biking our to Arashiyama. A bit further to get to, this area is worth the time to visit. You'll feel as though you're back in olden Japan in this small village. Spend time walking through the famous bamboo forest or if you're not too tired, you could even take a hike through Iwatayama Monkey Park.
DAY 2  – CYCLING EAST
Beat the crowds by starting your day at Kiyomizudera. Early enough there shouldn't be too many crowds, but later on people will come by the bus loads. This temple's main hall is its biggest attraction as it was built solely out of wood without the use of a single nail. It's from the decks there that you can look out across all of Kyoto.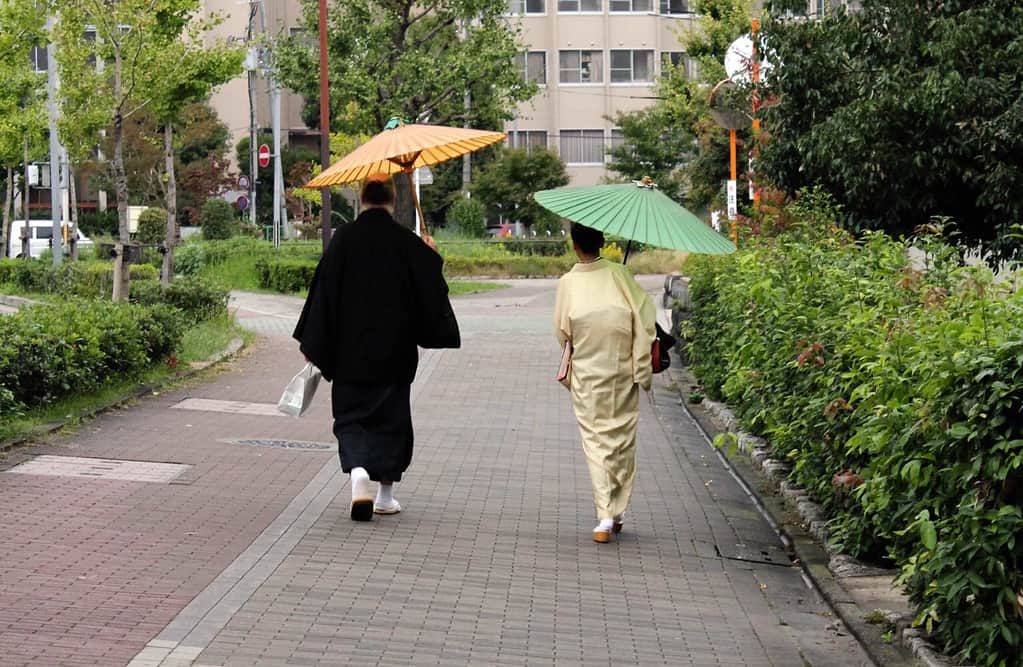 Head back down the mountain and pass through the traditional district of Gion. Be sure to keep your eyes peeled for any Geishas or Maiko whom may be shuffling down the streets. This is a great place to grab lunch and you'll find a range of places suitable for all budgets here.
North of Gion will take you to Kyoto's Imperial Palace. Park your bikes and enjoy a stroll through these expansive gardens. If you plan your timing correctly, there are multiple public tours given through the palace grounds daily that you can walk up and join to get a little more insight.
From there head east to Ginkaku-ji, or the Silver Pavilion. The Silver PAvilion looks just like the Golden Pavilion, only as you can guess, it's silver. Most people say than compared to it's brother Kinkaku-ji this temple is nothing special, however, it's the gardens that make this place special. Possibly the best in Japan, you'll find the famous "Sea of Silver Sand" and the "Moon Platform" located here.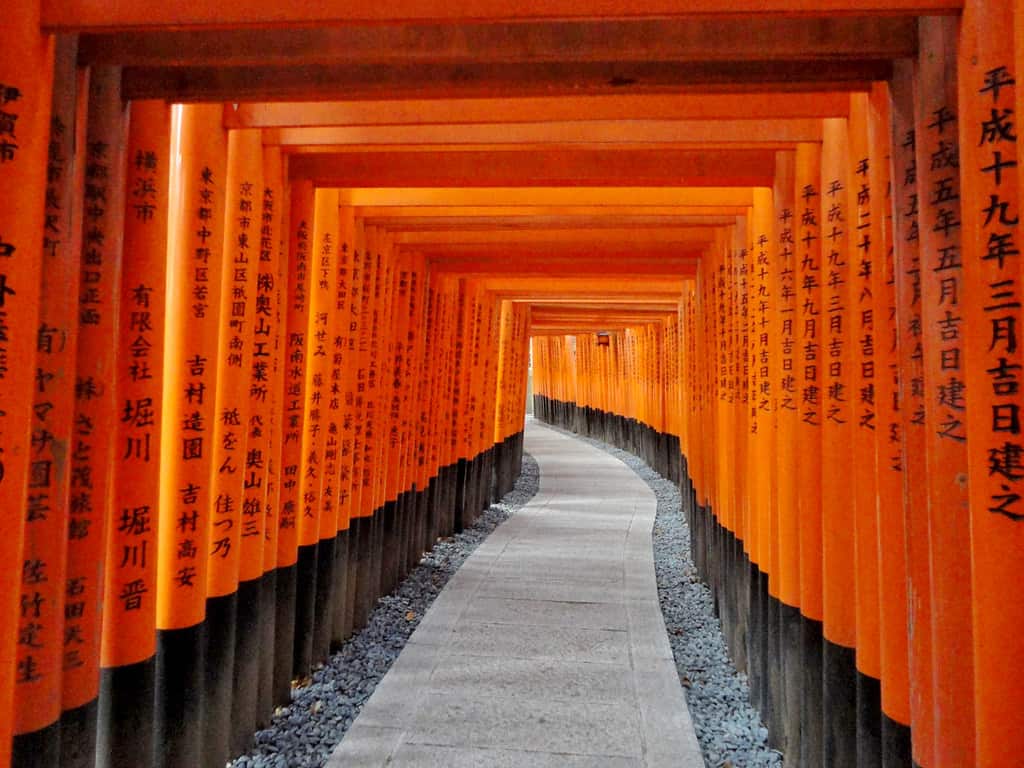 After you're finished with exploring the area on bike, return the bicycles to the nearest shop and hit the train to end your day at Fushimi Inari Taisha. Located on the outskirts of Kyoto, this shrine is famous for its fox statues and its thousands of torii lining the pathway up the mountain. By now it shouldn't be too hot out so it would be the perfect time to do some hiking. Make your way at least half up (only a 30-45 minute hike) to a viewing platform that looks over the city. From here you can continue your journey up, although the torii gates start to become more sparse, so many people just head back down from here. This is another great place to take in the sunset.
DAY 3 – OHAYO OSAKA
Say "goodmorning" and get an early start an exciting day trip from Kyoto to Osaka.
The easiest way to get to Osaka is to take the train from Kyoto Station, and you'll want to take that to Osaka Station. Begin your Osakan excursion by visiting the famous Osaka Castle. This is one of Japan's most famous castles and it played a major role in the reunification of Japan. Spend some time wandering the castle grounds, the moat and even inside the different levels of the main keep.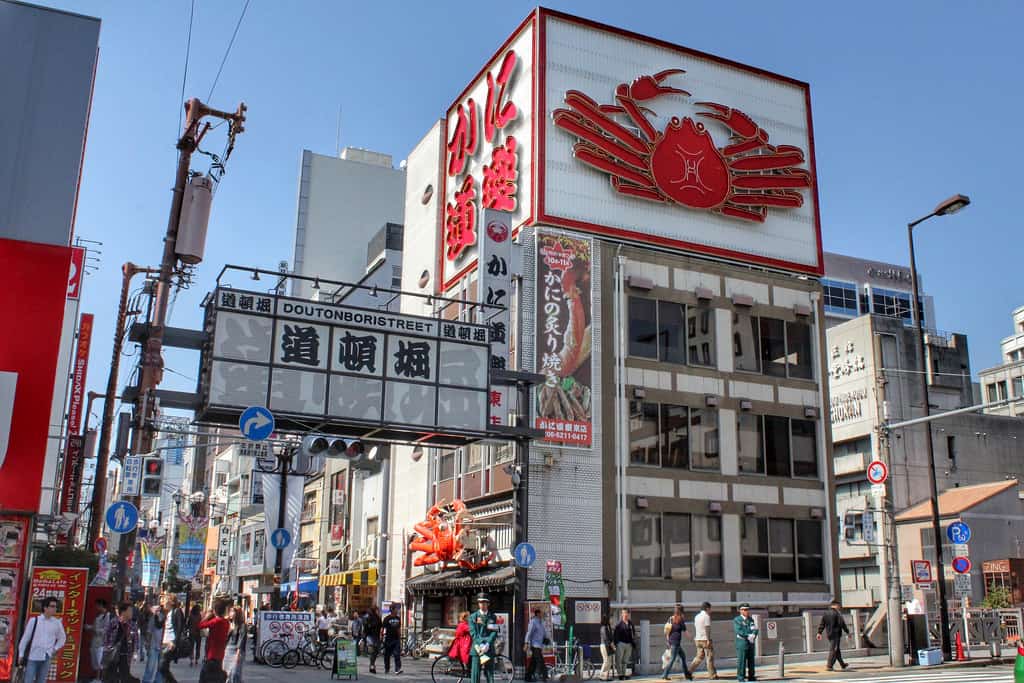 Once you're feeling more hungry, hop on the subway to Osaka-Namba Station and visit Dotonbori. This avenue along the river is known as the heart of Osaka and it's here that you'll find all of the regional delicacies. Be sure to walk along the strip to witness some of the famous mechanical advertisements, a lot of these were built back in the 1940s and were considered top technology back then!
After lunch you can head north to stroll around Shinsaibashi for some great shopping, head south to discover Nipponbashi's Den-Den Town which gives insight to the unique anime and maid culture in Japan, or you can head even a bit further south to Shinsekai, which is now considered Japan's only ghetto (don't worry– it's safe to wander).
For dinner head back to Dotonbori to see how the atmosphere has changed as all the neon signs come to life. There'll be music and lots of crowds in the streets. Grab some dinner and enjoy some of the bar life in Japan by participating in a "nomi-ho-dai" which means all you can drink for a set time limit!
WOULD YOU LIKE TO BIKE THROUGH KYOTO OR OSAKA?