Ever since I had decided I would go to Europe, people began asking me if I would make it to Tuscany. It seemed like everyone I talked to raved about this region, calling it their favorite in all of Italy, even random strangers I talked to while in a queue in Hong Kong.
I pulled out my phone to pull up pictures of this area, because I'll be honest, I had never seen Under the Tuscan Sun and really knew nothing about this part of Italy.
It was those photos that convinced me to go.
Counting the days available in our itinerary, it just didn't seem feasible for this trip. I tried my hardest to rearrange what I could and in the end, I decided to cut days off of our time in Rome in order to squeeze in the Tuscan countryside.
Was it worth it? Yes, oh very much so!
Was it rushed? Uh, yes, very much so!
Luckily, with a little help of our friends at Walkabout Florence, we were able to see the highlights of Tuscany in only one day, which was just enough to make us want to come back for more.
Siena
We began our day by driving out to Siena. This was actually the area that Mr. Hong Kong Line Man raved about the most– and I can see why.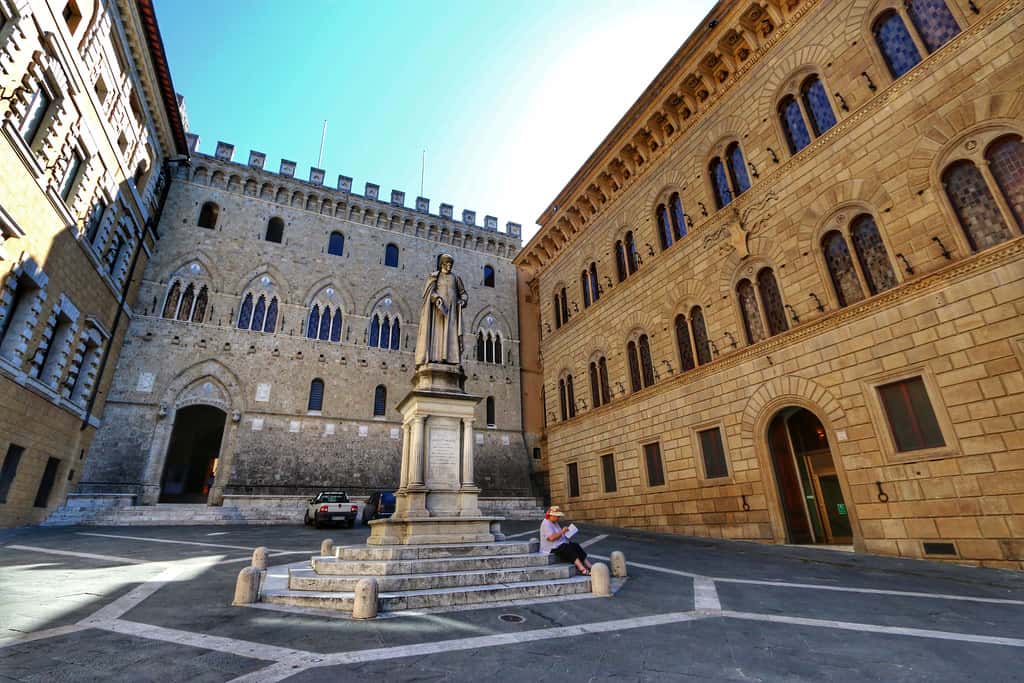 I adored the colors of this city with its yellow-ochre buildings, orange rooftops and green shutters. As our guide showed us around, she explained about the 17 different contrade, or districts, that make up Siena. Each represented by a different creature, some seemed so powerful and cool like the dragon, the unicorn or the eagle.
And then there were those that had me giggling and almost feeling sorry for those that were represented by such lousy creatures. I wondered how they had drawn the short stick to get stuck with the snail or the caterpillar.
Regardless, I loved how the lamps on the buildings would change as you entered each distinct district to match those of their mascot. I began running around trying to take photos of as many as possible, feeling like I was trying to catch Pokemon or something.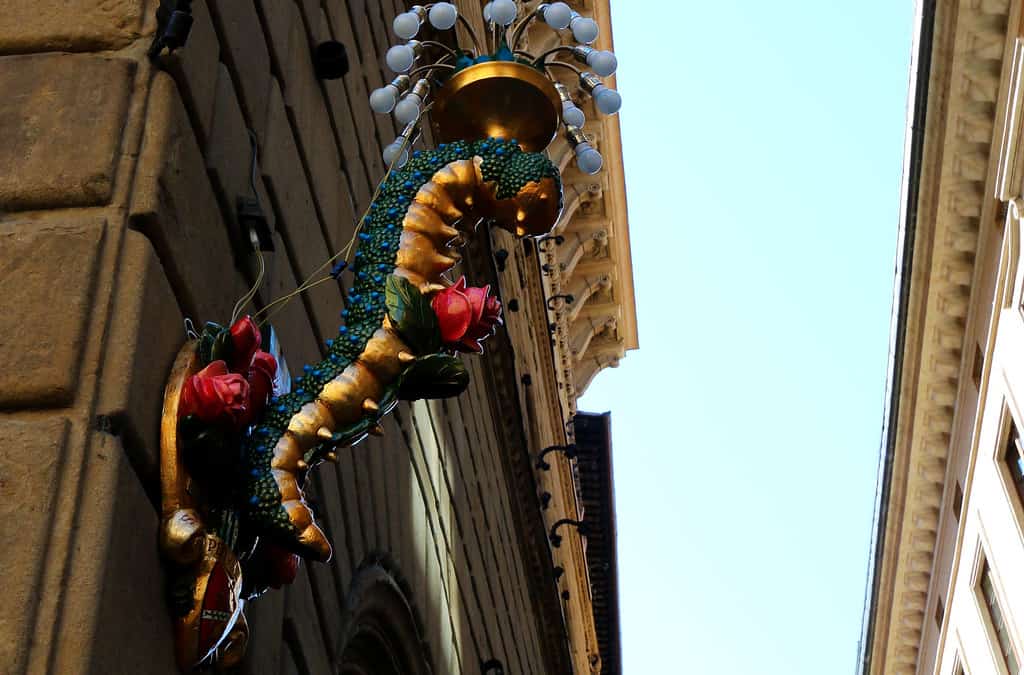 Caterpie, is that you?!
I immediately became sidetracked however upon sight of the Piazza del Campo. Home of the famous Palio horserace, this seashell-shaped square is said to be one of the most beautiful in all of Europe. I'll agree. I now know why so many of you have e-mailed me telling me you got married there!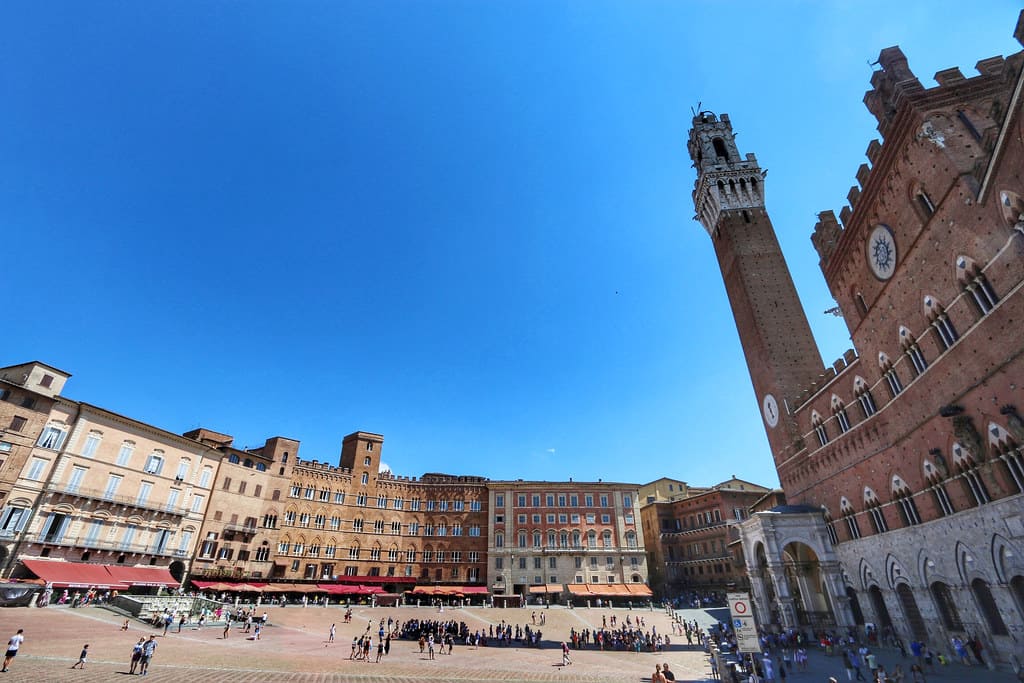 After soaking up some sun in the square, we continued onward to the Siena Duomo. Now I know people go on and on about Florence having the most beautiful duomo, which, from the outside, yes, it does. Honestly from the inside though, I thought the colors and symmetry of Siena's duomo were far superior.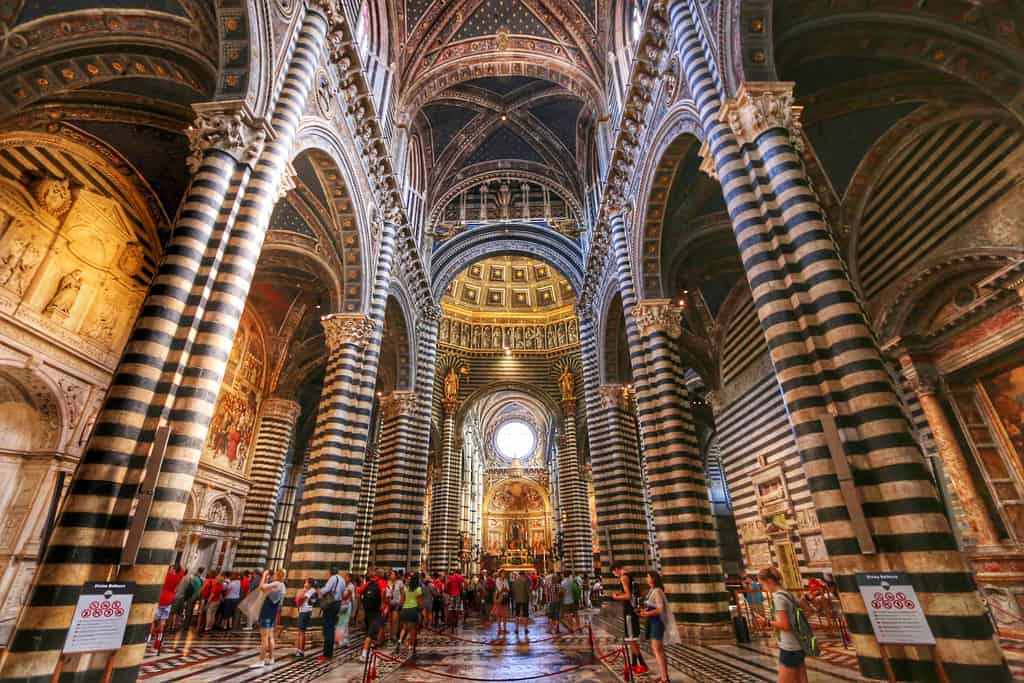 I wandered around taking photos of everything!
From the scenes portrayed on the floors, to its giant dome, to its amazing library, the whole thing was gorgeous.
In the end I think I drained most of our time in there, because before we knew it, it was already time to be taken to our next destination…
Fattoria Poggio Alloro
Out in the true hills of Tuscany, this little gem was the highlight of my mom's day. An organic, family-run farm and winery, Fattoria Poggio Alloro was the perfect stop for lunch.
The workers kindly gave us a tour of the vineyards and olive groves, before escorting us to the most beautiful pavilion where we'd have lunch. Can you believe these views??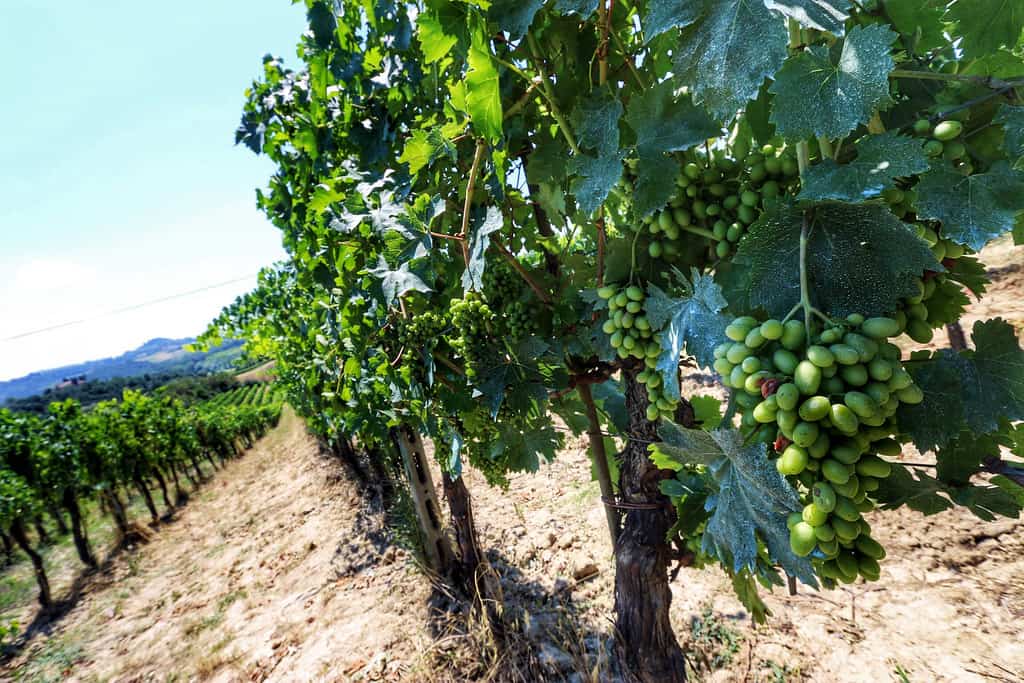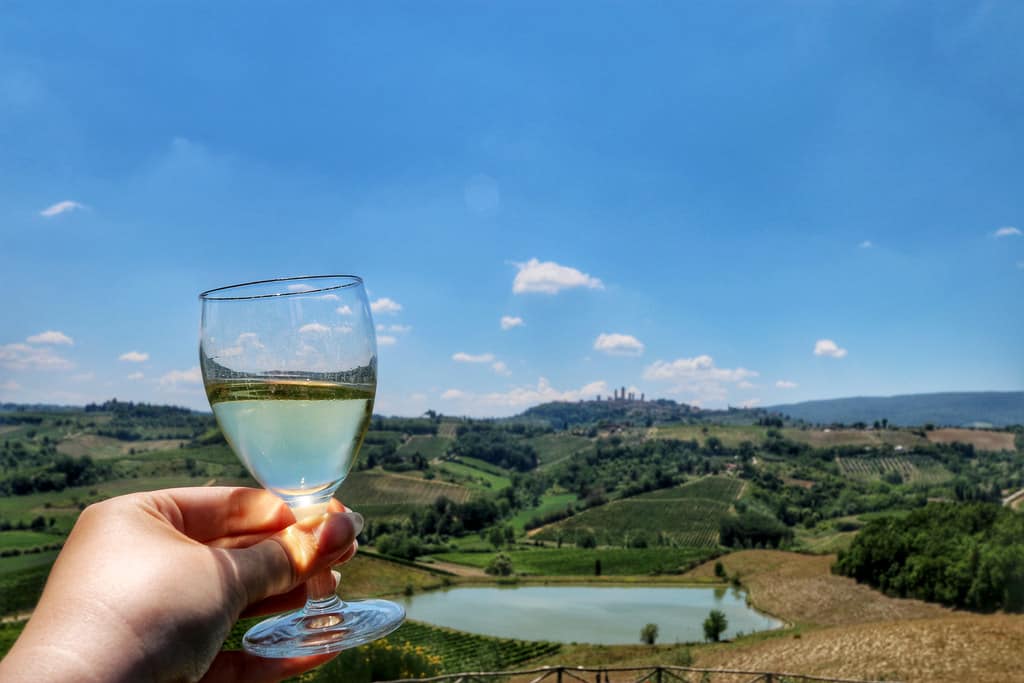 This is seriously one of the most beautiful places I have ever eaten!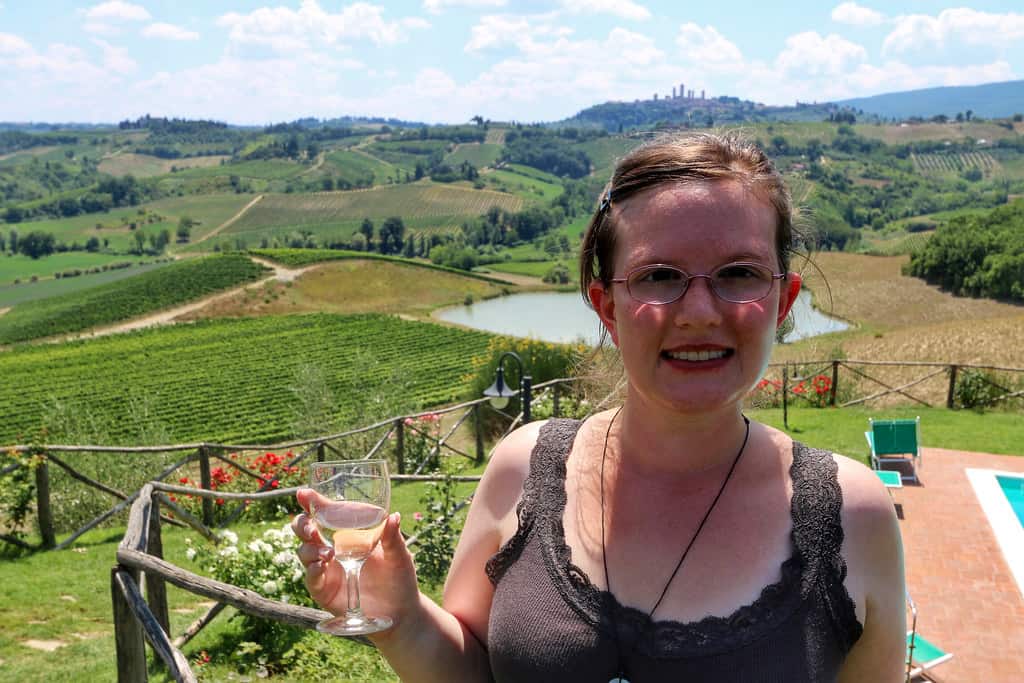 And most importantly, not only were the views amazing, but the food was too. We were served a fresh, multi-course meal and with each dish they had paired a different Italian wine for us to sample.
In the end we had sampled four different wines including Chianti and Vernaccia. For dessert we got to try another specialty, which was a Tuscan biscotti that you dip in Vin Santo. This Italian dessert wine almost had a sherry taste to it. While it was strong, it was also the perfect treat for a hot summer afternoon.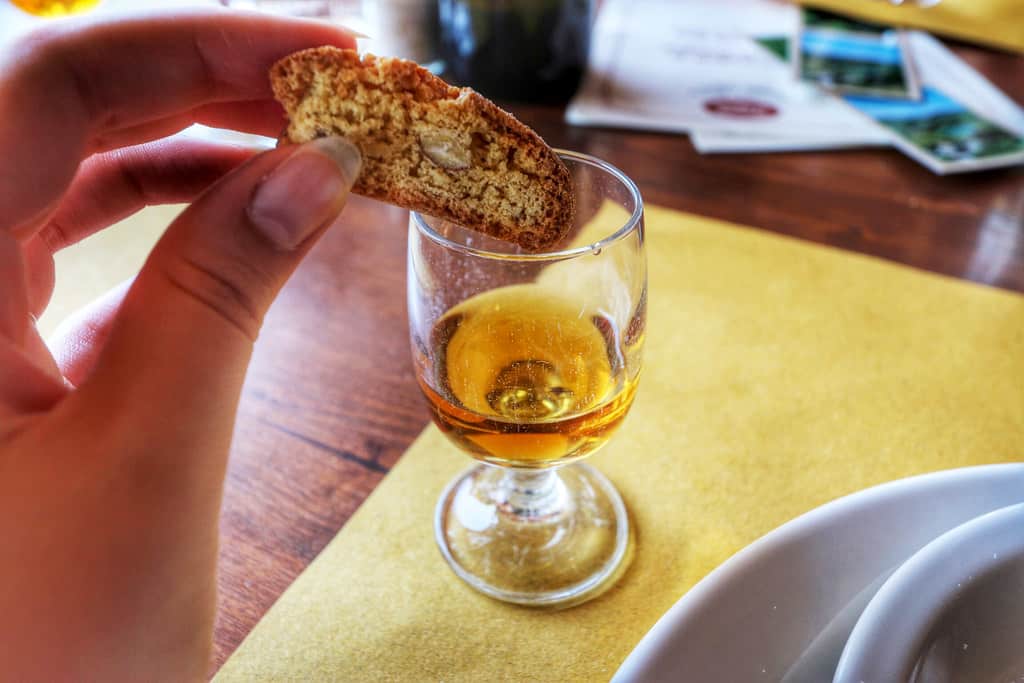 San Gimignano
Just a few short minutes drive from our lunch spot and we were in San Gimignano. And when I say short, I mean really short, like, ugh-why-did-I-drink-so-much-wine-at-lunch-I-thought-we-had-a-longer-bus-ride short.
Luckily, our guide explained everything we needed to know in advance and we let loose to explore on our own. I think they must've learned through trial and error, that after liquoring people up, it's probably best to let them explore on their own rather than trying to keep everyone corralled on an organized walk.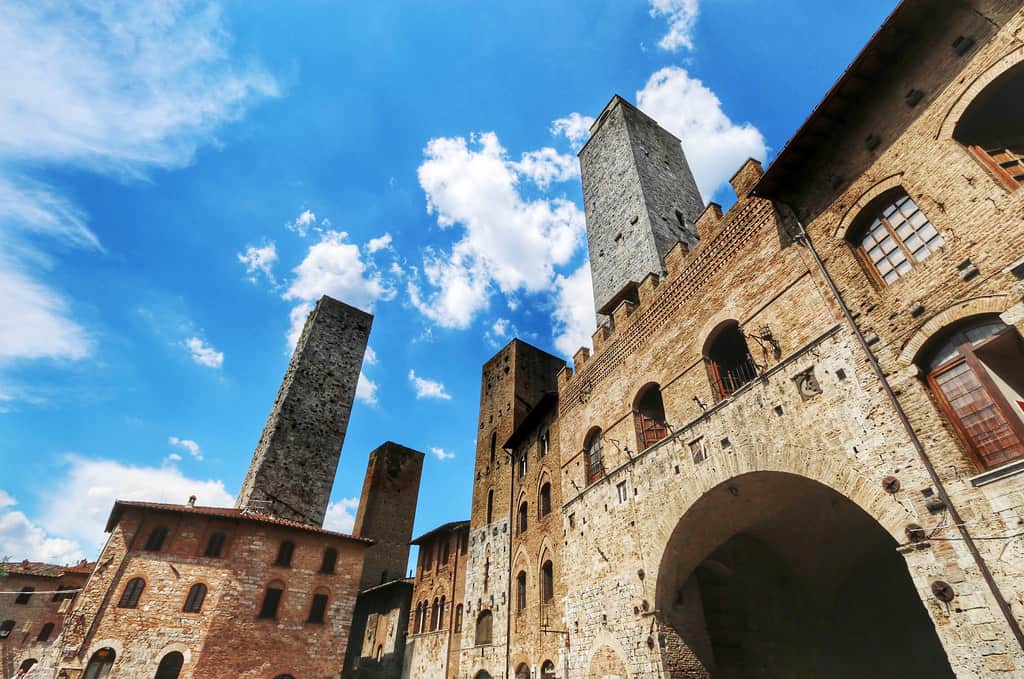 As one of Italy's most enchanting medieval hilltop towns, San Gimignano was lovely. We stopped in cute boutiques, wandered through its picturesque streets and saw its famous towers, although we didn't climb them. Instead we spent our time climbing up to Rocca di Montestaffoli, which was once a castle. Now it's only ruins and a park, but you can climb one of the ancient turrets to get an amazing view of the walled city and surrounding countryside.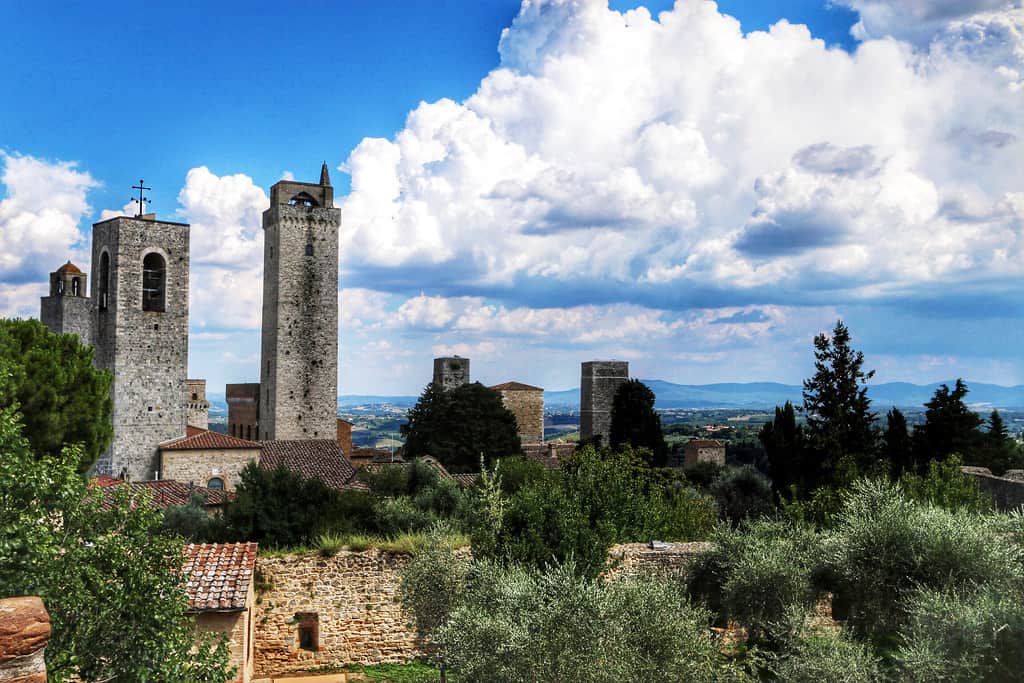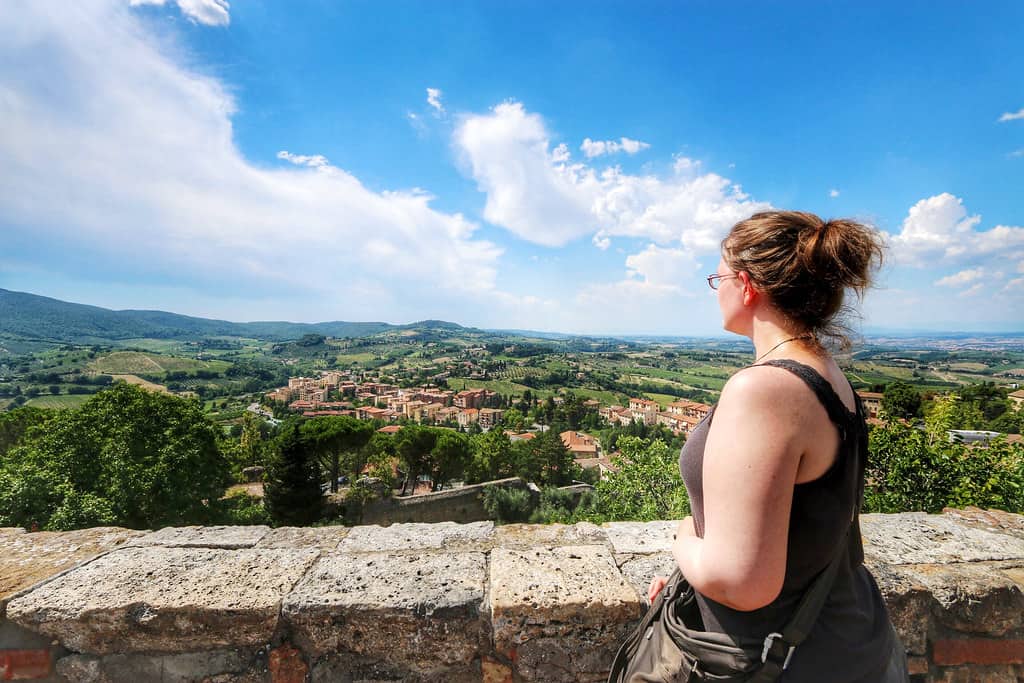 Gelateria Dondoli
Can you really visit the place of the "World's Best Gelato" without giving it a try?
We didn't think so either.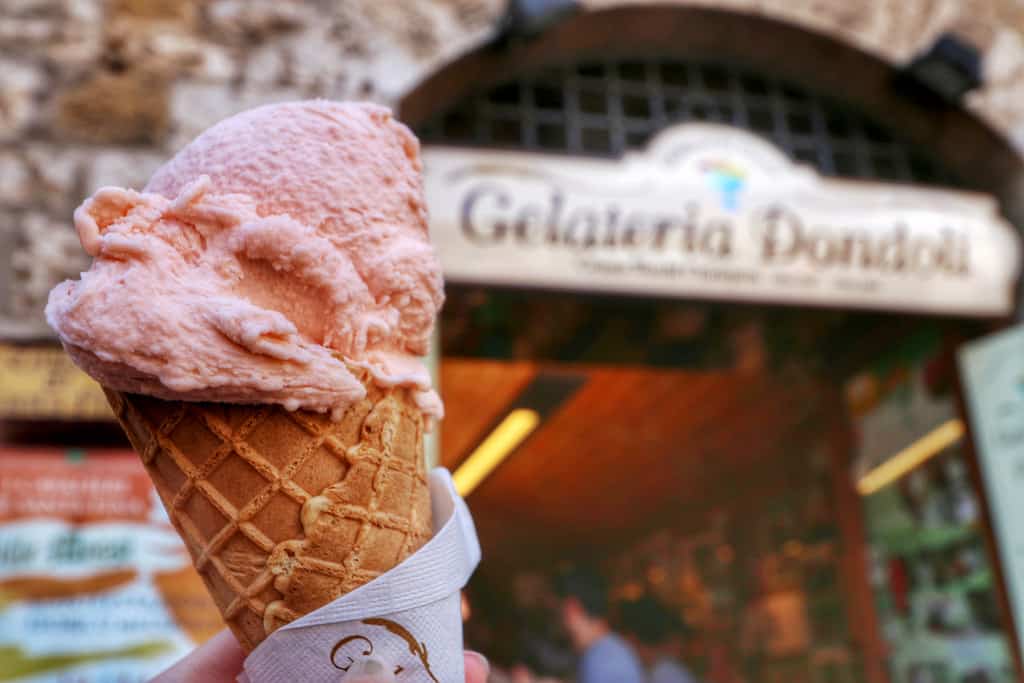 Of course we tried the award-winning gelato at Gelateria Dondoli. Although it's a little confusing to find, as many of the nearby shops try to trick tourists into buying their "award-winning gelato", you'll know Dondoli by the line outside its doors.
Was it worth the wait in line? Pretty sure a reaction like that of pure enjoyment means yes! Yes it was!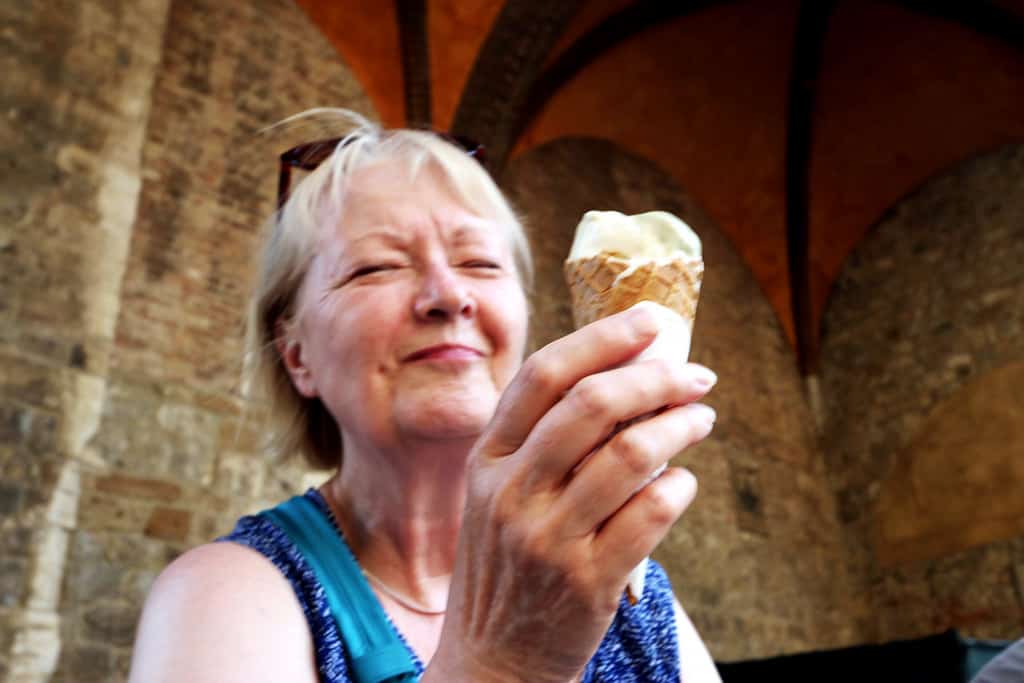 Pisa
As one of Tuscany's most famous towns and one of the most popular tourist attractions in all of Italy, I was glad that our final stop of the tour would take us to Pisa.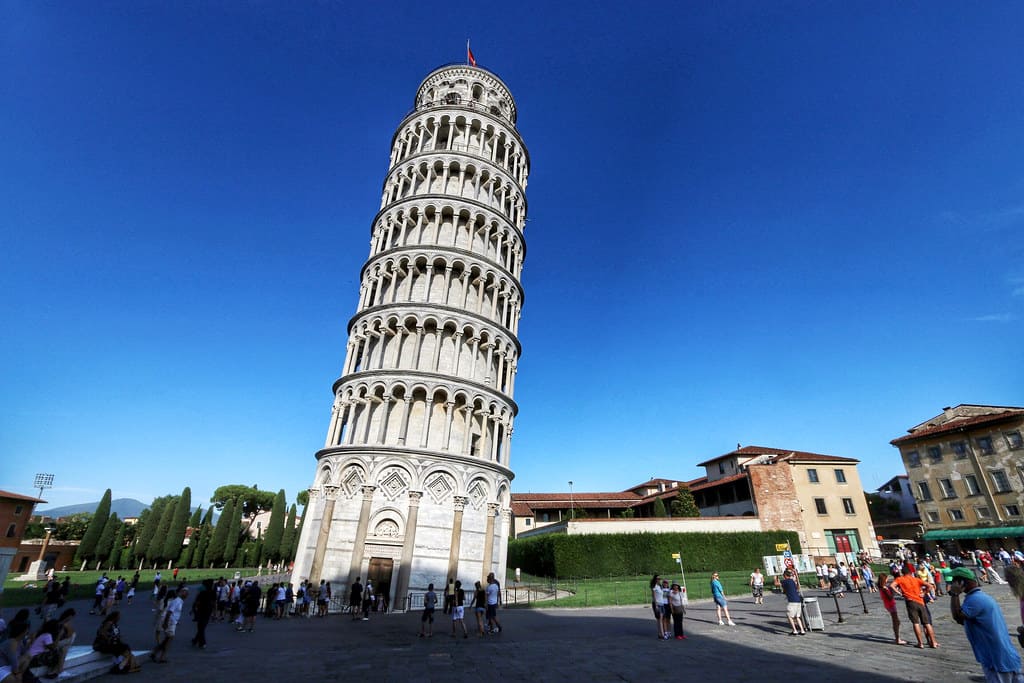 Seeing the Leaning Tower in person was pretty cool, although it is smaller and more banana-shaped than I had imagined. We had plenty of time to spend here so that those who wanted could climb the iconic tower.
After exploring the cathedral and baptistery, I spent my time reclining on the grass listening to an explanation of the tower in Japanese from the large tour group situated next to me before attempting to get that cheesy tourist shot of me pushing up the tower. I mean, what else was I supposed to do with my time?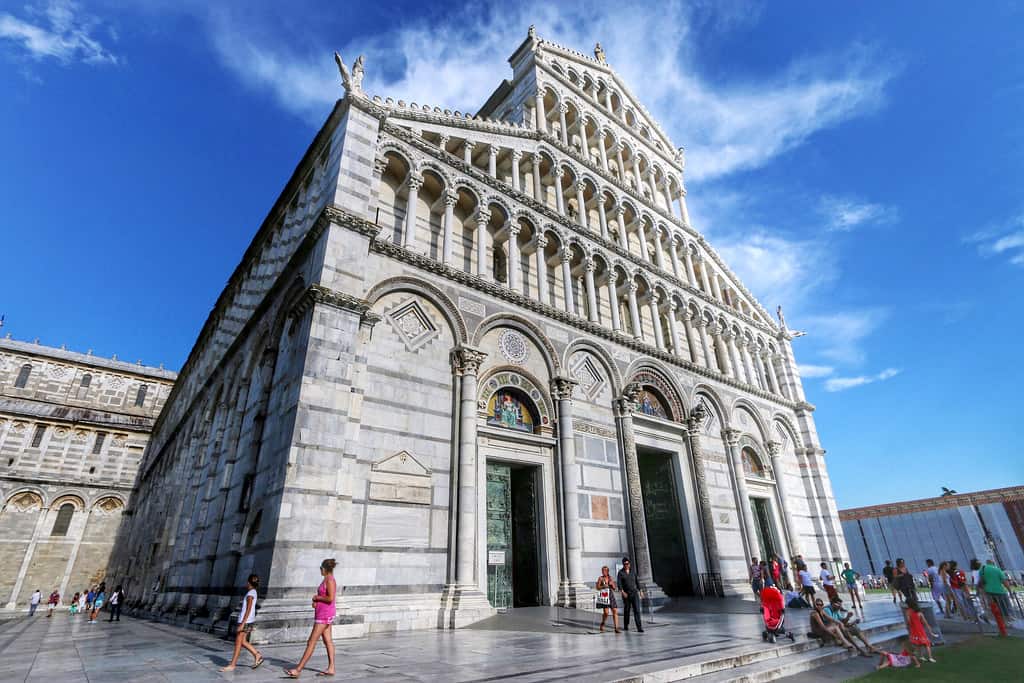 Florence
Arriving back in Florence, we were now on our own again. It was already 8pm, but that was still early enough by Italian time! So even though our tour had ended, we pushed forward with our exploration of our base in Florence.
We enjoyed some bruschetta while watching the sky's pink hue illuminate the massive Duomo. While walking around Florence seemed mainly filled with high-end retail stores like Chanel and Dior, there was still something magical about it as the lights came on as it sparkled in the night.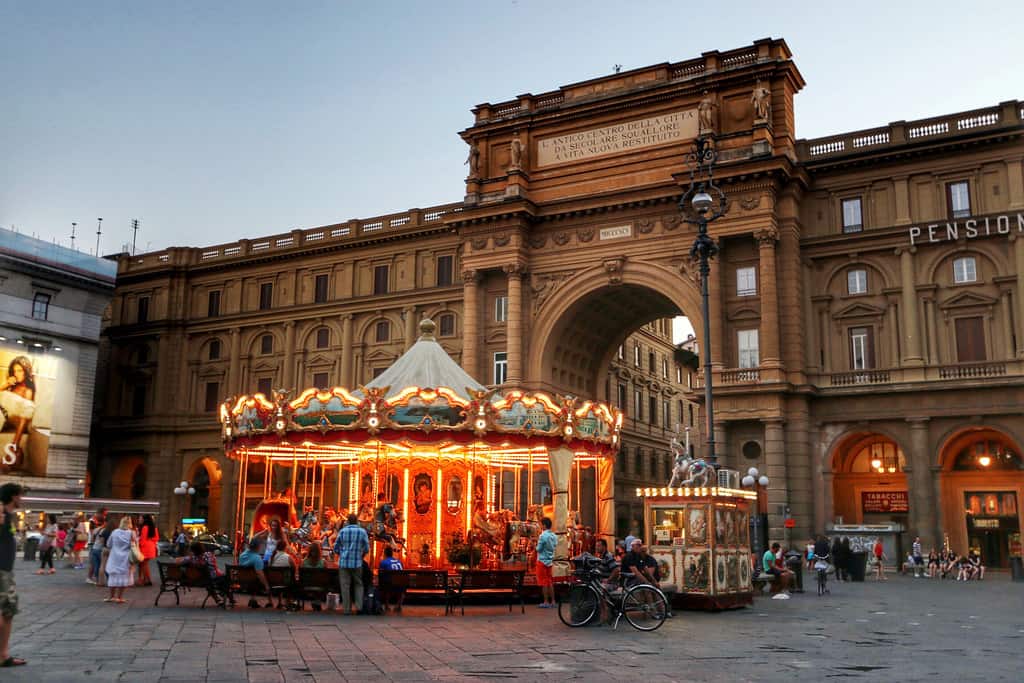 While we might not have been able to give Tuscany all the time that it deserved and we also lost out on more time in Rome, getting these small tastes for these places was all I needed to ensure that someday I'll be back. And when I do finally return, I'll do so properly, because Tuscany deserves all the time in the world.
A huge thank you to Walkabout Florence for inviting me on their Best of Tuscany Tour. It truly did show me the best of Tuscany and made me excited to someday return to this magnificent region of Italy! As always, all opinions are my own.
Do you like Tuscany?