Located in the heart of historic Florence, on a street that overlooks some of the best upscale shopping, is a bed and breakfast that's equally as chic– Florence Chic B&B.
Arriving later than expected, thanks to lovely Italian trains, we decided to walk from the Santa Maria Novella train station. It was almost 10pm, we were tired and slightly unsure of where we were going. Trying to read the addresses on the buildings, we were then eagerly greeted by our generous host Stefano, who had been waiting to lead us inside.
After being shown to our charming room and having a short chat, we told Stefano that we would not be needing breakfast the next morning as we had an early morning tour planned. Immediately he came back to our room bringing us nectarines, cookies, tea and slices of heavenly apricot cake that his mother had baked earlier that day. My mom still raves about that cake and how she wishes she had the recipe!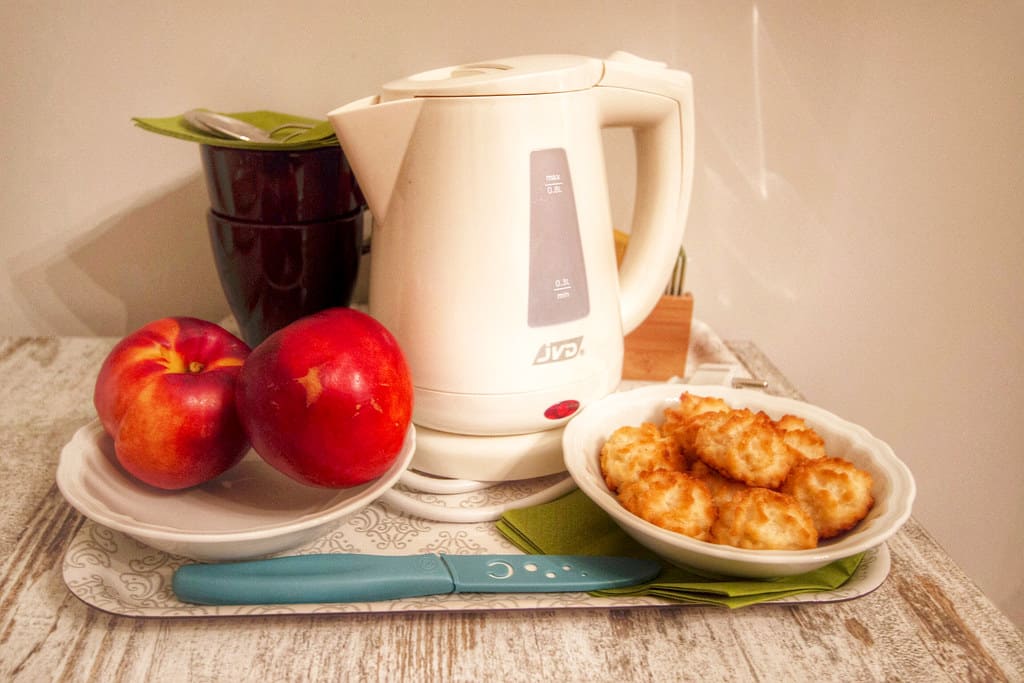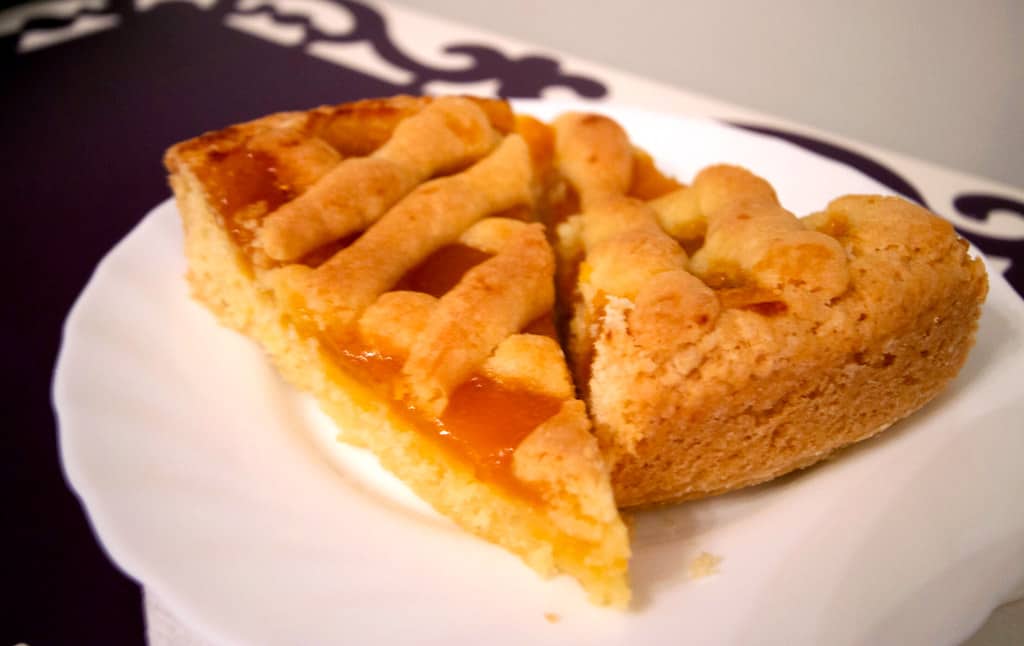 He wrapped everything up for us so that we could still have something for breakfast before setting out the next morning.
We were so incredibly grateful and surprised– I don't think I've ever experience that level of hospitality anywhere.
Only six rooms total, we stayed in their charming deluxe room, which was also their most spacious. With two double beds and an additional daybed, there was no shortage of space to spread out and relax.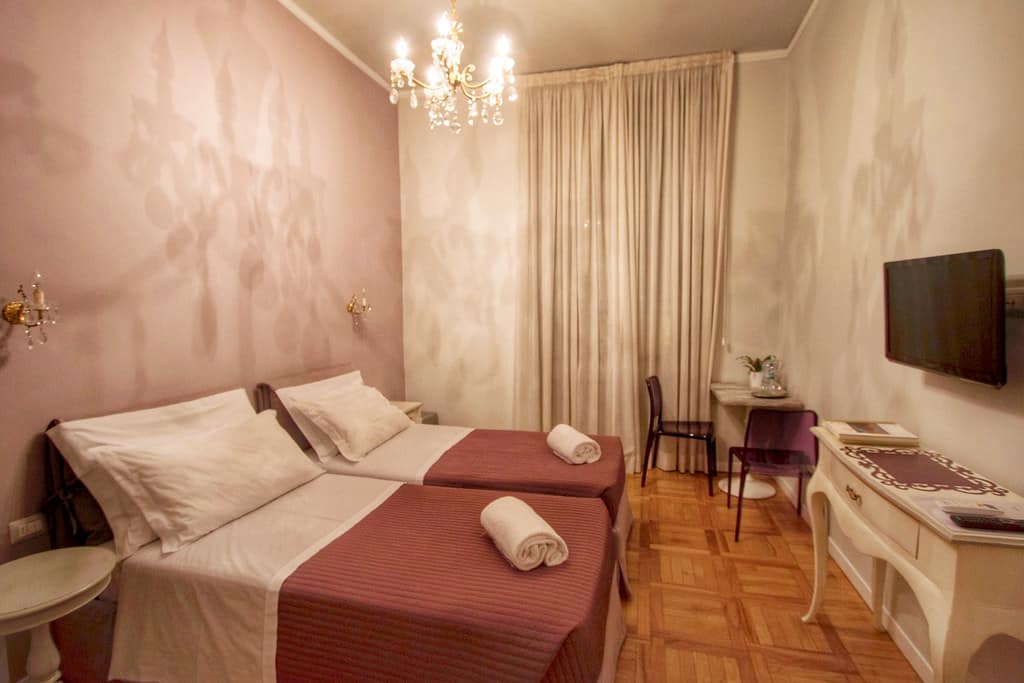 We loved the chic chandelier, the high ceilings, and the huge wooden shutters that adorned the windows. And it's pastel purple and soft grey hues, had us soothed instantly every time we returned.
Can I just live here? I would seriously be happy if my actual apartment looked like this.
I couldn't call this b&b anything other than smart luxe, and you'd never know that it was all set inside a historical building.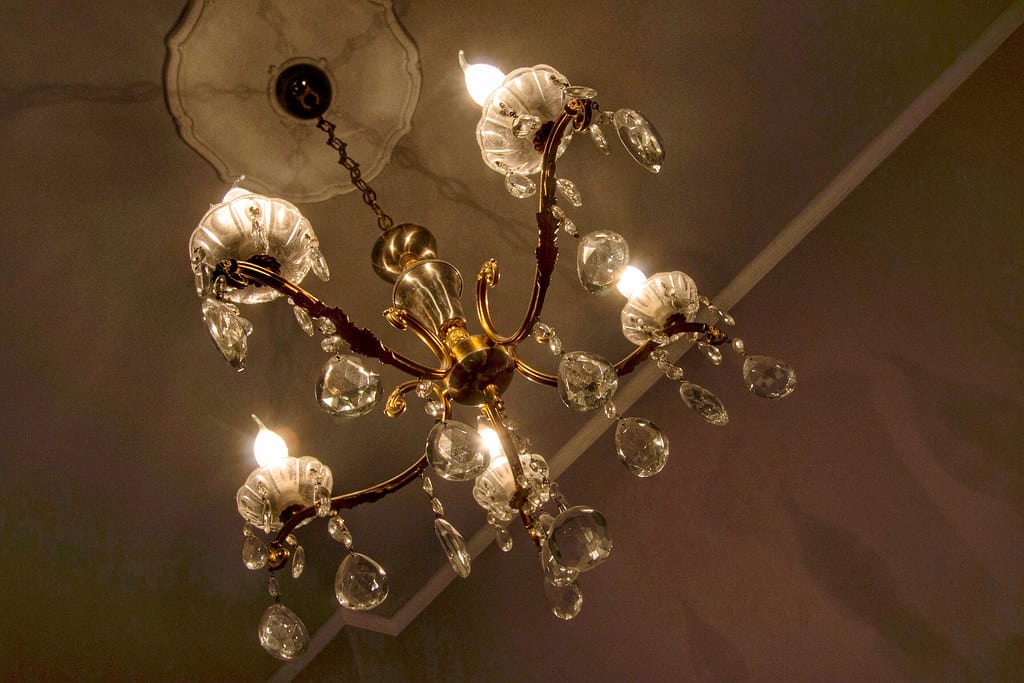 We stayed at Florence Chic for three nights, and it exceeded all expectations. At the time only one other couple was staying there as well, so Stefano let me peek into a few of the other rooms, since each one is unique decorated and fit for a different purpose.
And while they were smaller than our room, let me assure you, they were equally luxe and chic. I'd be happy to stay in any one of the rooms the next time I return to Florence.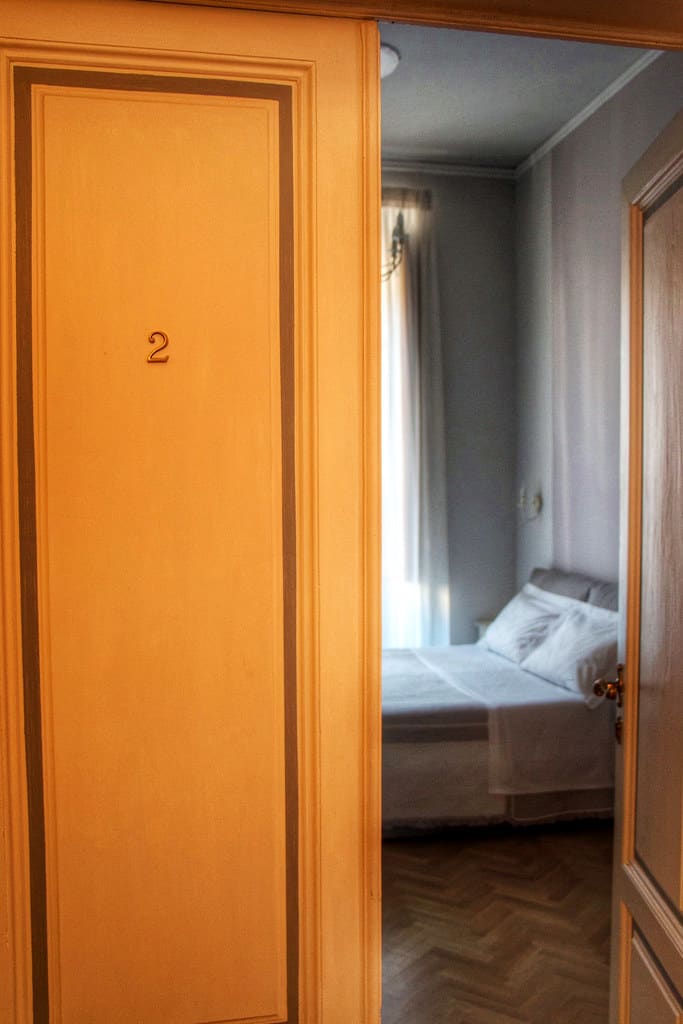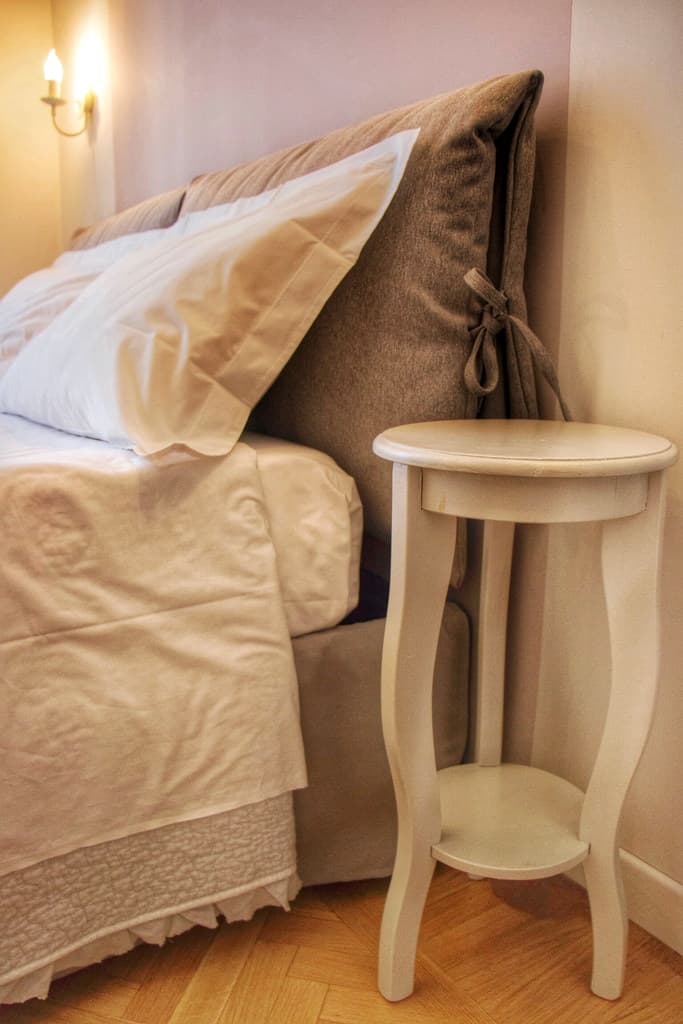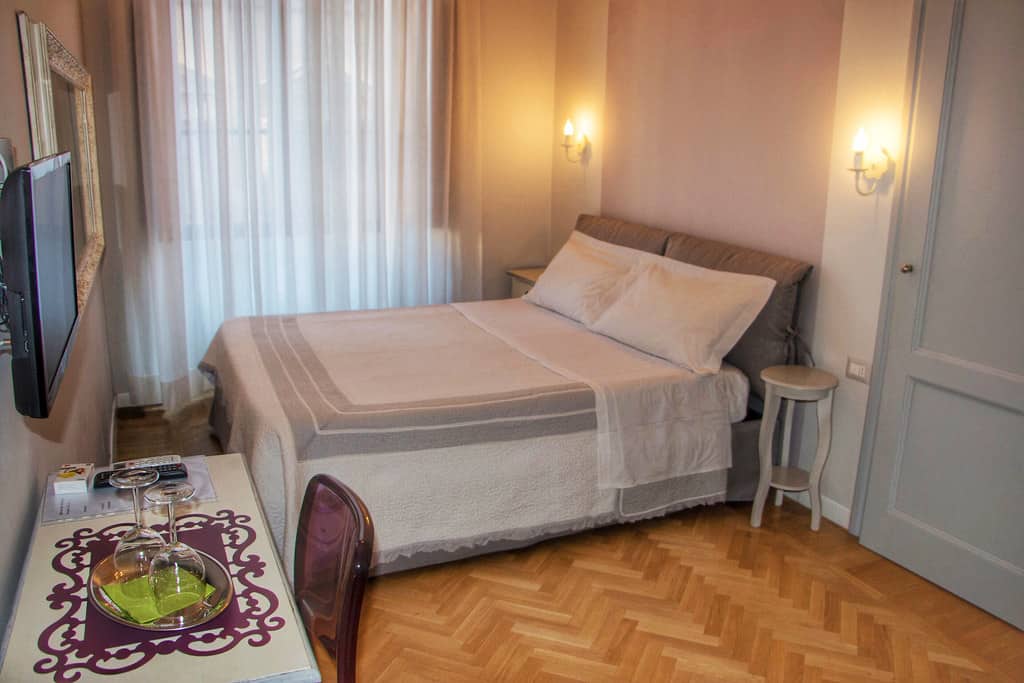 While we enjoyed the bed portion nightly of this b&b, it was only on the third and final morning that we could finally enjoy the breakfast half– although that's completely my fault due to our busy schedule.
The dining room was adorable with elegant furniture and petite stained-glass lamps above each table. We were treated to a delicious feast of eggs, fruits, baked goods, meats, cheeses and cappuccino, with our hosts making sure we had plenty to fill our plates. The food was all organic and genuine Tuscan produce. We later found out that Stefano's parents have a farm in Tuscany and often bake and give him food from their farm that he shares with his guests.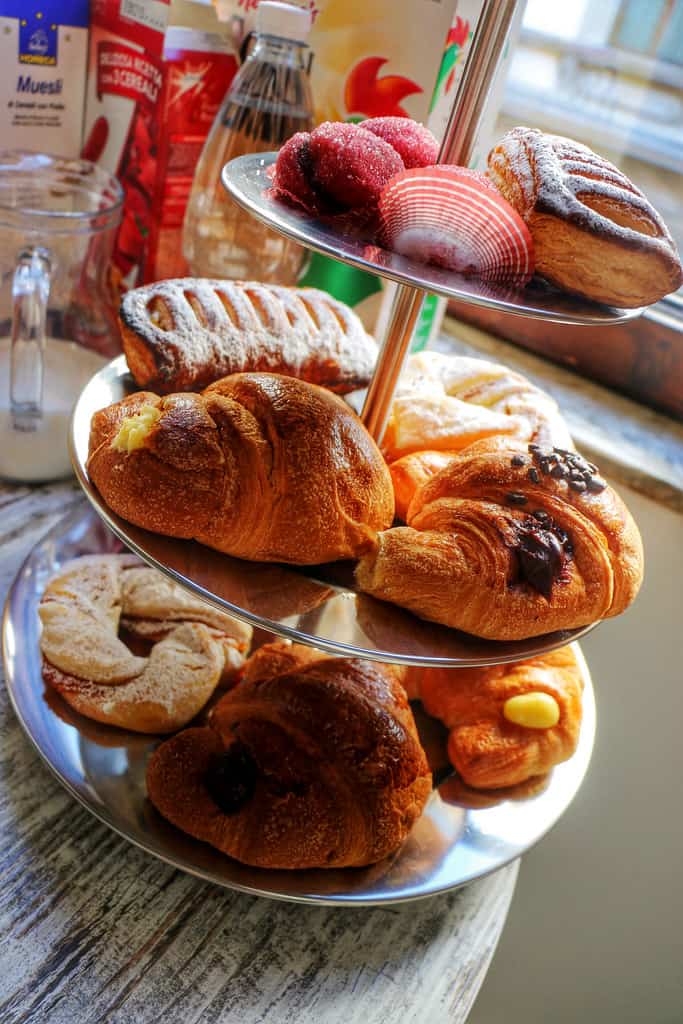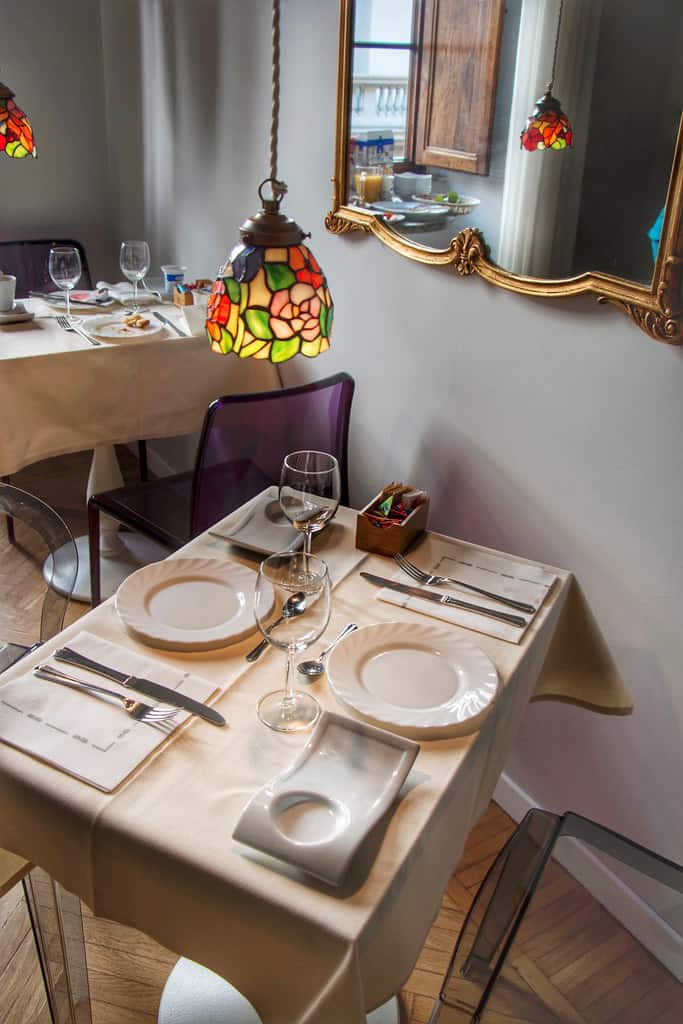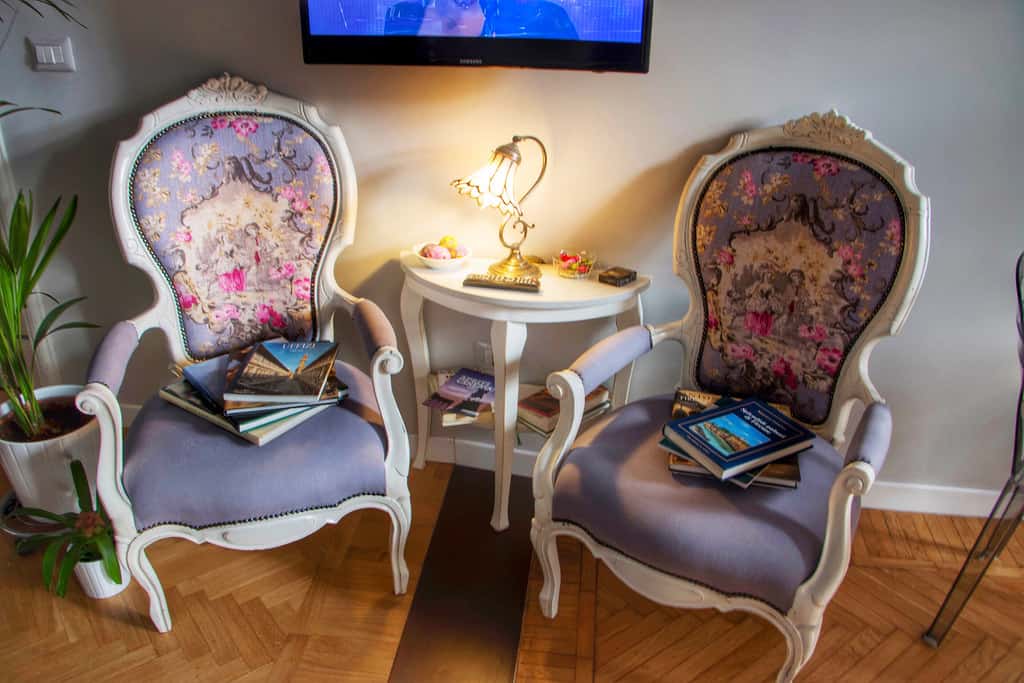 It truly was a feast, especially considering there were only two sets of guests.
Just as we had finished off our plates, fresh omelettes were brought out. Everything was so delicious that we couldn't help but to eat everything. Stefano truly went above and beyond in regards to service– he was always eager to ensure we had the best stay possible.
His love and passion for running this b&b continually shined through in each interaction we had with him. 
Although Florence Chic B&B only opened last year, I know with Stefano's hard work and hospitality that it'll soon become the place to stay in Florence. I mean, on top of the hotel itself being a complete gem, it also has the perfect location. Within a three minute walk you're at the Duomo, the Uffizi or plenty of boutique shop and restaurant choices.
I can't wait until I return to Florence and can return to Florence Chic B&B, our charming home away from home.
A warm thank you to Stefano for his kindness and hospitality. We were guests of Florence Chic B&B, but he truly made our time in Florence special. Staying on a complimentary basis in no way impacted my opinions.