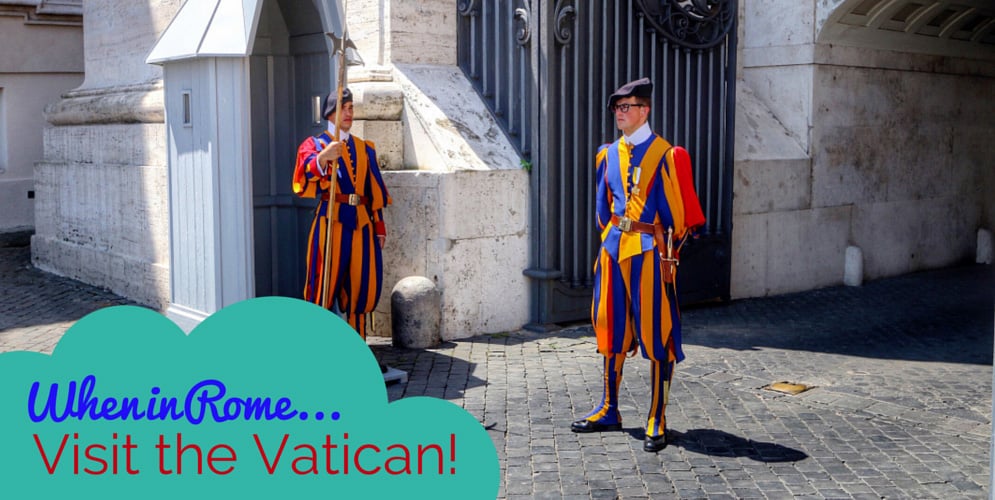 The Vatican sees over 25,000 people daily, making it the second most-visited attraction in Rome. That's… A LOT of people.
So clearly, whether you're religious or not, when in Rome– a visit to the Vatican is a must!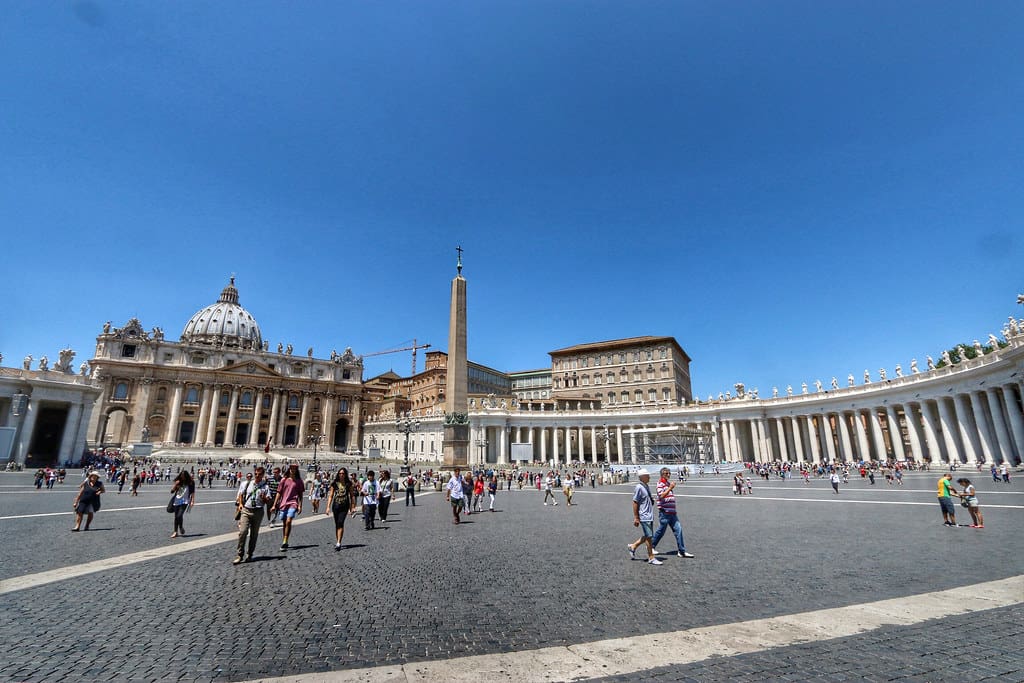 Even with only one night in Rome, I knew a visit to St. Peter's Basilica and the extraordinary Sistine Chapel had to be on our itinerary. In order to make that happen, and to actually get anything out of it, I knew we'd need two things:
1. To take an organized tour.
2. To take an organized tour that allowed us queue-jumping privileges. 
Honestly, even if you're not short on time, to get the most out of your visit I highly recommend taking a guided tour. There's just too much to see, especially in the Vatican Museums. Trying to take in everything on your own, especially in the biggest collection of the most important artworks and artifacts in the world, becomes overwhelming quickly.
So I booked my mother and myself on City Wonder's no wait access Vatican tour, which promised skipping the lines while enjoying a guided visit to the Sistine Chapel, the Vatican Museums and St. Peter's Basilica. Perfect.
The tour started early, but not terribly early like all the early access tours. Our group met a few minutes before 9am, where we were introduced to our tour guide David, just in time to watch the gates open for the day. The line outside was already blocks long. There was no doubt that the people in line had at least three hours of waiting ahead of them– and that's just to get to the ticket office.
I happily bypassed all of them as our group walked straight inside the gates.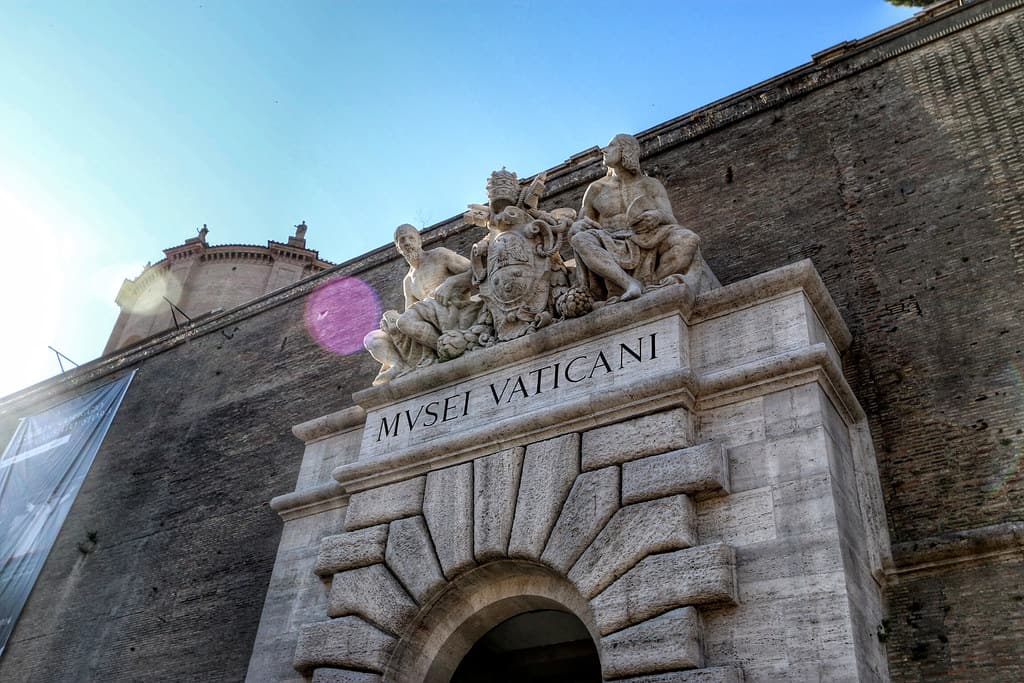 We started out our tour by stepping outside in the courtyard. There they had displays set up with all of the paintings that we would soon see in the Sistine Chapel. I didn't realize was that all tour guides discuss the history and importance here, long before we even reach the chapel, but I guess it makes sense as it's extremely crowded once you're inside and there's no talking allowed.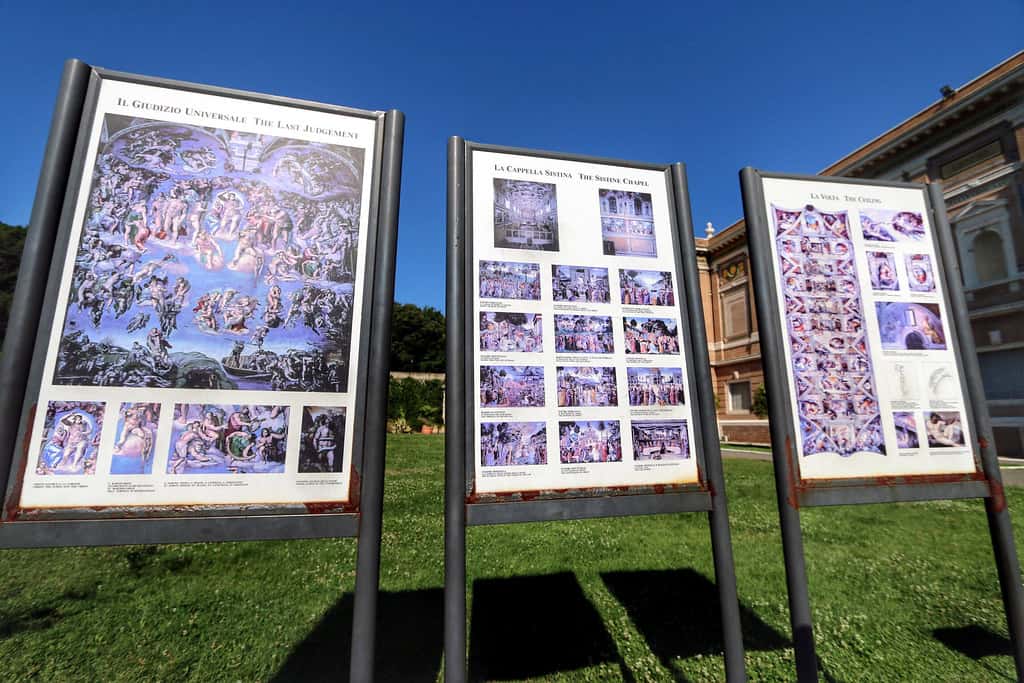 I loved learning about disgruntled Michelangelo, who didn't actually want to paint the ceiling– after all, it was beneath him as a sculptor. 
Not only did he not want to paint it, but he also insisted on doing it his way, despite the wishes of the Pope.
After all was said and done, Michelangelo had painted everyone nude and with muscular, powerful bodies that would soon pave the way for contemporary Western art.
And those who criticized him? Well, Michelangelo painted them in hell, with snakes biting at their privates and foolishly adorned in donkey ears. You've got to love his sense of humor!
Oh, and when they complained to the Pope, he only apologized, stating that he had no jurisdiction in hell and could therefore do nothing about it. Love it.
Sadly though, after Michelangelo's death, artist Daniele da Volterra was commissioned to paint clothing on all of the figures in the Last Judgement fresco. Thankfully, he was not allowed to cover up anything on the actual ceiling.
These are just a few of the gems we learned thanks to David before actually heading into the Vatican Museum. And you know what? I actually really enjoyed learning about everything outside on those panels. It allowed us to get an up close look at the details, while being able to fully enjoy the real thing later on free of distraction or commentary.
Plus, going outside meant we got to sneak photos of the new Popemobile!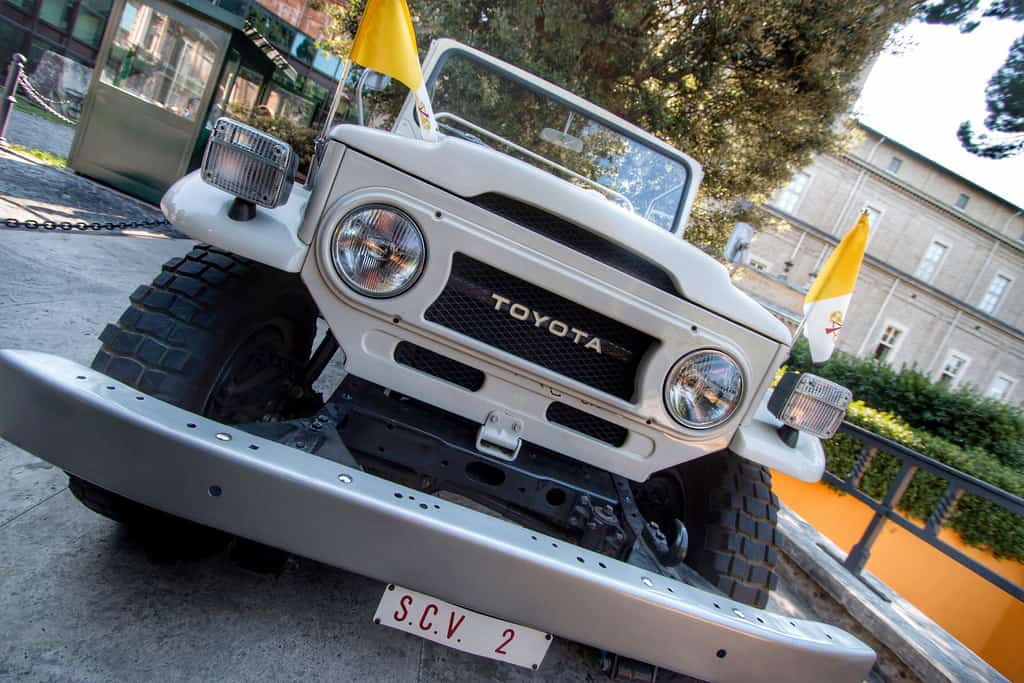 I know even with the help of David we barely covered a fraction of the museum's collection, but I know we at least covered the most important bits.
We walked through the Gallery of Maps, which had the most beautiful trompe-l'œil ceiling, as well as the Galley of Tapestries, where David showed us the famous illusion trick.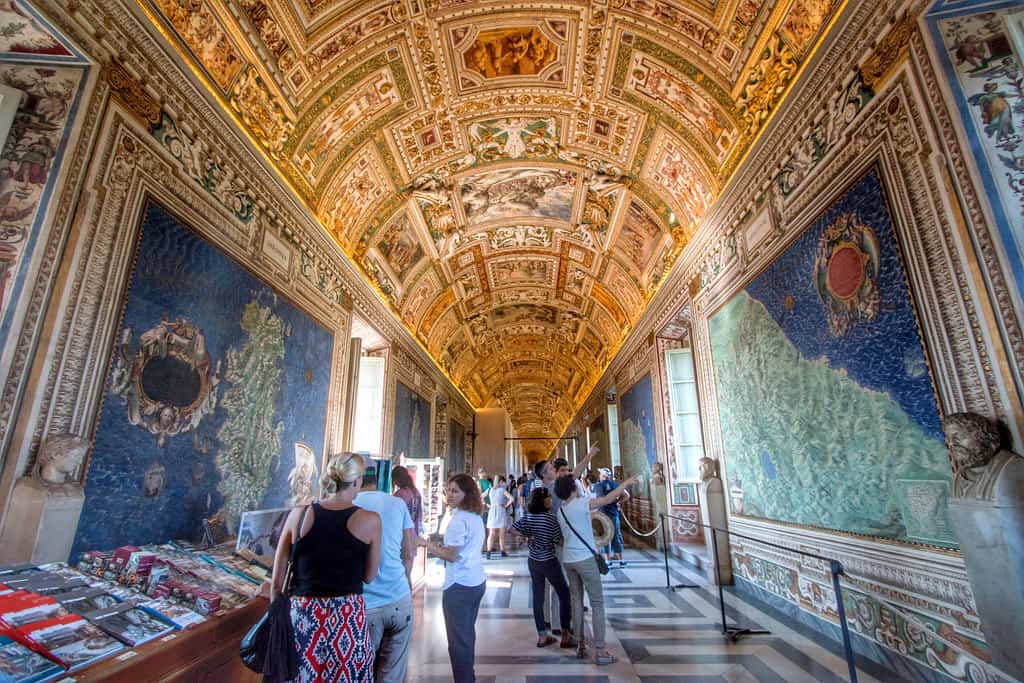 I was actually surprised that most of the art in the Vatican Museum was actually not Christian. Instead we saw a wide variety of ancient Roman, Greek, Egyptian and, Renaissance pieces. There really was something for everyone.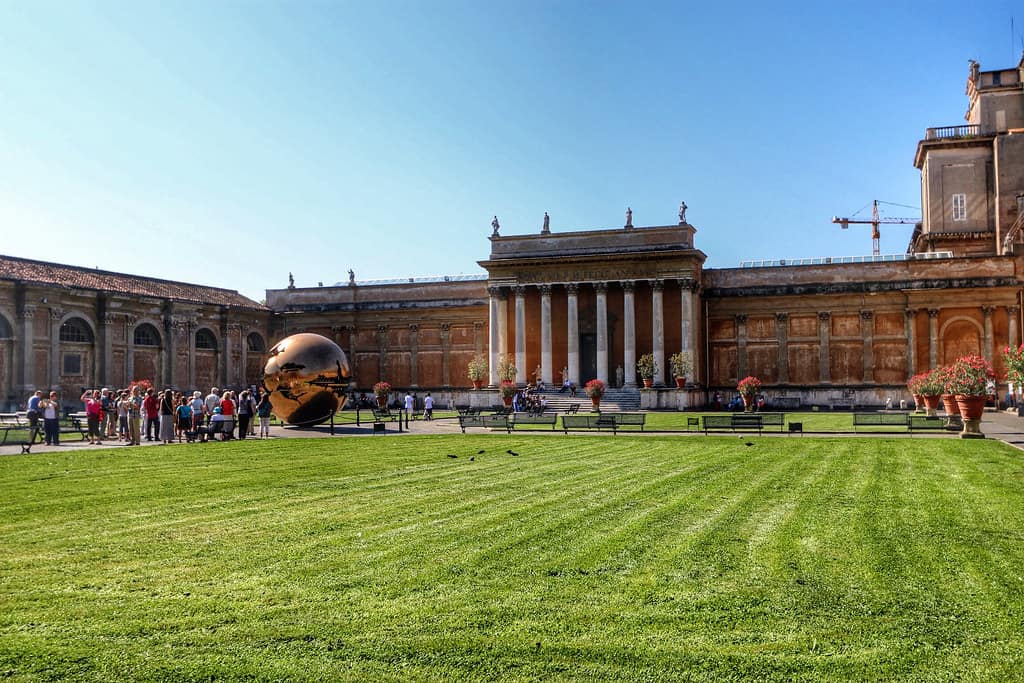 Another exhibit I personally enjoyed was where countries send things representing their country as gifts to the Vatican. This exhibit is changing constantly, but when we were there it was featuring the people and culture of Bali– another place I have yet to visit.
Of course we also visited the famous Raphael Rooms.
These rooms, which serve as the public part of the papal apartments, are covered in frescos painted by Raphael and his students.
The School of Athens is easily Raphael's most famous fresco, which is why it's used as the image for Vatican Museum tickets!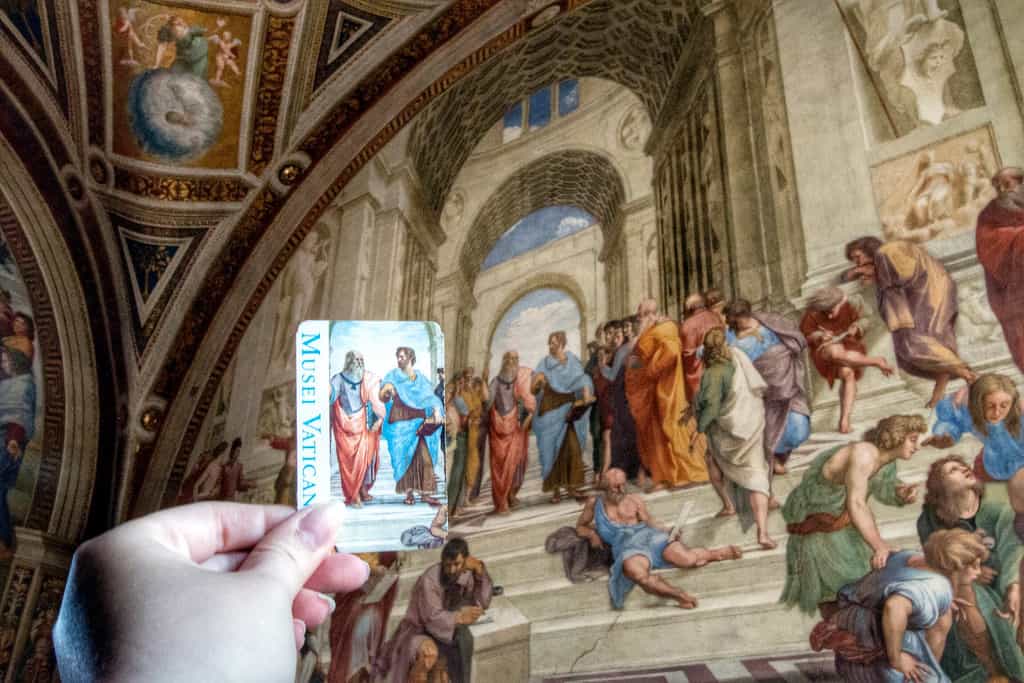 David took some time explaining the different figures you see in the painting, like Aristotle, Socrates, Plato and even Michelangelo. It was even believed that Raphael painted a self-portrait in the corner of this fresco, which David used to compared himself to– he actually does look kind of like Raphael!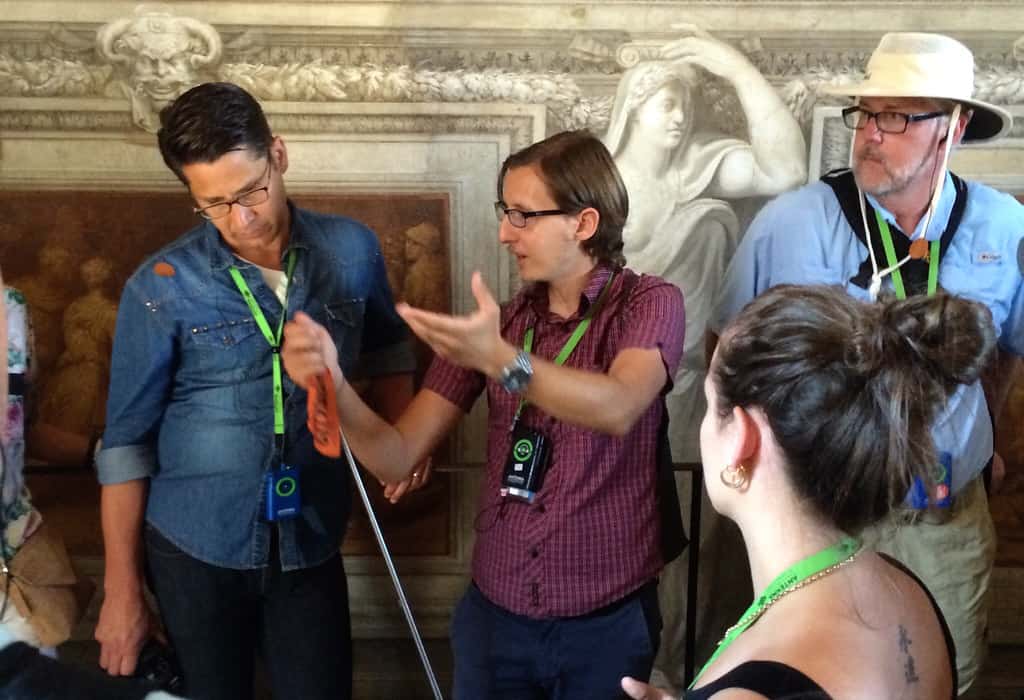 You could easily spend hours in the Vatican gazing at all of the art, sculptures and even the immaculately detailed ceilings. I knew as we were walking through that we had made the right choice in paying for a guided Vatican tour.
Then finally it was time for what everyone had been waiting for. Entry to the Sistine Chapel.
As David had previously explained everything we needed to know, he turned off our headsets and gave us time just to soak in it's splendor quietly– or at least as quiet as it could be with Nazi guards yelling "No Photos" every 30 seconds.
Craning your neck at the ceiling for 30 minutes was well-worth it, the Sistine Chapel really does live up to its expectations.
Once everyone silently filed out of the chapel, it was time to head to our last stop on the tour, St. Peter's Basilica. Technically, the tour's time was already up, but David asked if anyone would mind if he went longer to properly show us around the church. Of course no one objected.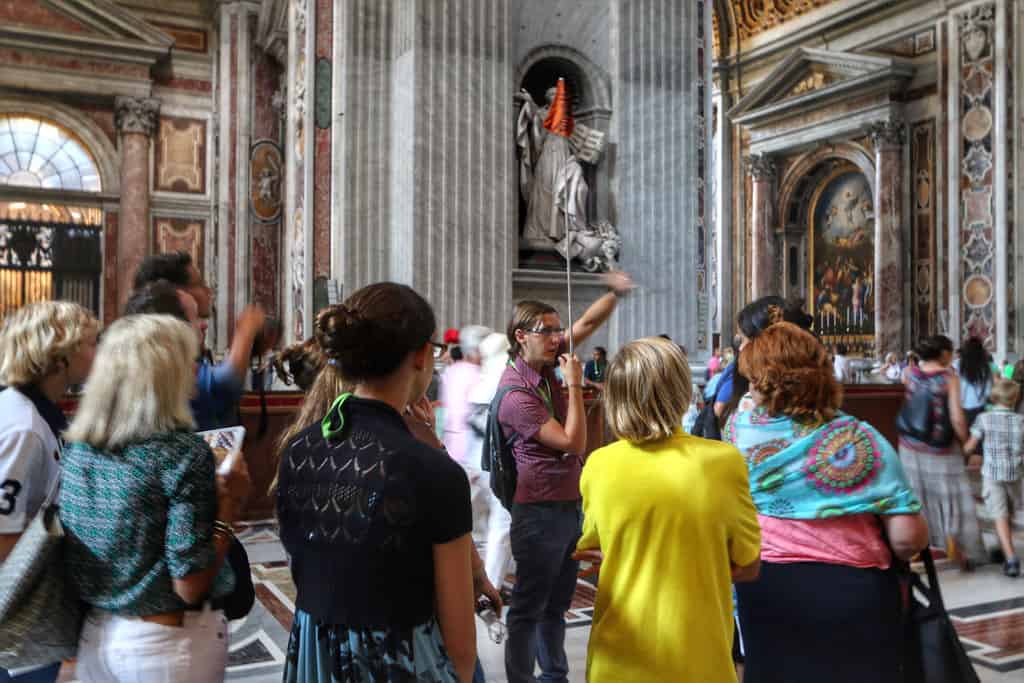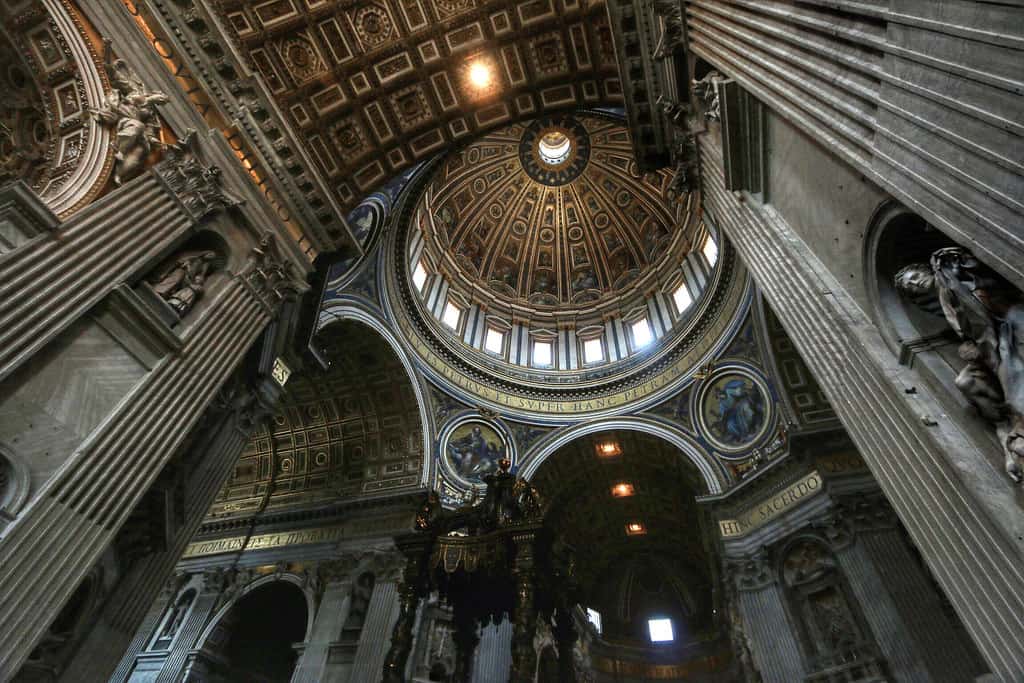 The church could easily be a tour on its own, again, there's so much to see inside. David left us in the church to continue exploring on our own, which meant those who wanted to climb the dome could. But not before sharing one of the most incredible secrets of the Vatican with us involving the frescos in the church. It literally blew my mind– but of course, I'll let you go on his tour to find out what it is. 😉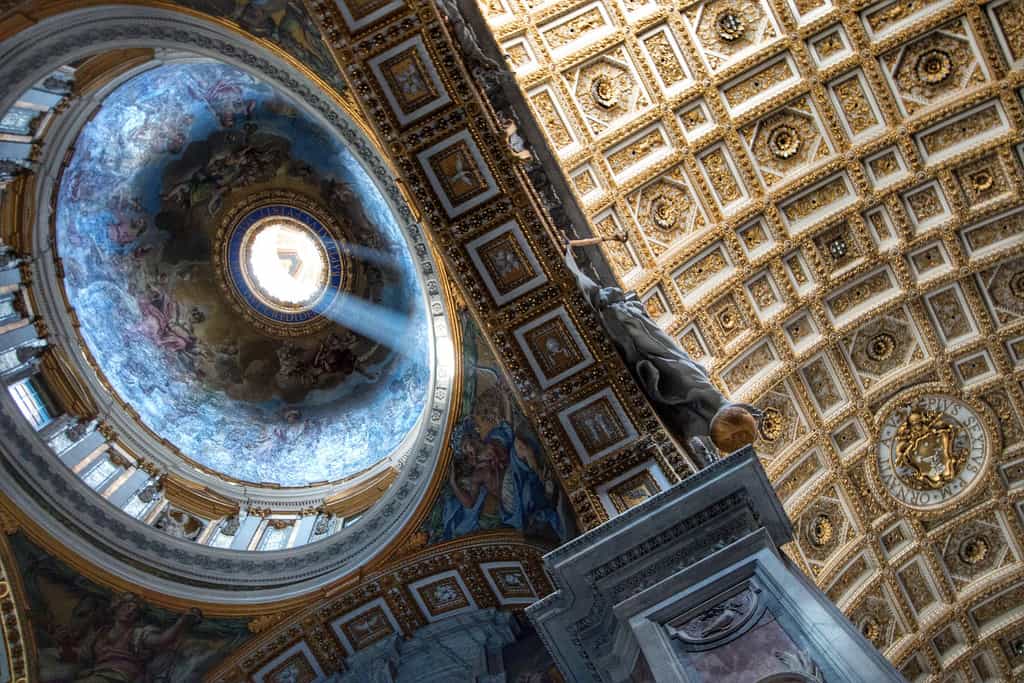 I highly recommend not only this incredible tour, but to ask for David as your guide. He was born in Rome, and sadly left the city as an adult. However, due to his love of Rome and pride as a local, he moved back to share his passion of the city as a tour guide.
Sure you can visit all of the sites on your own and save some money, but why bother? What you save in money you'll lose in time, and I can guarantee you won't get as much out of your visit.
Know Before You Go: The Vatican has strict dress code requirements. No shorts of any kind and shoulders must be covered for both men and women. People will be checking, and they have no problems turning people away. This may be a popular tourist attraction, but it is still one of the most holy places in Christendom. 
Have you visited the Vatican before? Tell me about your visit in the comments below!
Disclaimer: I was invited as a guest to experience City Wonder's No Access Vatican Tour, although we paid for my mother to attend at full price. All opinions, as always, are my own.