Our first few hours in the Rome were pretty telling about what the rest of our time there would be like.
Arriving into Termini right on schedule, we had just over an hour to drop off our bags and get ready to eat our hearts out on an Italian food tour that I had been looking forward to. Waiting in line to buy our tickets to the metro, people seemed to be taking forever.
Finally it was our turn. I tried to ignore the touts who stood next to the machine trying to scam on poor tourists. Assuring them I didn't need their help, I fumbled around until I somehow managed to purchase two tickets. Snatching them out of the machine, we hurried away as the tout yelled at us for not leaving them a tip.
Passing through the turnstile, we headed towards the entrance of the track. BOOM. A gate dropped down in front of us. Confused, we tried to ask for help.
No trains.
What do you mean no trains? When will there be trains again?
No answers. We began to wonder if there was another strike.
We followed the stream of people, which led outside the turnstile to the taxi and bus stand. Well, that was a waste of Euros.
The line was at least two hours long for the taxi, there was no way we'd make it to the tour on time going that route. We were trapped at the Termini.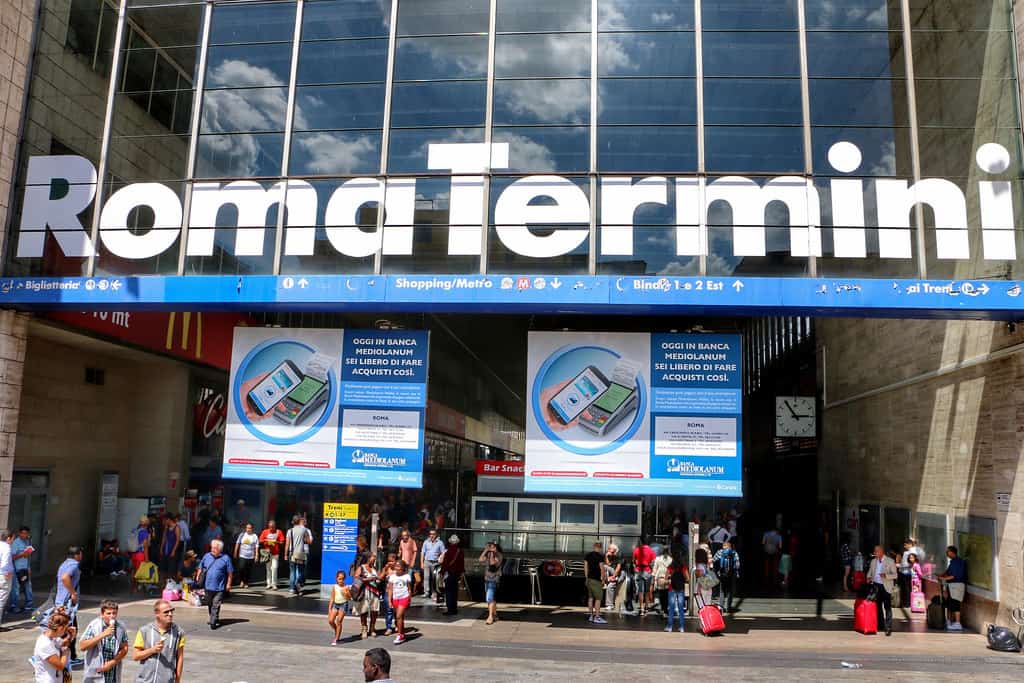 Frustrated, hot and hungry, I began to slowly despise Rome. I was glad we were only spending a day here.
We proceeded to the bus stand where we spent even more Euros on a bus ticket.
Walking to the platform, there was a mob of people. A bus arrived and people hurled themselves onto it. There's no way we would fit.
Moving to the front of the line we figured we'd catch the next one. Another bus appeared and the same thing happened. Somehow, at the front of the line, we still hadn't managed to get on the bus.
Finally, another twenty minutes later, a third bus arrived. I couldn't take it anymore. The Hong Kong resident in me came out and I elbowed my way onto the bus dragging my mother behind me.
Lost and no idea where we actually were, we decided to get off the bus at another metro stop. Trains still weren't running, but at least we were now within a mile or so of our hotel and could walk.
We finally made it to our hotel. Gutted, we had to miss the tour as was it was starting in a few minutes on the other side of the city.
Grumbling as we checked in, the man at reception informed us that part of the ceiling had collapsed in on the metro. There were no strikes after all. Suddenly all that frustration melted away, and I was just glad that no one was hurt and that we hadn't been on that train.
That incident really made us realize, and appreciate Rome for what it is– an ancient city. With how old the city is there's no surprise that something is constantly breaking or in need of repair. Hell, every time they even begin to dig for something to improve the city they discover some new archaeological site and have to put off the construction project.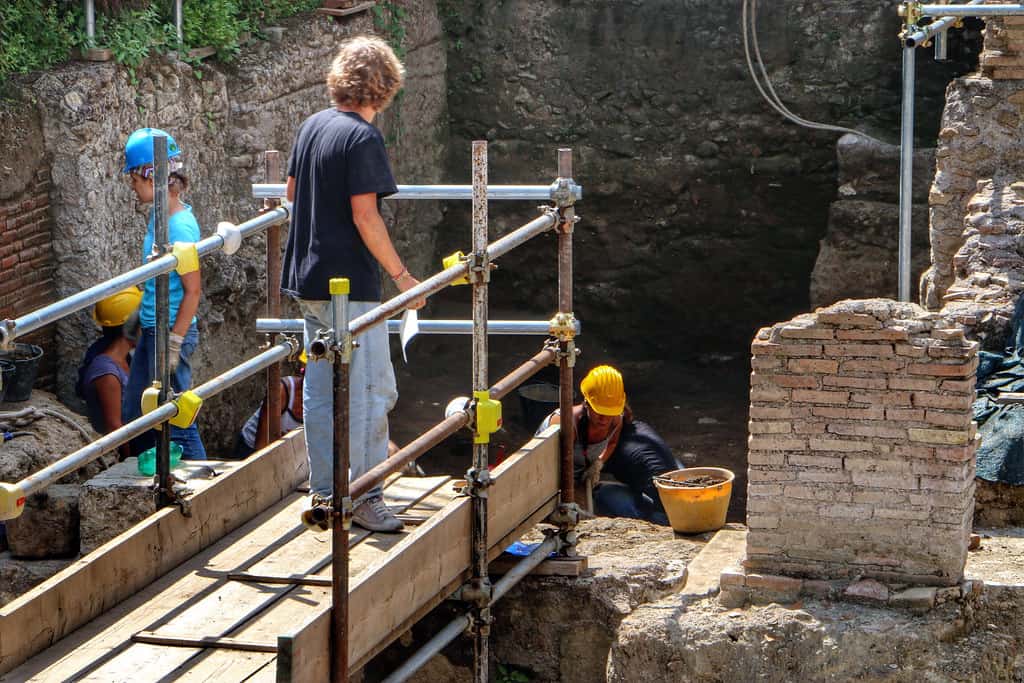 It also explained why nearly every site we went to had scaffolding or was covered by tarps. We began to find it almost comedic. This was not the Roman holiday we had been dreaming of!
I hid it pretty well in my previous posts, didn't I? But seriously! Every. Single. Site.
The Vatican Museums? Under construction!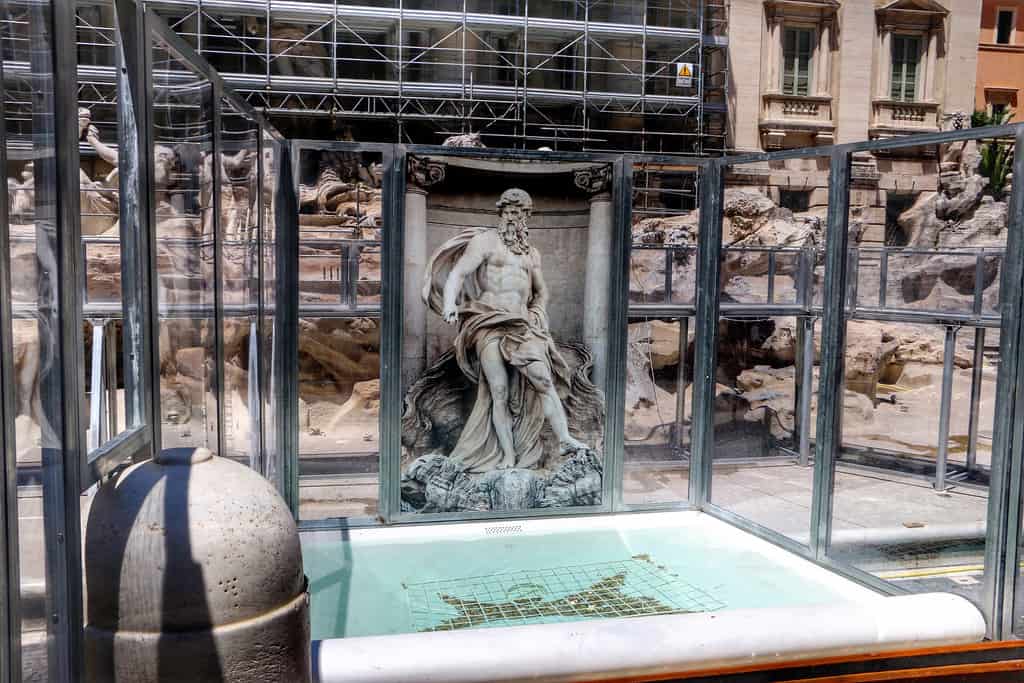 Trevi Fountain? Yup, under construction as well.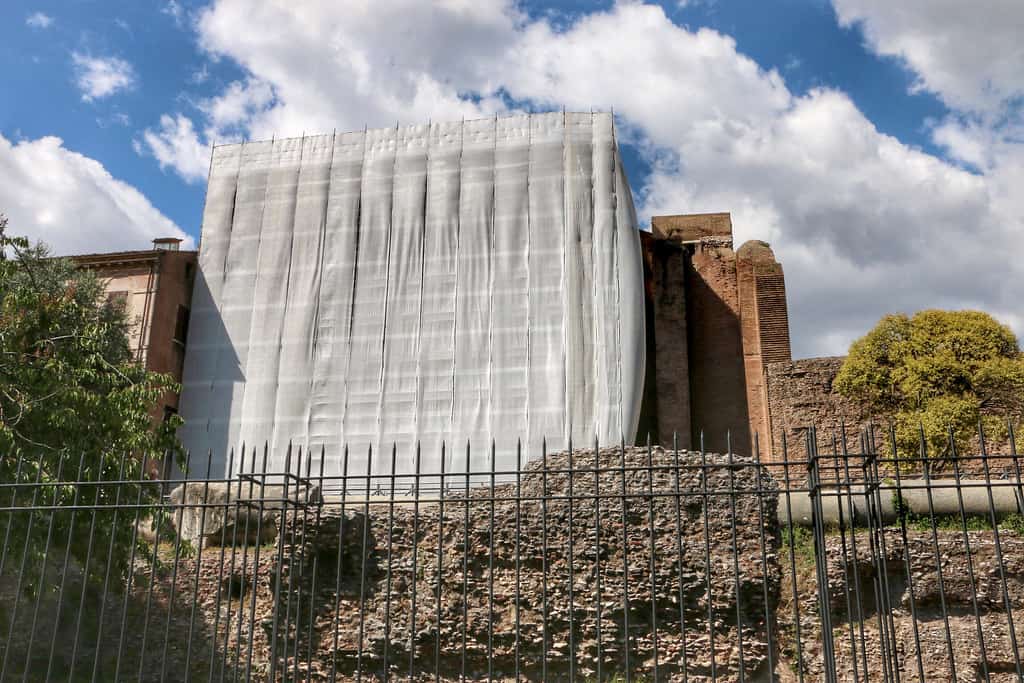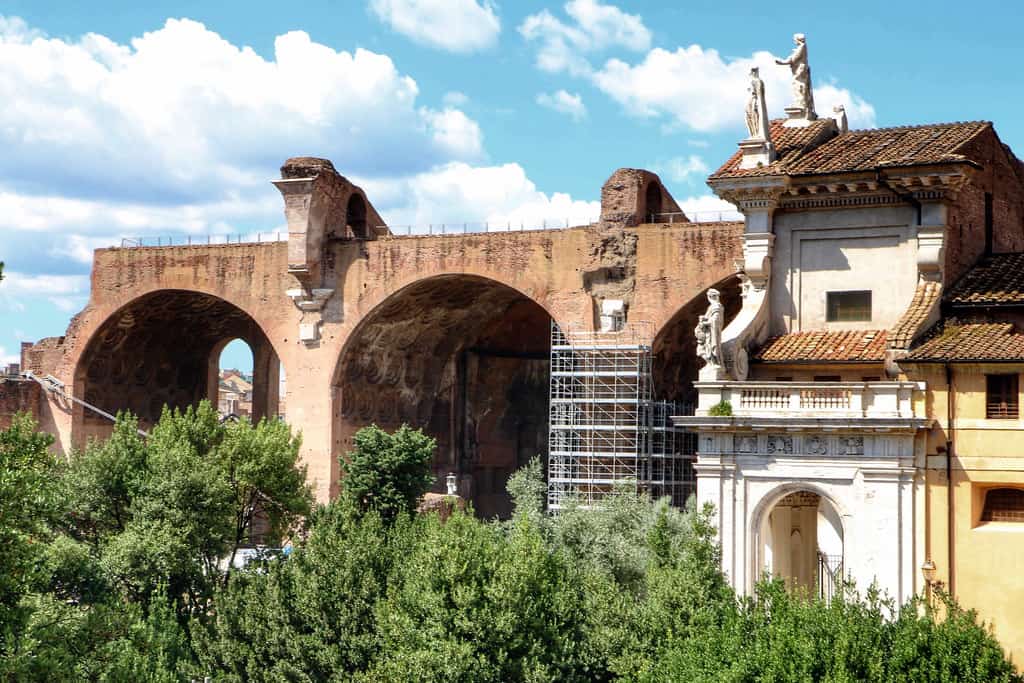 The Roman Forum? Check!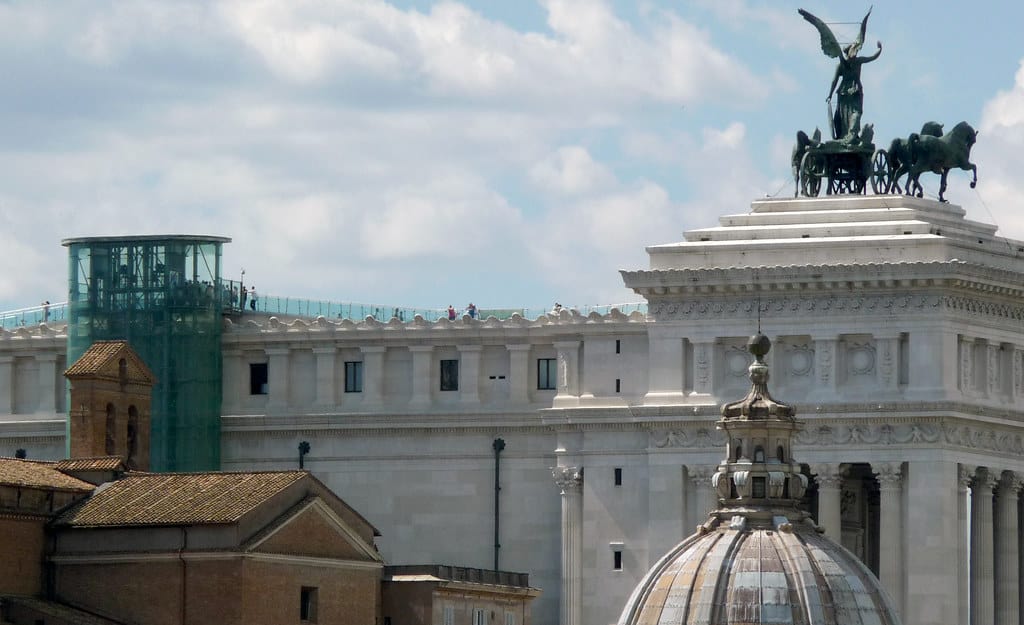 Scaffolding on the "Typewriter", you betcha!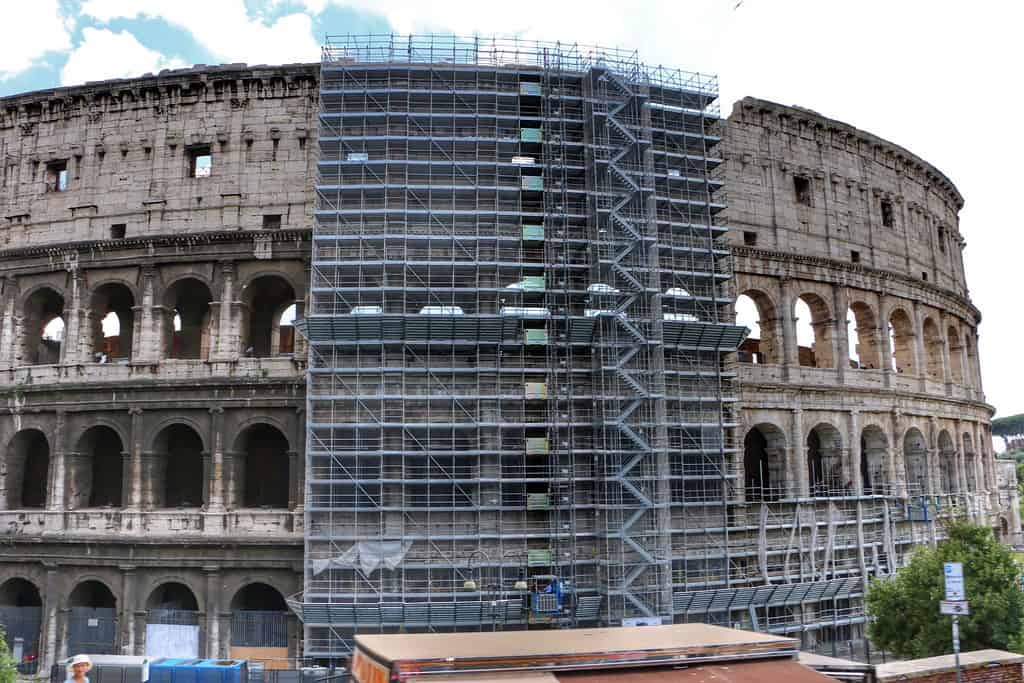 Yes, even the Colosseum. 
As the day went on, we collected more photos of reconstruction and began to laugh, calling the series "Rome under wraps". By the end of the day, seeing all of the construction again made us appreciate Rome as an ancient city. And a pretty damn impressive one at that.
While of course each monument and site under reconstruction in Rome had us initially feeling disappointed, in the end, the only real disappointment was that we only had one night to spend there. I guess that gives us even more reason to return!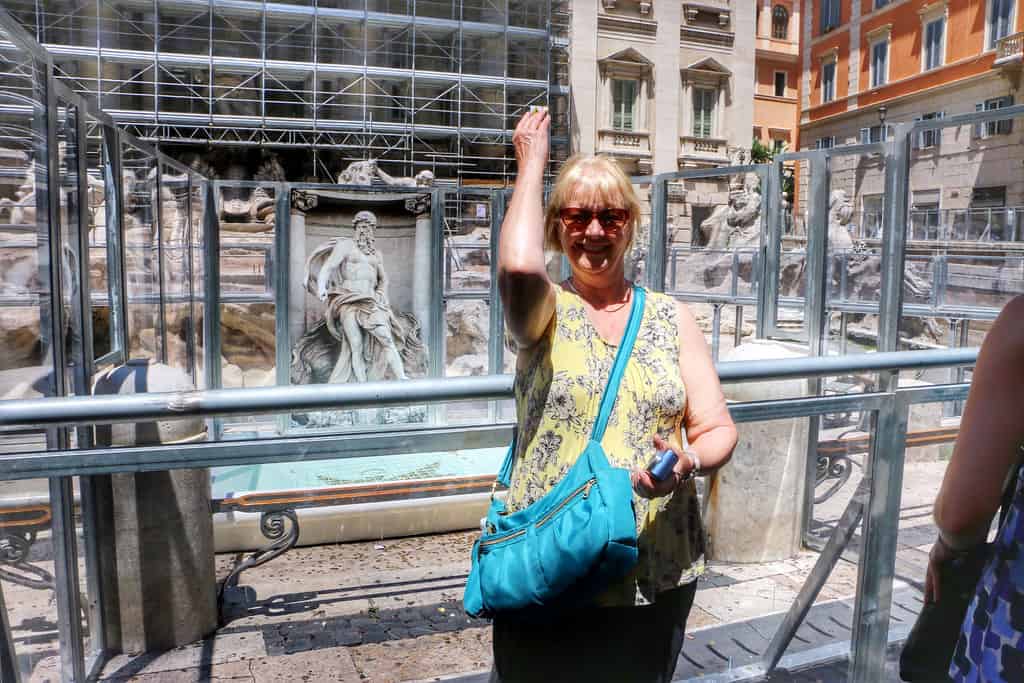 Will tossing coins in this makeshift Trevi fountain still work? Will it make us return to Rome?
Have you been to a city that was completely under reconstruction before?