Each year from mid-November until Christmas Eve, Christkindlmarket allows visitors to experience authentic German traditions without having to travel any farther than the city of Chicago.
Modeled after the Christkindlesmarkt in Nuremberg, Chicago's Christmas market sister city, the Christkindlmarket in Chicago is the largest open-air holiday market in the US. And it's also the most authentic.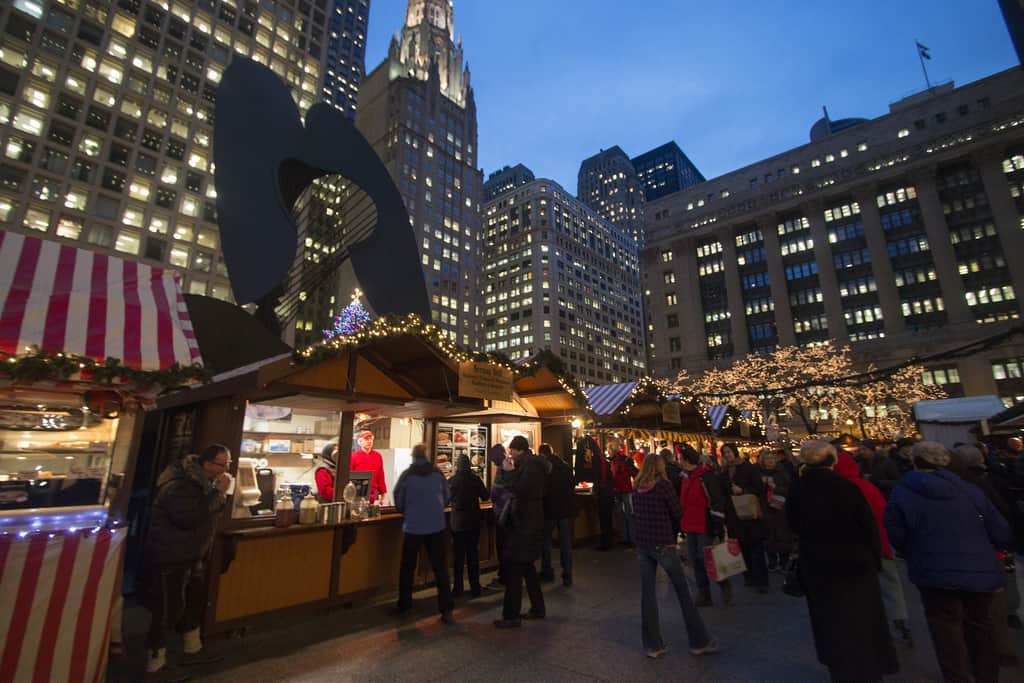 The market now has over 50 vendors, and more than half of them are actually flown in from Germany. I loved being able to shop around at each vendor while listening to the workers communicate with each other in only German– I almost forgot I was in Chicago!
Not only are many of the vendors from Germany, but the official Christkind from Nuremberg, a young women chosen every two years in a pageant of sorts, also makes the flight to grace the city with her presence for the duration of the market.
The Christkindlmarket in Chicago really is the closest thing to a traditional German Christmas market in all of the US.
It's no wonder the market sees huge draws of visitors, as over one million people pass through the market yearly. Often you'll spot tour buses parked around the corner bringing in visitors from as far as Florida and even Canada.
Because of this, I highly recommend visiting on a weekday if possible. We visited on a Thursday evening and it was still packed with people.
Red-and-white striped wooden stalls fill Daley Plaza enticing visitors to buy handcrafted German products like Black Forest cuckoo clocks, beer steins, and ornaments galore. We enjoyed walking from stall to stall finding cute trinkets, as well as traditional market staples like gingerbread, beeswax candles, and Weihnachtspyramides.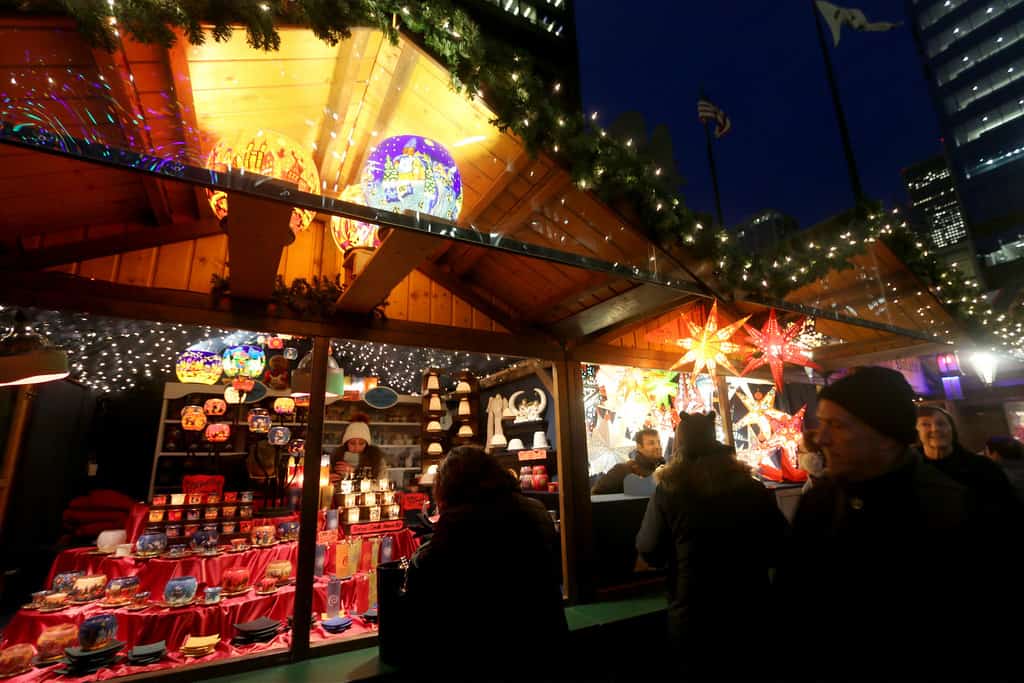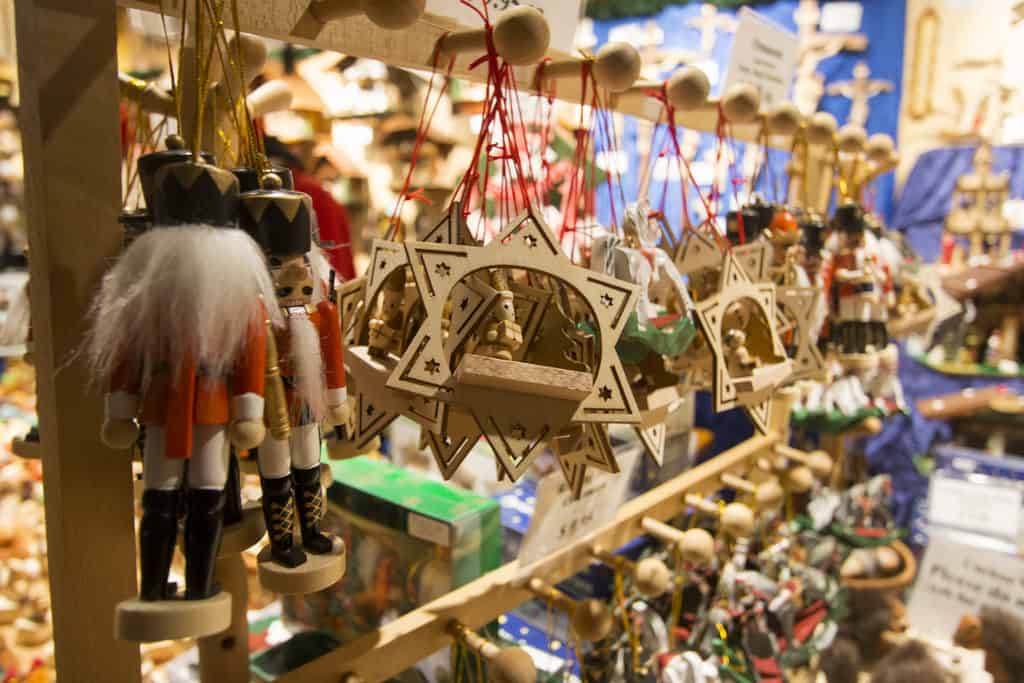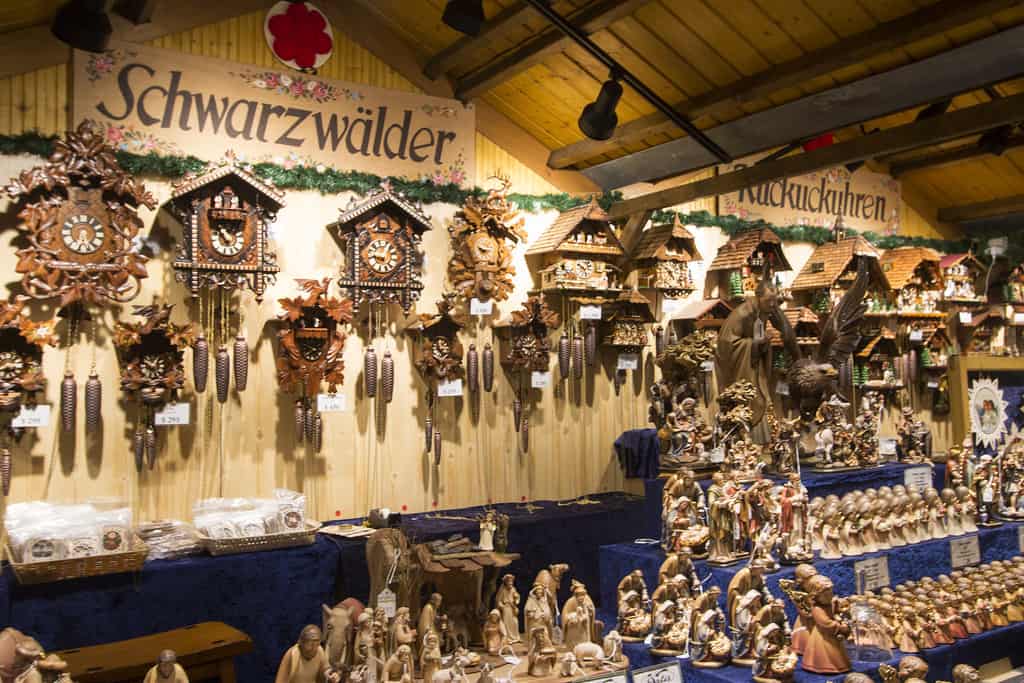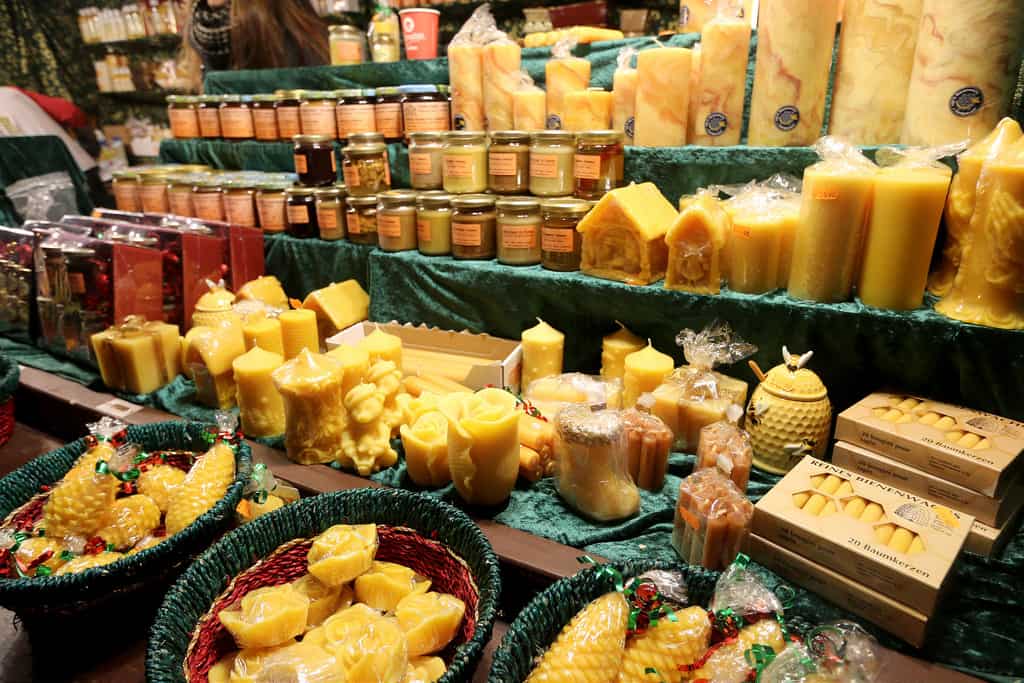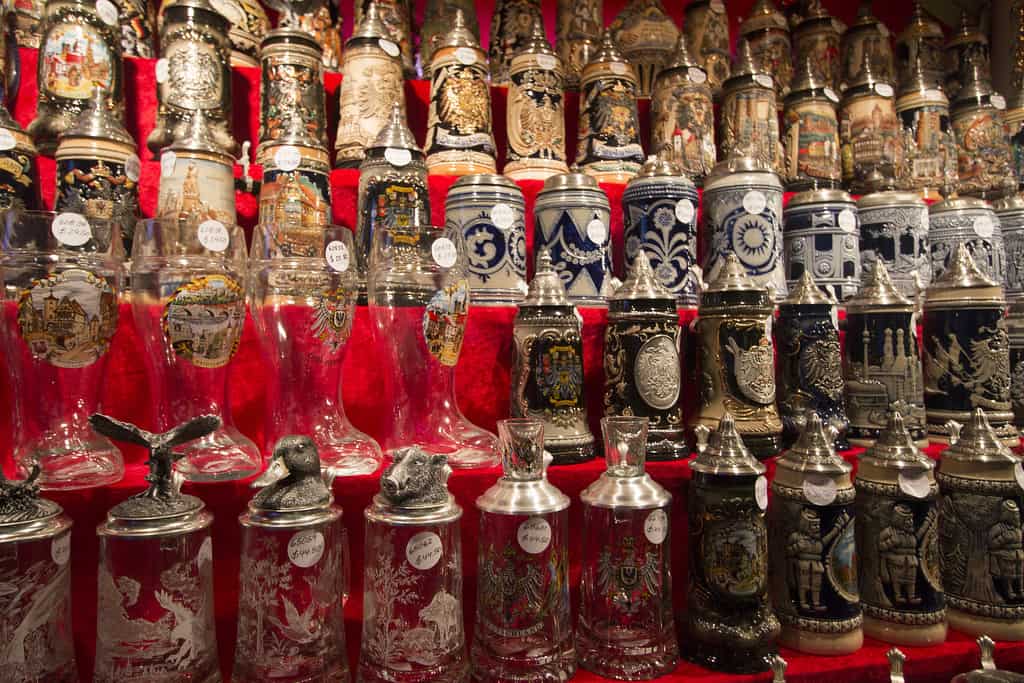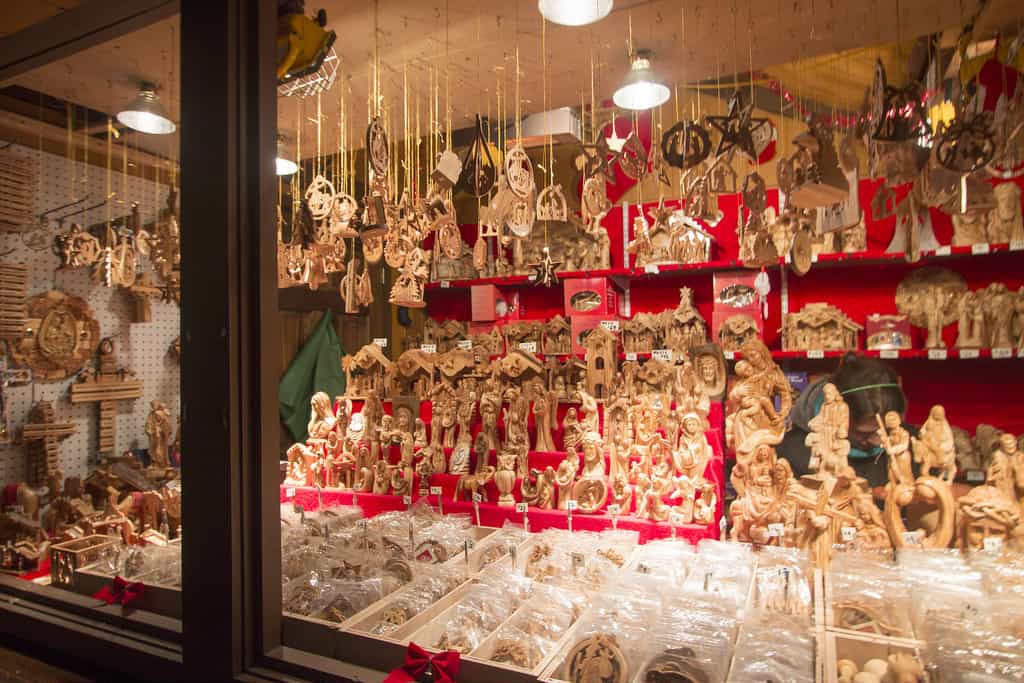 We couldn't take the cold for too long, since it is Chicago after all and winter can be pretty brutal here. But guests can also take advantage of the warming tent or the Grand Timber House, which is a great place to sit down and enjoy some delicious food.
I personally recommend walking around while sipping on some German glühwein to keep warm. Unlike other Christmas markets in the US, such as the famous market in NYC's Union Square, alcohol is served here making it a fun atmosphere for hanging out with friends.
Even if you're not a fan of spiced wine, they also serve a variety of beer to perfectly complement that bratwurst and kraut.
Of course we went with the more traditional glühwein in our cute souvenir cup– which only costs $1 more. And if you're interested in getting the mug, you'd better go sooner than later as the official mug always sells out.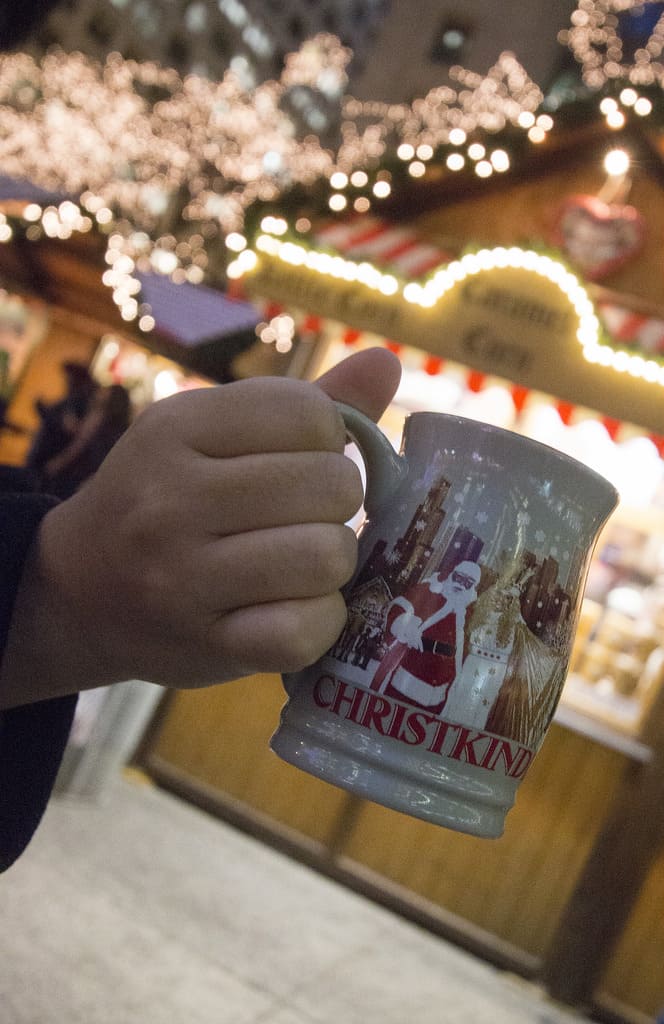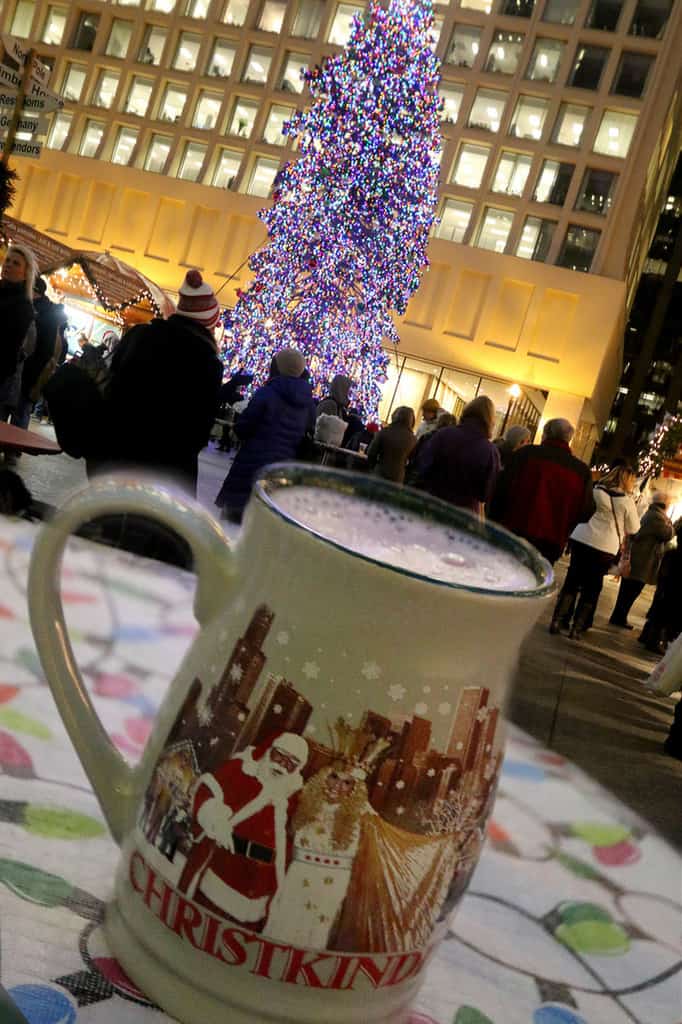 Although we originally had only planned to grab a few snacks before heading to dinner at one of Chicago's many delicious eateries, the smell of German sausages in the air quickly persuaded us otherwise.
Before we knew it, we had ordered a variety of delicious German fare to split between the two of us. There were almost too many options to choose from as there were still many items we wish we could've tried– maybe a second visit is in order!
I had to get my personal childhood favorite, potato pancakes, while Johnny tried their leberkäse with German potato salad. For dessert we shared some small fried donuts, or schmalzkuchen, which tasted more like funnel cake in donut hole form.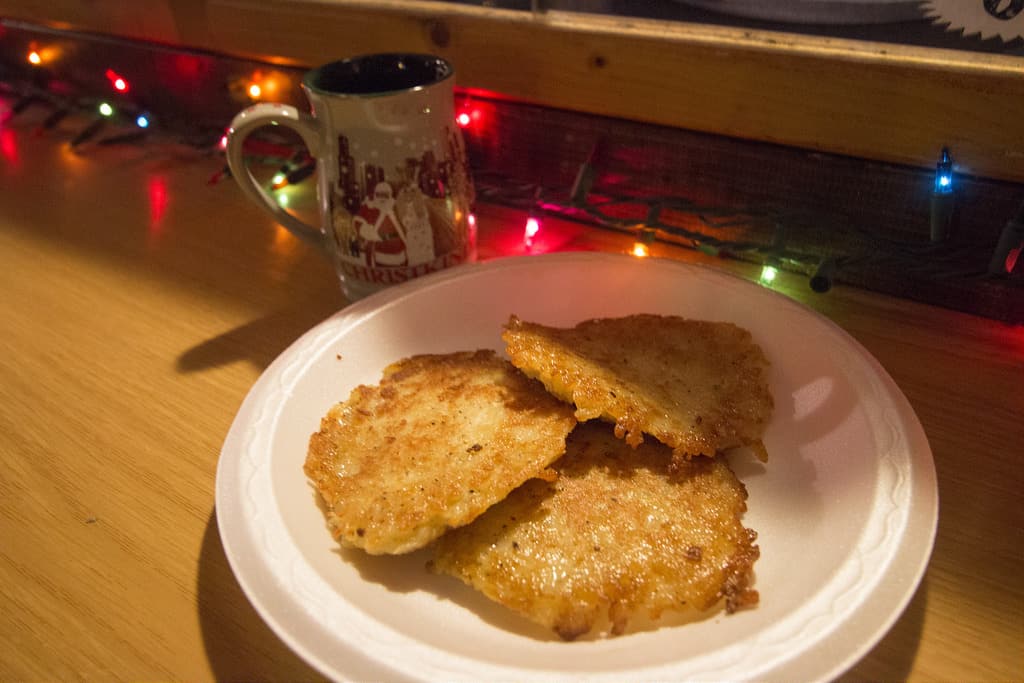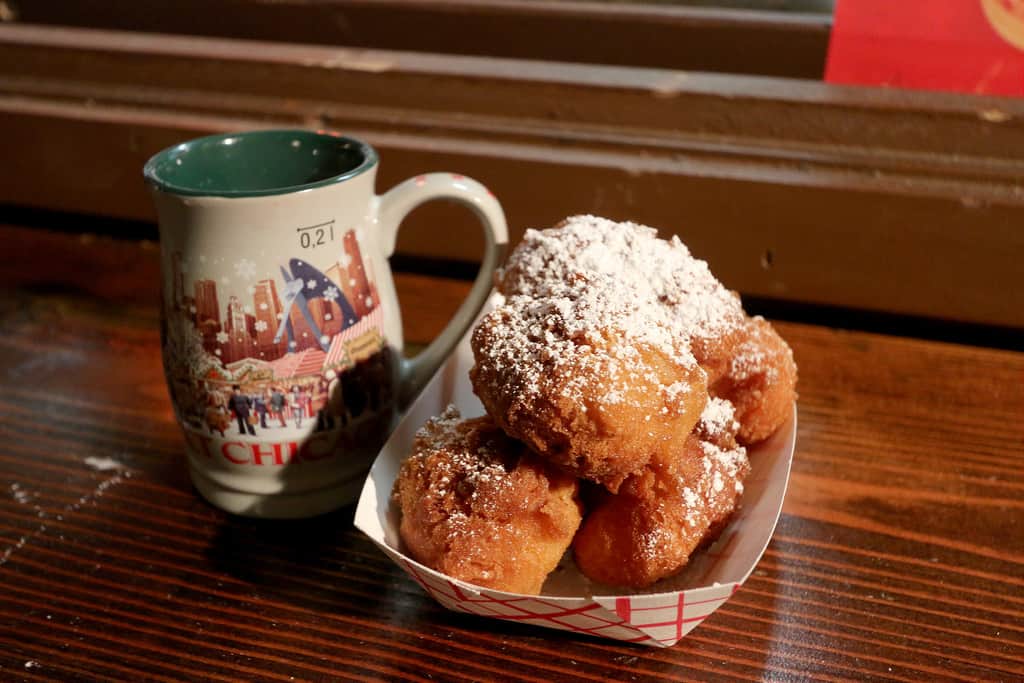 I have to say, I didn't have high expectations for the food, but everything was honestly really good. I guess that's why we ended up having our whole dinner there after buying some snacks. German Grill Company, LLC quickly became one of our favorite stalls!
Once we were stuffed we took one last lap around the vendors while listening to Christmas carolers singing songs in German. By now the sun had completely set, leaving us with only the glow of the twinkling lights strung upon each stall as our main source of light.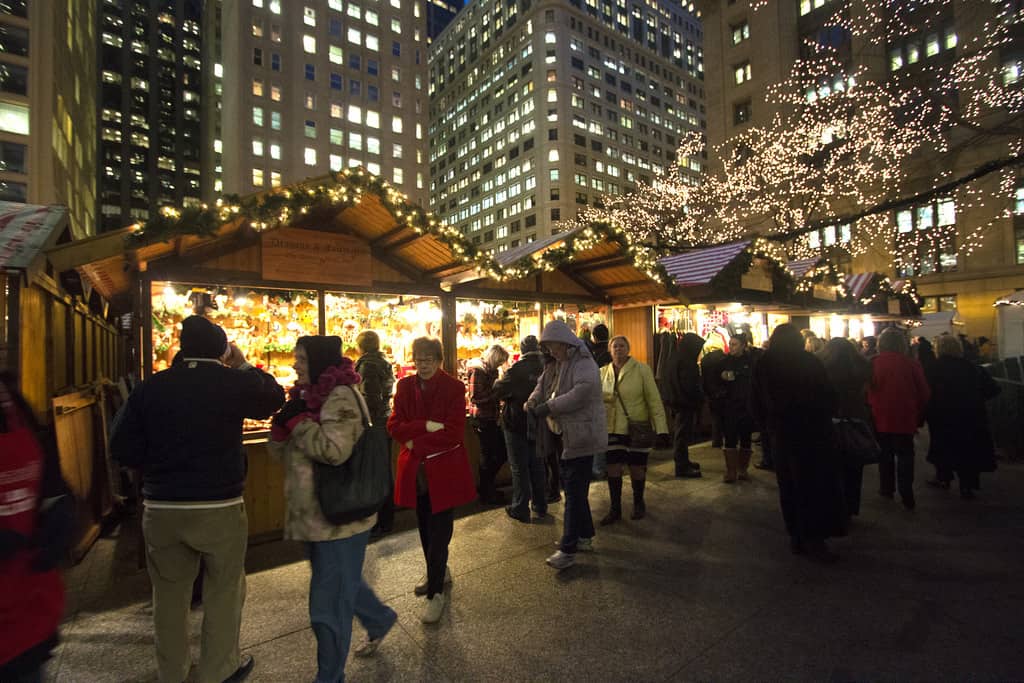 Although we had planned to only stop by the market for maybe thirty minutes or so, we ended up spending just short of two hours there! It was certainly easy to get wrapped up in the Old World atmosphere.
Saying danke schön to the final vendor we encountered, we left the Christkindlmarket in Chicago feeling full both in appetite and in spirit.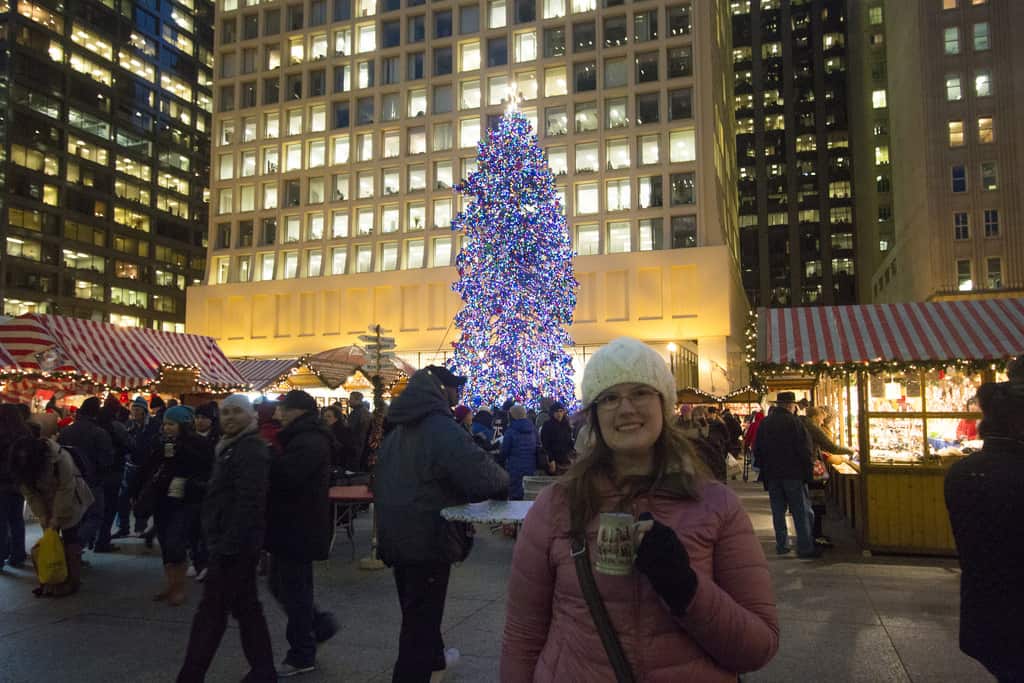 HAVE YOU BEEN TO CHRISTKINDLMARKET IN CHICAGO?