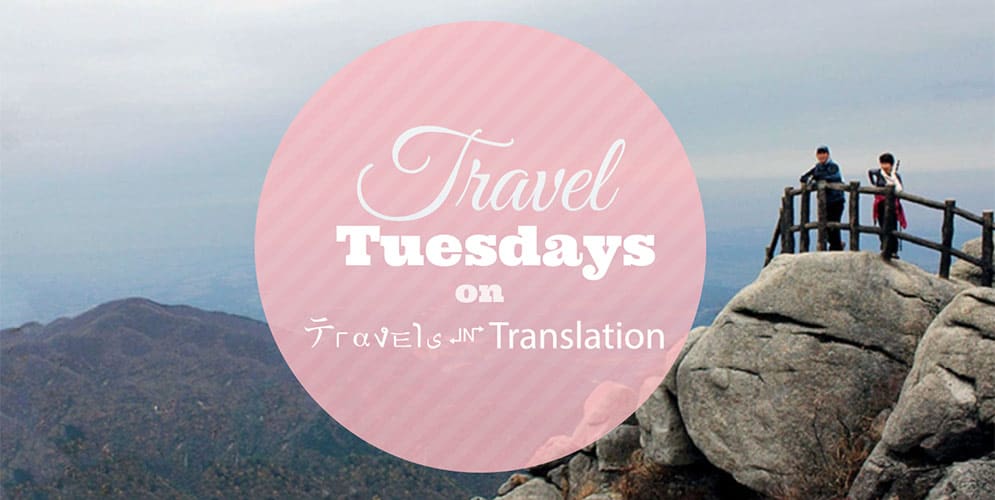 This week we would like to introduce Natalie of Cosmos Mariners: Destination Unknown. Thanks to Natalie's parents, she's been traveling since she was very small. As an adult, she's continued to travel and learn as much about the world as she can. She's shared her travels on her blog for about three years now–travel blogging definitely wasn't one of the career options she was told about during her B.A. and M.A. English programs! Now she's based out of Charleston, South Carolina, and when she's not away on a big trip, she's exploring all of the history and fun that her hometown has to offer with her toddler and husband.
1. What inspires you to travel, and how would you define the word 'traveler'?
I'm one of those people who aren't ever content sitting still for too long; that, combined with my love of learning, keeps the wanderlust burning hard. A traveler is anyone who steps out of his or her comfort zone in order to explore a part of the world that was previously unfamiliar. I believe you can be a traveler whether you're visiting another part of your state or a country half-way around the world. It's more about the desire for knowledge and exploration than a location.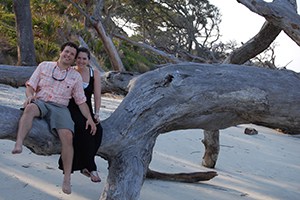 2. For those who don't yet know you, can you explain your travel style?
I travel whenever I can, but since I have a husband who works in finance, we're limited on the number of days he can be away from his work. Sometimes I travel with another family member, sometimes I travel by myself or with my toddler, but I'm always happy to come home to Charleston.
3. How do you afford your travels?
Lots and lots of budgeting! My parents are both in finance, as is my husband, so I hear about budgeting all of the time. If you apply yourself to it, it really works, and that's how we afford to travel. I also work as a freelance writer, and we put aside my earnings into the budget towards trips as well.
4. Where was your first international trip and how old were you?
When I was 10, my mom and dad read the Anne of Green Gables series with my sister and I. We all loved it so much that my parents planned a trip for us to Nova Scotia and Prince Edward Island (where the author lived and where the books are set). This was back in the day before you needed a passport to get into Canada, but I can remember feeling so excited to go through the border crossing!
5. Where has been your favorite destination? Where has been your least favorite?
My favorite destination so far is Scotland. My husband and I took a trip there in 2011 and were overwhelmed at the friendliness of the people we met, the gorgeous scenery, and the history that was everywhere. My least favorite place has been Paris (though I'm sure I'll be shot for admitting it!). It was not a welcoming place, the beggers were extremely aggressive, and we got mugged on the Metro. The history and architecture of Paris are amazing, but the people we interacted with over there haven't made me want to return quickly.
6. If you had to settle down in one location forever, where would you choose and why?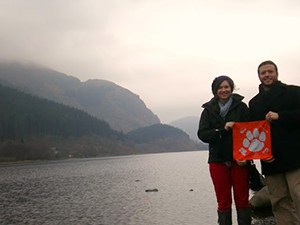 London, always and forever. I first went to England in 2003 and fell in love. I had the opportunity to study abroad in London in between my sophomore and junior years in college, and it was then that I realized what a vibrant, trendy, and ever-changing place London is. Since then, I've been back twice, and I love it more each time. I'm more than a little obsessed with British literature (I got my M.A. in it!), so to live where Shakespeare, Dickens, Woolf, and many others lived and wrote would be a dream come true.
7. Have you ever had high hopes for a destination, tour, etc., only to be disappointed in the end? Or any travel mishaps?
I usually try to go into all of my travels with an open mind, so I'm rarely disappointed. I'm also optimistic to a fault and can find the good in just about anything which really helps! My two biggest scares during traveling were 1) when my dad was mugged on the Paris Metro, and 2) the 7/7/2005 terrorist attack in London. I actually lived in London at the time for school and was on a bus going to Trafalgar Square when I heard that a bus and a Tube line had been bombed. It was one of the most horrifying experiences of my life because I didn't know what was safe or who to trust.
8. What's the funniest or weirdest cultural idiosyncrasy you've either witnessed or experienced?
I think it's funny when people assume that, just because people in the UK speak English, they're going to understand everything you say. When my parents, my sister, and I went on a road trip around Wales and southern England in 2003, we visited Tinturn Abbey, which is just over the English/Welsh border. After that, we wanted to visit the town of Wells, England, and see the town's gorgeous medieval cathedral. We got horribly lost on England's back roads and stopped at this tiny gas station to ask for directions. "How do we get to Wells?" my dad asked the attendant. "Oh, Wales?" the man asked. "It's back that way," he said, pointing to the direction that we'd just come from. "No, WELLS," my dad said, trying to pronounce the word as clearly as he could with his thick Southern accent. "Wales is that way," the attendant said, pointing again and looking at us as if we were idiots. "Not Wales, Wells!" my dad said again. "Yes, Wales," the attendant replied. "It's that way." It took another ten minutes, a pen and paper, and a map to finally get beyond the accent/ language barrier and figure out how to get to Wells!
9. What keepsake do you have to get at all your destinations?
I'm a hoarder when it comes to my trips since I like to scrapbook when I have the time. From ticket stubs to pamphlets to embossed napkins, my travel scrapbooks end up having a little bit of everything in them. I also love collecting myths/ legends/ ghost story books from the places I travel—I love comparing how different regions, countries and cultures approach superstitions.
10. How about the one thing you cannot travel without?
My camera. I love to take pictures, and when I am old and grey, I want to be able to pull out all of my scrapbooks and photo albums and look at all of the places I've been and things I've done.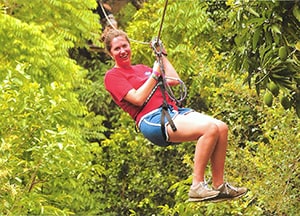 11. Why did you begin blogging? And how did you come up with your blog name?
I've been blogging on and off since Xanga was around (talk about being dated!). I started my current blog back in September 2010 after I got married as a way to keep our family and friends in the loop on what we were doing. It's slowly changed to focus more on our travels and adventures both near and far. The name of the blog—Cosmos Mariners: Destination Unknown—came from the gravestone of Georgia author Conrad Aiken. He'd once seen a ship come into the Savannah harbor called the Cosmos Mariner and went to learn more about it. When he looked in the harbor logs, next to the Cosmos Mariner, it said "Destination Unknown." Aiken was struck by this phrasing because he felt that we were all wanderers on this planet with unknown destinies, and he had the phrasing placed on his headstone. I, too, love the meaning behind the phrase and knew it was the perfect thing to call a blog that follows my travels, my life in Charleston, and my new-ish role as a parent.
12. What's next for 2014?
We're going to end the year with a bang by taking our toddler to Walt Disney World for the first time in December. I practically grew up at Disney World, so I'm so excited to share such a magical place with her. We're traveling with my parents and sister, so it should be a fun-filled family affair. Closer to home, we're moving into a different house here in Charleston, which I'm really looking forward to! In 2015, I'm trying to organize a trip to Luxembourg, Brussels, and England in the spring—my great-uncle was killed in World War II and is buried in the American Cemetery in Luxembourg. My grandmother has always wanted to go see his grave, so we're in the early stages of planning that. I'll also be going to Jamaica, Haiti, Mexico, and the Caribbean with my husband in early summer. I can't wait for that—and whatever else 2015 brings!
Traveler Toss-ups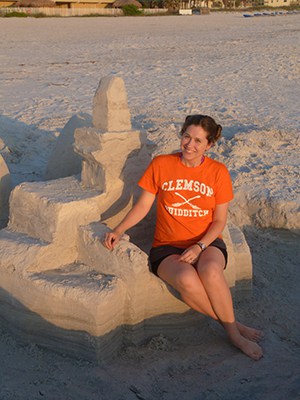 Backpack or suitcase? Suitcase.
Window or aisle? Window. I love to see where I'm going!
Solo or group? Group. Being able to share the good or the bad with my travel buddies (usually my husband, daughter, sister or parents) just adds another level to my experiences.
Tapas or sushi? Sushi (though I have to be careful since I'm highly allergic to shellfish)
Beach or mountains? I live right near the beach in South Carolina, so I see a lot more of them on a daily basis than I do mountains. That being said, there's a mystery and romance about the mountains that the beach just doesn't have. I don't think I could pick one over the other because I love them both!
Be sure to follow along with Natalie's wanderings:

Visit Natalie's site: Cosmos Mariners: Destination Unknown
Follow Natalie on Twitter: @cosmosmariners
'Like' Natalie on Facebook: Cosmos Mariners