Of course the French Riviera is known for its beaches and yacht clubs, but it's also a dream destination for foodies!
Walking through the narrow streets of Nice, it seemed every other shop was a cafe or a market selling local products. With four days to spend in Nice we actually didn't do much, we just ate a lot. And boy was it easy to eat there.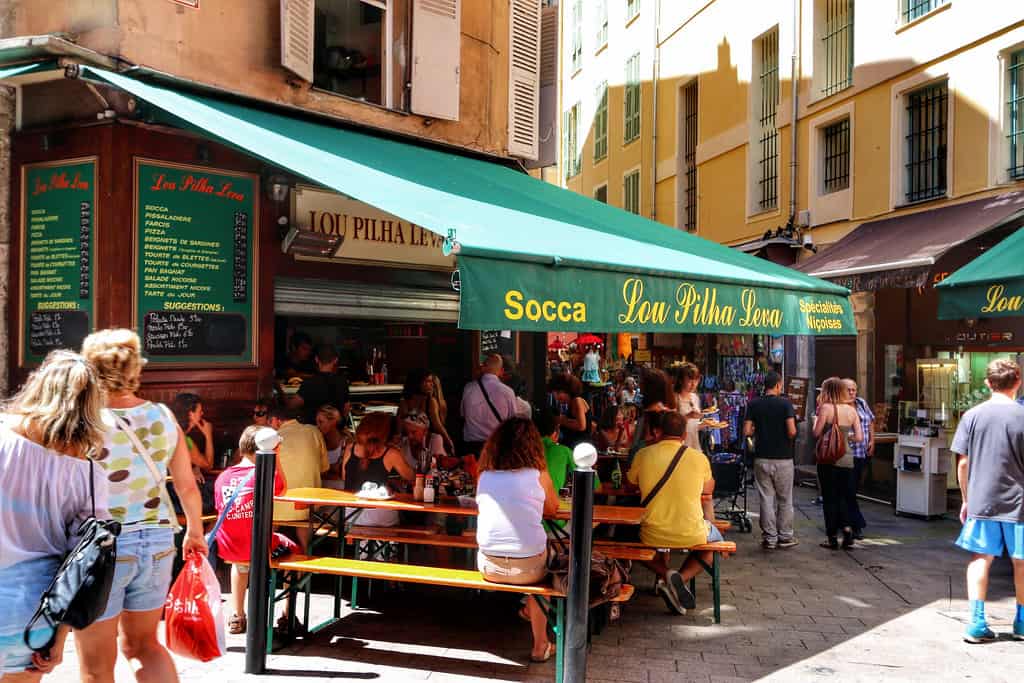 I loved the Mediterranean influences and the blend of Italian and French cuisines– after all, Nice was ruled by Italy until the mid 1800s.
Still, as I walked around I saw most people eating plain spaghetti or pizza. I'm sure it was probably delicious, but Nice has a lot of regional food, known as Niçoise cuisine, that I just think is still mostly unknown to tourists.
HERE ARE 5 NIÇOISE SPECIALTIES TO TRY THE NEXT TIME YOU'RE IN NICE:
NIÇOISE SALAD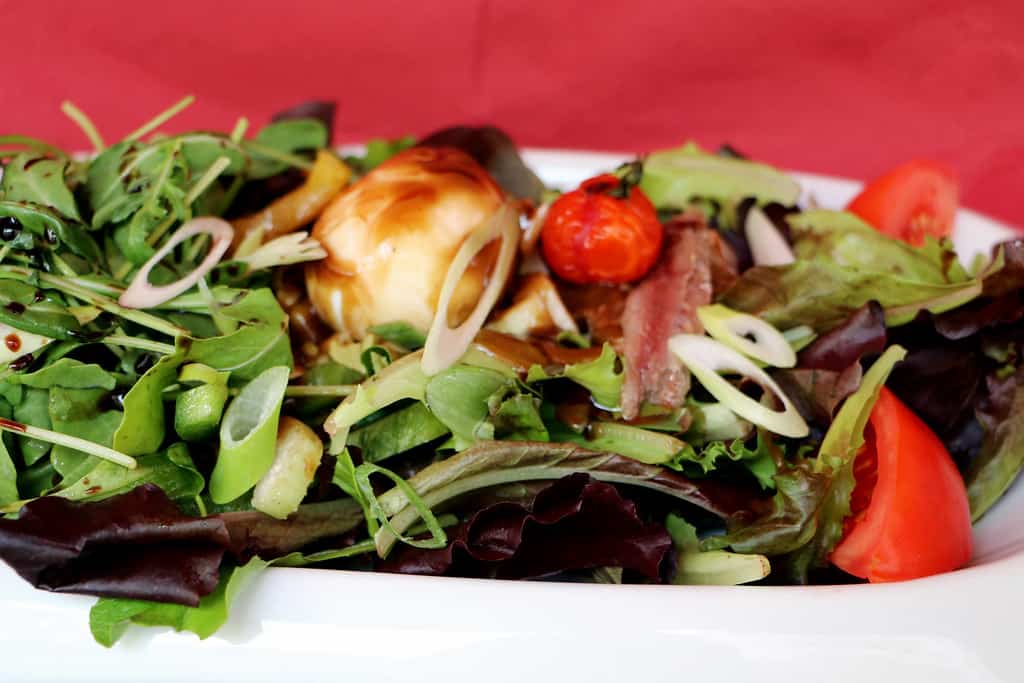 The one dish that everyone seems to know is this regional twist on a normally pretty boring dish. It was originally created as a way to use up leftovers and the ingredients include anchovies, Dijon vinaigrette, red peppers, shallots, hard boiled eggs and fresh tuna.
You'll see some variations depending on the chef, sometimes with artichoke hearts or potatoes, but for the most part, this dish is classic.
PISSALADIÈRE
In between a tart or a strange pizza, this is a great example of French-Italian fusion! There is no such thing as too much onion when it comes to this dish, and topped with anchovies and olives, the flavor is certainly unique.
It's salty. It's tart. It's just something you have to try.
LA SOCCA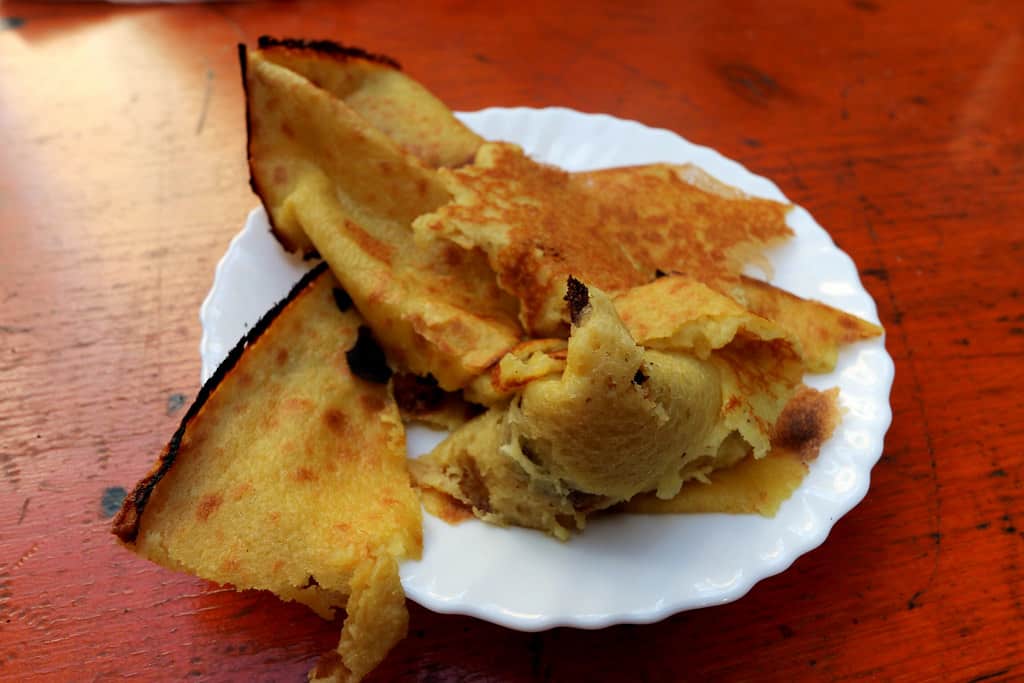 Basically a chickpea pancake, socca is the perfect snack. Soft in the inside yet crispy around the edges, it's the quintessential street food of Nice and you'll often see it being baked on enormous steel platters. While you can eat it plain, it is more customary to ask for toppings like black pepper.
You'll often see it served as an aperitif, but really, it's good any time of day. It really is Nice's version of fast food– simply order up a giant portion and share it with your friends while still hot!
RATATOUILLE
No, not the Disney movie.
This dish originating from Nice has recently been growing in popularity. While it's usually served as a dinner item elsewhere in the world, in Nice you'll notice that it's eaten at any time of day– even at breakfast.
It's usually served as a side to a main dish and consists of tomatoes mixed with a wide variety of other vegetables and herbs. While it's agreed that eggplants, zucchini, bell peppers and onions usually accompany the dish as well, how to properly cook the dish is constantly under debate.
LES PETITS FARCIS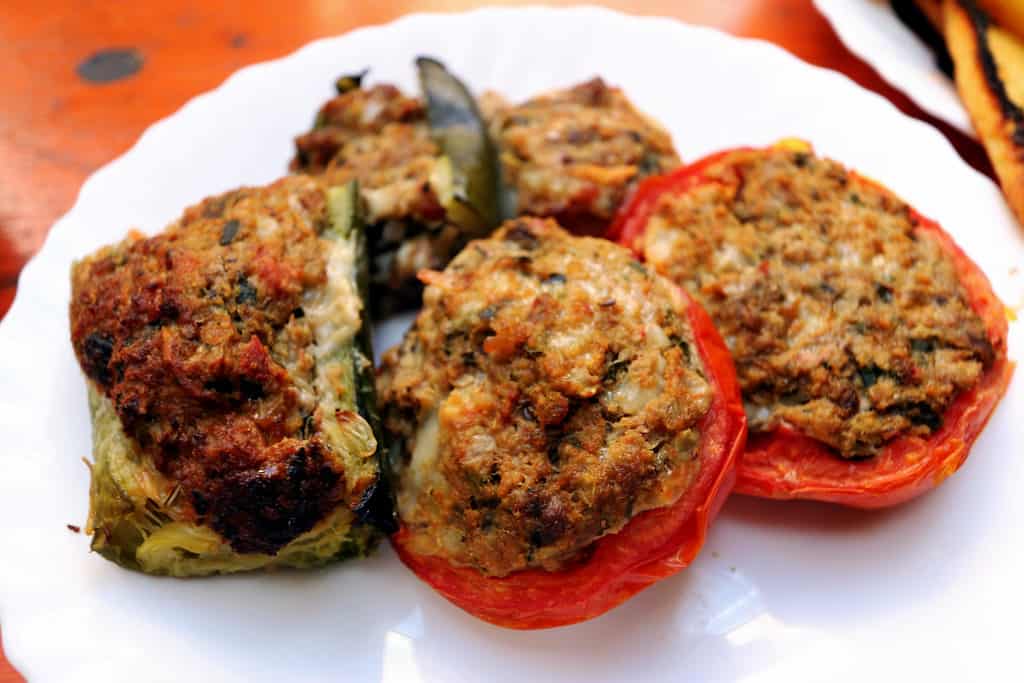 Literally meaning "little stuffed ones", this dish is often mistranslated on menus leaving tourists to guess what a "plate of stuffs" could be. Well, if you were to take a chance and order it, you'd find that this specialty of Nice is simply hollowed out vegetables that have been baked, like tomatoes, eggplant or zucchini, which are then stuffed with meat, garlic and breadcrumbs.
These are typically also served as a snack or appetizer, they're delicious enough to make a meal out of!
WOULD YOU LIKE TO TRY ANY OF THESE NIÇOISE SPECIALTIES?