The thing I hate about flying budget airlines, is that they always get you there at the worst time imaginable. Typically after midnight or in the wee hours of the morning when public transportation isn't even running yet.
Romania's Blue Air is no exception.
Sometimes I just try to wait it out or sleep at the airport, other times (especially before or after long-haul flights) I try to get a hotel to get some proper rest. You would think that all airports would have a hotel nearby, but sadly that isn't always the case.
Luckily, landing in Madrid at night, there were a few options nearby– some that even included a complimentary shuttle. Luxury, I tell you.
One of those was, from my favorite Accor Group, Hotel ibis.
Stepping off the plane, I grabbed my bags and headed outside for pickup. When the Accor Group shuttle rolled through and I hopped inside, and a few minutes later I was dropped off at Hotel ibis Madrid Aeropuerto Barajas, my destination.
Check in took only a matter of minutes, which was good because I was more than ready to crawl into bed.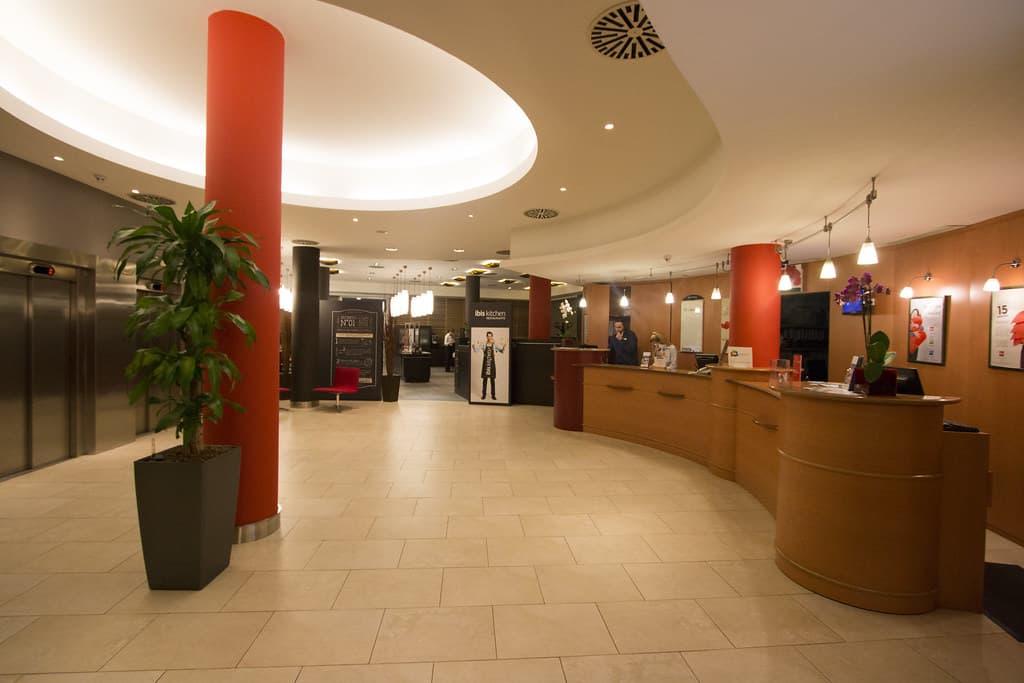 Opening the door to my room, I was instantly struck by the size.
While it may not be ideal for families, I felt the size was downright perfect for a solo traveler. Small and comfortable, I had everything I needed within an arms reach.
Maybe it's just my love of cute and tiny things, but there's just something about this hotel room that still gets me giddy thinking about it!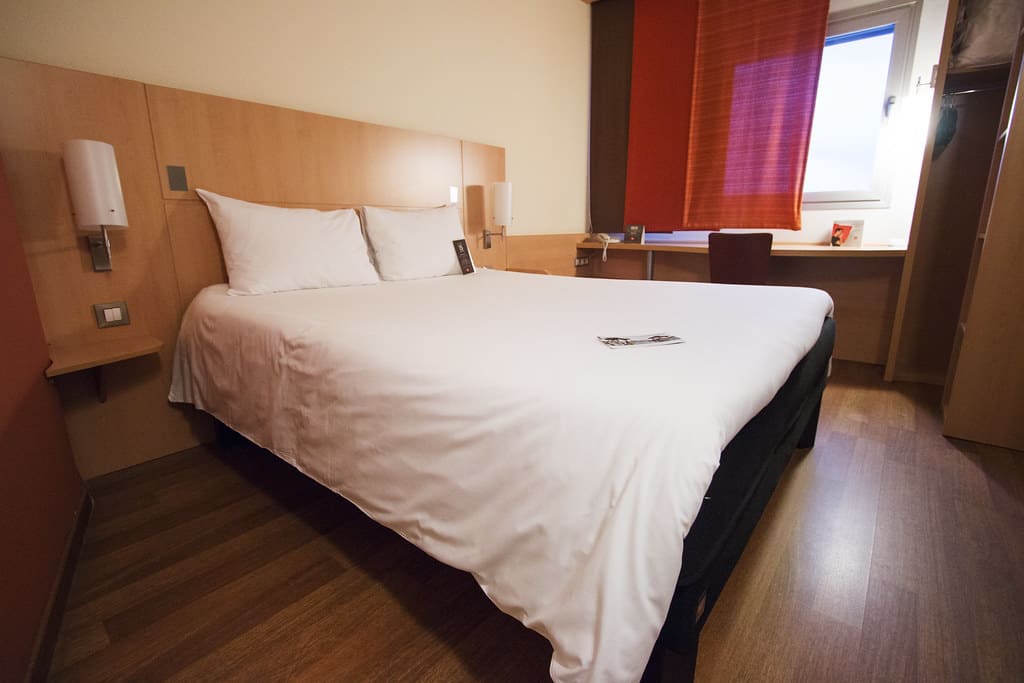 I love how they designed the room to really optimize the space.
Even though the room was small, it never felt cramped or claustrophobic. And there was still plenty of room for a plush queen-sized bed, work desk and TV.
It truly was perfect.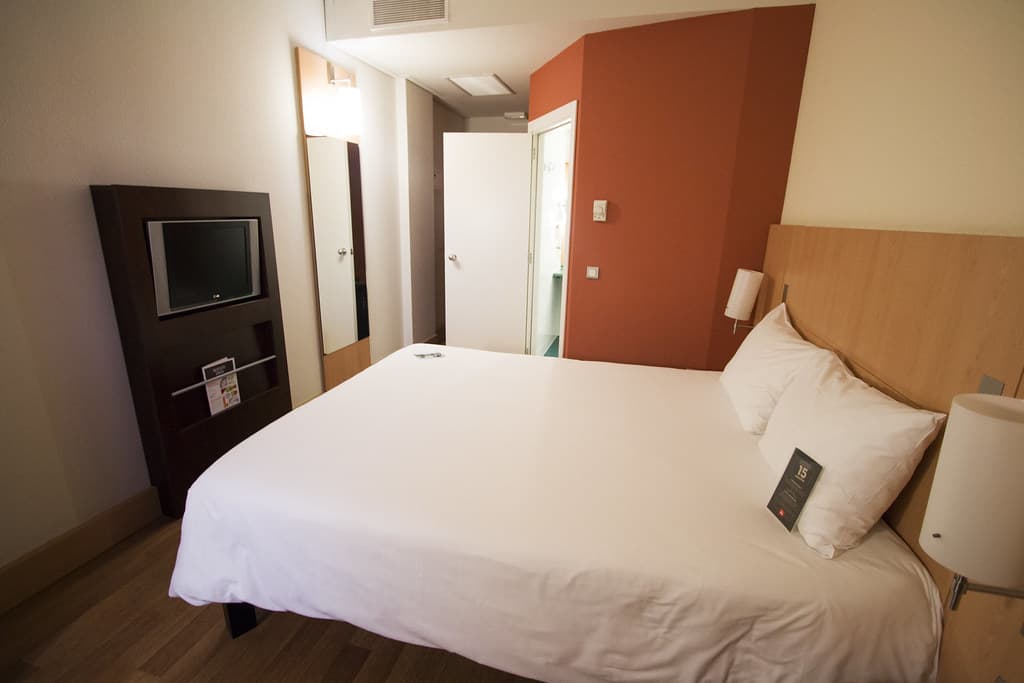 Getting ready for bed my empty stomach got the best of me. With all the stress of traveling I had forgotten that it had been at least eight hours since my last meal.
So I sauntered out of bed and went downstairs to check out the food options.
I will say, the one complaint I usually have about airport hotels is that you're typically stuck there with nothing nearby to walk to. This becomes a problem especially when the hotel doesn't offer food. 
Luckily, that wasn't the case at all with this hotel.
First off, it was located in an area that did have other small shops and fast food restaurants. It also happened to have a very good onsite dining options, which is what I chose just because it was convenient and I was tired.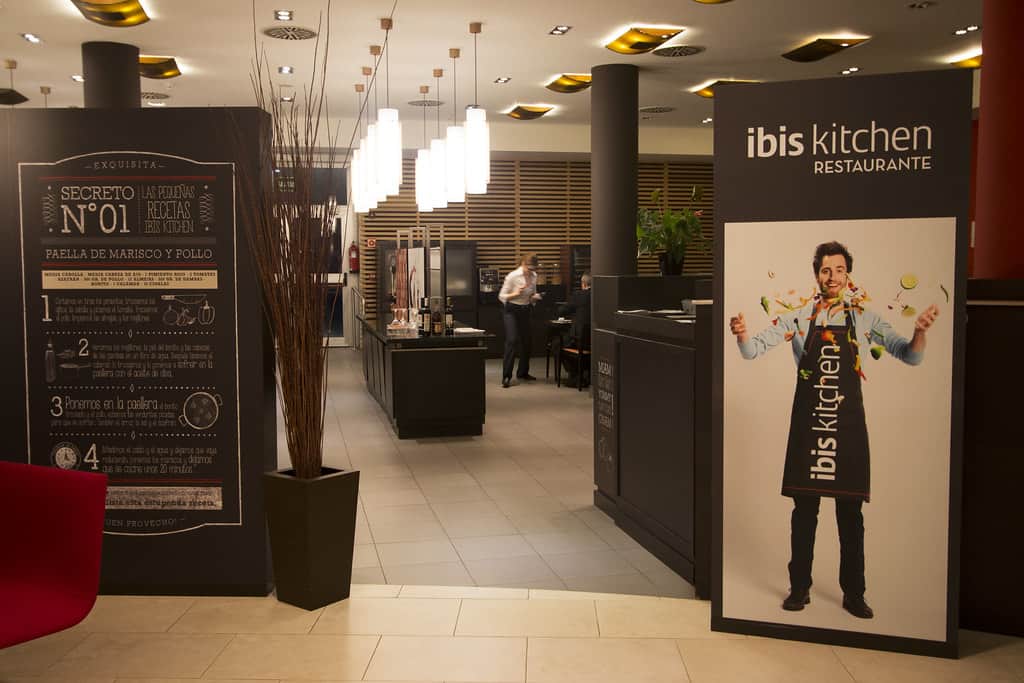 The hotel had both a full-service restaurant, as well as a standalone bar and cafe.
Since it was later at night I choose to just grab a snack from the bar since I figured it would be faster and also because I didn't need to eat a full meal that close to bedtime.
I was surprised by how reasonable the prices were for a hotel cafe as I picked out one of the sandwiches from the menu.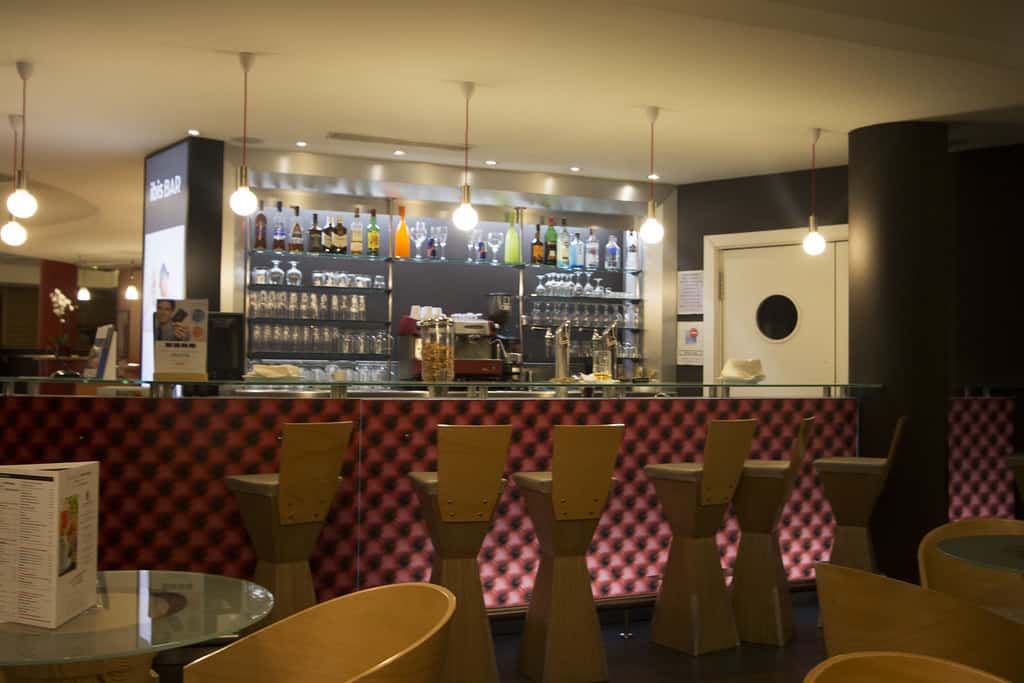 Satiated, I went back to my room and did a little bit of work before turning in for the night.
After a sound night's sleep, the next morning I called down to the front desk and told them my flight time. They readied the shuttle and just like that I was back at the airport, refreshed and ready for my long-haul flight home.
Definitely better than spending my layover staying up all night at the airport.
A HUGE THANK YOU TO HOTEL IBIS MADRID AEROPUERTO BARAJAS FOR ARRANGING MY STAY. AS ALWAYS, ALL OPINIONS ARE MY OWN.