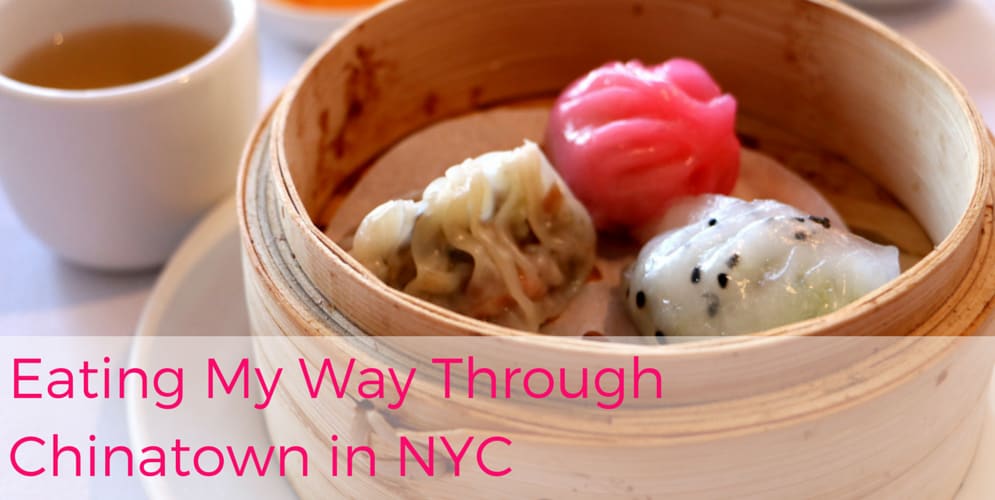 I'm always both intrigued and skeptical of taking tours in the U.S. that deal with Asian culture.
On one hand, I'm always curious what they're going to teach and cover. But on the other, I find that sometimes the information they give is horribly inaccurate or that once they've found out I lived there, I somehow become a secondary tour guide. Should I be getting paid for this?
Heading to New York, which is home to the largest Chinatown in the world, I knew I had to throw all skepticism aside and join Foods of New York Tours for an afternoon of experiencing Gourmet Chinatown.
The tour kicked off how any good Chinese food tour should– with dim sum.
Sitting down waiting for the abundance of steamed goodies to be brought my way, I was a little taken aback when they put the steamer basket in front of me.
Is that a hot pink dumpling?
The skepticism began to creep in a bit as I suddenly realized we weren't about to enjoy the traditional dim sum I was used to.
Our first course involved three steamed dumplings: roast duck with carrots and mushrooms, sesame with edamame and ginger, and the hot pink chicken thigh.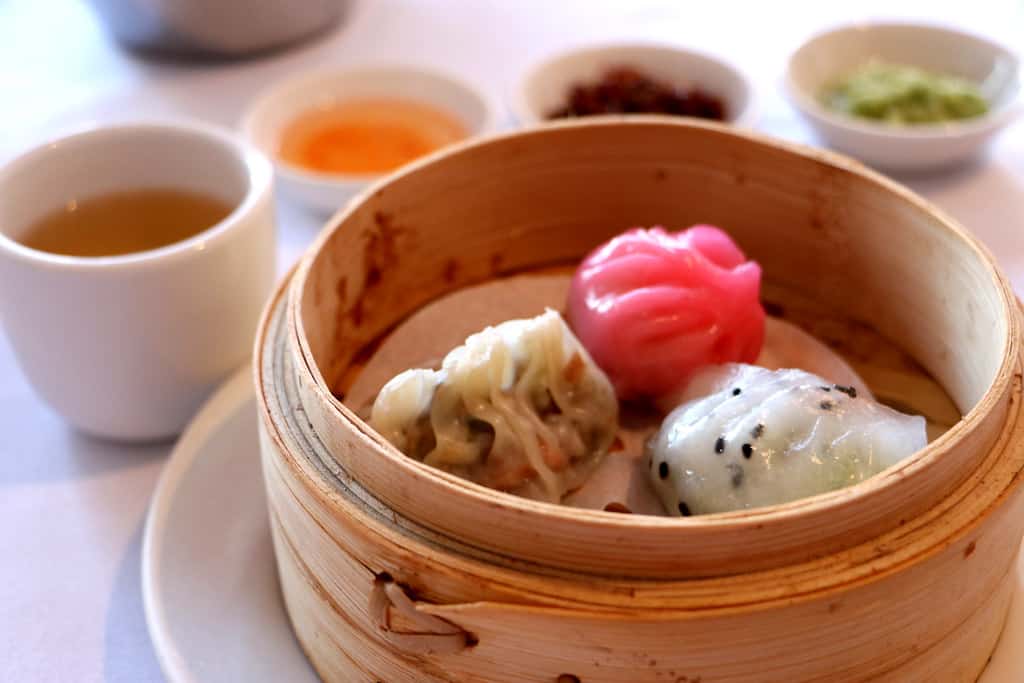 Taking a bite out of each one, all skepticism was quickly thrown out the window.
Sure, these might not be your most traditional choices, but they were some of the most delicious tasting dumplings I've ever had. Our entire table (most of which didn't know anything about dim sum five minutes prior) raved about the taste for the remainder of the tour. Now I can see why Dim Sum Go Go is one of the highest rated dim sum houses in New York!
Upon finishing our baskets, pan-friend gyoza and the more traditional cha siu bao were served.
Equally delicious.
Heading back outside, our guide walked us down the famous Doyers Street, one of the oldest and most fascinating streets of Chinatown. And honestly, had I not been on tour to learn all about the history associated with this street, I would have just walked on by without ever giving it a second glance.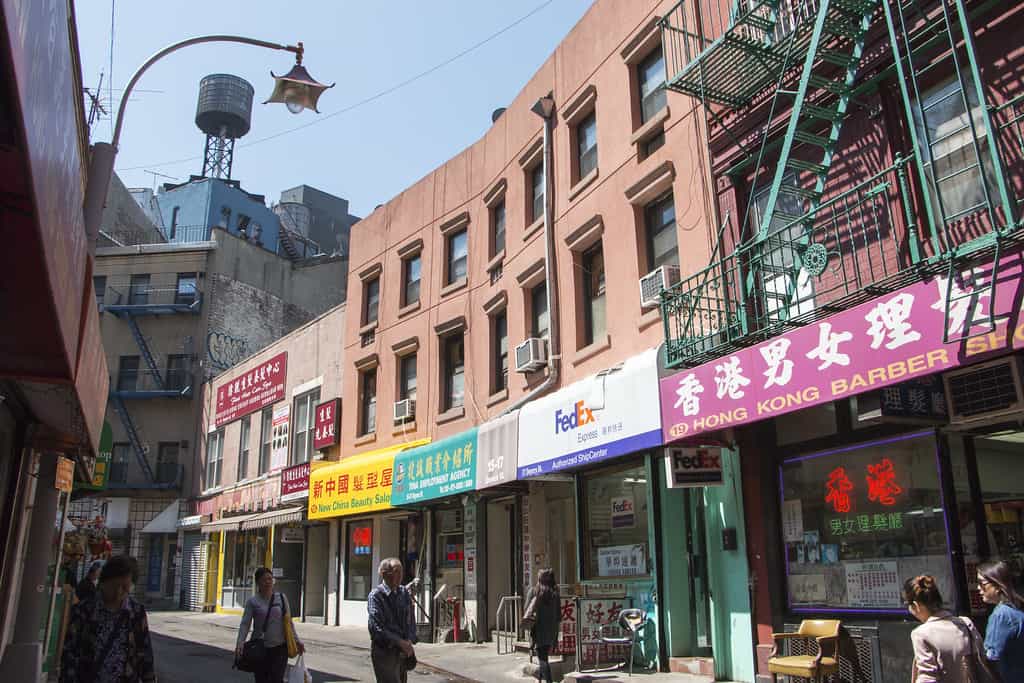 Out next stop had us visiting one of the older Chinese medicine shops in the area.
Inside our guide Bert gave us a crash course on how the Chinese diagnose and treat illnesses versus how we do it here in the West. After living in Hong Kong for two years, I was well aware of hot and cold foods and various food therapy, but I could tell from the look on other's faces that they were a bit weirded out.
Especially as we looked around at all the jars of herbal supplements.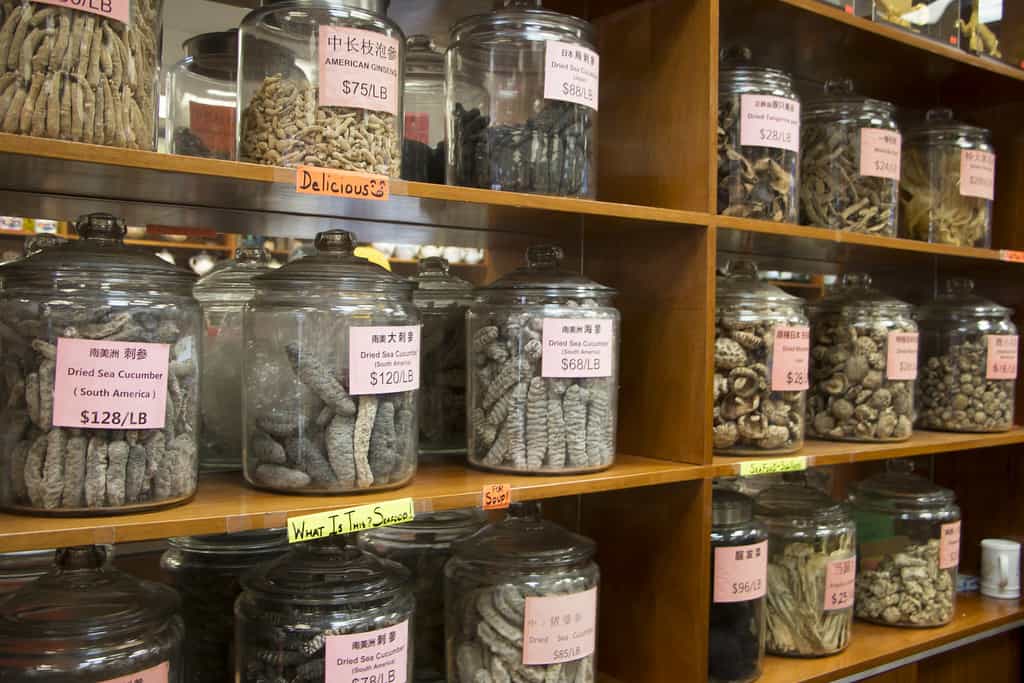 Oh! And you know how I was said I was skeptical about what we'd be learning or that I'd end up giving the tour?
I actually learned something I didn't know, which made me give this tour extra bonus points of awesomeness.
Ginseng has long been highly regarded in Asian culture for its health benefits and life prolonging effects. In Hong Kong it's no surprise to see just a few grams being sold for upwards of thousands of dollars.
Throughout my whole time living in Asia, almost all ginseng (or at least the most coveted ginseng) I saw was harvest in Korea. But now, that ginseng is no longer considered the best.
The best ginseng in the world now comes from …Wisconsin.
That's right, Wisconsin. Growing up a mere five minutes from the border, I feel so weird just saying that. When I think of Wisconsin I think of dairy farms and cheese heads– not Asians and ginseng. But apparently it's true as now that state's Asian population is quickly growing.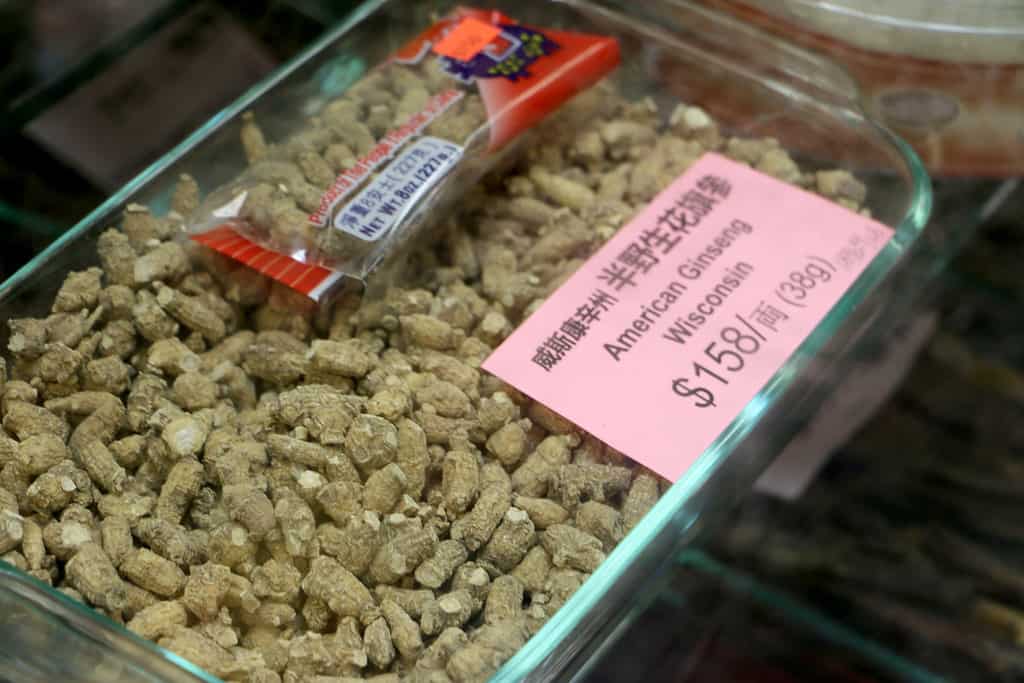 Finishing up at the Chinese medicine shop, we made our way to our second seated tasting at Peking Duck House, a restaurant praised by food critics for its namesake dish.
Chef Wu greeted us, proudly smiling behind his day's masterpiece. He's been preparing Peking ducks for over 51 years, since he was just 16 years old, and I must say, his is some of the finest I've ever had.
He artfully carved away at the duck as his assistants folded the pieces into traditional pancakes complete with scallions, cucumber and hoisin sauce.
I probably could've spent the rest of the afternoon at Peking Duck House, stuffing my face with duck pancakes. But alas, it was time to explore more of Chinatown.
Next we headed into Columbus Park, which is known by many thanks to the movie Gangs of New York. While we didn't see any gangsters loitering about, we did see plenty of hardcore elders (illegally) gambling away at the likes of Chinese chess, cards, and mahjong.
Around the outskirts of the park were groups of men playing traditional Chinese instruments, and a few women singing Cantonese opera, although they could barely be heard over the shouts of those gambling, and in the center of it all was a statue of Dr. Sun Yat-sen.
This. This was reminiscent of any given park in Hong Kong on a Sunday.
Pro-tip: Be careful taking photographs of them gambling. As it is kinda, sorta, technically illegal, they do not take kindly to those going right up to their table to take photos!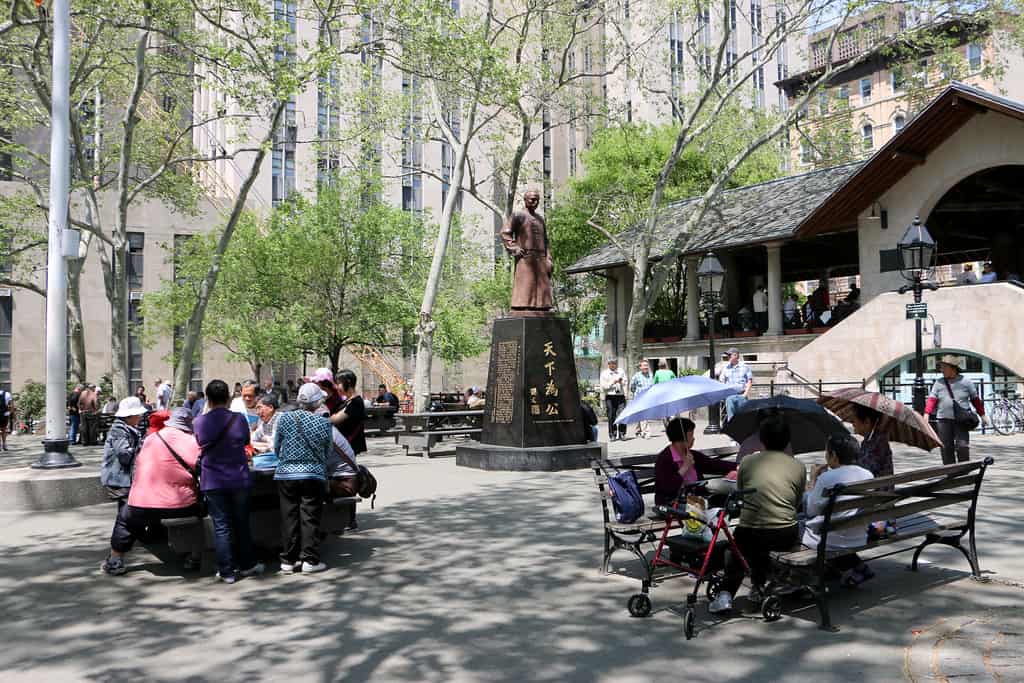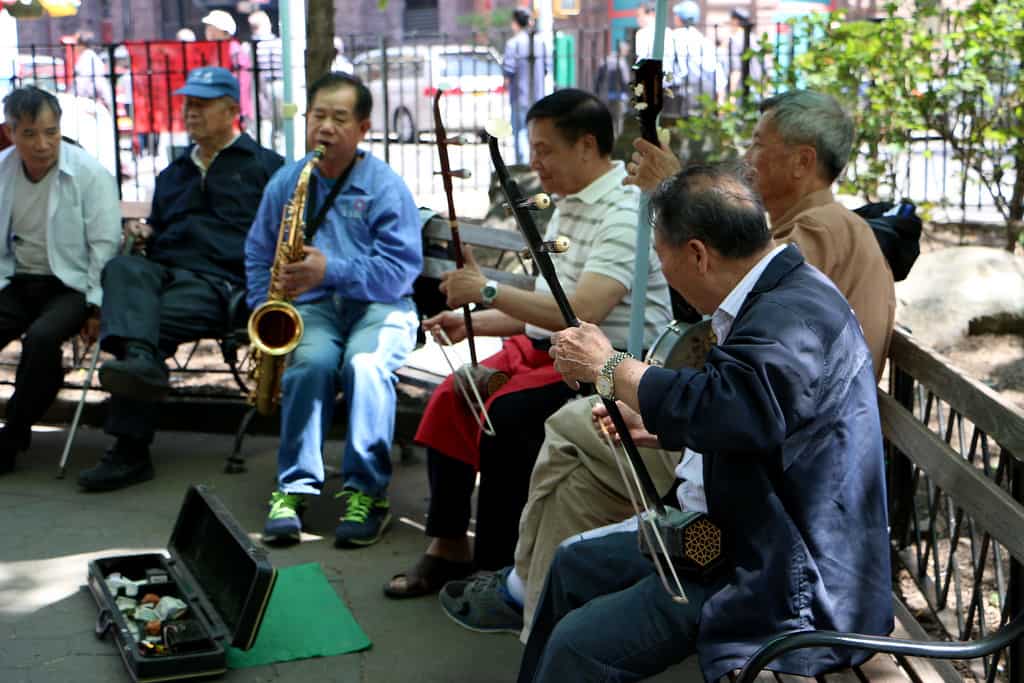 Our third and final seated tasting had us branching out and trying the roti canai at New Malaysian Restaurant.
I'll always be a fan of Malaysian food. Thanks to its roots, Malaysian food will always be the perfect blend of two of my favorite types of food: Chinese and Indian.
The roti canai at this place was so fresh and buttery, I didn't leave a single bite left despite being so full already from all the Peking duck.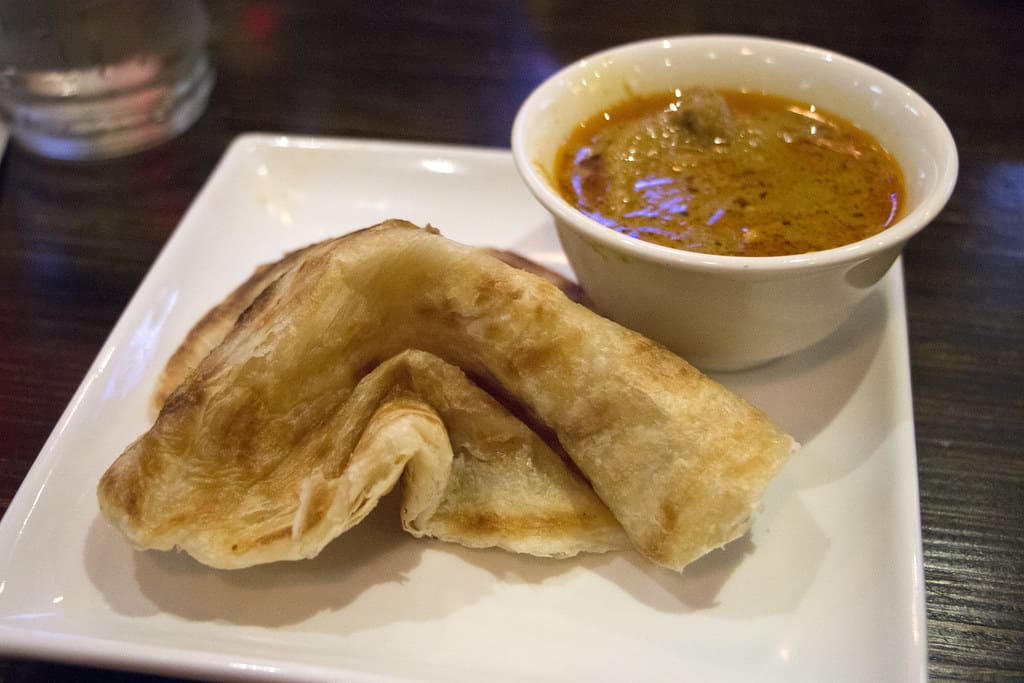 Before disbanding the tour, our guide Bert (who I must say was just all around really awesome and actually knowledgable about Chinatown and Chinese culture) had us make one last stop for dessert.
Because really, can you end any food tour before having dessert? I think not.
We stopped outside a traditional bakery where Bert brought out a tray of the freshest egg tarts. I always love watching people try egg tarts for the first time. They're just one of those things that you either love or hate and your expression immediately gives away which category you fall into.
Either way, it's quite the quintessential Chinese dessert and made a perfect ending for our food tour.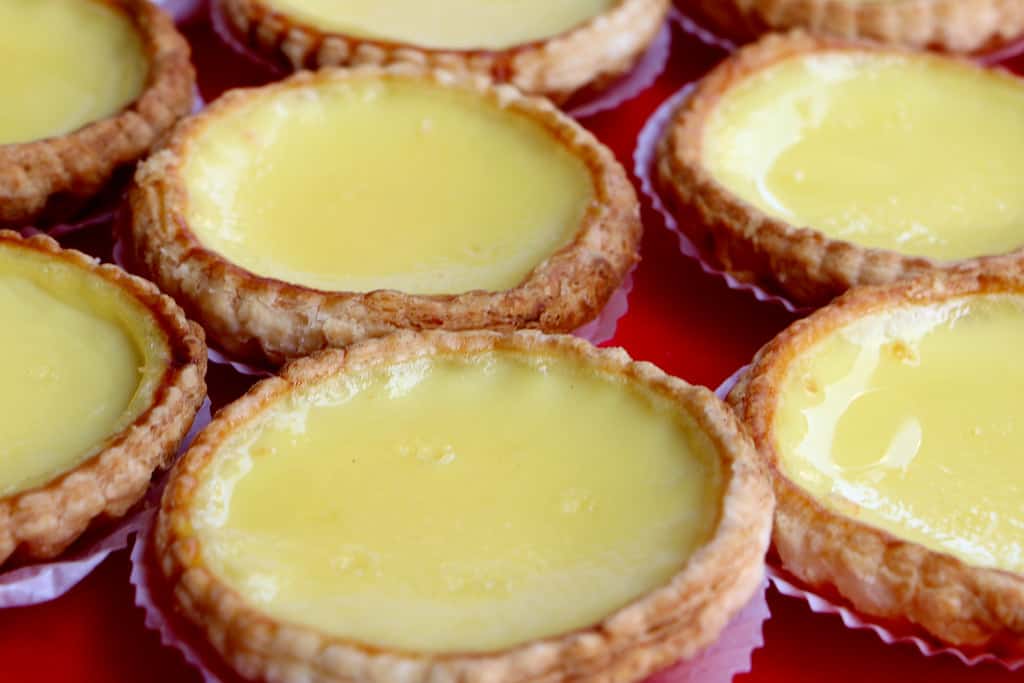 WANT TO GO ON YOUR OWN CHINATOWN FOOD TOUR?
For more information or to book your tour, head on over to Foods of NY!
A SPECIAL THANK YOU TO FOODS OF NY FOR ALLOWING ME TO JOIN YOU ON TOUR! AS ALWAYS, ALL LOVE OF ASIAN CULTURE AND FOOD ARE MY OWN, REGARDLESS OF WHO'S FOOTING THE BILL.