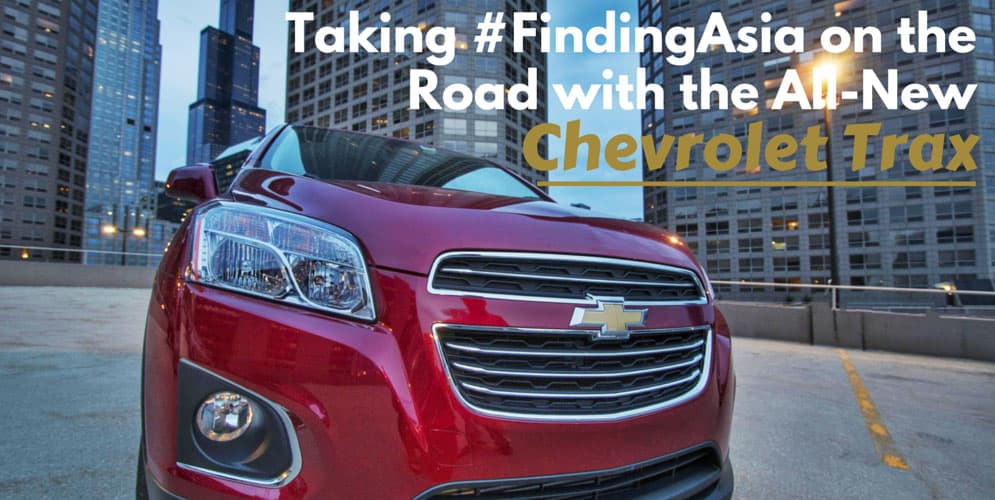 Truth be told, Chicago actually has its fair share of Asian culture spattered throughout the city. I mean, it's no New York or San Francisco, but places do exist if you seek them out.
I honestly haven't done many #FindingAsia posts here yet– mainly because the sites are all a bit spread out and easier to reach by car. And, well, keeping a car when living downtown Chicago just isn't practical due to the cost of parking.
So when Chevy contacted me and asked if I wanted to take their new 2015 Trax on road trip, I thought this would be the perfect opportunity to finally take #FindingAsia on the road!
Prior to their email, I had actually never heard of the Trax and after a quick Google image search, I began to worry about my agreement to test drive this car.
You see, the Trax is what they call a compact SUV. Just seeing the word SUV, I freaked out. I'm so used to my tiny, lil' Kia, how was I supposed to drive an SUV… especially downtown Chicago! Have you seen drivers here??
But they assured me that the Trax would be perfect for navigating the streets of Chicago, so I took their word for it.
A few days later they delivered a shiny, bright red Trax to my door all gassed up and ready to go. Stepping up and inside, I had never been so high up in a car before. I fumbled around as I tried to figure out all the fancy features before setting loose on the street.
I took it for a short first ride, circling the block a few times– and boy, did I get spoiled fast. Automatic locks and windows, built in GPS and Wifi, rearview cameras…it had all these features that my little Kia never had.
The next morning grabbing our bag of snacks, we set out on a mini #FindingAsia road trip around the city. (I'll be writing fully detailed #FindingAsia posts on each location later, but for now here's an overview of what we got up to!)
Our first stop? Anime Central!
The Midwest's largest Japanese anime and culture convention, I first attended ACen when I was 14. After not having been the past two years since we were away in Hong Kong, it was a bit of a nostalgic return as we met up with friends and enjoyed browsing the dealer's room and seeing what cosplays were still popular.
The nostalgia continued as we drove out to a Chinese restaurant in Des Plaines. While this #FindingAsia location was new to me, it's one that Johnny grew up visiting, but hadn't been to in years.
I was a bit skeptical at first, but I gotta say, for being located outside of Chinatown, it was some of the best Chinese food I've had in Chicago!
Bellies full, we called it a night and made our way home with the help of the Trax's built in GPS.
The next morning we were right back on the road as we made our way to Arlington Heights, home to Mitsuwa, the largest Japanese marketplace in the Midwest.
Mitsuwa is another location I've long been familiar with (since my teenage days), but now that we're living in the city our visits have become scarce to none as it's almost impossible to visit without a car.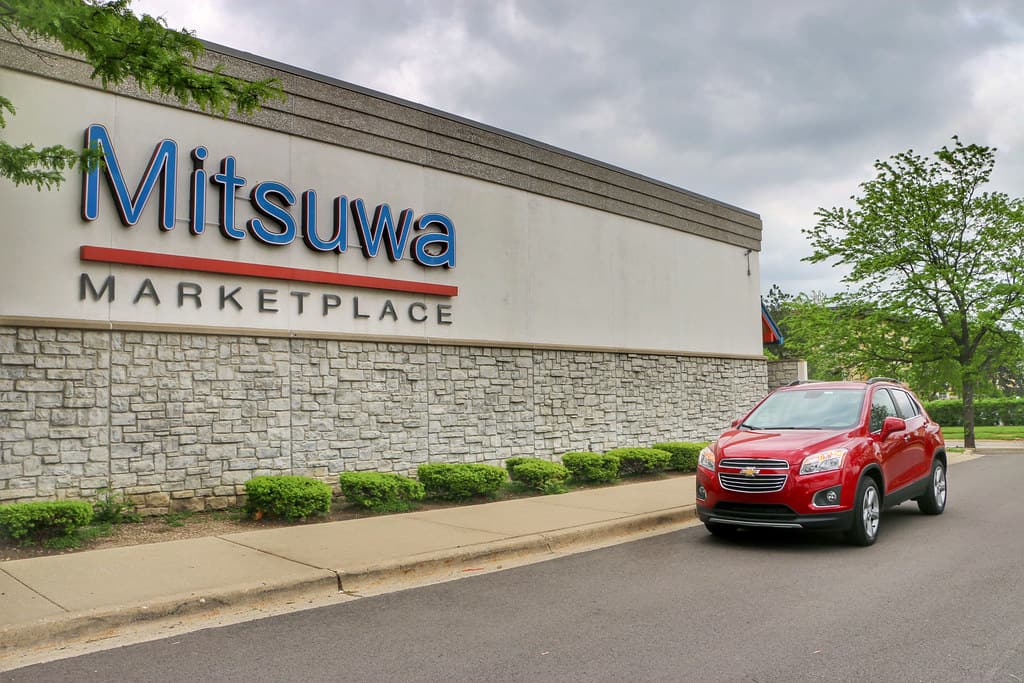 We shopped around their bookstore for a bit before buying a few ingredients from the grocery store. Before we knew it, it was getting close to lunchtime and we were hungry. Even though we hadn't planned to eat there, somehow we always end up doing so anyways.
I mean, who can resist a rich bowl of Hokkaido ramen? I obviously can't.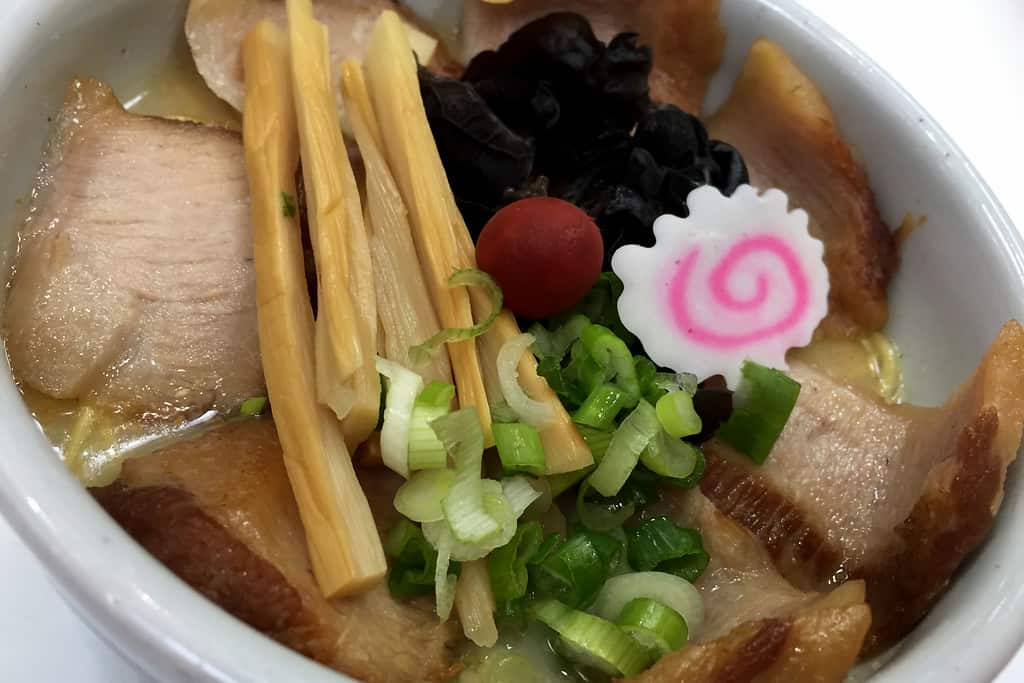 Heading back to the Trax the skies started to look rather grey and ominous. We knew there was a chance of rain, but we hoped it would hold off until later that night.
Unfortunately it didn't and our #FindingAsia road trip ended at the Midwest Buddhist Temple in Lincoln Park.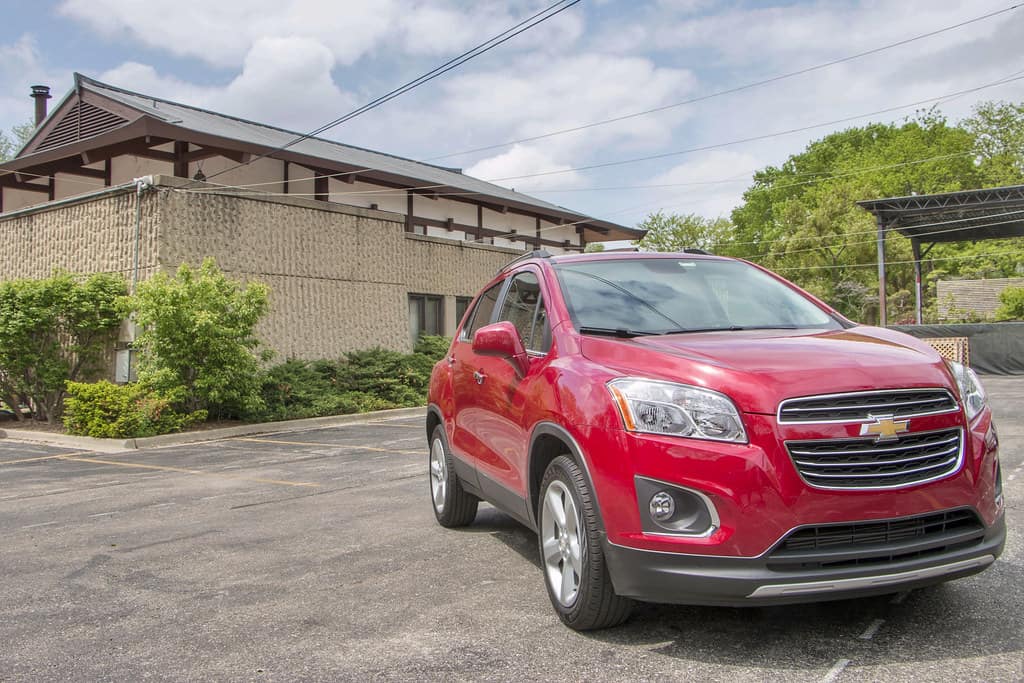 The Midwest Buddhist Temple's roots in Chicago date back to the 1940s, with its current structure having been built in the 70s. Despite existing my entire life, I had actually never bothered to visit until earlier this year when we attended their mochitsuki event.
Last summer they opened doors to their Japanese garden, called the Legacy Garden, so I was excited to return to see that since we obviously couldn't see it when we were there in January.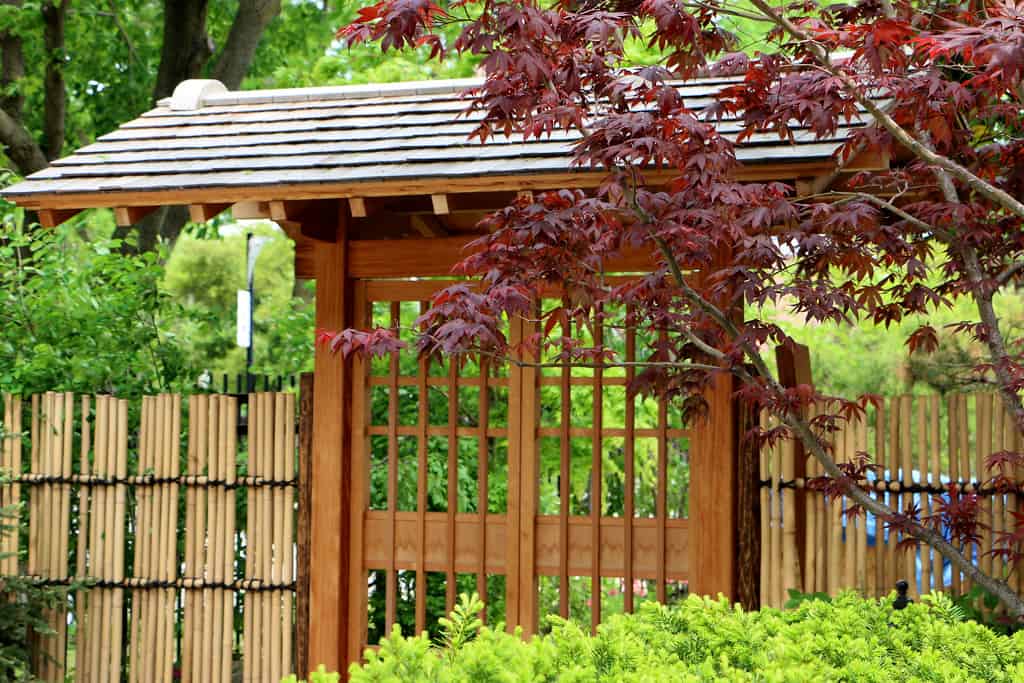 Small, but enjoyable, we managed to finish our visit just before the rain started.
So the rain spoiled our plans a bit and we had to cut a few places out of our itinerary… buuuuut at least we managed to visit all the locations that really required a car!
I guess that means we'll just have plenty of other places to explore over the course of this summer.
So is the Chevy Trax the perfect car for navigating the streets of Chicago?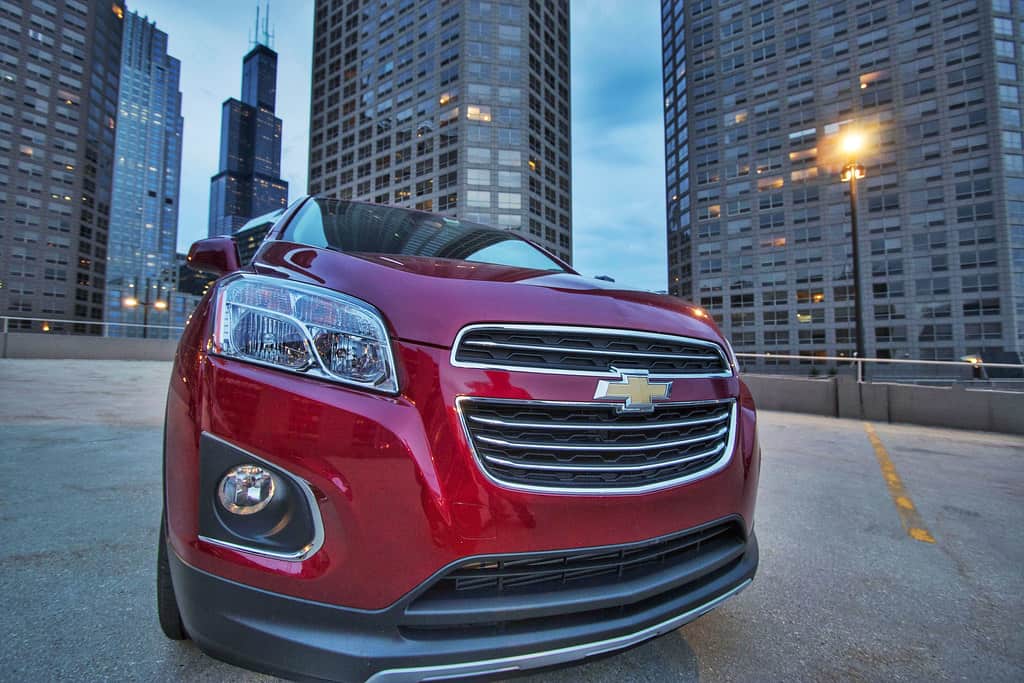 In the end, I actually ended up loving the size of the car. Despite being called an SUV, it felt barely any bigger than my compact Kia, yet the interior was much more spacious.
All of the modern features made me feel really safe in the car, although you still need to make sure to have national autocare coverage.
It drove smoothly and had the pep that's needed for city driving. Maybe it was the nice, new tires. Tires are always important for safe driving, so buying the best at Tyre-Shopper.co.uk is a must.
Also, not gonna lie, I loved having those rearview cameras. In a city that's known for inducing parking nightmares, those rearview cameras made parallel parking a breeze when we went out to dinner during primetime on Friday night.
And a built in wifi hotspot? Well, I'm never going to complain about having wifi!
The only feature I didn't really care for was their built in GPS. It had to be run through an app on a phone, which just seemed counterintuitive, and the UI was a bit slow and clunky.
Also, you cannot input addresses while the car is in motion no matter what. Which, yeah, I understand that's a safety feature and all, but I hope that can be overridden if you own the car.
We realized we weren't sure where we were going once we got on the highway — which obviously has nowhere that you can safely stop the car and I wasn't going to pay a toll to exit only to pay to get right back on again — so we couldn't use the car's GPS even though Johnny, being in the passenger seat, was the one trying to input the address.
Instead we just had to pull out our own phone and use the GPS on that.
Seems a little pointless.
Anyways, other than that little bit, I really did enjoy the car and was a bit sad when I had to give it back! I was never a fan of domestic cars, and always stood firm that I'd never own one, but after driving the Trax around, I'd certainly reconsider.
Plus, doesn't she just look so snazzy in red against the Chicago skyline?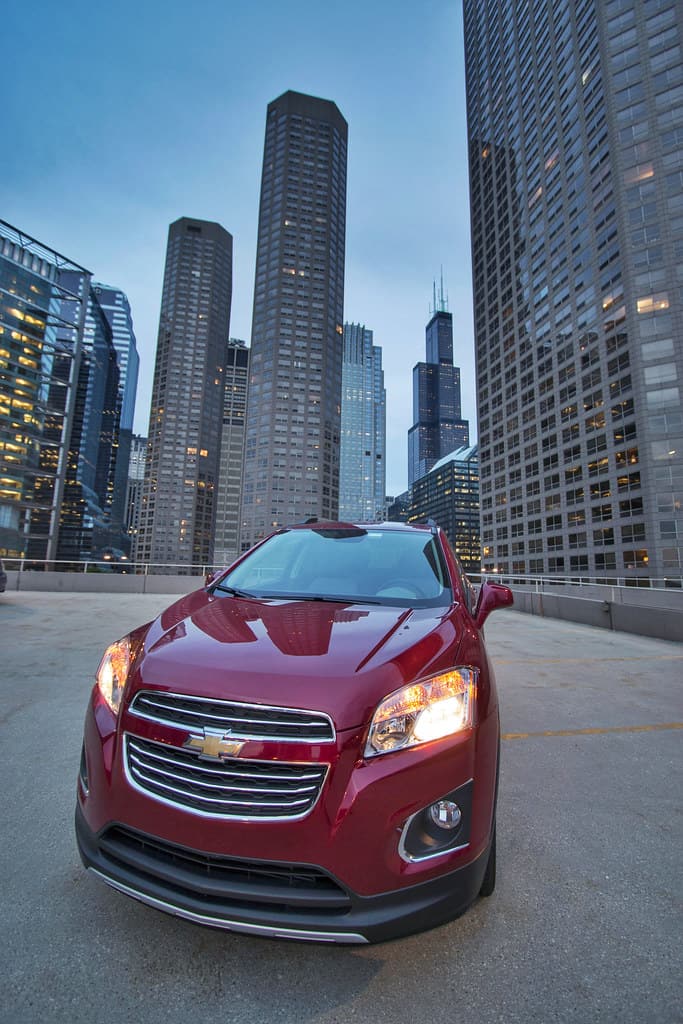 Have you driven a Chevy before? Tell me your thoughts below!
This road trip was made possible thanks to Chevy for their #FindNewRoads campaign! All thoughts of the car are my own.