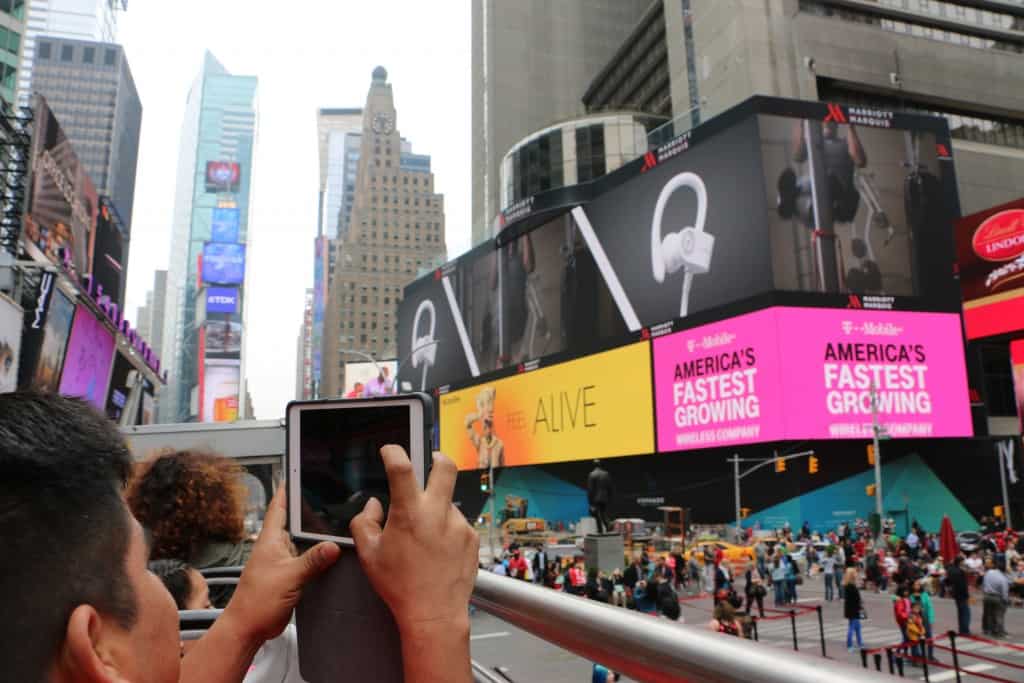 I KNOW, IT'S ALMOST BEEN A MONTH SINCE I LAST PUBLISHED AN ARTICLE HERE– BUT GOOD NEWS! I FINALLY HAVE A WORKING LAPTOP, SO WE'RE BACK IN BUSINESS AGAIN… WITH PLENTY OF UPCOMING TRAVEL ON THE HORIZON. THANKS FOR STICKING WITH ME! 🙂
* * *
New York can be a lonely place.
Unlike in Chicago, most people won't even attempt to talk to you on the streets for fear of slowing you down or getting in your way. I can't remember the last time I was walking downtown here in Chicago without someone stopping me, telling me to have a beautiful day or to smile more, baby. 
New York was the exact opposite– but I welcomed the solitude.
Some days I was meeting up with friends and other days I was all by my lonesome, but I didn't mind. I found spaces where I'd forget that I was alone. Places I loved just sitting, taking in the atmosphere and watching people around me. And although we never physically interacted, there was still that sense of connection. That sense of community and belonging that I just love about New York.
Here were some of those places, where I truly enjoyed doing nothing but sitting and soaking up Manhattan:
SALON DE NING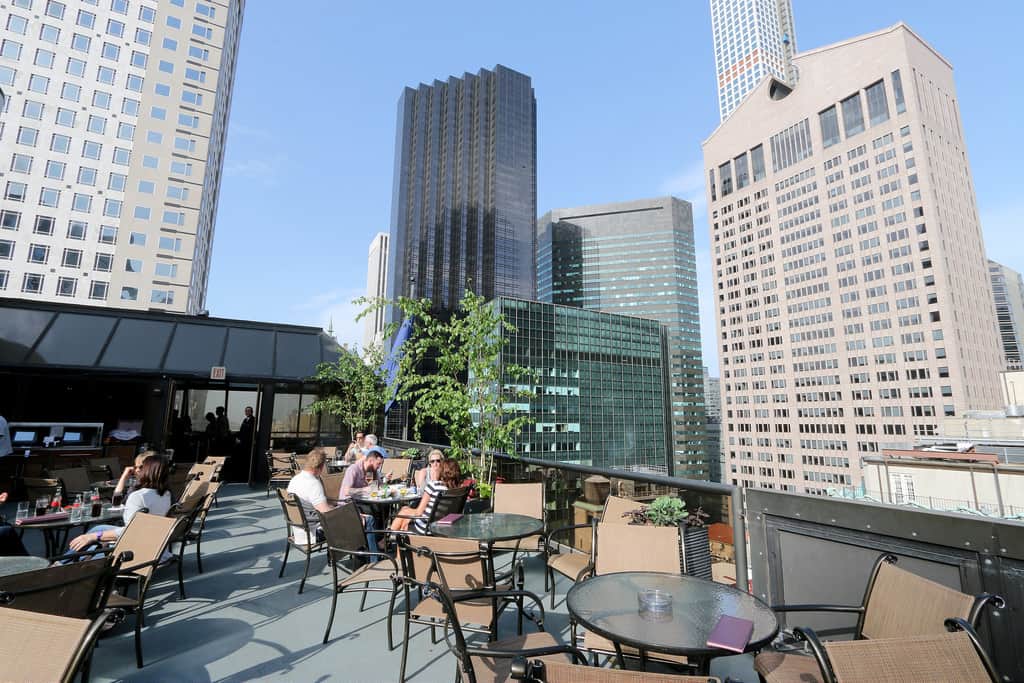 This bar seems popular with locals even though it's inside The Peninsula New York. Who can blame them though– look at those views?
I visited a few rooftop bars during my stay in NYC and this was by far my favorite. It had awesome 360° views with Central Park to my left and skyscraper-city to my right, perfect for taking in the atmosphere of Manhattan.
Oh, and the cocktails weren't too shabby either! 
GROUND ZERO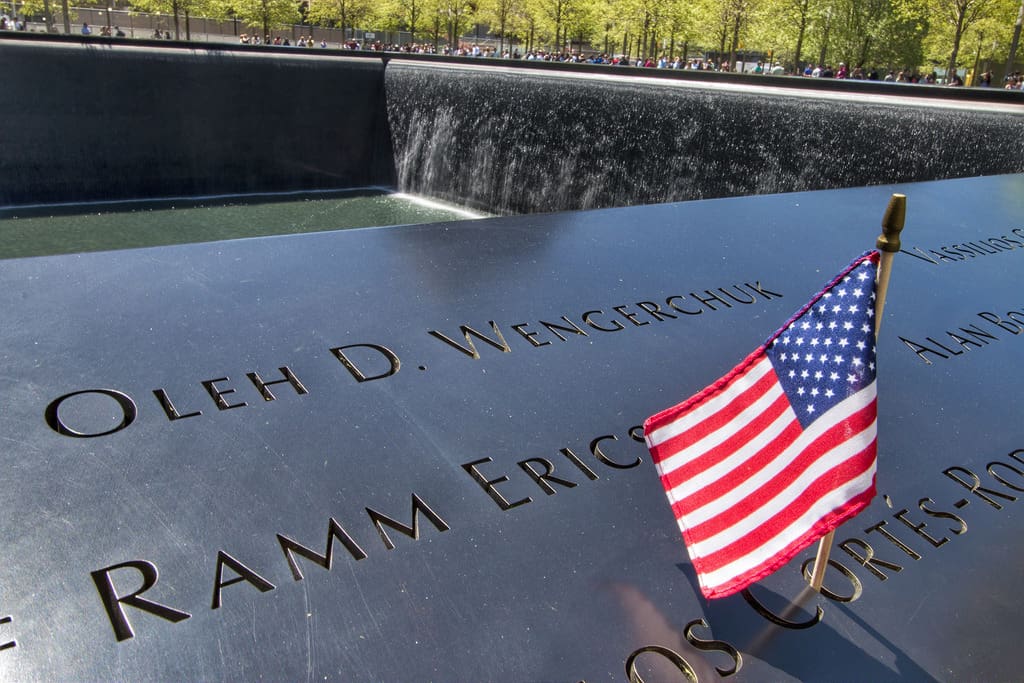 My ride from the airport ended up dropping me off here, thus making this my first experience in NYC.
While it's maybe not the happiest place for people watching, it still ended up being one of my favorites. I'm not a very patriotic person, but walking around the memorial, watching as people swelled up with emotion, paying their respect, actually made me feel proud to be an American.
FROM NEW JERSEY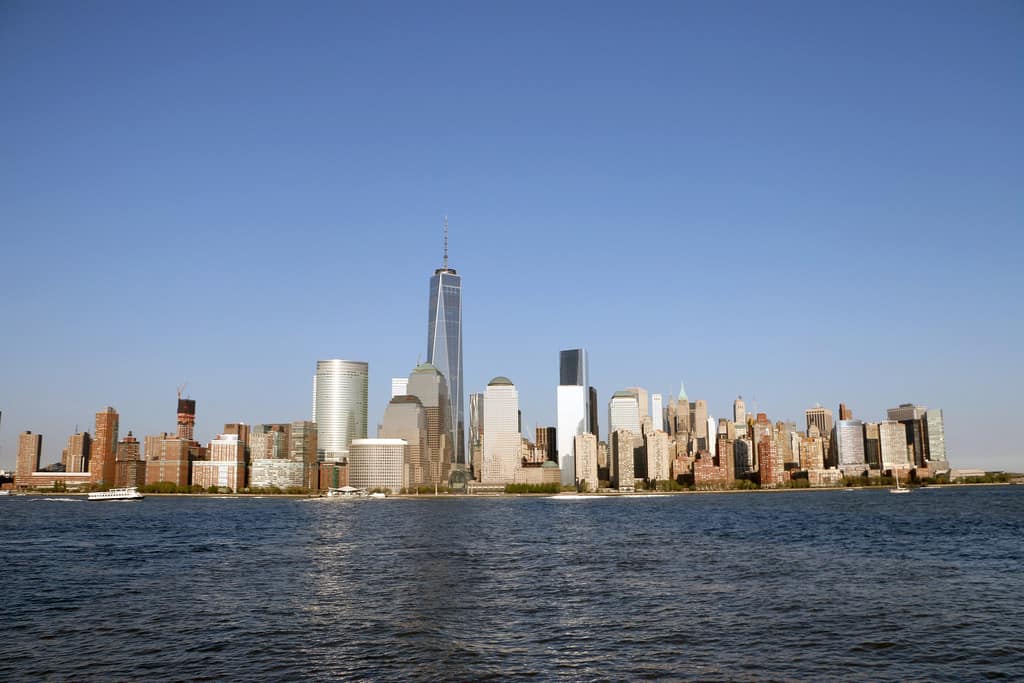 Sometimes you just need an outside perspective. It's probably weird to say I enjoyed taking in Manhattan from somewhere outside of Manhattan, but the views of the city from New Jersey are worth the extra few minutes on the PATH.
New Yorkers seem to stick their noses up at the mention of Jersey City, but I really enjoyed exploring the city and watching Manhattan from a distance. I'm sure this would be an amazing spot come sunset each evening.
TOP OF THE ROCK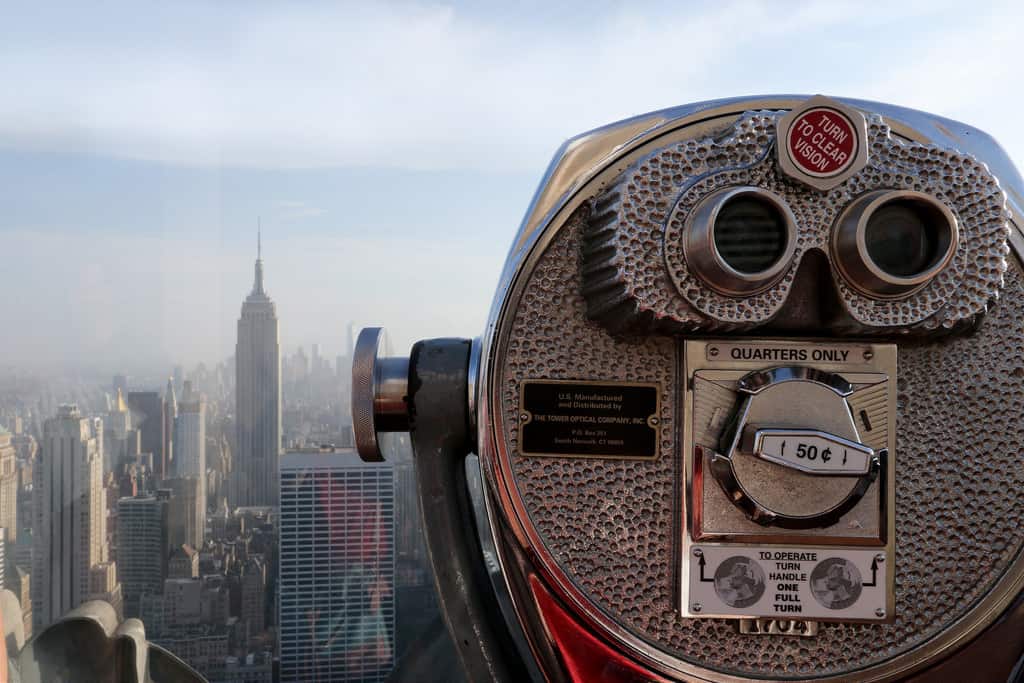 Some people love the top of the Empire State Building and some people love the Top of the Rock. For me, it was a toss up, but in the end I think I enjoyed the Rock more.
Sure, the Empire State Building gave gorgeous night views of Times Square whirring down below, proving that this city never sleeps, but the views from the Rock really show the city's dynamic side. It felt like you could see all of Manhattan from up there!
FROM THE TOP OF BUS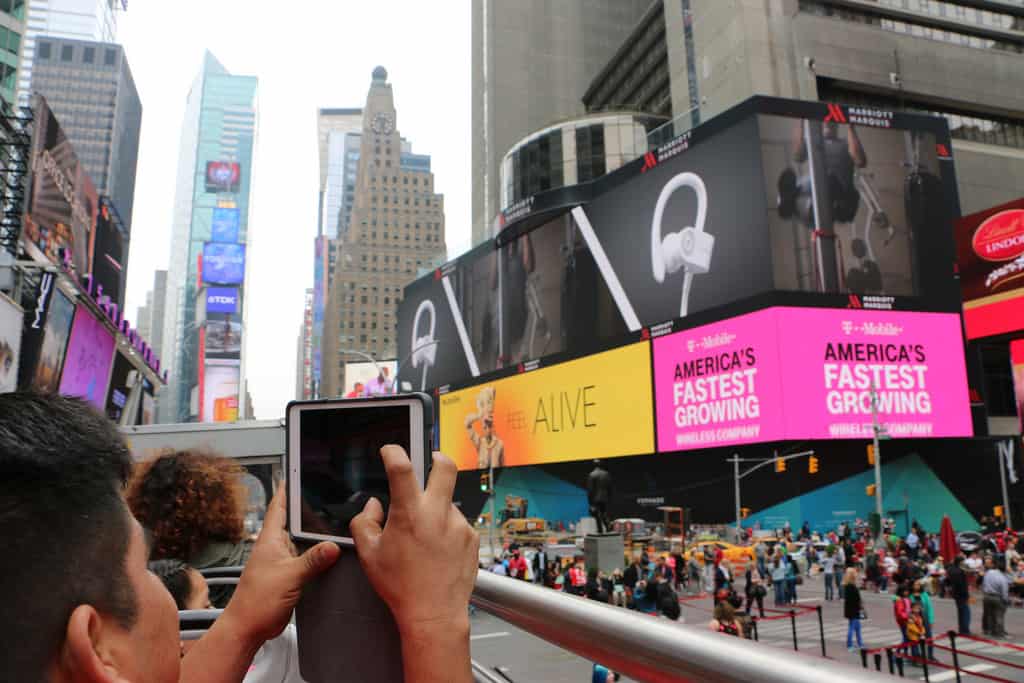 I know I've talked about my love of hop-on hop-off buses before, but I'm pretty convinced there's no greater place to ride one than in New York City.
Just being able to sit back, feel the windy in my hair and circle around the city (which I did probably six times), was perfect. Plus, since New York is so tall and built up, it gave a really cool perspective, especially being right up next to those massive billboards in Times Square.
GOTHAM LOUNGE FOR AFTERNOON TEA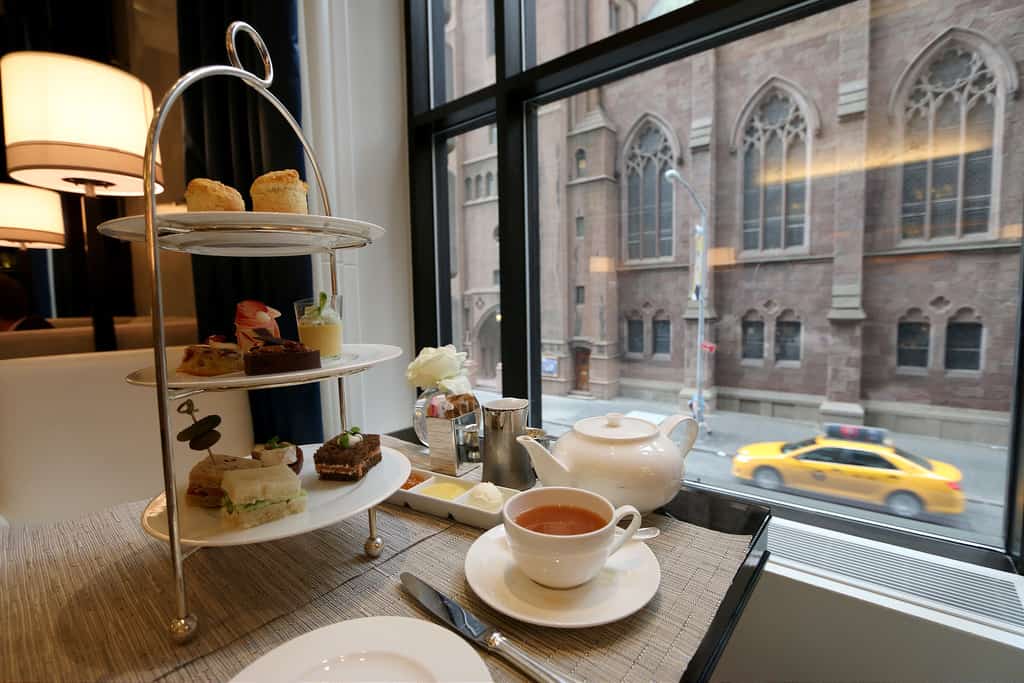 I'm a sucker for afternoon tea, and can't refuse when the opportunity presents itself. Wouldn't you know, it began pouring as I was outside The Peninsula New York– perfect excuse to stop in, no?
Sure, it was a little weird at first to sit down to a solo afternoon tea, but I soon enjoyed my own company. Watching the taxis continually whizz by, I used this time to get some work done, catch up on reading, and gobbling down as many tiny finger sandwiches as I wanted, not having to worry about sharing.
ANYWHERE IN CHINATOWN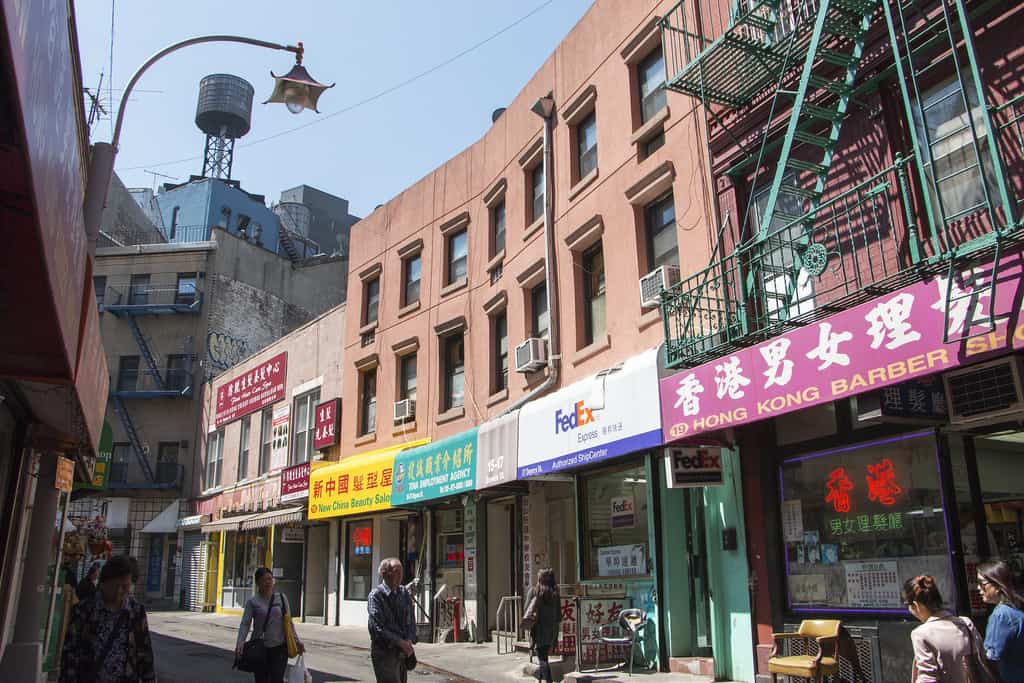 I know I talked a little about eating my way through Chinatown already and I have a more in-depth Chinatown post yet to come, but I still couldn't leave it off this list. It truly was one of my favorite neighborhoods in Manhattan. Within my four day visit, I found myself visiting here three times.
As far as Chinatowns go, it's definitely my favorite in the world so far and made me homesick for Hong Kong. While maybe it's not the best place to experience New York-New York, but it was just fascinating to watch this little enclave exist in the middle of this giant metropolis. But then again, that's really what makes New York so special in the first place, isn't it?
WHERE ARE YOUR FAVORITE SPOTS FOR APPRECIATING NEW YORK CITY?