Location is everything in an intense metropolis like Bangkok, and it doesn't get much better than the Amari Watergate Bangkok. Right in the heart of the city, the hotel is just steps away from all of the city's biggest malls where you can find literally anything from the latest designs to real, fake designer handbags.
The hotel is easily accessible from both airports via the Airport Link, BTS (Skytrain), the MRT metro, taxis, moto-taxis, water taxis and tuk tuks are readily available.
Whether you're on holiday, a business trip, or even a honeymoon, the Amari Watergate Bangkok exceeds all expectations with exclusive services, 5-star amenities and an attentive staff.
It's the perfect place to splurge on affordable luxury, and I can't think of a better way than by booking one of their Executive rooms.
By staying in an Executive room, you'll have access to additional privileges. You'll arrive at the hotel and be whisked straight to the 32nd floor to check-in at a private reception in the Executive Lounge. While they check your passport and take care of all the formalities, all you're left to do is sit back, relax and enjoy a cold towel with a welcome drink over fabulous views of the city.
The Executive Lounge is also where you can relax and enjoy complimentary snacks and beverages throughout the day. From 5-7pm they have a beautiful cocktail reception with delicious food.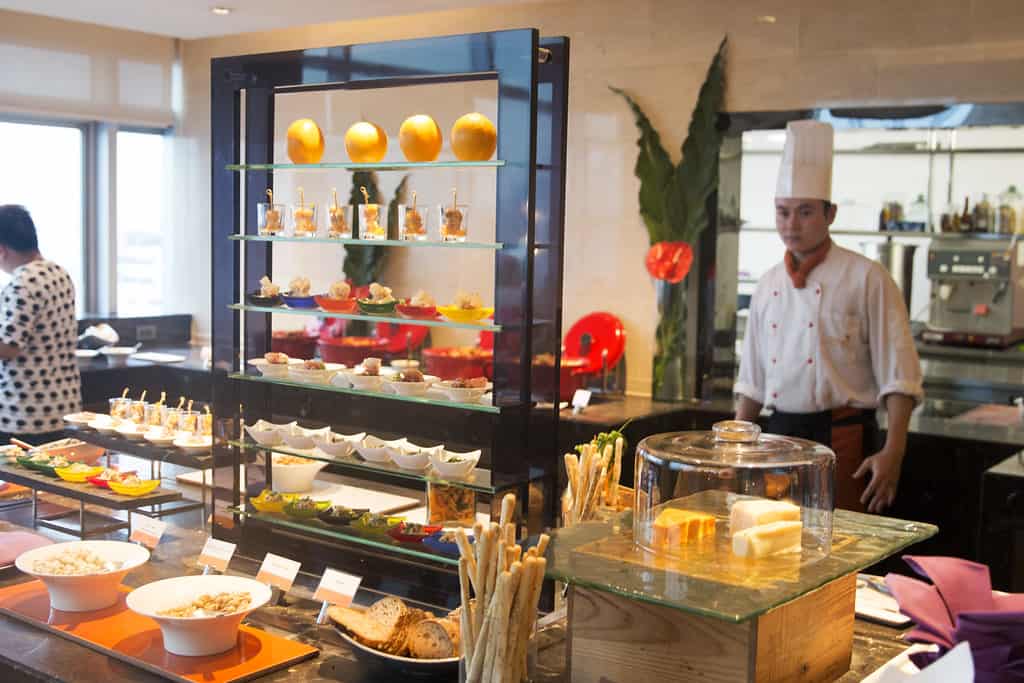 Be careful though, it's easy to fill up and want to skip on dinner here!
Watching the sunset from the giant floor to ceiling windows quickly became a highlight of each day during my stay. And then the view at night with all the nearby skyscrapers lit up… even more stunning.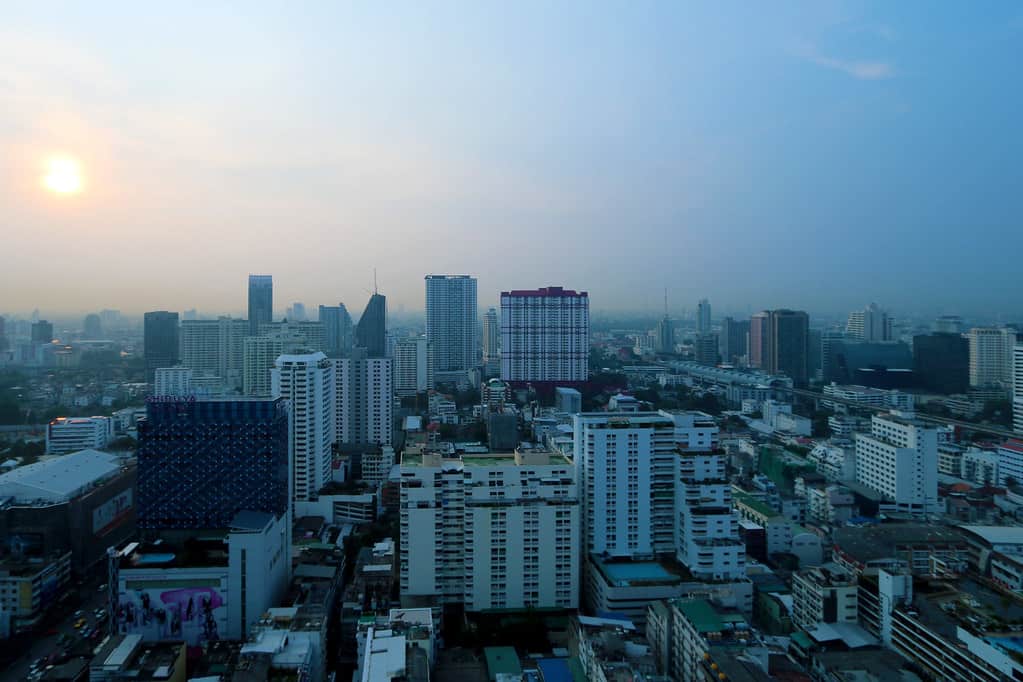 I feel as though I spent most of my stay hanging around the Executive Lounge, because it was just a great place to make myself focus and get some work done.
The Rooms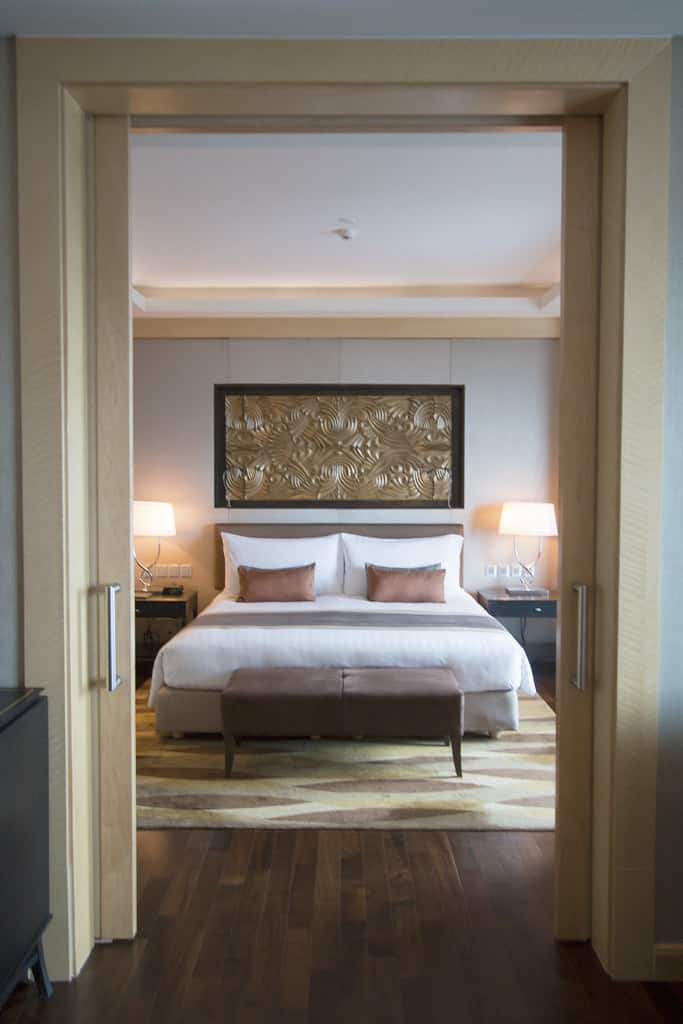 The Executive rooms felt gianormous. Compared to Asian hotel standards, I was really impressed. I was actually able to unpack, spread out all my belongings and still had enough space to work.
There was a lovely desk available to work at, but I found myself on the bed more often because it was just so plush– not your typical Asian bed that feels like you're sleeping on a board of wood.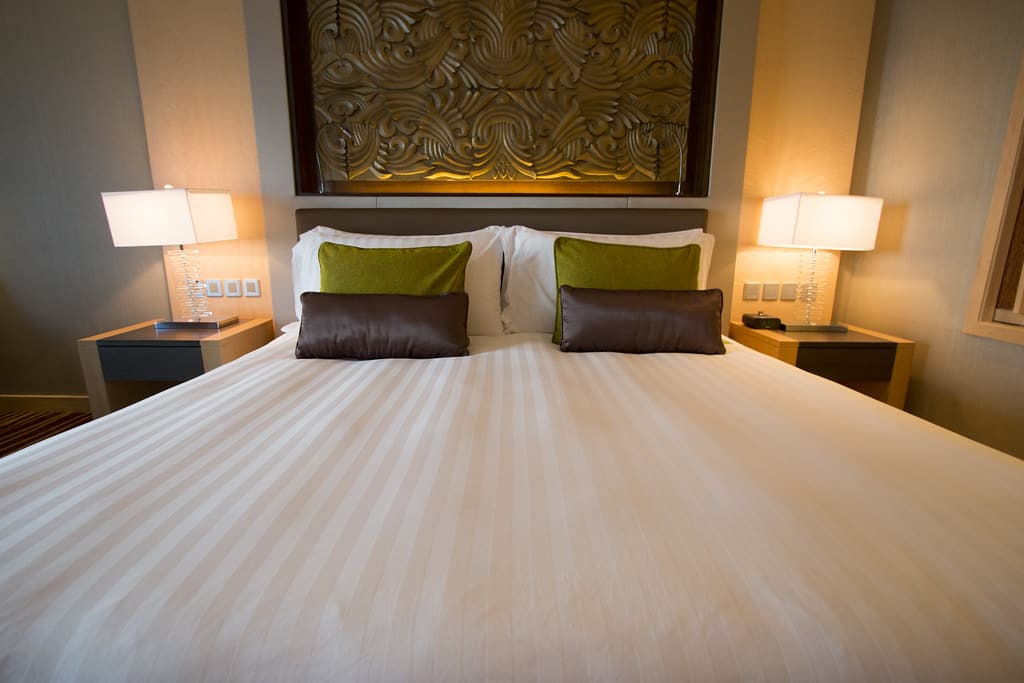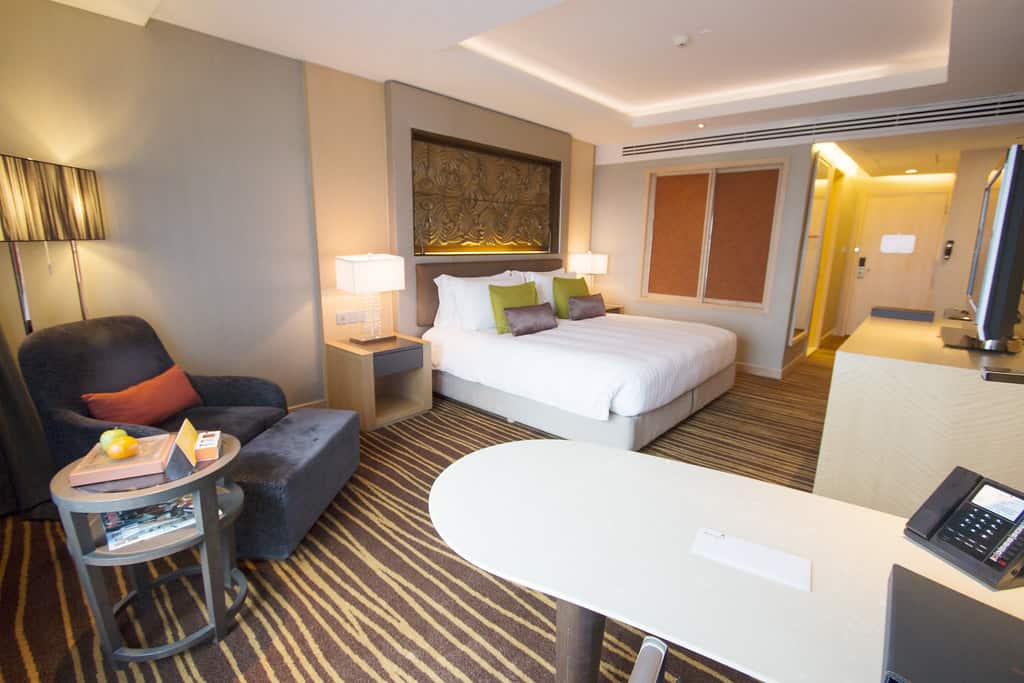 I loved (and took advantage of) the high-speed internet. It was seriously some of the best I've encountered in Bangkok.
My favorite part of the room, however, was the marble bathroom. Equipped with a large bathtub and separate shower, I loved the sliding window above the tub that let you can see into the bedroom. This meant I could continue watching TV while taking a bath!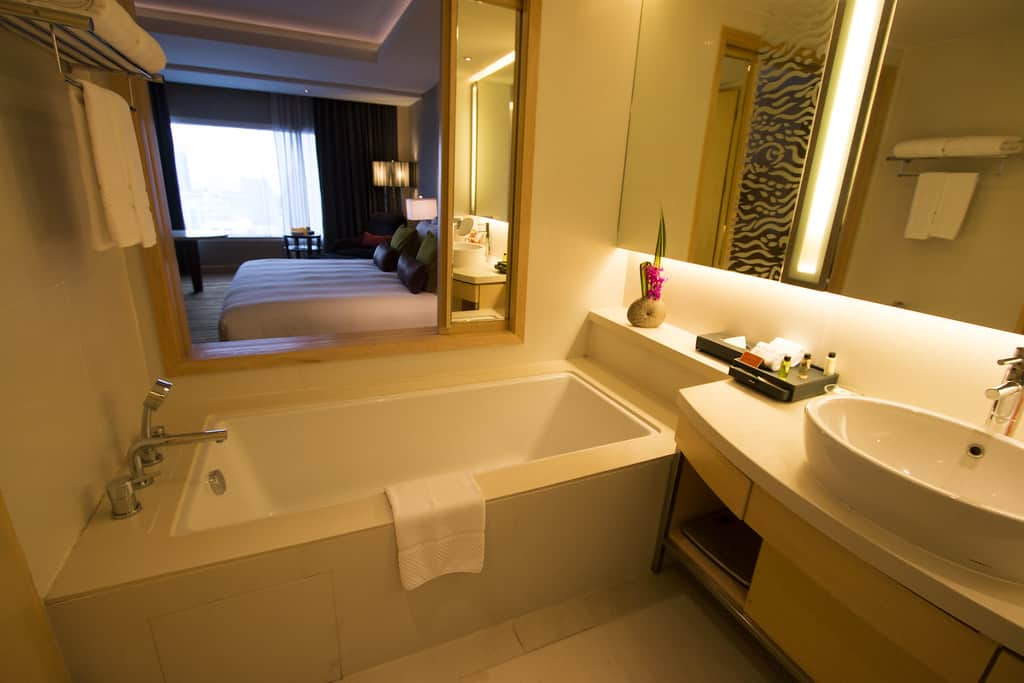 Hotel Amenities
Breakfast is served complimentary to hotel guests. They have one of the largest buffet spreads I've ever seen. It really caters to visitors from all around the world with a large selection of international cuisines. From French pastries to a Japanese station to even an Indian station, you'll find it all here.
For those staying in an Executive room, you can enjoy breakfast in lounge as well. It really was truly special to eat my breakfast while watching life 32 floors below. Breakfast with a view? Yes, please!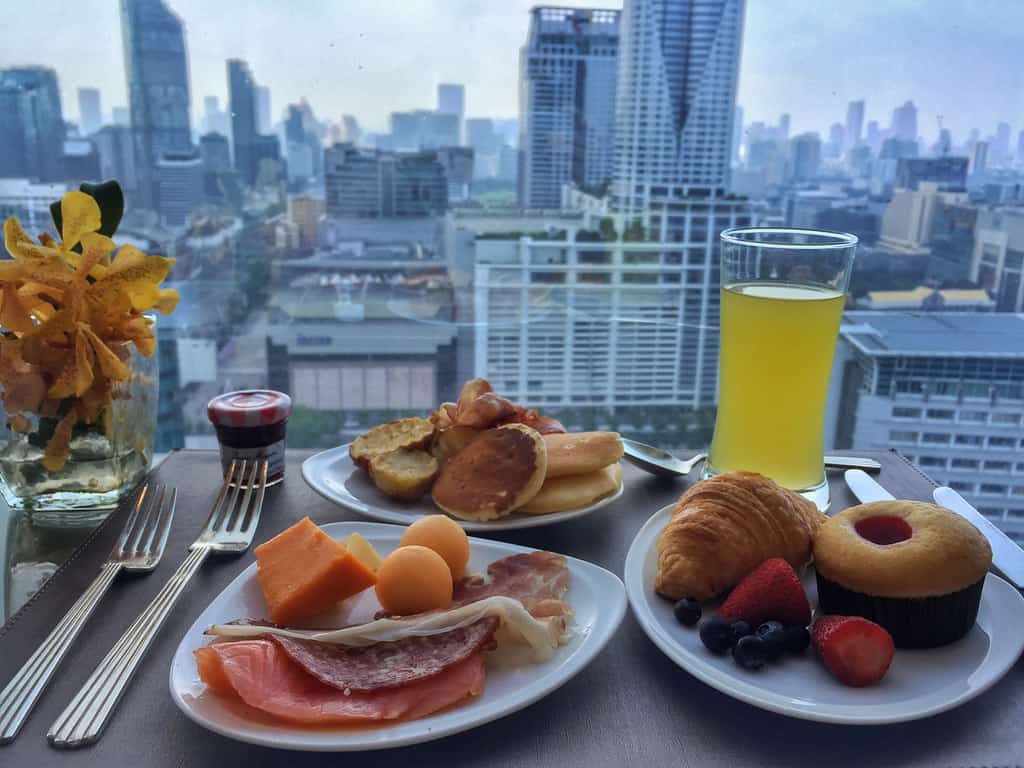 Apart from the Executive Lounge, the hotel has many other facilities, all of which are open to all guests.
The outdoor swimming pool was impressive. Since Bangkok isn't near a beach, it was great to still get a little sun and lounge out by the pool while having views over the city.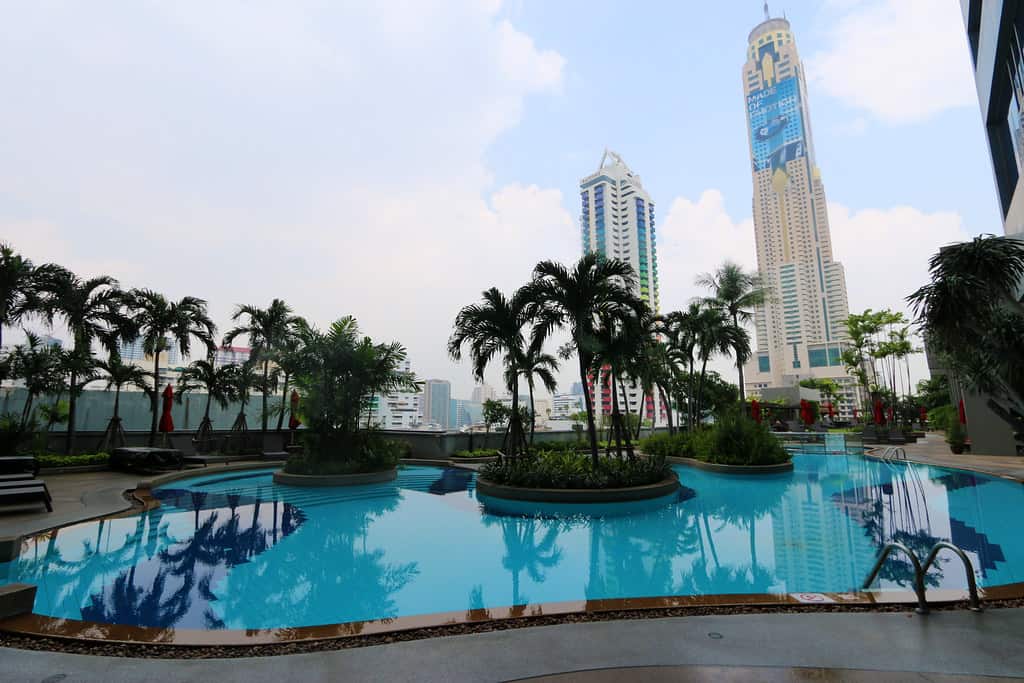 They have a state-of-the-art gym and fitness center, which includes two squash courts. TWO! I've never even seen another hotel with even one squash court, so I thought this was pretty cool even though I had no one to play with as I was on my own.
If you get worn down from all the shopping across the street, you can always stop by Breeze Spa for a little R&R. They have different treatments depending on how you'd like to feel afterwards, which I thought was really clever.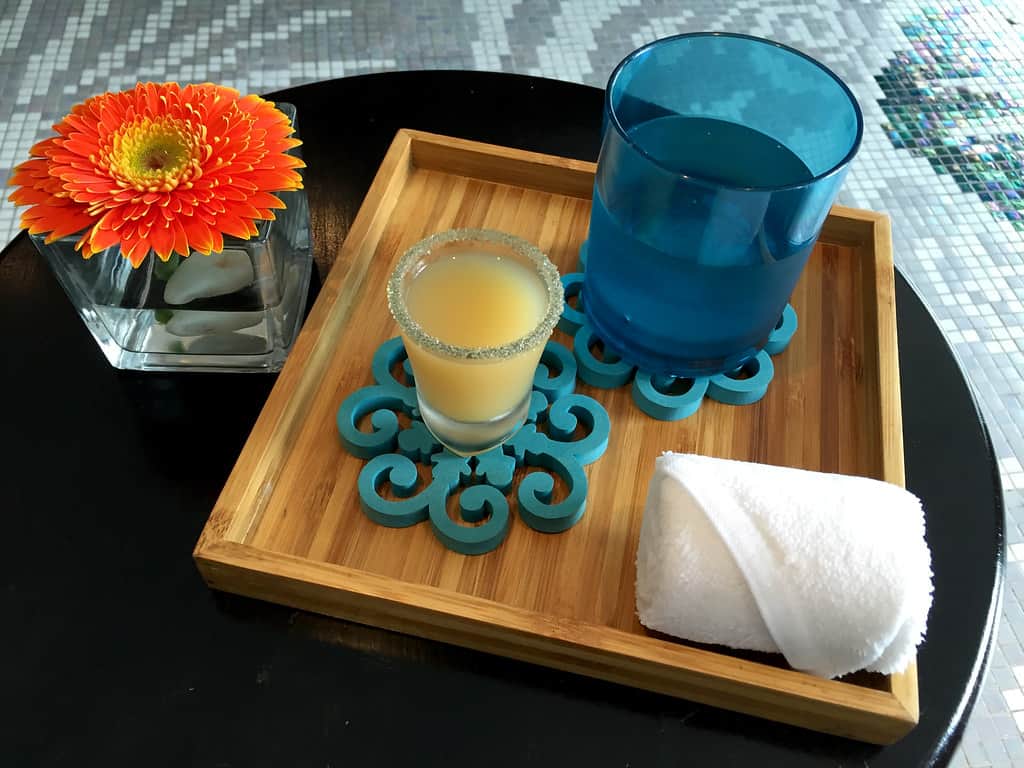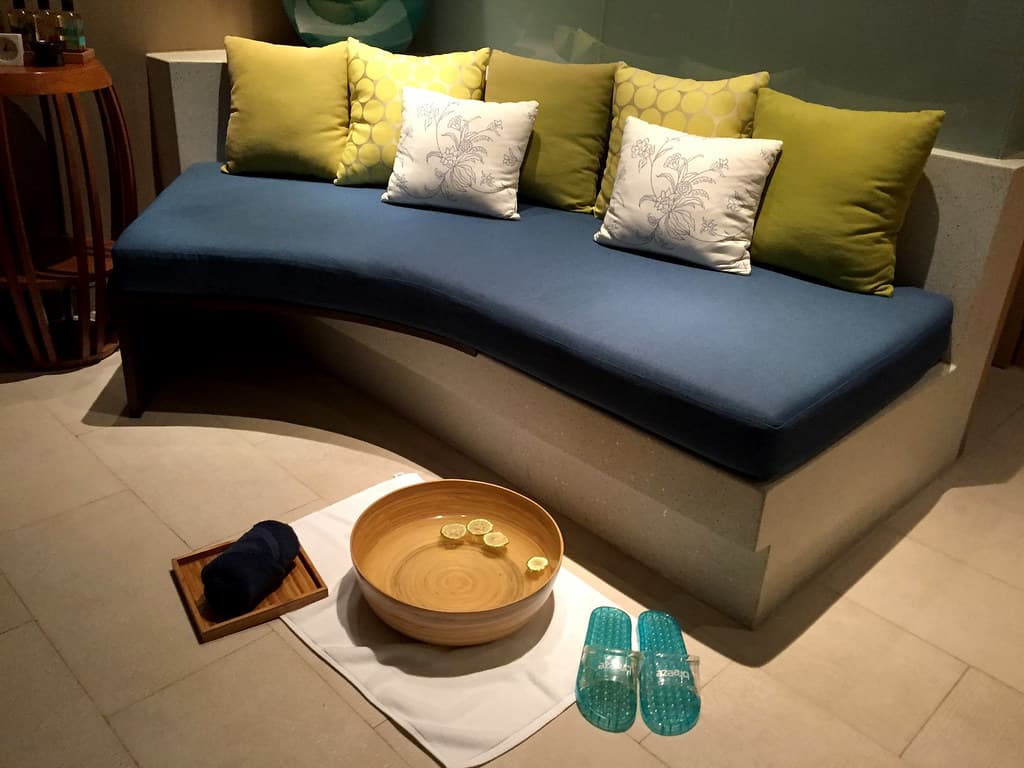 I had such a hard time choosing between dreamy, serene, rejuvenated, invigorated, or energized. I wanted to walk away feeling like all of those things!
In the end I went with "serene" and left the spa feeling like I didn't have a care in the world– a feeling that would remain for the rest of my time at the luxurious Amari Watergate Bangkok.
A special thank you to Amari Watergate Bangkok for hosting my stay. As always, all opinions are my own regardless of who is footing the bill!