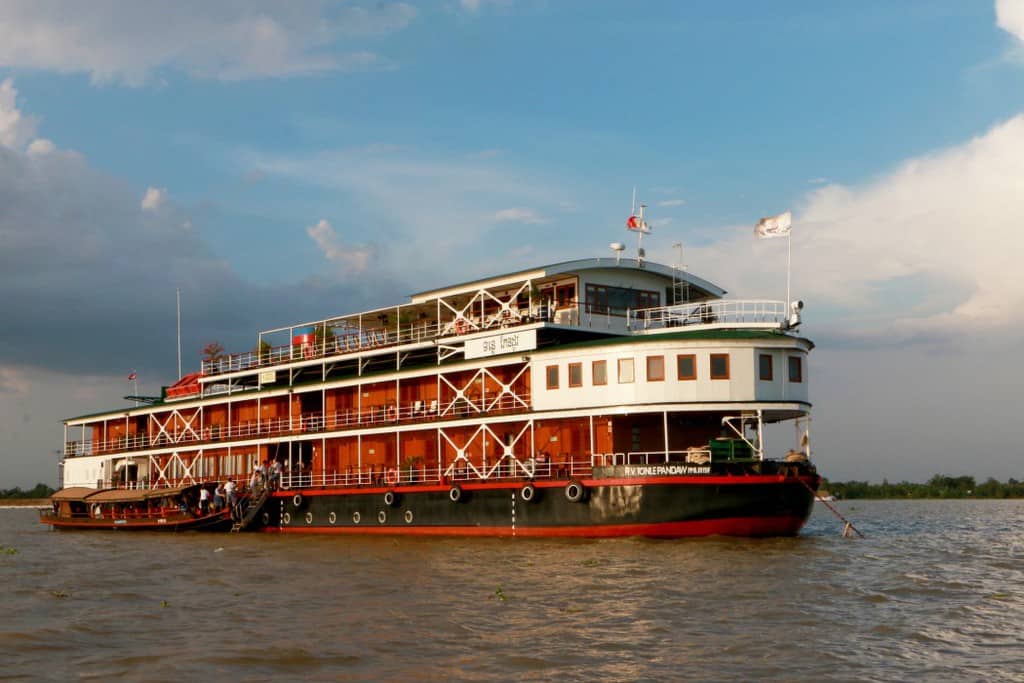 When I announced that I was going on my first ever river cruise with Viking Cruises, I was met with a mix of surprise and excitement.
Many of you were looking forward to hearing about my trip because you expressed interest in going yourselves, which is great. A lot of you had questions about the rooms, excursions, and just what river cruise was really all about. Hopefully this can help answer some of your questions!
Some of you were also a little skeptic saying things like I'd be horrible bored or that it's all a little too geriatric.
Well rest assured neither of those proved to be true!
Sure, I was probably the only passenger under 40 on board my particular cruise, but that proved to be tons of fun. I met so many interesting people on board, most of which who were very well traveled with great stories.  Plus, isn't it nice getting to be the one who makes others feel young at heart?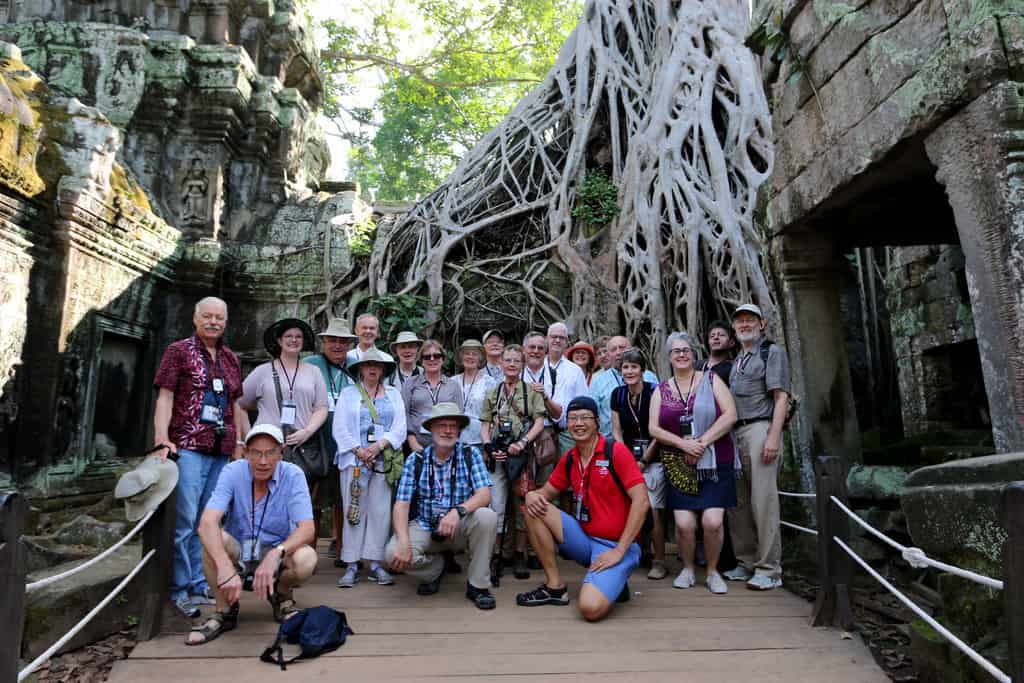 And from others I've talked to who have also been on Viking cruises, it seems they really are starting to appeal to a younger clientele. So don't let a river cruise's stereotype of being for older people stop you– just go and book it already! I don't expect I'll be the only one from my generation onboard for long.
The cruise I chose was the Magnificent Mekong, a 15-day adventure covering all over Vietnam and Cambodia– two countries I had long been dying to visit. What sets this cruise apart from many other Viking cruises, is that it's only an actual cruise for half of the trip. The other half is a land tour exploring cities by means of bus rides and even a short afternoon flight.
The main stops on this cruise include:
Hanoi, Vietnam
Siem Reap, Cambodia
Kampong Cham, Cambodia
Phnom Penh, Cambodia
Tân Châu, Vietnam
Cái Bè, Vietnam
Ho Chi Minh City, Vietnam
It also gave the option of adding on a pre-cruise extension to Halong Bay and a post-cruise extension to Bangkok, but I passed on those as I had just done them on my own.
Spoiler alert, I absolutely loved my first river cruise.
It all began in the buzzing city of Hanoi. I had booked my own flights as it was a simple two hour hop from Hong Kong and I made my way to the historical Hotel Metropole Hanoi.
Viking Cruises really tries to make your trip as easy as possible by booking your airfare if you choose. They also will provide roundtrip airport transfers so you don't need to worry about figuring out how to get to the ship. However, if you book your own airfare, you are on your own getting to and from the airport.
We had two nights at this gorgeous hotel as we explored the capital of Vietnam. If I ever come back to this city, I know exactly where I'll be staying! This 5-star hotel's cloud-like beds are still calling my name!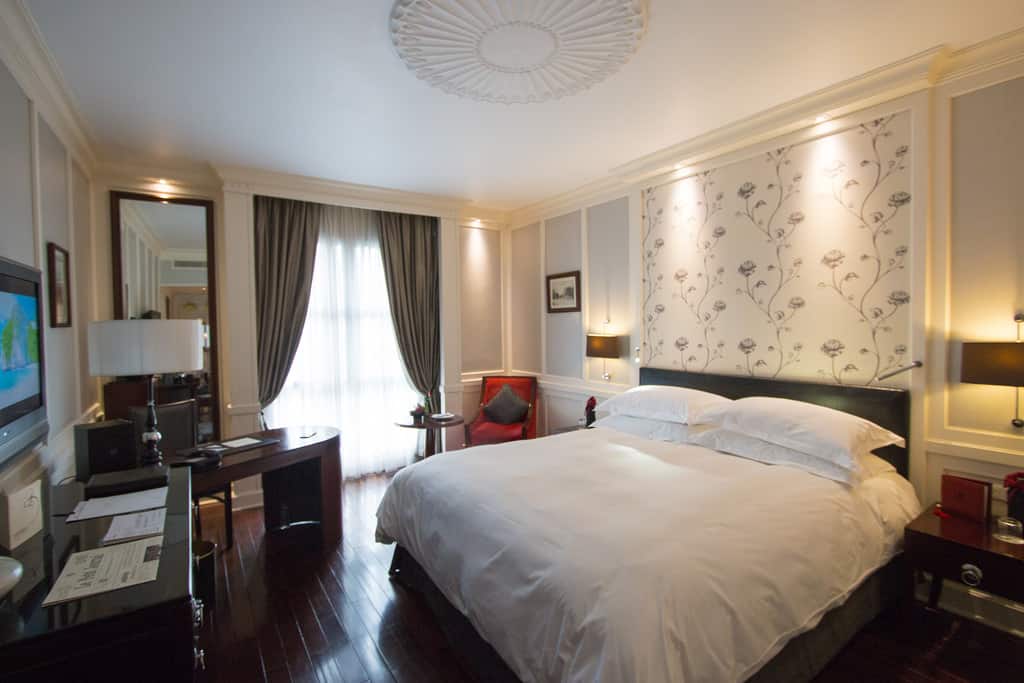 Our first afternoon everyone was gathered together for a brief orientation session. It was here that everyone introduced themselves before being divided into two groups that would stay together during the land portion of the trip.
The passengers seemed to be split pretty 50/50 from the U.S. and the U.K., but we had a few other passengers from the likes of Canada, Germany and even India. Viking really does have a global appeal.
The next morning after breakfast we were whisked off on a bus tour of the city.
Hanoi was crazy.
Truly. It was a city unlike any I had ever been to. The sheer amount of people and traffic and motorbikes (and crazy things carried on motorbikes) was just amazing. And intimidating. And crazy.
After trying to explore the city a little on my own and getting pick-pocketed, I was glad to be surrounded by the safety of a group. The tour guides Henry and Ut took really good care to make sure everyone was always accounted for, safe and having the trip of their lives.
As Henry was from Hanoi, he switched roles from Program Director to becoming our local guide for the city. I loved that in each new place, we had another local guide. In Cambodia it would be Phany, in rural Vietnam it would be Hieu, and in Ho Chi Minh City it was Ut.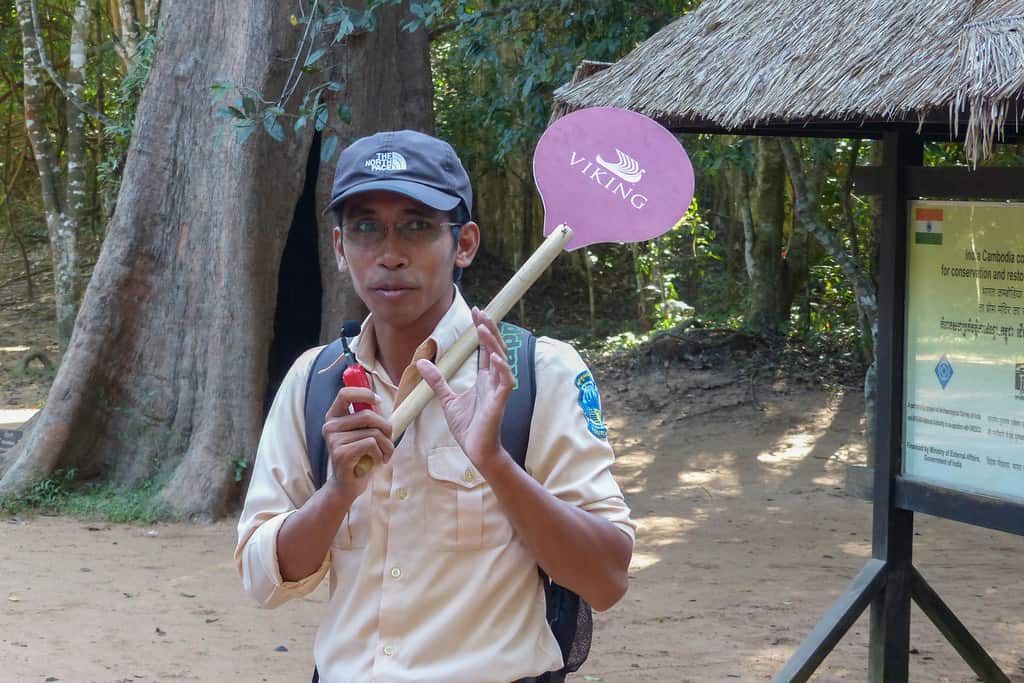 It really impressed me that all of the guides were locals and better yet, extremely knowledgeable, able to answer any questions anyone posed.
You could really see how passionate the guides were, and humble. Tourism was making a clear impact in their lives and it was great to see Viking being the catalyst of that.
Throughout the entire trip you could really see concrete ways in which Viking was empowering and improving the local communities that we visited.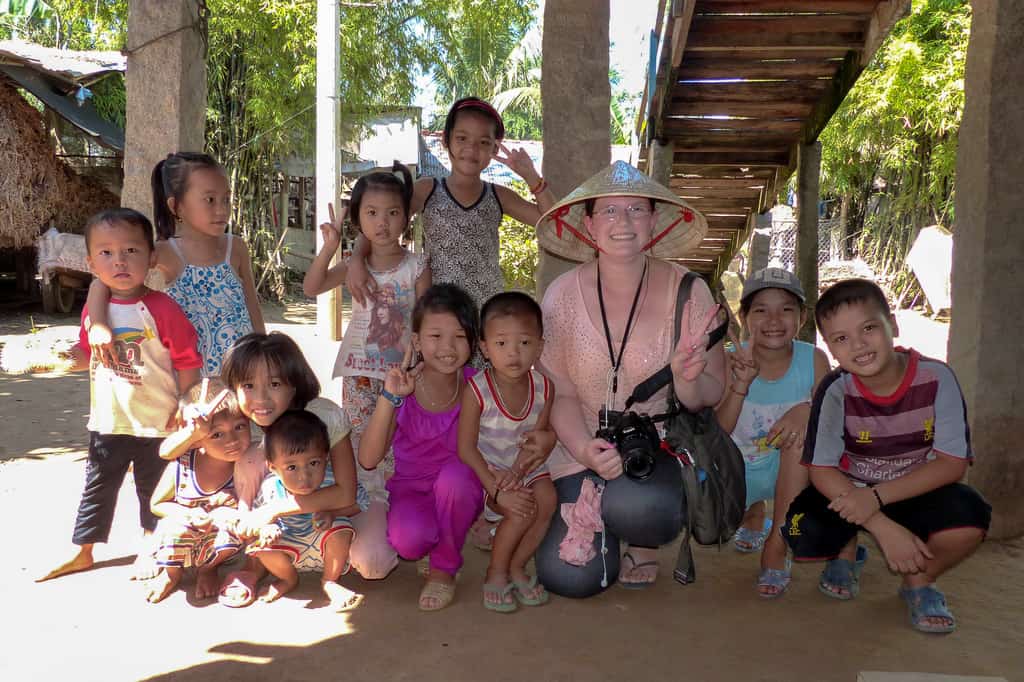 At the beginning of the trip, Viking handed out "talkie-talkies", or wireless audio guide systems, that we were allowed to keep for the duration of the trip. I absolutely loved this because it allowed me to wander off from the group to take photos, while still being able to hear what our guides had to say. It was not one of those follow the little red flag tours, thank god.
And after what felt like a whirlwind highlights tour of such an interesting city, we were led to the airport where we hopped on a short one hour flight to Siem Reap, Cambodia.
Making things as smooth and effortless as possible, we had VIP treatment upon arrival and were able to skip customs and immigration. Once our luggage showed up on the belts, we simply had to point to ours and off it went, meeting us at the next hotel later on.
You can really tell that Viking has been running these cruises for a very long time as they have everything down to a science.  For the passengers, everything continually felt seamless, but I'm sure behind the scenes it takes a lot of work to provide the perfect experience. I must admit I was highly impressed and appreciative of their attention to detail.
Each day started like the next with breakfast followed by an optional excursion.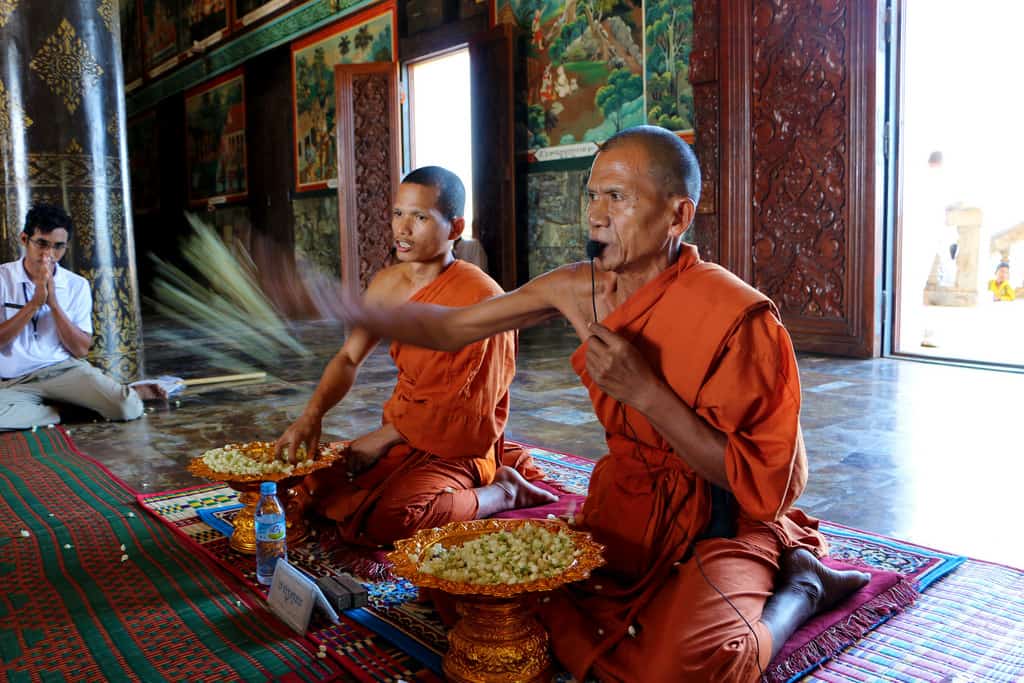 Ah-ruun sou sdey. Phany would greet us each morning in Khmer, teaching us the simplest of phrases that we used over and over each day.
Sohk sabaai te?
Sohk sabaai, we would all shout in unison.
Aw koon, he would thank us for being good sports participating in lessons of his culture.
Majority of the tours were walking or bus tours (or some other fun type of local transportation) that were included in the cost of the cruise. Especially in Cambodia there was a lot of walking. A lot. And it was hot, with very little shade. So make sure to be prepared for that with hats, sunscreen and fans!
Ice cold water was always waiting for us on the bus. Often they'd load us up with two or three bottles just to make sure we were well prepared for walking in 90°+ weather if we weren't going to be back at the bus for long periods of time.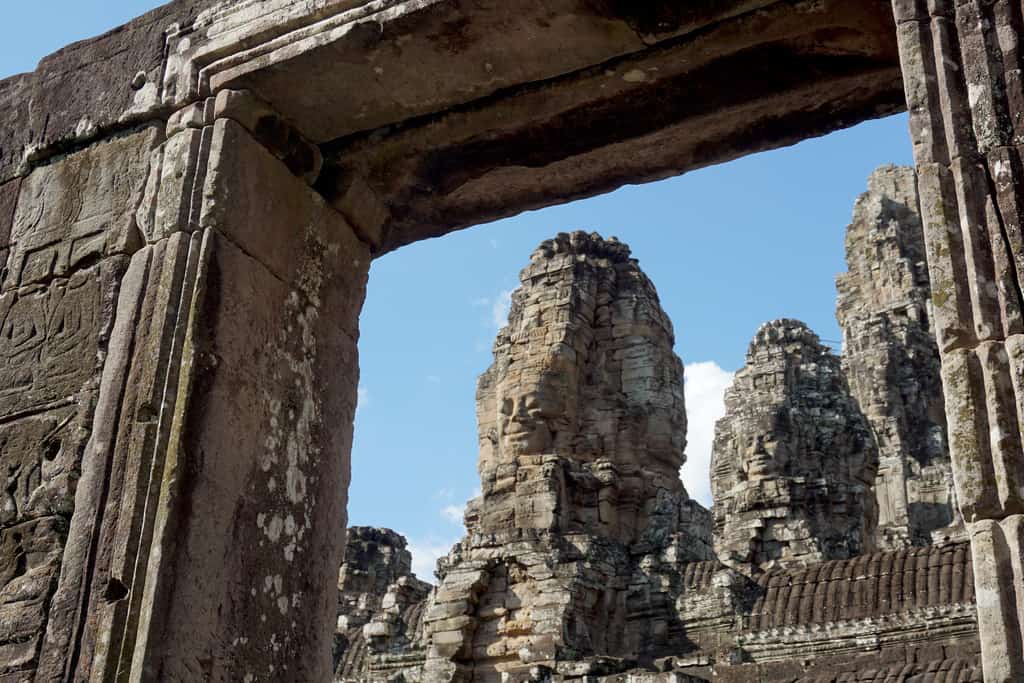 We spent multiple days exploring Angkor Wat and its famous ruins before hopping on another bus and driving five hours to Kampong Cham, a small town not far from the capital. The drive wasn't boring though as Phany kept us entertained with stories of Cambodian culture and history– including his horrific experiences during the days of the Pol Pot Regime.
It was here that we finally boarded our ship after nearly seven days on land already.
The Ship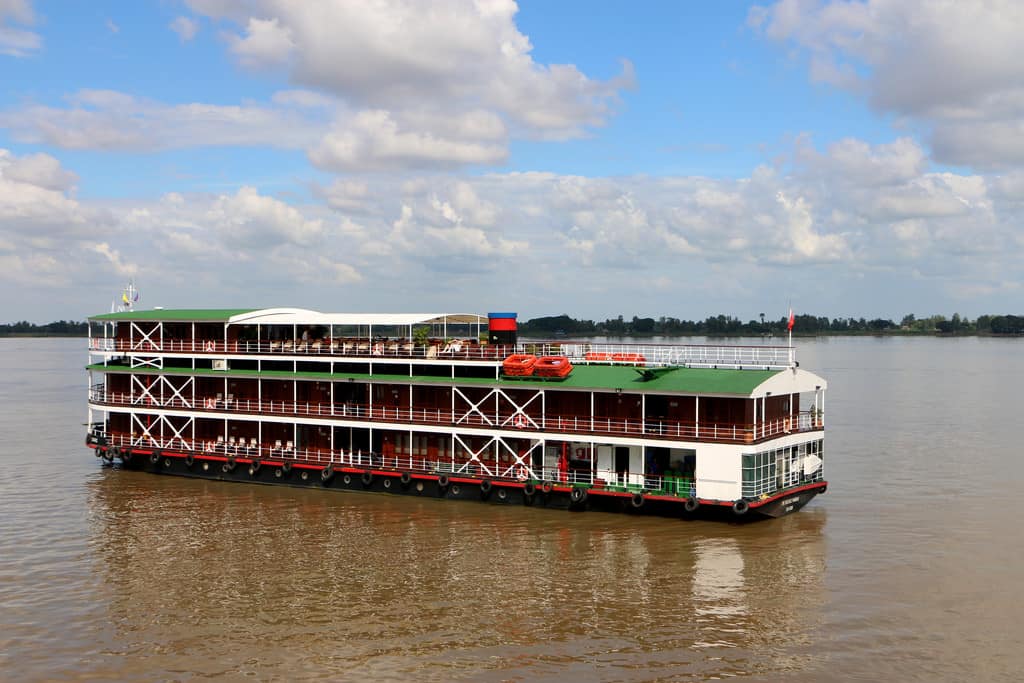 I really wasn't sure what to expect of the Viking River Cruises ship. I knew that it would be way smaller than an ocean liner but it was still hard to imagine.
There's no theater, casino, pool or anything fancy like that — the point of a river cruise is to relax and enjoy the scenery rolling by. The ship had a lounge, one restaurant, a spa, a lecture room and the sundeck.
In the evenings, the sundeck was used for entertainment; local musicians and dancers came onboard a couple of times, and a few nights we had movie screenings down in the lecture room and even a professor onboard to give a lecture about the history of Cambodia.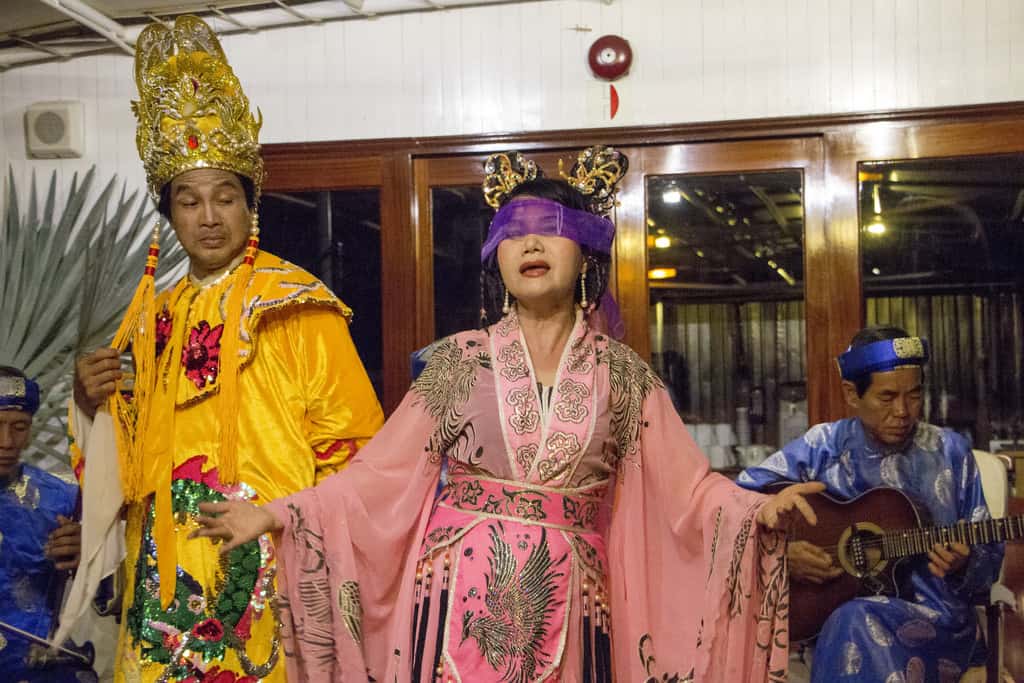 When boarding the ship, we almost always entered on the middle deck, unless the tide made that impossible. The middle deck was home to the restaurant, where you could enjoy sit-down breakfasts, lunches and dinners each day, as well as half of the staterooms.
Upstairs, you could find the other staterooms and the reception area/lounge, which was manned at all times of the day just like a normal hotel. This was the deck where my room was located.
Since the rooms were set inside the boat and not around the perimeter, outside each room were lounge chairs and a small table, which made up for not being able to have balconies.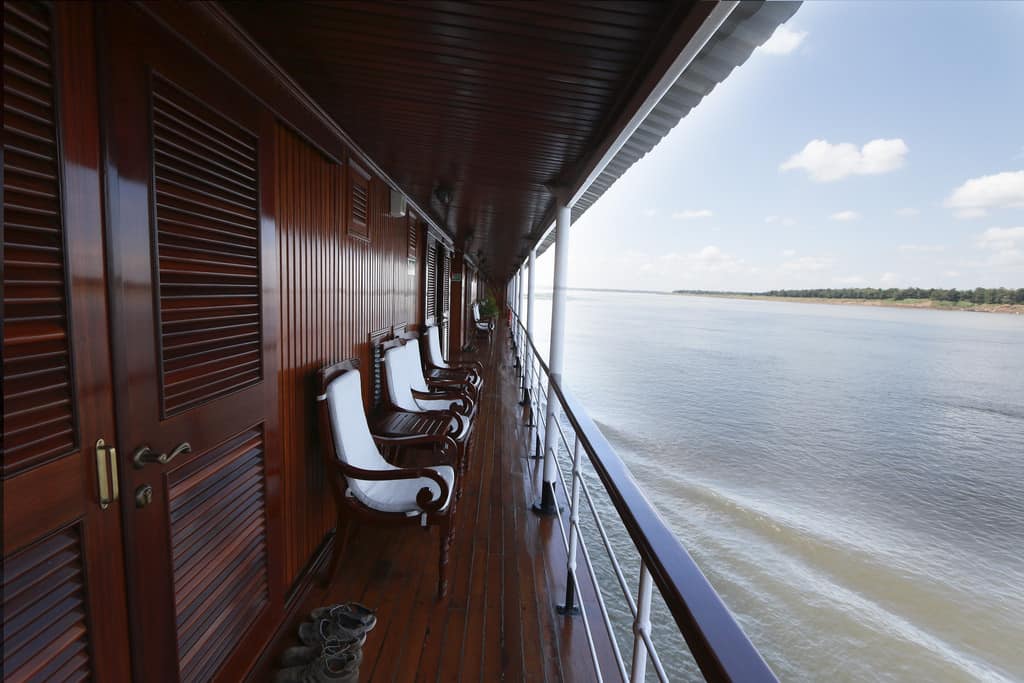 Inside the room there was plenty of storage space including drawers, shelves, closets and a hidden compartment under the bed to store your empty luggage.
The bathrooms were even had high-end L'occitane toiletries, which were restocked daily.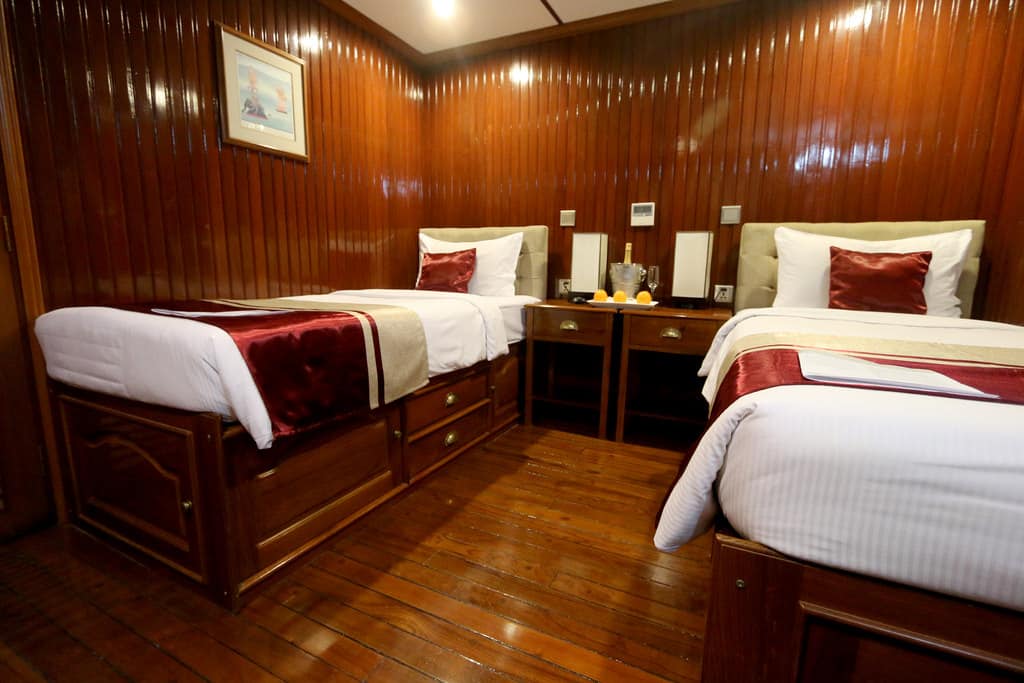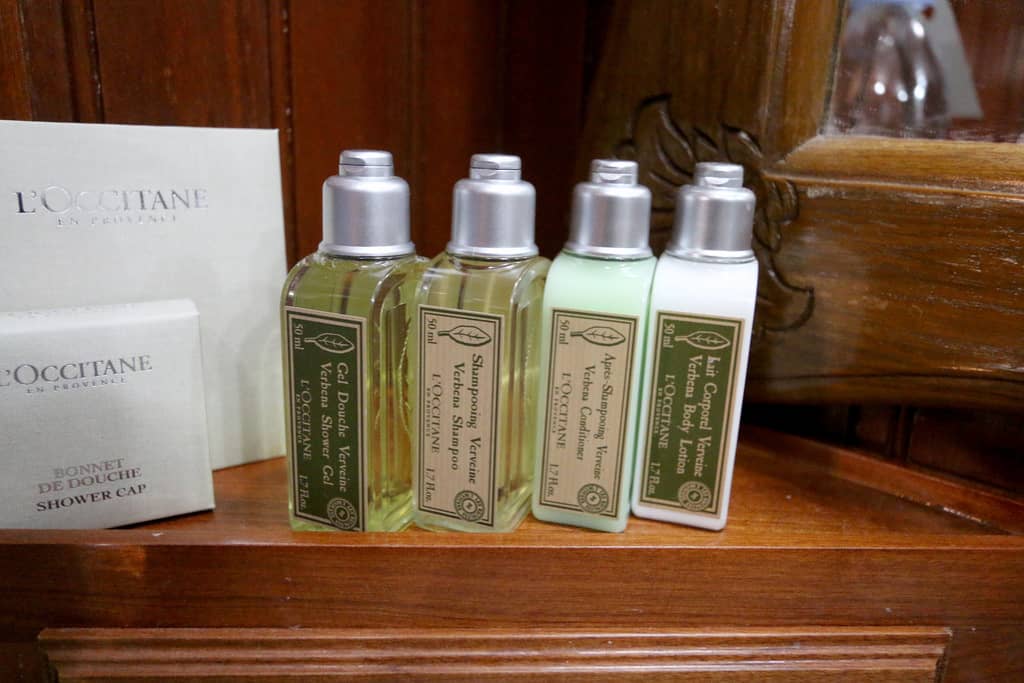 The real charm of a Viking River Cruise is that it allows you to travel to all different places around the world with only having to unpack your bags once! After traveling non-stop for the prior month, I truly appreciated not having to pack up and move to a new hotel every three days.
The sundeck, that was without a doubt my favorite area of the ship. Each morning I would start my day out there by joining in the free tai chi sessions. Throughout the day they had a mini bar where we could help ourselves to free coffee or tea and snacks. They also held cocktail hour there every night before dinner where we would all watch the sunset.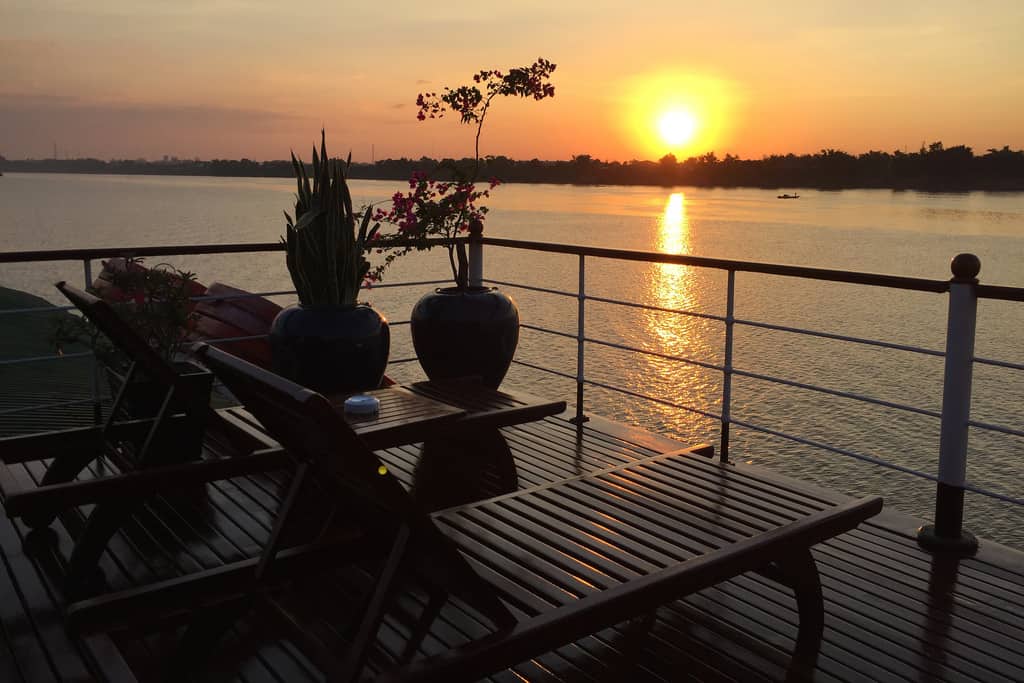 With its many sun loungers, the sundeck was certainly my favorite place to relax or get a little work done when we had access to Wi-Fi.
Yes, free Wi-Fi is provided throughout the ship, however it wasn't the most reliable. When we were near cities it worked fine, but as expected, during the rural stints it just didn't work.
Sure, this might be a little frustrating to some since we live our lives so connected, but it's no fault of Viking's– Vietnam and Cambodia just doesn't have this infrastructure built up yet. A lot of small villages still don't even have electricity. Just know this going into it, prepare a few good books, and enjoy the scenery out on the sundeck. You'll make it through. Promise!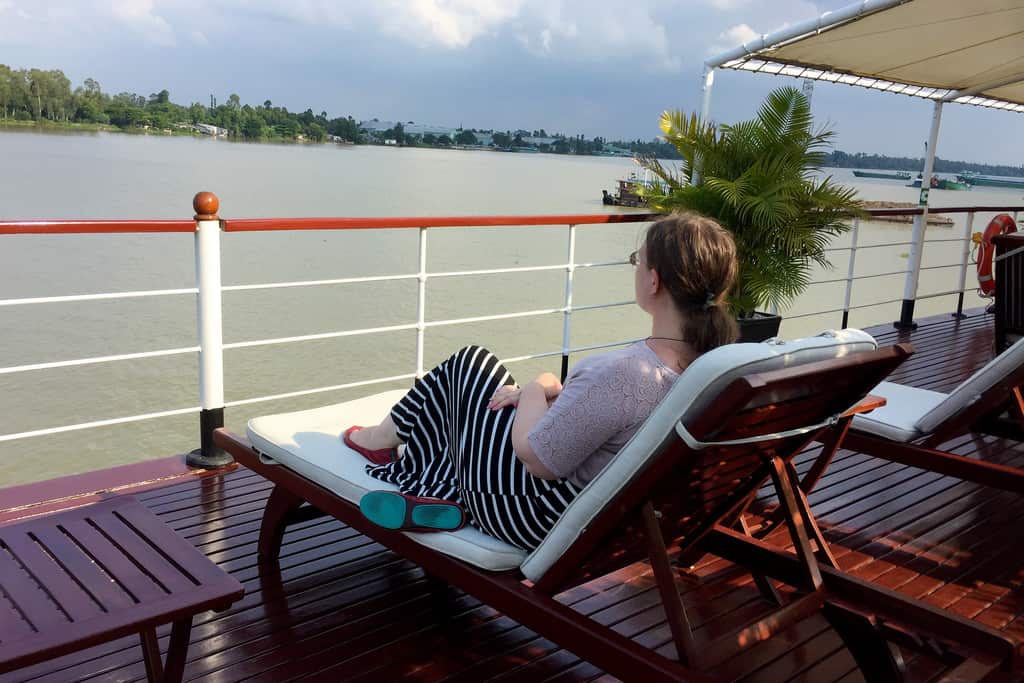 Honestly, I didn't feel like we even spent that much time on the ship. We were mainly there to sleep and eat our meals. Otherwise we were normally out and about exploring the different ports with fun excursions. We only had one day where the entire day was spent sailing, and that was when we crossed the border from Cambodia back into Vietnam.
The excursions
So yes, we had many excursions. Every day had at least one activity, some had two or three depending on the length of each. Even if you decide to take part in every single excursion (like I did) you didn't feel rushed and exhausted; everything was very nicely paced.
I liked that nothing was mandatory, especially since on this particular cruise you do visit many sobering places such as the notorious Hanoi Hilton where they kept American POW during the Vietnam War, and later the Killing Fields and S-21, or Tuol Sleng Prison.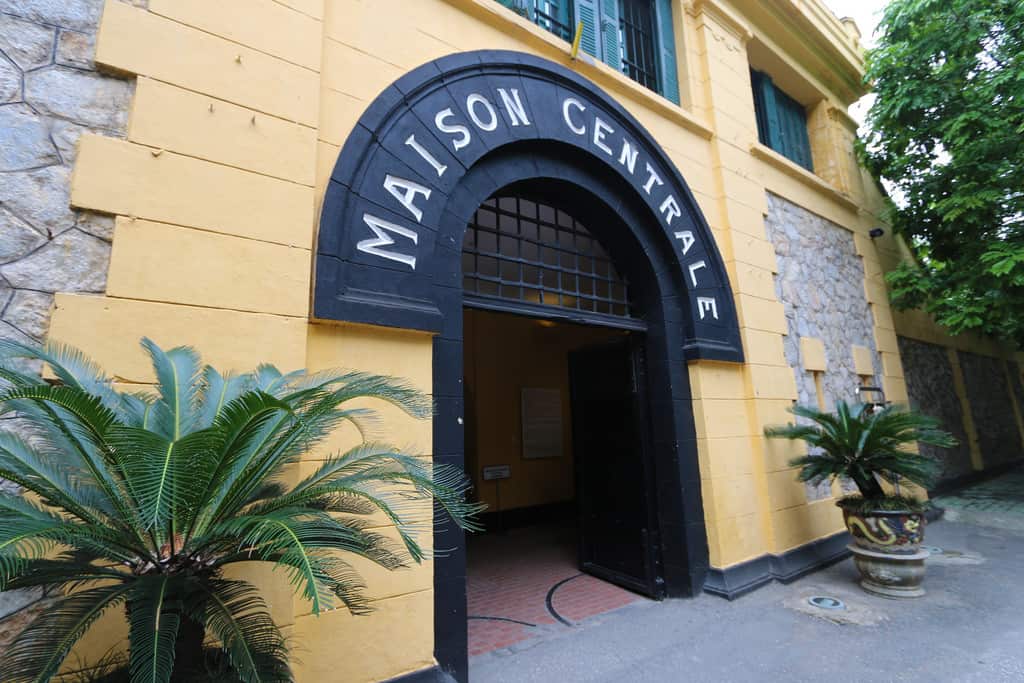 And while I do think it's incredibly important to visit historical places like these, I understand not everyone has the strength to do so.
Viking did a great job of having us visit all the "must-see" sites in each area, as well as giving us a real insight to local life and culture. They had us visiting local villages and places not easily accessible to most tourists. I really felt that I got an insight to life in these rural locations that I know I never could have gotten had I been traveling there on my own.
We learned about wedding culture, cuisine, religion, history and more. They had us tasting tarantulas, drinking viper vodka, riding in ox carts and other seemingly ridiculous forms of transportation.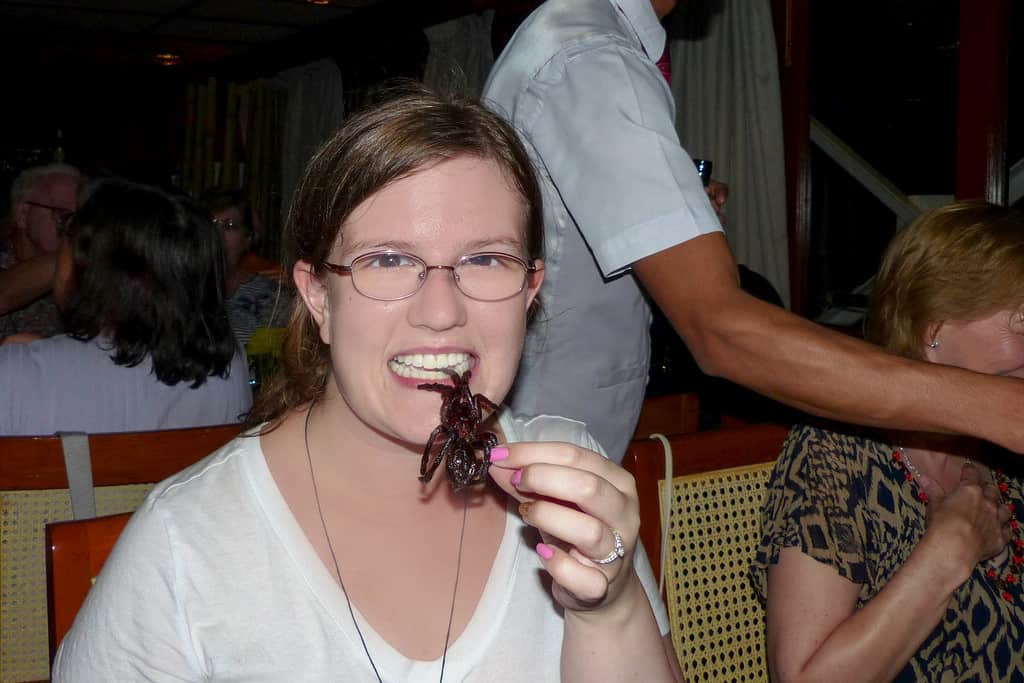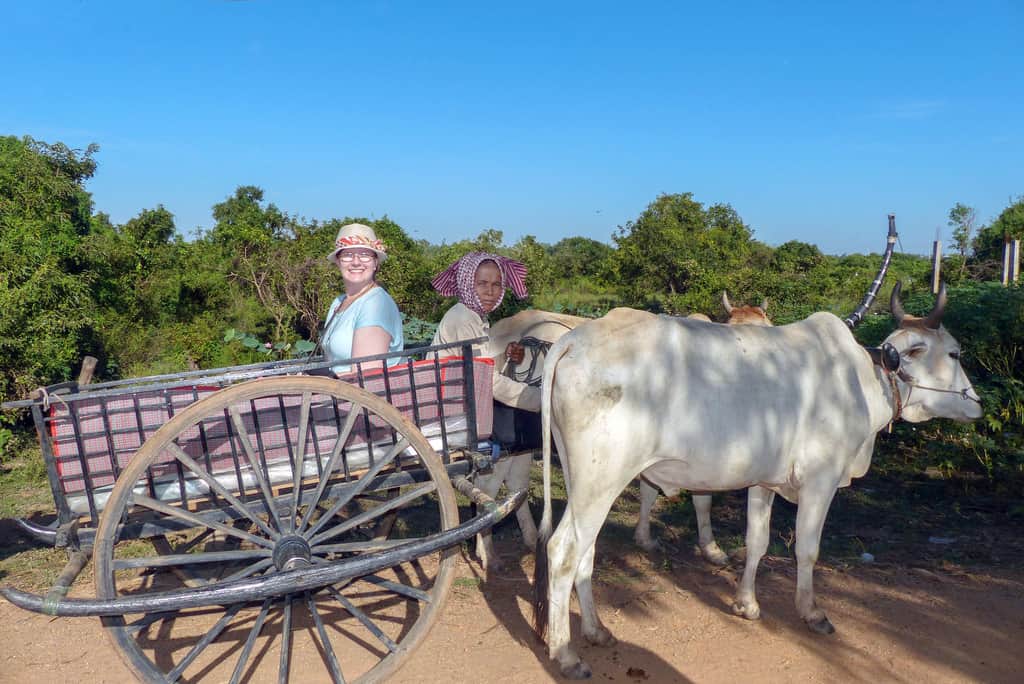 It really felt like they went above and beyond.
Having said that, a lot of you expressed concern about whether you would get enough time at each port to really get to know the cities. Well, to be honest, you can't get to know a new location in just one day– it's just unrealistic to expect that.
This is where a lot of different opinions come into play and why many people are against cruising in the first place, arguing that it isn't true "travel". But I think river cruises are a great way to get a feel for different places, and to familiarize yourself with them. And now that I've done so, I feel confident that if I wanted to, I could return to some of them on my own, staying longer and traveling more deeply.
Also, not all of our excursions involved group tours.
Almost all of our time in Phnom Penh was free time for us to explore as we please. The guides provided us with maps and a list of recommended places, and then helped us hire a reliable driver who took us around for the entire day.
Unlike large ocean cruises where you pay extra for anything and everything, mostly everything is included in a Viking River Cruise. Yes, even alcohol! (Honestly, the only things you do have to pay for are drinks outside of meal times, other than tea and coffee, and tips for the staff.)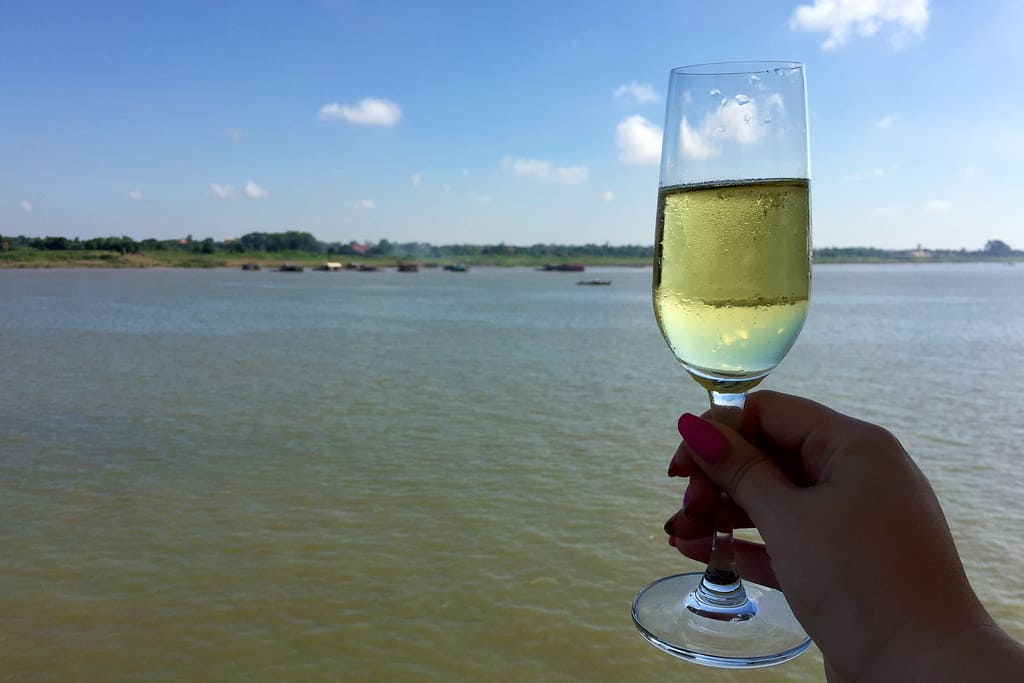 The food onboard the ship was truly first class (some of the best breads and chocolates I've had in all of Asia!).
The dining room on board was large with lots of windows for looking out at the view. You could simply snag a seat anywhere you wanted as there is no assigned seating on river cruises. This made it easy to get to know mostly everyone as I was continually switching up who I'd sit with each meal.
The menu was different every single day with almost too many options to choose from (in a good way). Lunch always had a salad bar and pasta station in addition to the entree that you chose, which was usually inspired by local cuisine.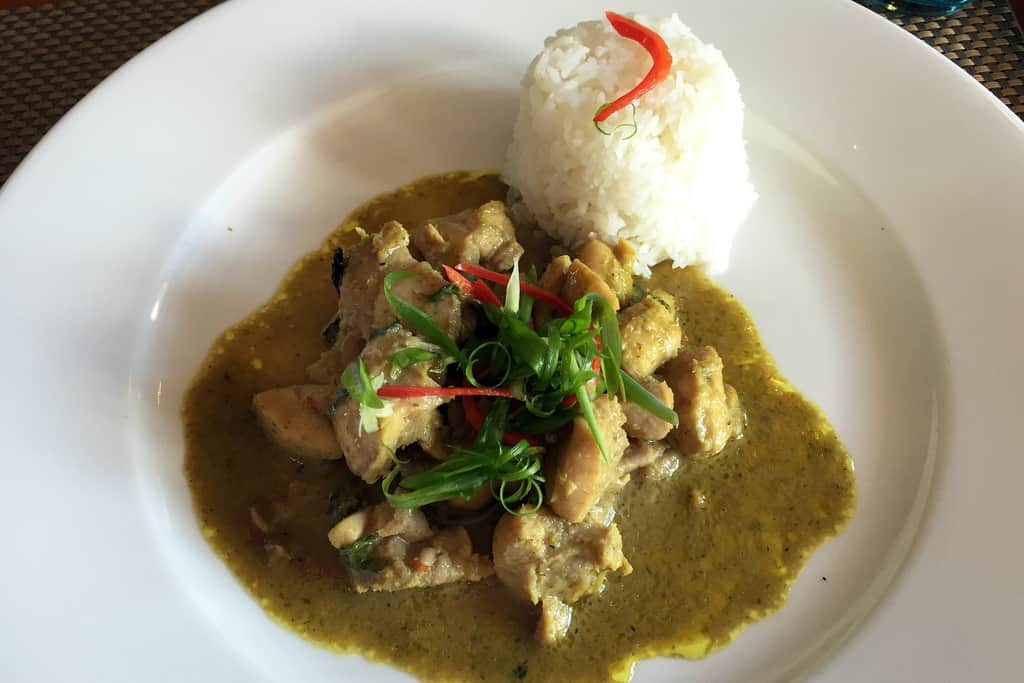 They clearly labeled whether dishes were spicy, if they were vegan, and what have you. However, if you preferred something else the staff was always very accommodating. They also took excellent care of those who had food allergies, such as myself, or other dietary restrictions.
What had put me off traveling to Vietnam for so long was because they seemingly have shrimp in everything! Not once was this an issue however, and the chef would specially prepare certain dishes just for me free of shrimp.
Dinner was usually based off Western classics, which seemed to please even the pickiest of eaters. And a few nights we had special dinners, such as the Captains Dinner and our farewell dinner as we left Cambodia for Vietnam.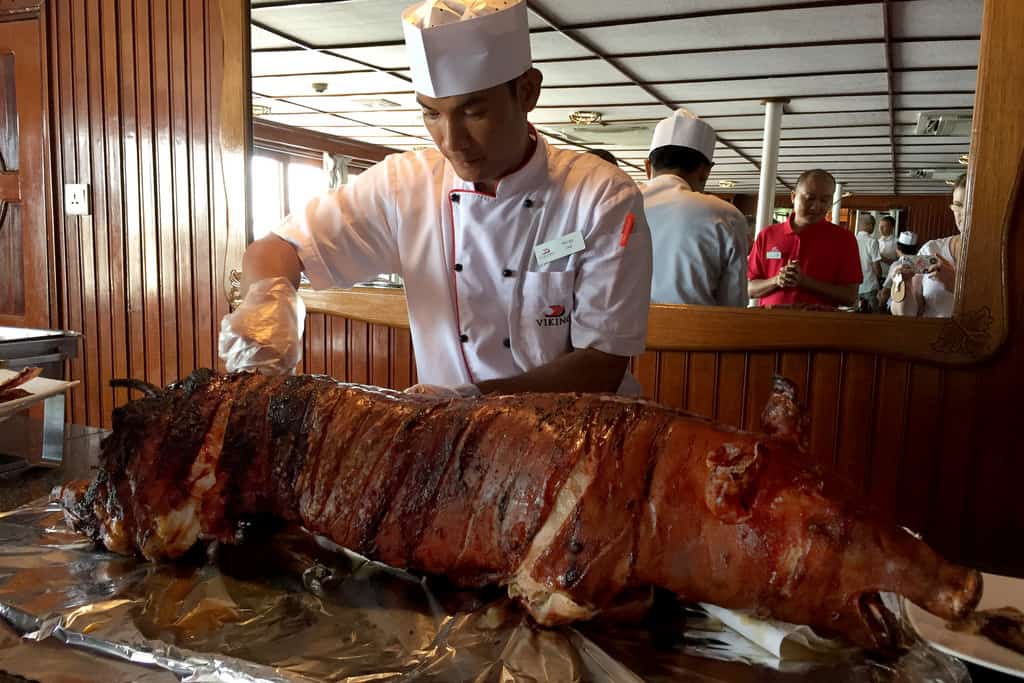 Everyone had glowing remarks of the food and the chef. It's easy to see how people gain so much weight on cruises!
And it wasn't just the chef that had glowing reviews, the entire staff was absolutely lovely. So warm and heartfelt. By day two they had already remembered everyone's names, which is impressive considering how many cruises they work in a row and the fact that they aren't used to English names.
Everyone seemed to go above and beyond their job duties, from the program directors to the hotel manager, stewards and the rest of the crew, and there is where Viking makes a difference.
So would I hesitate to go on another Viking River Cruise? Certainly not! I'm already looking to book my second cruise possibly later this year.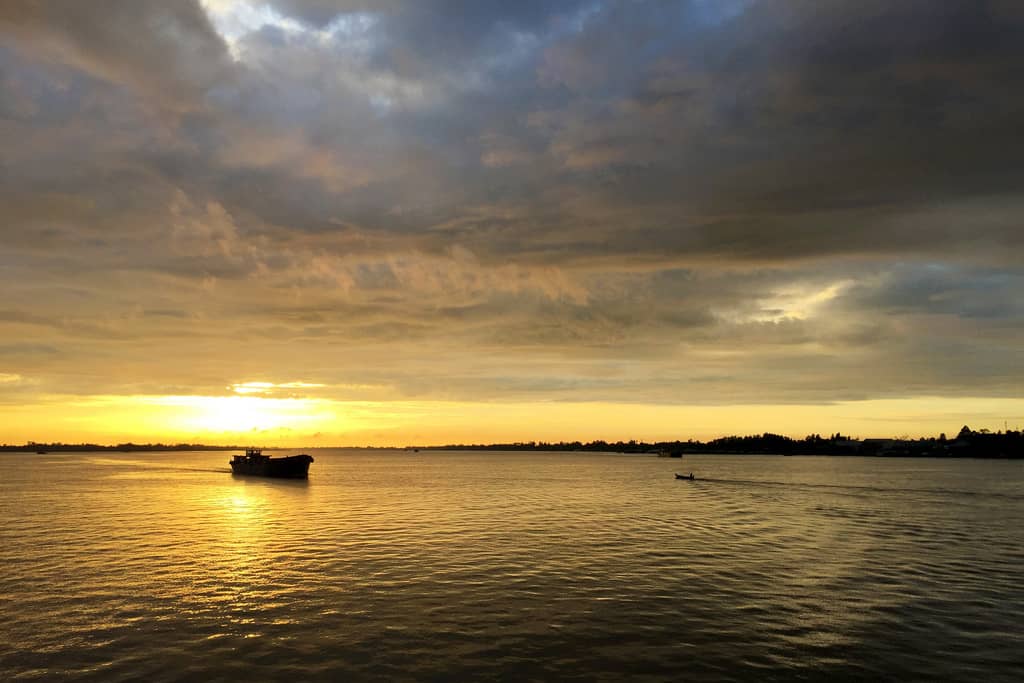 A huge thank you to Viking River Cruises for hosting my Magnificent Mekong cruise. As always, all opinions are my own.
Viking Cruises now offers river cruises through Europe and Asia, and most recently started offering ocean cruises as well and will be entering the Americas soon.
Would you book a river cruise?
Do you have any other questions about Viking River Cruises?  Let us know in the comments and we'll try to answer!
You might also want to read these posts about this cruise:
A Look into Rural Vietnam
What to Pack for a River Cruise in Asia