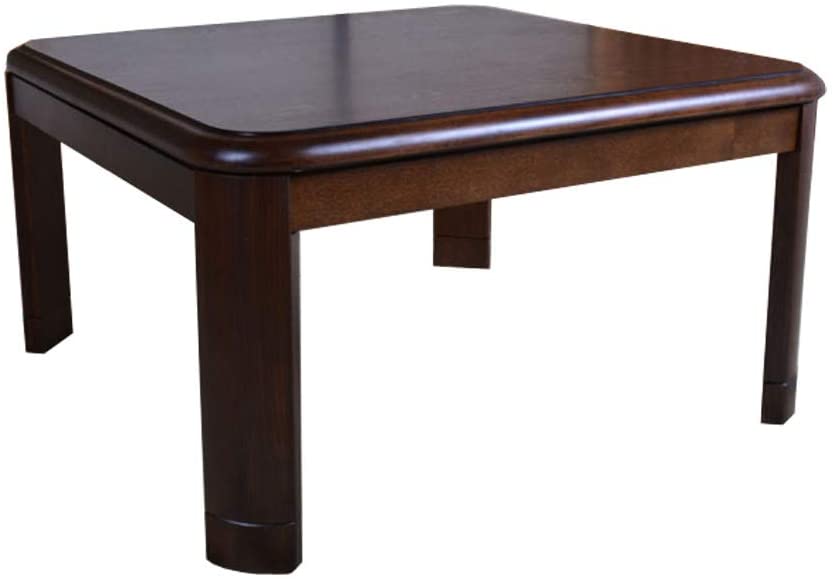 MustMat Heated Japanese Kotatsu

31.25 x 31.25 x 5 inches

28.22 Pounds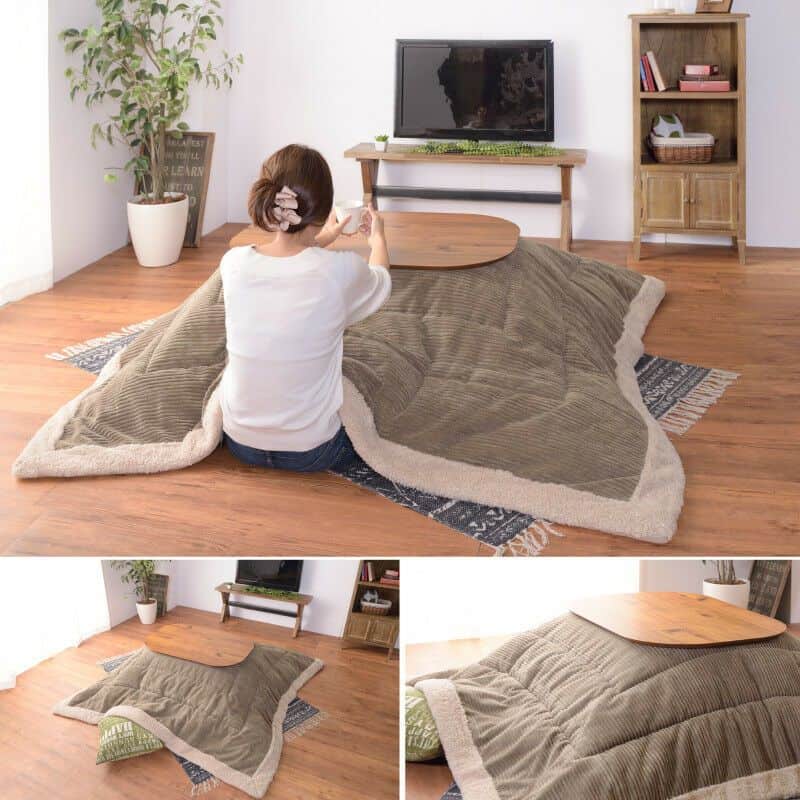 Azumaya KT-106 Natural Wooden Color Kotatsu

35.5 x 27 x 16.2 inches

33 pounds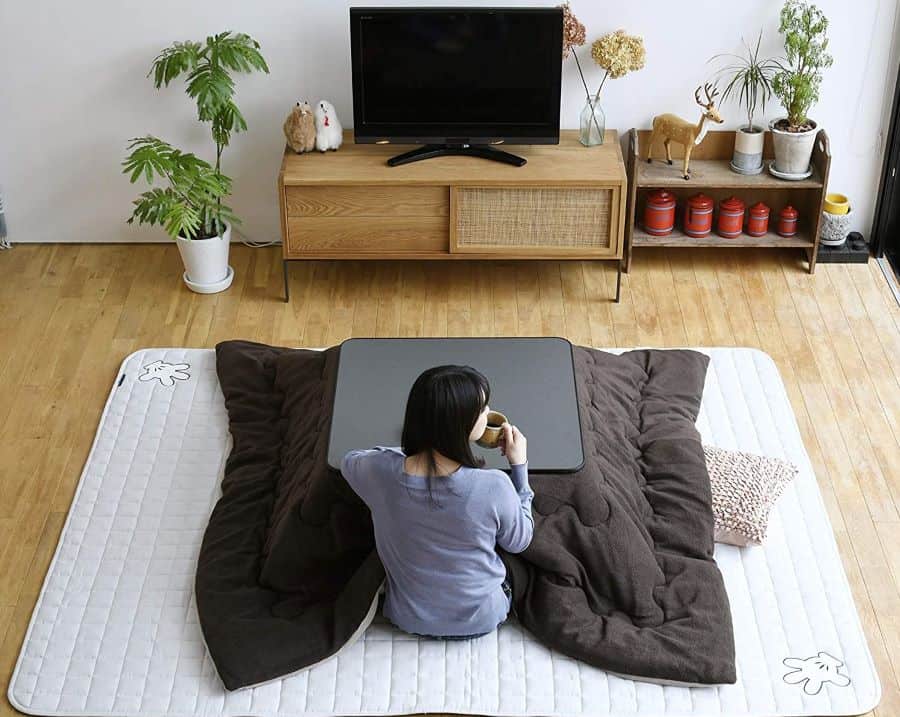 YAMAZEN ESK-751(B) Japanese Heated Kotatsu

31.25 x 31.25 x 5 inches

28.2 pounds
Kotatsu are Japanese tables featuring a heating facility beneath it. Most times, they have a short height and are neither too long, nor wide.
This table is great if you wish to feel comfortable in the cold without having any disruption to your socialism, or you simply want a cozy desk table to be of help during your odd working hours.
Kotatsu tables are usually made of wood. Traditionally, they are from Japan, but there are other variations from other countries i.e. China and Iran. The different types of kotatsu tables are based on the technology utilized for heating, size, shape, etc.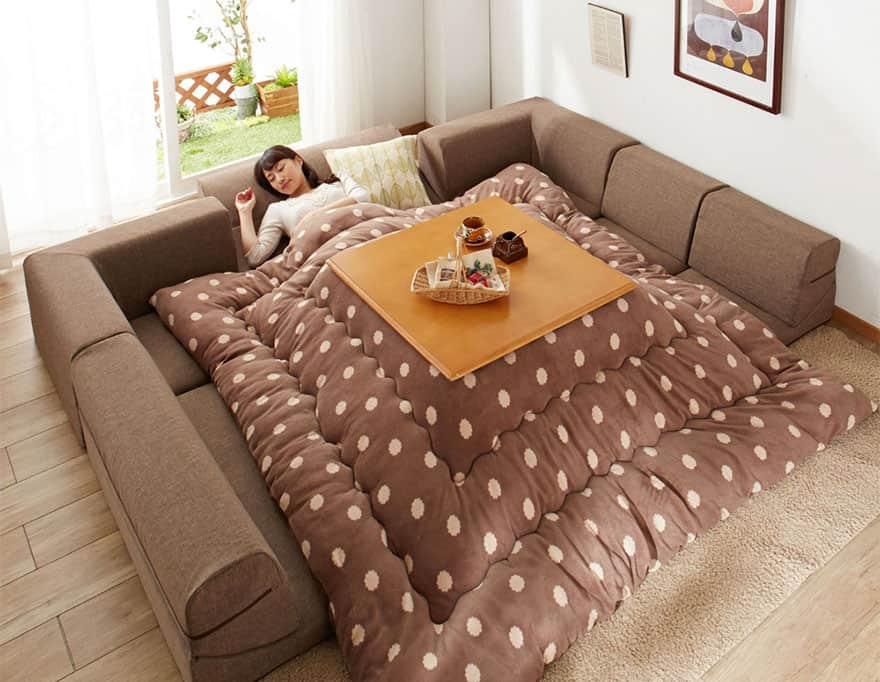 We know how confusing things could become, choosing the best kotatsu table from the countless options in the market. This is why we have decided to be of great help by conducting some research to come up with the best kotatsu tables.
> Some other articles you may want to read:
5 Best Kotatsu Tables with Reviews
AZUMAYA ELFI-901OAK All Season Kotatsu Table
The AZUMAYA ELFI-901OAK All Season Kotatsu Table can serve you all season. It comes assembled, and for Kotatsu purposes, it features a table top removal.
It is made from natural rubberwood, which shows that it is made of high-quality. The Oak Veneer table top also comes with a horizontal surface, and finished with Satin. Also present is a knob for temperature control that helps in adjusting the temperature of the Kotatsu table. It also comes with an on and off power plug.
This order only comes with the Kotatsu heater table; the Futon comforter comes as a separate order. This folding legs kotatsu table is great and it is a very popular product in Japan. However, if you need to use this table outside Japan, you may require a voltage converter to suit those for your country.
Pros
High-quality kotatsu table
A contemporary and traditional blend
Great features
Cons
You may need a voltage converter if you are living outside Japan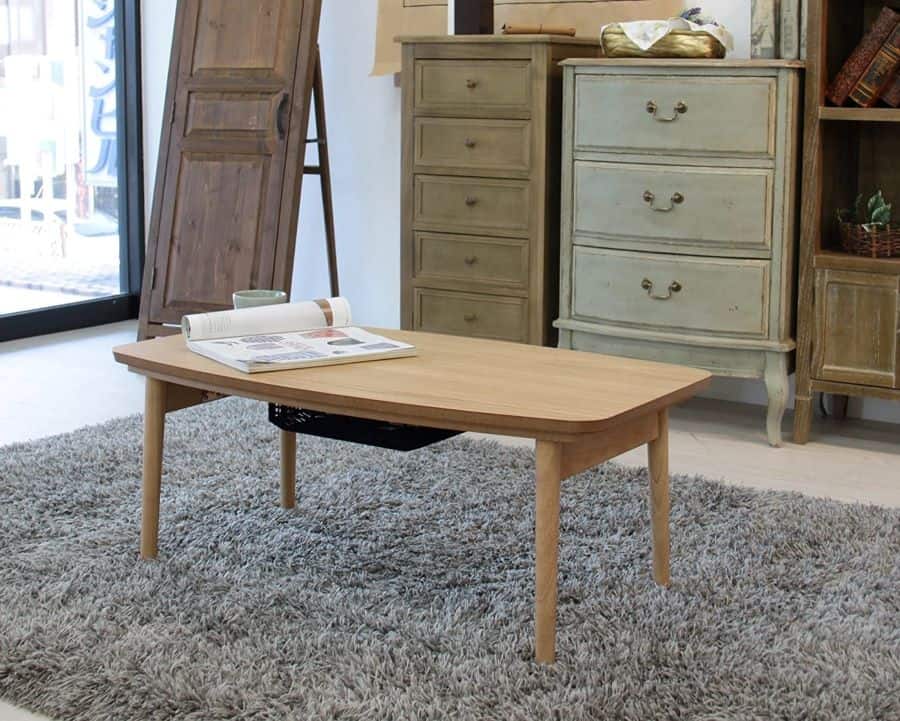 Azumaya KT-106 Natural Wooden Color Kotatsu Table
The Azumaya KT-106 Natural Wooden Color Kotatsu Table is a high-quality table that will surely meet your needs.
It has a rectangular shape, with its table top having a round corner finish. For kotatsu use, this table comes with a table top removal. It is made from natural solid wood material and has a urethane coating finish.
This heater type uses 300-Watt and 100 volts. The package also comes with an on/off power plug. It requires no batteries and it comes with an AC carbon heater. However, if you want to use this table in a different country, you may have to get a voltage converter to suit those for your country's electric home and living.
The table does not come assembled; however, there are easy instructions to put you through the whole process.
Pros
Easily assembled
High-quality kotatsu table
Great for different apartment sizes
Cons
This table doesn't come assembled
A voltage converter may be needed if you are residing in another country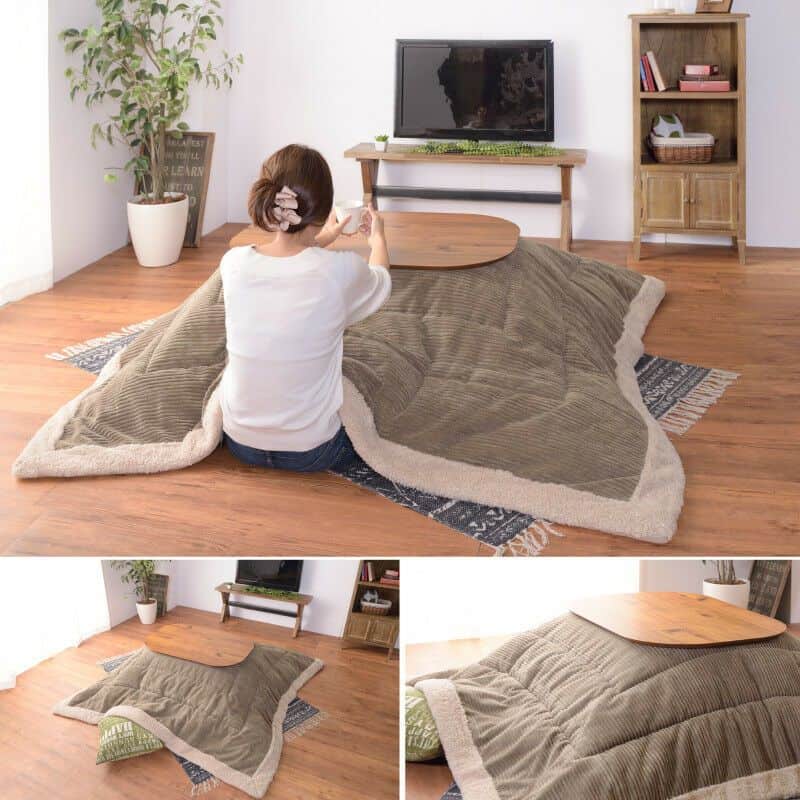 MustMat Heated Japanese Kotatsu Table
The MustMat Heated Japanese Kotatsu Table is a high-quality table that will ensure two adults have a great time with lots of space underneath for their leg room.
This kotatsu table can be assembled easily, with its heater found installed beneath the frame of the table. There's no need for any tool to get the table working. There's a guide to help you with the assembly which is written in Japanese; however, you need not worry as the pictures are clear enough for you to understand the whole process if you don't understand Japanese.
It is cleaned with ease, and it is also sturdy. Also, it is very easy to operate as well. It is manufactured from natural solid rubberwood. It works with 100 to 110 voltage and 500-Watt.
Also present is a temperature control knob, to help in adjusting the temperature of the heater. It also has a power switch plug. This kotatsu table is great for watching the television, doing homework, napping, simply staying warm, or for playing games.
Pros
It is very easy to assemble
Operating this table is easy
Serves different purposes
Very easy to clean
High-quality kotatsu table
Cons
It doesn't come assembled
The instructions are written in Japanese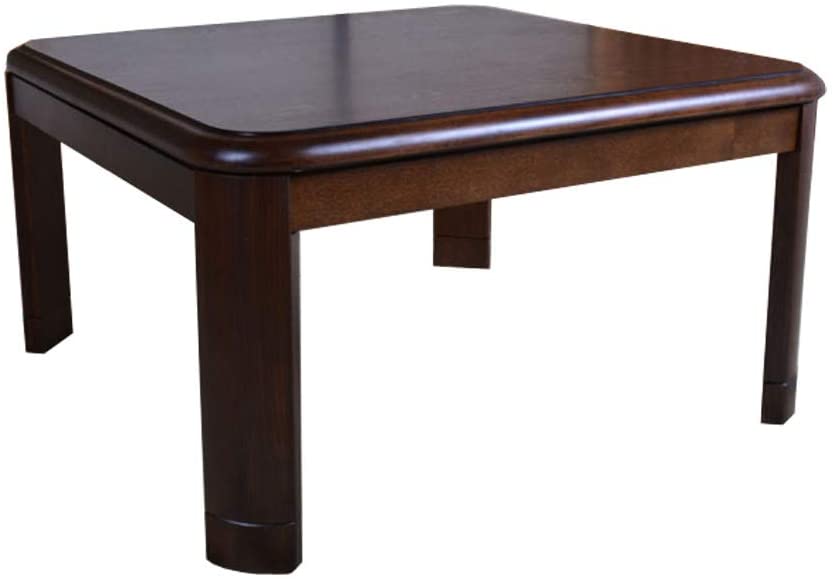 YAMAZEN ESK-751(B) Japanese Heated Kotatsu Table
The YAMAZEN ESK-751(B) Japanese Heated Kotatsu Table is a portable and durable table that will fit perfectly into small spaces, and it is a must-have for every home. It weighs 28.22 pounds and it has a corded electric power source.
It has a compact size and will be great for camping purposes, as well as those living alone. It is easy to operate and assemble. Half of the table is designed to be reversible; so there are two options between light grey and black. From customer reviews, the products seem to ship faster than expected.
The manual is written in Japanese, but the pictures are self-explanatory, so there's no need to worry if you don't understand Japanese.
The designs are also easy to comprehend to be used safely. The table works great and it is very comfortable.
Pros
High-quality kotatsu table
The manual is easy to comprehend
The table can be assembled easily
Cons
This table may be too expensive for some buyers
The manual is written in Japanese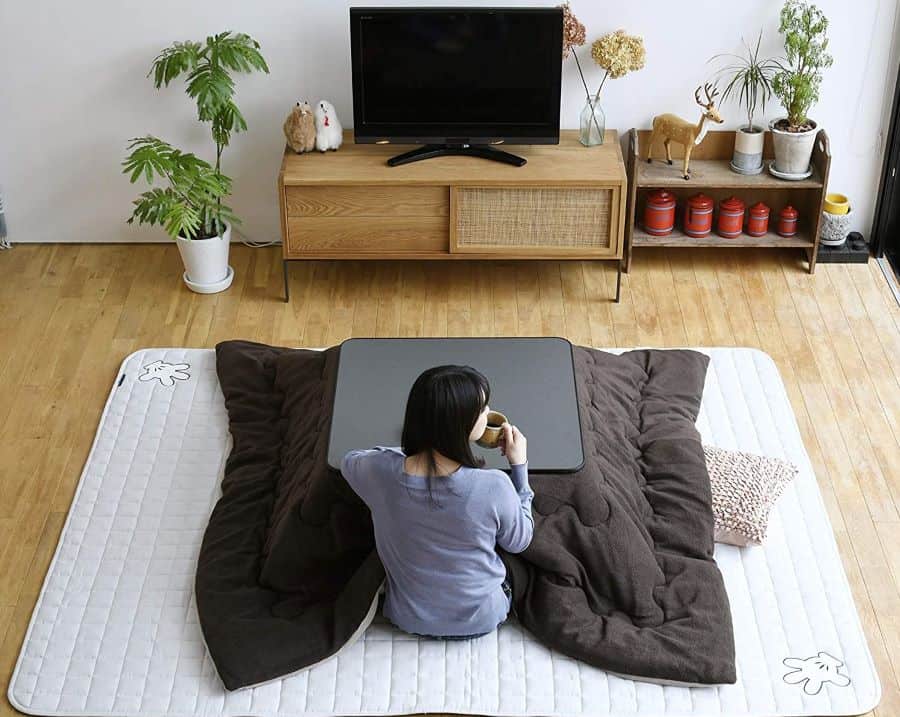 EMOOR Microfiber Japanese Heated Kotatsu Futon Set
The EMOOR Microfiber Japanese Heated Kotatsu Futon Set is another great and popular product in Japan. It comes only with a comforter – (Kakefuton) and rug – (Shikifuton). The kotatsu table is not added to the package; you may have to buy this separately.
This product comes in different colors and patterns; this gives customers the opportunity to choose whichever color they prefer or which matches their living space.
This microfiber is fluffy, smooth, and soft, and it covers the outer part of the rug and comforter perfectly, thereby gracing your room with beauty. The comforter's inner layer is light fleece and soft, and the rug's ground side is non-skid.
The good thing is that, during the summer and spring season, this rug can be used in your room even without having a comforter or kotatsu table.
To care for this product, all you need to do is hand wash. The only possible downside of this product is that it is expensive, but it is worth it.
Pros
It is soft and durable
This product can be used without the comforter or kotatsu table
It is fluffy, smooth, and soft
Different colors and patterns available
Cons
It is pricey, but worth it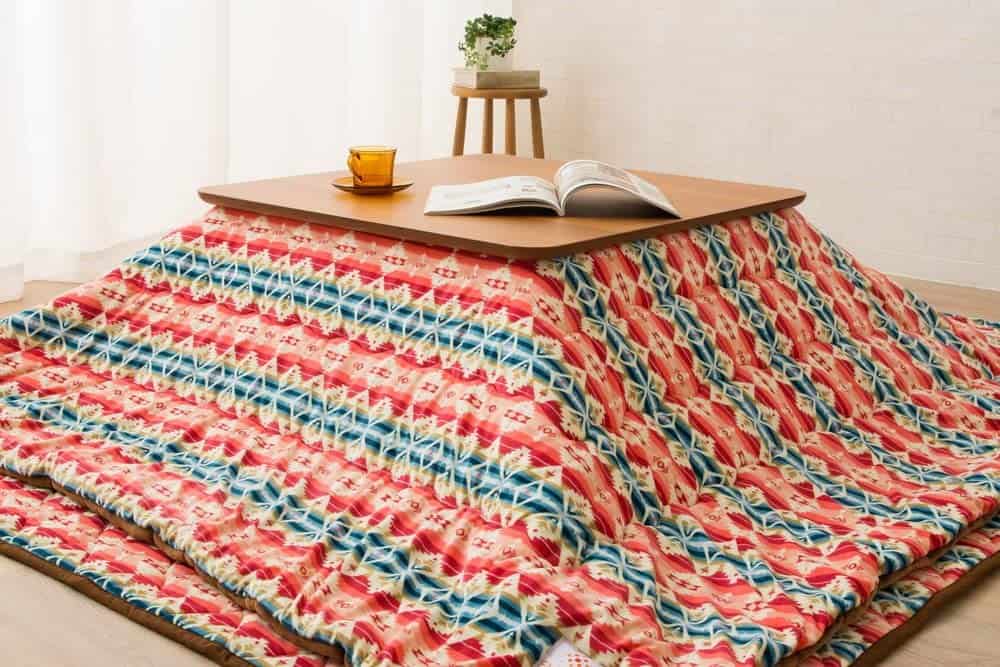 Buying Guide
What is a Kotatsu Table?
Kotatsu tables are tables that stand at a 14 inches distance from the ground. It also features a heat source underneath it, which is covered by a heavy, thick blanket, referred to as futon in Japan.
There's a wooden plane and a tabletop sitting on top of the futon that helps in holding beverages, as well as food. This futon helps in trapping warmth, which is generated by the heater found beneath the table serving as a warmer for the foot.
Back then, the source of heat was something like an irori or fire pit. There's less effort required to see how the whole house will be burnt down by something of that nature. And they did – for so much.
Today, electric heat that has metal prongs protection is attached underneath the table top; this is to ensure the table is safer.
Features to Consider when Buying the Best Kotatsu Table
Below are some of the reasons we considered before selecting the products reviewed above. Take a look at these factors that make one kotatsu table stand out from the other.
The size and height of the kotatsu table
When talking about dining tables and other tables, the size and height don't really make a difference. However, when talking about kotatsu tables, there's a wide difference. Kotatsu tables are specially designed for individuals to sit around while having their seat on the carpeted or bare floor.
Also, when you decide to sleep under the table, rather than sit around it, you need to pay proper attention to the height of the table.
Next is the table's size. Some individuals prefer round and big tables to cover all the area surrounding the sofa sets, while some others would prefer square and small tables because of their ease to clean and move.
Heating system type
There was once a time during the more traditional Japan when Kotatsu tables' heating system was manufactured from wood alone, but there are plastic options as well. The fact is, most times, heating units made from plastic are usually found in Kotatsu tables. These tables are cost-effective and they make use of electricity.
Futon type
Yes, the futon type is equally very important. The comforter, cloth, or quilt, whatever name you call it is not usually the same in all Kotatsu systems or combinations. A futon may be a properly-insulated quilt or a blanket. The futon size should always be similar to the Kotatsu table size and these little considerations should show the difference as soon as you start making use of your Kotatsu table.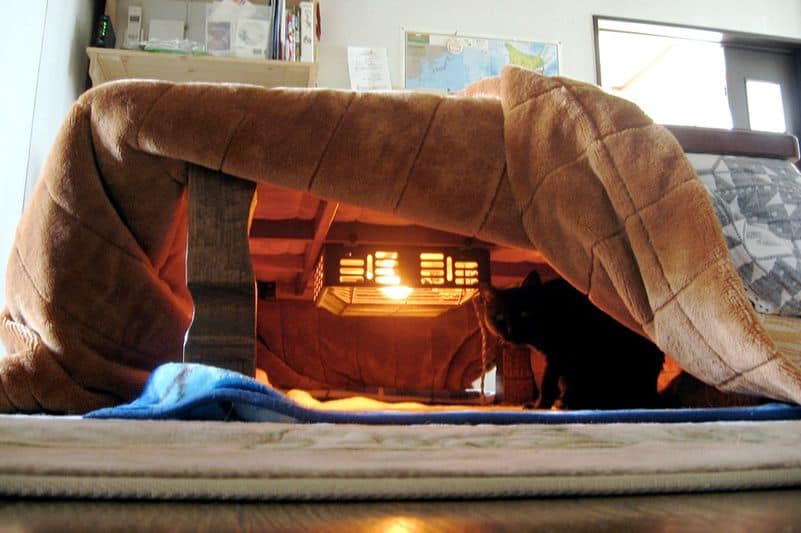 Frequently Asked Questions
Can I sleep underneath my Kotatsu?
Yes, you can sleep under your kotatsu. However, it is advisable not to use your kotatsu for long periods of sleep i.e. overnight. It is great for just naps. This can be attributed to many reasons. First, the user may end up touching the heating source accidentally while sleeping. There's a high chance of this happening. Another thing is that the kotatsu does not fully cover the body of the table, and therefore, may cause uneven heating. However, generally, it is believed that when you sleep underneath a kotatsu, it may cause you to have a fever or a cold.
How did the Kotatsu come to be?
The origin, as well as the use of kotatsu, can be traced to the Muromachi period during the 14th century. A mechanism referred to as Irori was utilized just for cooking. Then in the same 17th century came the Edo Period, where Irori was developed further to be used for heating purposes.
Why are the Japanese known to remove their shoes?
The usual sitting of the Japanese on the floor is just a tradition. This is then reinforced further by the Tatami culture. Because while eating, they sit on the floor (making use of tatami), they also sleep on the floor (making use of futon). To ensure the space is kept clean and to prevent the floor from looking filthy, they take off their shoes.
What is the purpose of a Tatami room?
A tatami room serves many uses. Traditionally, these rooms were used in conducting religious ceremonies, as well as for guests. When in the home, it could be used as a relaxing area or for sleeping. When seen in a temple, then it is for studying. Tatami rooms can also be used for yoga and meditation.
What are the ways of sitting on a Tatami?
We have 2 major ways used when sitting on the tatami. For a casual setting, you cross your leg, while for formal settings, it is Seiza; this means bending your legs to sit on them, crossing your feet under your bottom.
Conclusion
Having read through this review, you should have a good understanding of what a Kotatsu table is, and those features you should consider before going ahead to buy one for yourself. We have also reviewed some of the best products in the market; you can either choose any of them or make use of the features explained in our buying guide to help you make the right call.