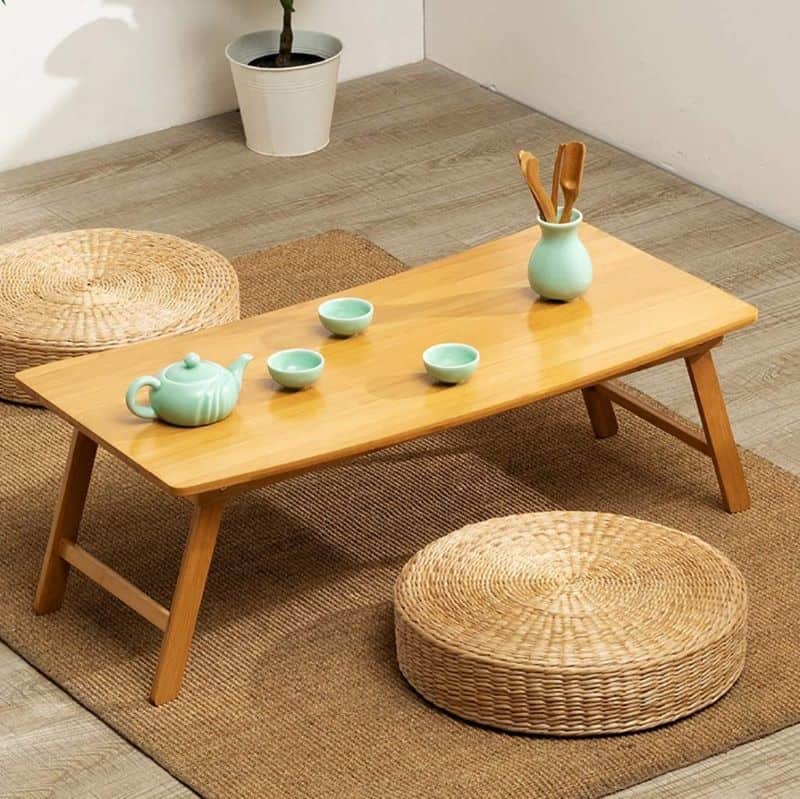 QNN Multifunctional Japanese Style Coffee Table

27.5 x 14.9 x 10.6 inches

13.8 pounds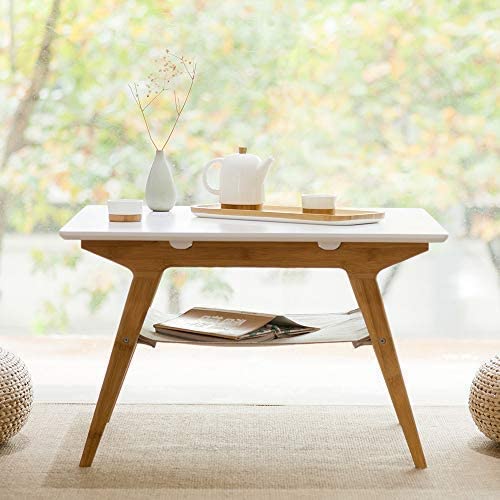 ZEN'S Bamboo Square Japanese Tea Table

25.59 x 16.54 x 25.59 inches

16.5 pounds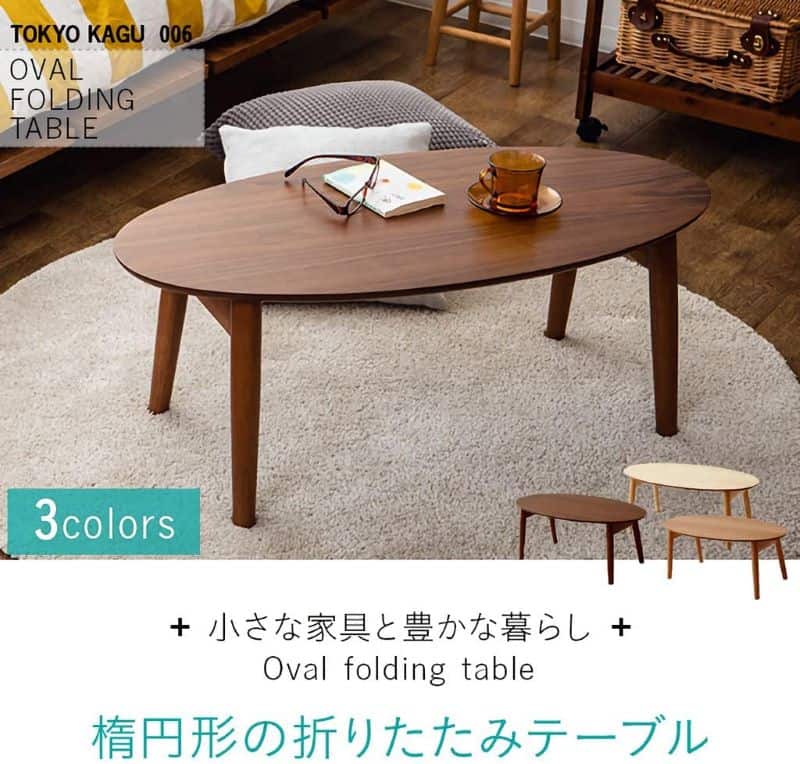 EMOOR Folding Oval Japanese Tea Table

38 x 19 x 5 inches

12 pounds
A coffee table or center table is something usually used in magnifying your decor's effects. If you wish to add more style to your living room, then it is best to pay some attention to the coffee table you use, because this is where most of your pals, friends, and family members gather around.
Among the different furniture options, tables from Japan are usually favorites because they come with a unique style. Also, they are different from the traditional western-style coffee tables.
Coffee tables from Japan are usually low rise tables, which have no chairs with them. Rather, the arrangement of the seat is done around the table on a mat, rug, or floor cushions.
We know how difficult it is to choose the best Japanese style coffee tables due to the countless options in the market. This is why we have taken our time to review the 7 best Japanese tea tables.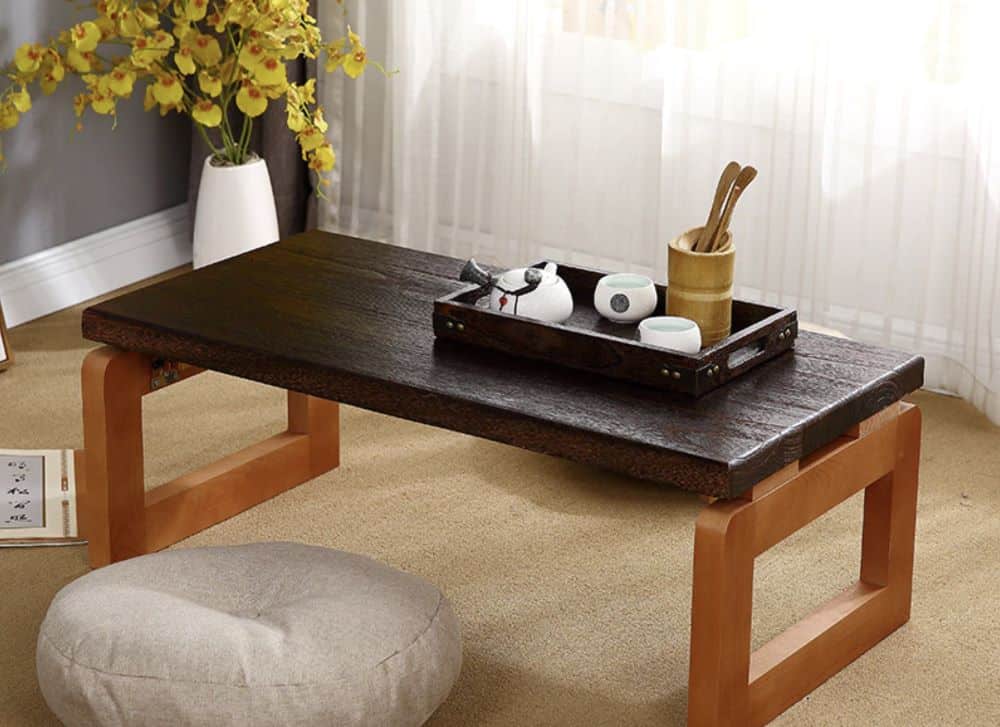 I. 7 Best Japanese Style Coffee Tables with Reviews
Azumaya Wooden Folding Legs Japanese Style Coffee Table
The AZUMAYA Wooden Folding Legs Japanese Style Coffee Table is an all-season table that comes already assembled and for kotatsu use, it features a tabletop removal.
It comes with natural rubberwood, as well as a Urethane stain coating finish. The heater type is AC 100v, 50-60Hz, and 300W. It also features an on/off power switch, as well as a temperature control knob to help in adjusting the temperature. This product is well-known all over Japan.
It has a contemporary and traditional blend pattern and it comes in a rectangular shape. It comes with a product warranty of 90 days from the delivery date. For those residing outside Japan, they may require a voltage converter.
It is very easy to set up, and it gives a nice and warm feeling. It will serve as a great multipurpose floor or coffee table that will work great for small spaces.
Pros
It is very easy to set up because it comes already assembled
Product warranty of 90 days
Gives a nice and warm feeling
Cons
You may need a voltage converter if you reside outside Japan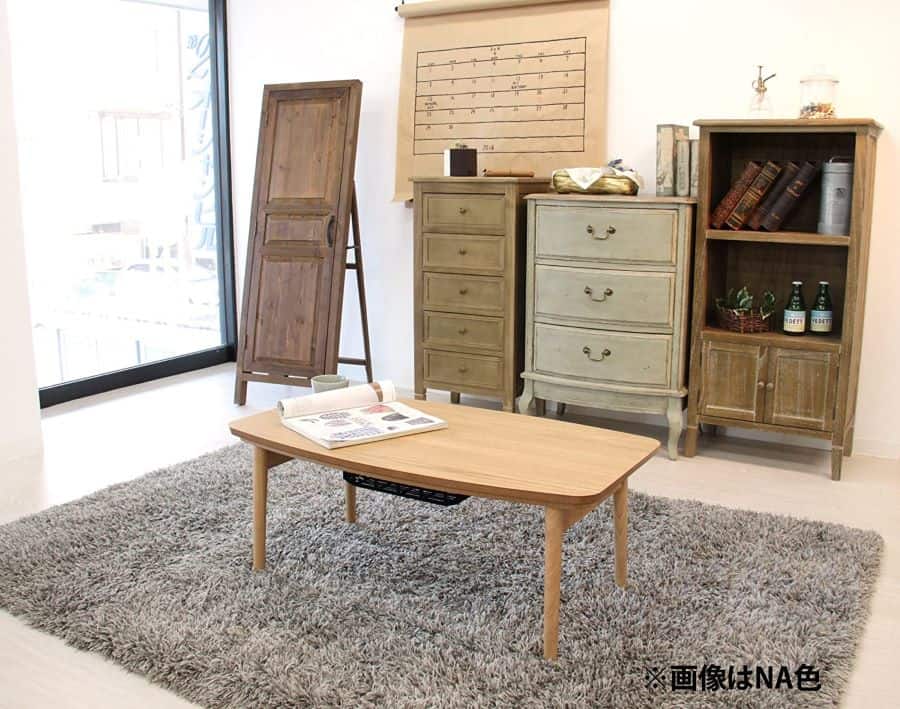 ALIPC Japanese Solid Wood Japanese Tea Table
The ALIPC Japanese Solid Wood Japanese Tea Table can serve as a laptop table, children's study table, music table, low table bed, etc.
It is made of plastic, wood, and metal. It stands out in its function and it's great visually in the home or restaurant. Each of the table's foot is treated with anti-noise and anti-scratch, and the floor is well protected with the table's rubber soles.
This coffee table also comes with an ergonomic design, with its perfect height. It also comes with a curved seat, which supports the backs of users properly as they sit, and ensures easy conversations by delivering great comfort while you sit for hours; you'll never get tired.
Asides from these features, it serves different purposes as a side chair in your dining, kitchen, living room, bedroom, patio, bedroom, café, lounge, banquets, waiting rooms, and reception. It has a waterproof surface, which is also dirt-resistant; anytime there is dirt or dust, all you need is a damp cloth and you wipe it off.
It has a stable and durable construction and was specially designed to save space. It is lightweight, easy to clean, stable, portable, and anti-slip. Its legs are assembled already; all you need to do to complete the installation is to screw them
Pros
It is lightweight and easy to clean
Easy installation
It is multifunctional and waterproof
Delivers great comfort
Cons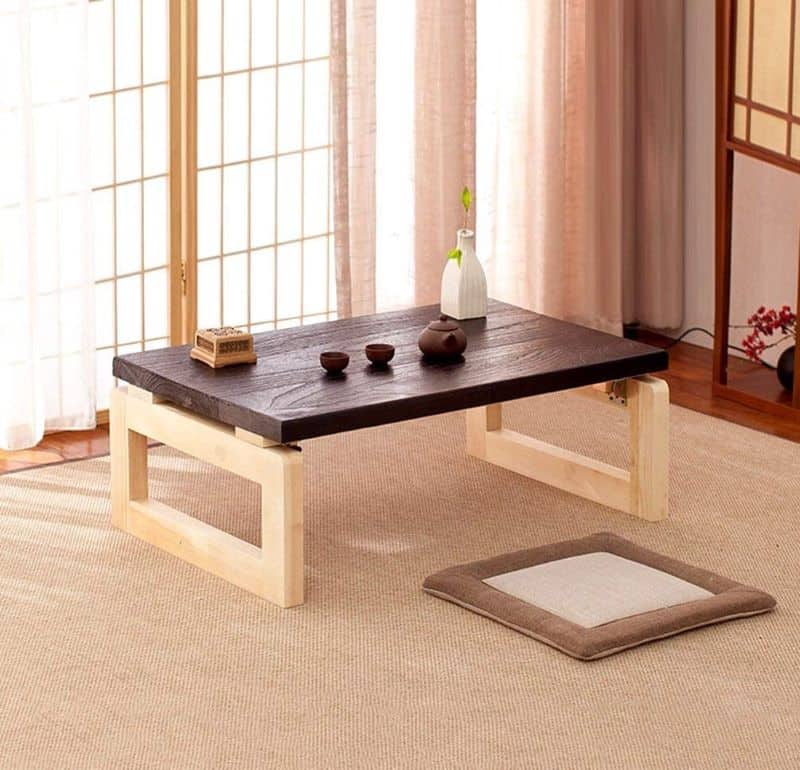 QNN Multifunctional Japanese Style Coffee Table
The QNN Multifunctional Japanese Style Coffee Table is made with high-quality, and it has a beautiful texture.
It is great for home use as your dining table. The table is very stable, and it is very durable; that why they are produced from bamboo. Its painting is also beautiful.
Assembling it is not necessary, and it is great for outdoor adventure, tenants, and small apartments. Also, it is multifunctional as it can serve as a bed computer table, picnic table, folding table, and study table. It can also be used in the living room as your small coffee table and will solve different practical needs as well.
It is also very easy to transport, thereby making it suitable for camping purposes
Pros
High-quality coffee table
It is multi-functional
Very stable and durable design
Solves different practical needs
Cons
It may be smaller than what you want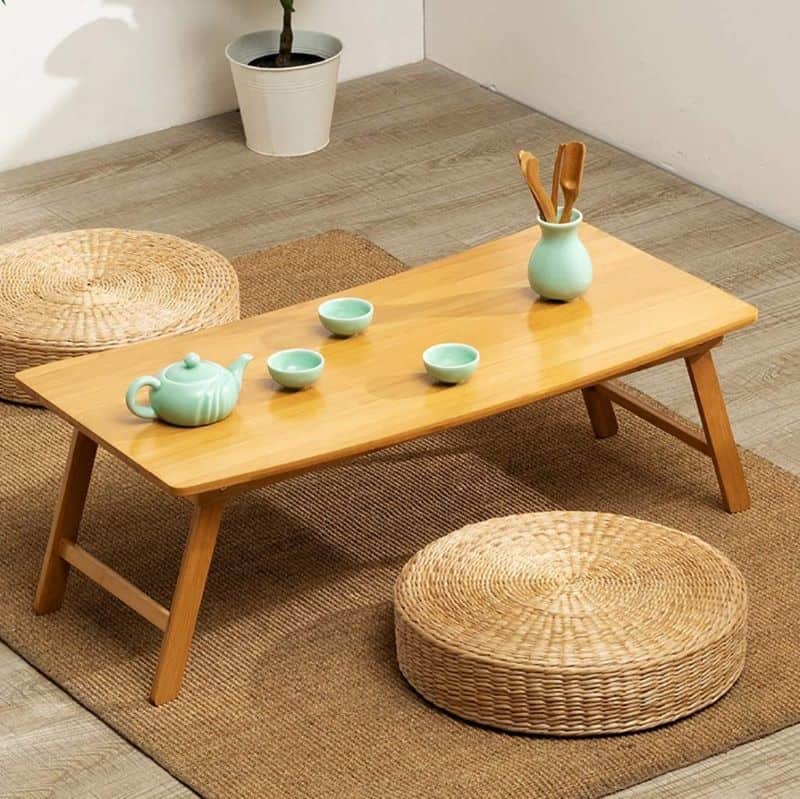 ZEN'S Bamboo Square Japanese Tea Table
The ZEN'S Bamboo Square Japanese Tea Table is great because it will fit your space perfectly. This floor table is beautiful and versatile and is large enough to cater to your needs, still having a small size to fit into your small spaces easily.
It is also portable, but sturdy. It can be moved easily. This Japanese tea table also comes with a storage space, which is found underneath the table top. This is made with 2 bamboo poles and canvas. Here, you can store your small items and magazines there. With this storage space, your coffee table won't be a mess any longer.
The arc table corner helps in protecting your legs and child from getting knocked down by the table's corner. You are guaranteed more safety with its eco-friendly material. The table is made from high-quality natural bamboo and MDF.
Pros
High-quality materials
It is beautiful and versatile
Has a storage space
Eco-friendly material
Cons
Won't do well for large spaces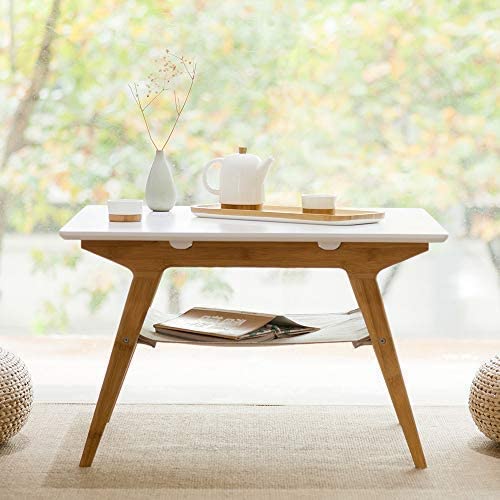 EMOOR Folding Oval Japanese Tea Table
The EMOOR Folding Oval Japanese Tea Table is made from natural wood, and it has a beautiful woody texture. It has a small size, but with great quality. From cherry, walnut, and ash, you can choose whichever is best for your room.
With this small folding room, you can easily get your room space maximized. It is great for dormitory life, single life, children's room, and for camping purposes. Anytime it's not in use, it can be stored under the sofa, in the closet, or in that small space in-between the furniture and the wall, since it is just 4 in thick when folded.
Pros
It serves multi-purposes
High-quality Japanese tea table
Stored easily
Cons
Some customers may not like its oval shape.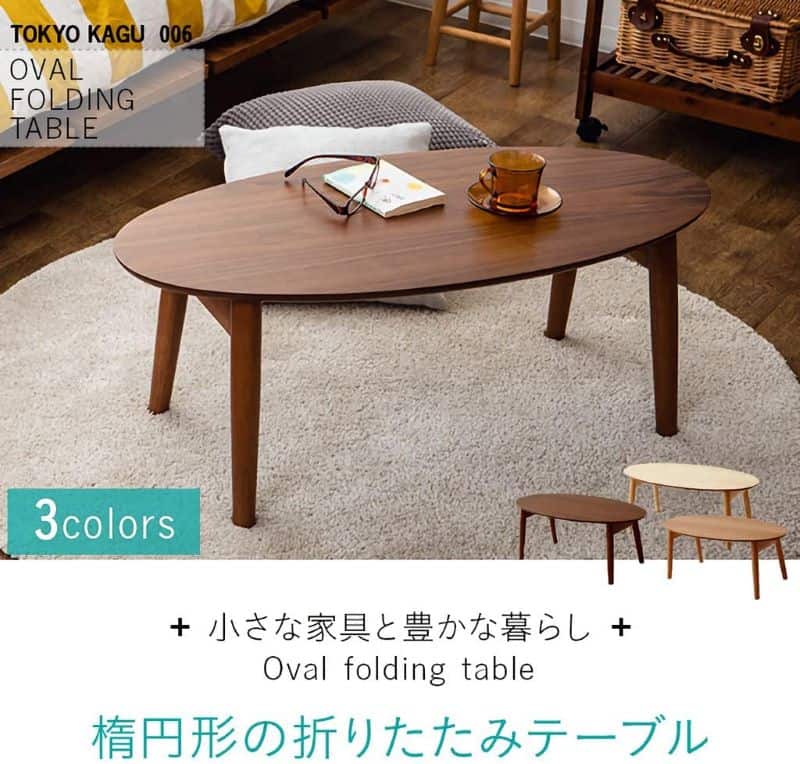 Zen's Bamboo 2 Sponge Cushions Japanese Style Coffee Table
The Zen's Bamboo 2 Sponge Cushions Japanese Style Coffee Table is a very small table that requires less space. It can be placed on the floor or bed to have a nice meal with your friend. It also comes with a canvas basket that helps in storing snack, book, stationery, etc
This table is multifunctional and portable. Both the sponge and table are both light that it can be transported anywhere you choose. It can serve different purposes, i.e. as a table set for children for eating or for doing their homework, used in the garden, or even as a breakfast tray. It is also very easy to clean.
Also, it is eco-friendly. The inner part of the cushion is made of sponge; this makes the cushion very soft, while the outer part is made of canvas. Overall, it ensures users are very comfortable when they sit on it.
Assembling it is also very easy, as all the tools required has been provided. There's this great feeling to make very good furniture with your own hands. The surface table top is sturdy and horizontal.
Pros
Multifunctional and portable
It is eco-friendly
Easy assembly
Cons
Some users feel it is overpriced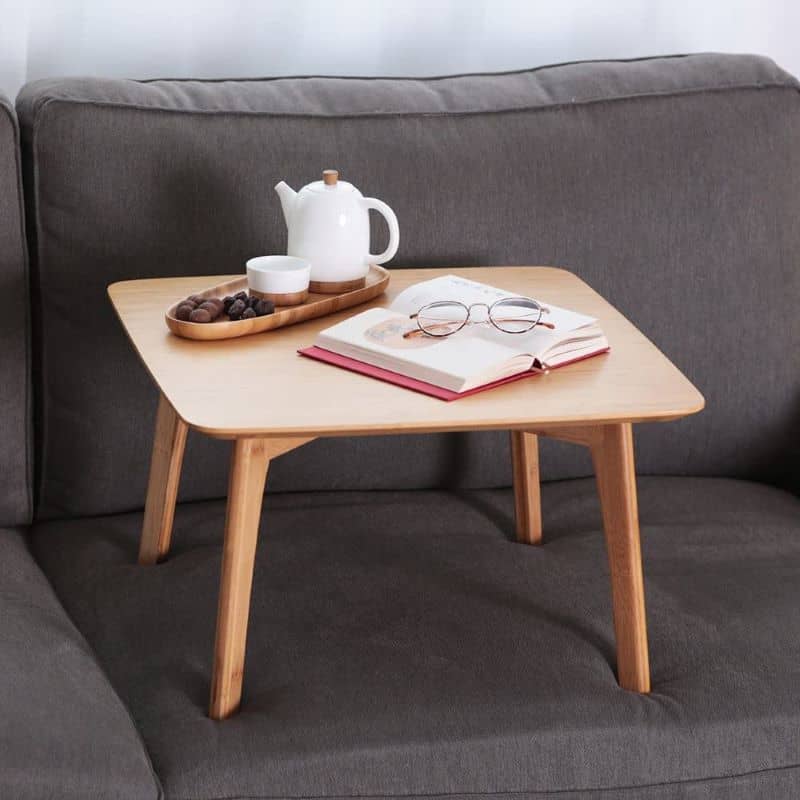 EMOOR Folding Japanese Style Coffee Table
The EMOOR Folding Japanese Style Coffee Table has the right size to work for minimal life, as well as fit into small spaces. Folding its legs comes very easy, for easy storage or for easy transportation during camping.
The table's top board is composed of engineered wood, which rests on legs made from rubber wood. You don't need any assembly. All its four legs can be folded by pulling the stopper at its joint. When folded it is only 4 inches thick.
Pros
Great for small spaces
No assembly needed
High-quality materials
Great for camping purposes
Cons
Some customers may prefer order shapes
You can make your purchase here: https://www.amazon.com/EMOOR-Wooden-Folding-Coffee-Walnut/dp/B06XFWYYX3/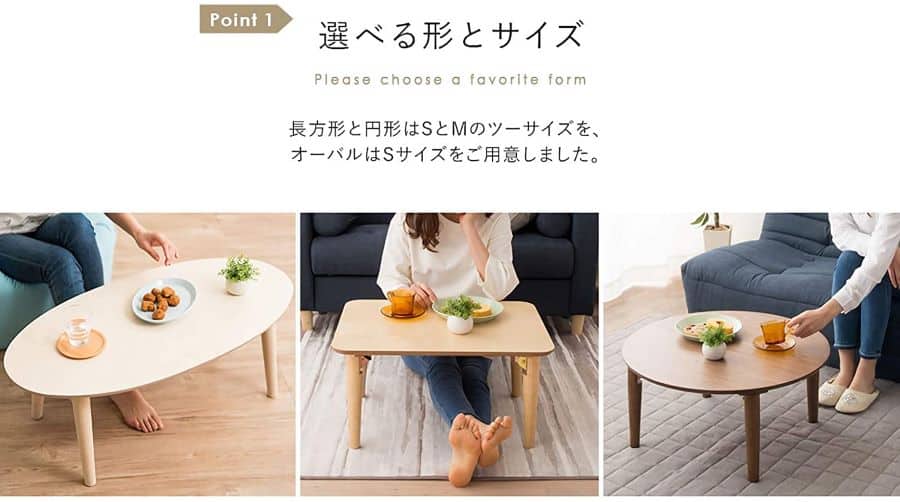 II. Japanese Coffee & Tea Table Buying Guide
Features to Consider Before Choosing a Japanese Tea Table
Materials
Reputable Japanese table manufacturers always make use of carefully-chosen wood, getting rid of the imperfections before shaping them into usable dimensions. The material used for the table is very important as it tells the quality and strength of the table. So choose a Japanese style coffee table made with strong and durable materials.
Design and size
The type of Japanese tea table you should choose should depend on the available space in your room. Big families are advised to go for low and big-sized tables. These tables also come in many designs and are usually round or oval in shape.
Mobility
Mobility is another significant factor that should be considered when choosing a Japanese tea table. It has to be portable. Its portability ensures it can be transported or moved easily; of course, you may need to change the direction of the table, and this may become difficult for you if it is not portable. It should be detachable (its legs); this is great for camping purposes because its legs can easily be detached and fitted into your car.
Frequently Asked Questions
What is a Japanese dining table?
A Japanese dining table is referred to as Chabudai. It is a table with short legs, and it is usually found in traditional Japanese homes. The height of Chabudais originally falls between the ranges of 15 cm to 30 cm. People using a chabudai don't sit on chairs; rather, they may sit on tatami or zabuton.
What type of wood is great for a coffee table?
The most commonly used wood for coffee tables includes cherry, mahogany walnut, maple, and oak.
Why is it called a coffee table?
This idea of the coffee table came as people saw the need of dropping your hot beverage after each sip. These tables, also referred to as tea tables, had a height of 27 inches; however, the height of today's tea tables falls within 18 to 19 inches. There is speculation that "coffee table" replaced "tea table" because coffee somehow gained more popularity than tea.
Are cocktail tables the same as coffee tables?
Cocktail tables, generally, have a rectangular and square shape. Coffee tables on the other hand are usually oval or round. The only thing that is clear between the two is that coffee tables and cocktail tables are latecomers in the furniture world and have only been available for just one century or two.
Why are Japanese style coffee tables always low?
Japanese tea tables always seem low due to the fact that in homes of people in Japan, they had just minimal furniture. Without these, the Japanese slept and sat on the floor, and got used to it.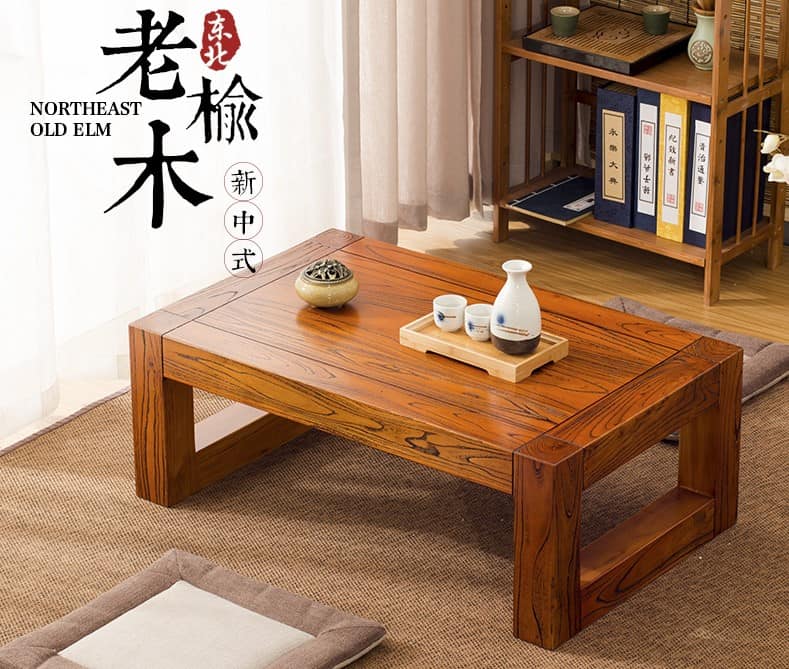 Conclusion
We can say that there are countless Japanese coffee tables, making it very difficult to choose one. The truth is, if you desire to buy one that will last for years, then it is advisable to choose handmade high-end tables because they are more unique and authentic. However, if you desire something contemporary over traditional, then it's advisable you choose simple and minimalistic designs, which will easily complement a lot of settings.
If you are buying for an office, house, or apartment, then you should go for an interior piece having storage that will suit your daily needs perfectly.
> The other articles about Japanese Table you may want to read: