Santoku is a Japanese word that means "three uses" or "three virtues". This knife is a multi-purpose kitchen knife that originates from Japan. This knife is perfect for home kitchens because you can use it to cut vegetables, fish, and meat.
This knife can also be used to mince, dice, and slice a wide variety of ingredients used for cooking in the kitchen. The length of the blade mainly comes in 5 – 8 inches, the edge, and blade look a bit similar to the popular chef's knife.
They are versatile and can function well for many chopping and cutting kitchen tasks. Because their blade is short, it is not advisable to use r them to be used for slicing large pieces of fish and meat. If you are interested in trying out the knives, the best ones available in the market have been reviewed for you in this article.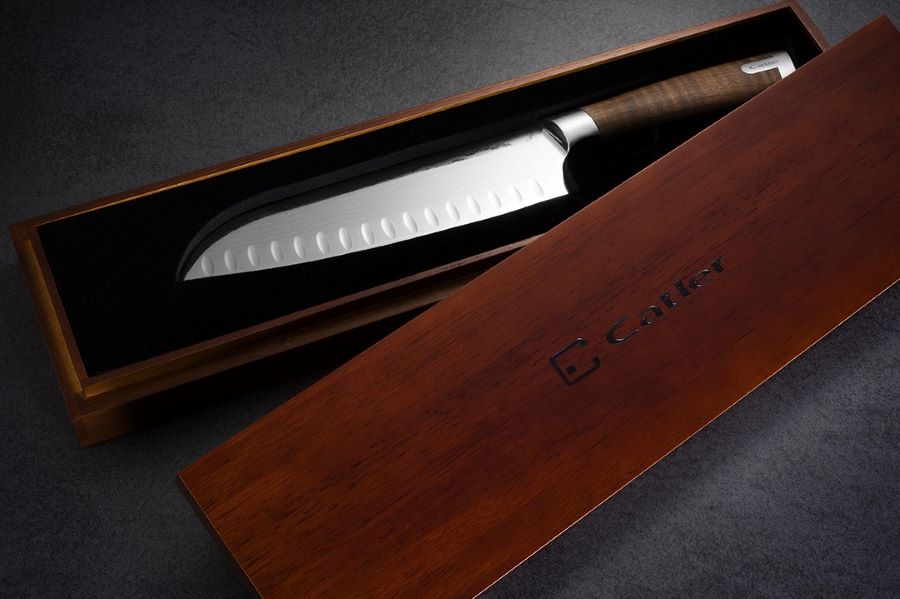 > You may also want to read:
I. Best Santoku Knife – Japanese Santoku Knife with Reviews
1. ZWILLING J.A. Henckels Japanese Santoku Knife

The ZWILLING J.A. Henckels Japanese Santoku Knife has a laser-controlled edge and a precision-honed blade that gives it a perfect, sharp, and durable cutting angle. The side edge is at a 10 degree angle which is a cutting edge that is precise. The friodur ice-hardened blade stays sharp for long and has great resilience.
This knife's handle is made of Polypropylene and it is bonded permanently to the knife's blade. This ensures an easy and gap-free grip that is convenient and comfortable to hold. The bolster of this knife provides the perfect balance and also acts as a guard for the fingers.
The blades of the ZWILLING J.A. Henckels Japanese Santoku Knife does not chip or stain. It is forged with great precision from just one piece of steel. This knife has an exceptionally flexible, balanced, and sturdy blade. They should be only hand-washed and not washed in a dishwasher.
Pros
It has a perfect and precise cutting edge
It is comfortable and easy to use for a long period of time
The blade remains sharp for a long period of time
Con
Quality isn't very high considering the price.
Check Price
Customer Reviews
2. Shun Premier Santoku Knife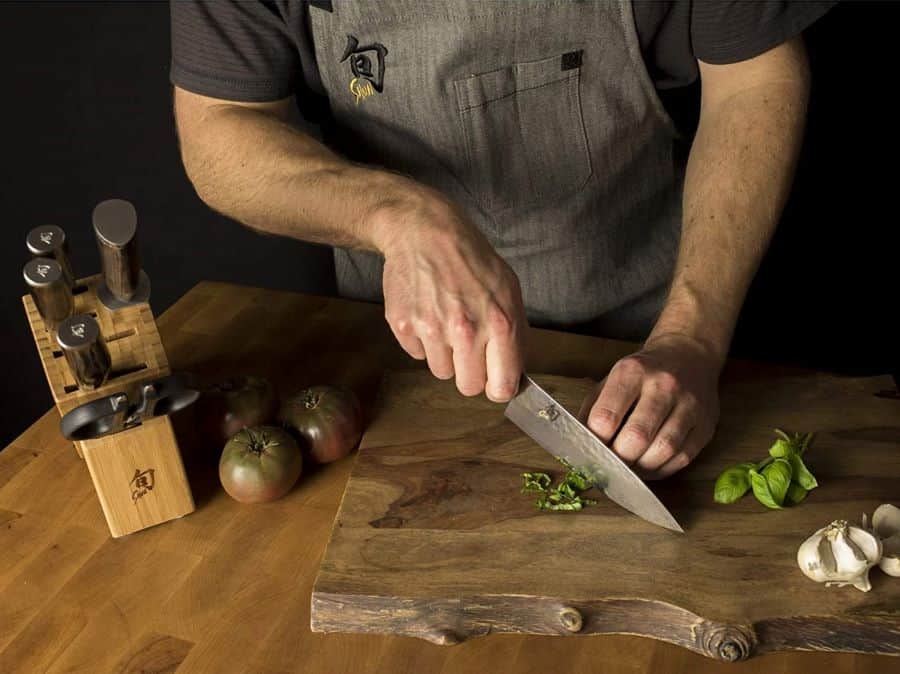 The Shun Premier Japanese Santoku Knife is very nimble and perfect for cooks that enjoy the nimbleness of short blades that are lightweight. Despite its nimbleness, it still efficiently performs all the kitchen tasks that any chef's knife can perform. The knife can be used for rocking cuts, chopping, dicing, and slicing.
This knife cuts really fast, has a high level of control, and has an agile performance. The handle is made of PakkaWood that is Walnut-colored, contoured, and beautifully crafted. This handle is easy to hold. The tsuchime hammered finish helps give an easy and quick release of food when cutting, this prevents a buildup of food.
This Japanese Santoku knife is hand-sharpened and hand-crafted. Making use of it in your kitchen makes you enjoy both ordinary and complex kitchen tasks because it is sharp and quick, it saves time. This makes it the perfect knife for many cooking occasions such as birthday parties, date nights, weddings, Christmas, and more.
Pros
It is quick and sharp
It is hand-crafted and hand-sharpened
It is convenient and easy to use
Con
It can't be used on a Butcher block
Check Price
Customer Reviews
3. Shun Cutlery Kanso 8-Inch Stainless Steel Japanese Santoku knife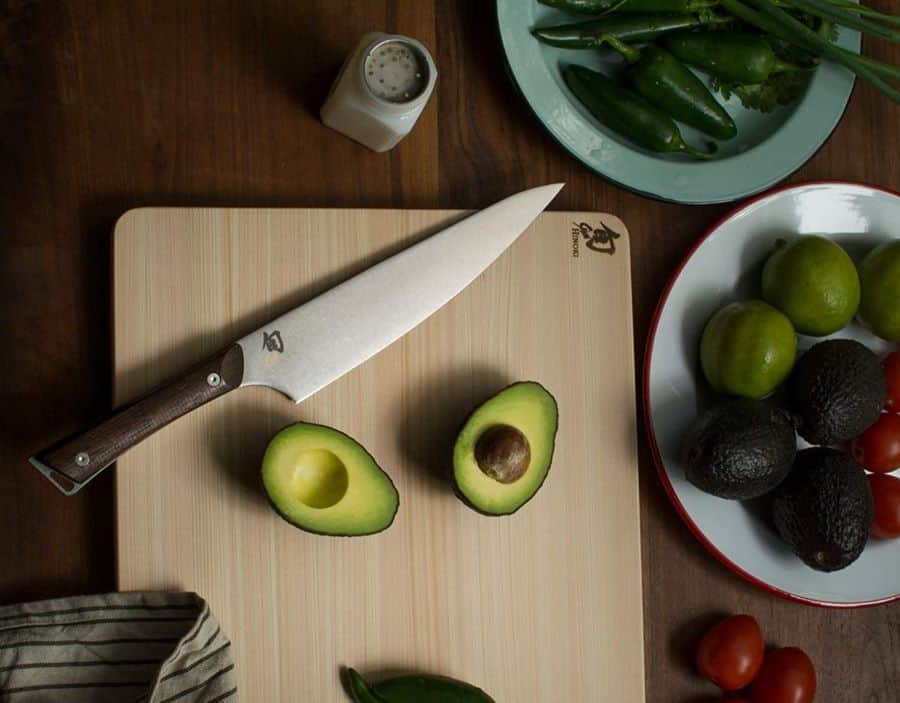 If you need a knife with a sharp razor edge the Shun Cutlery Kanso 8-Inch Stainless Steel Japanese Santoku knife is a very good choice. The knife has an 8-inch blade that can be easily maneuvered and stays sharp for long. The full-tang construction gives the knife cutting control, balance, and strength.
This multi-purpose Santoku knife is hand-sharpened and handcrafted in Japan and it's a must-have kitchen tool for every chef or cook. The wooden handle which is contoured slightly enables a convenient chef's grip. It can be used to pare, mince, carve, peel, dice, slice, and chop comfortably.
The knife can be used by both culinary beginners and enthusiasts alike. The Kanso's Heritage finish on the knife hides scratches and also gives a traditional and rustic look to the knife while the handle which is wooden adds a contemporary look to it. The minimalistic design of the knife makes it to fit any kitchen interior décor.
Pros
It's a multi-purpose knife
It is suitable for all kitchen decors
It has a good balance and cutting control
Con
Check Price
Customer Reviews
4. Miyabi Birchwood SG2 7″ Santoku Knife

The Miyabi Birchwood SG2 7″ Japanese Santoku Knife has an authentic thin blade profile. It is made in Japan. It is hand-honed with all the three steps of the Honbazuke process. The cutting edge is between 9.5 and 12 degrees. The knife has a katana edge with a 101-layer flowery Damascus design.
This Santoku Japanese knife is a beautiful culinary artistic piece. Both the handle and blade are made from precious materials that give the entire knife a striking appearance. The SG2 powder micro-carbide steel has 100 steel layers. The CRYODUR blade is made using an ice-hardening process that gives the blade a long-lasting sharpness.
Also, its Damascus Flower pattern does not just beautify the knife but it also adds to the knife's durability. The handle is a Karelian Birch handle. This handle is equally striking like the blade, it is ergonomic and exquisite. This Japanese hand-crafted knife looks good and equally feels good when held.
Pros
It has a beautiful and striking appearance
The sharpness of the knife lasts for long
It is durable
Con
It is sharp but can be sharper considering the price.
Check Price
Customer Reviews
5. Shun Sora 7-Inch Hollow-Ground Japanese Santoku Knife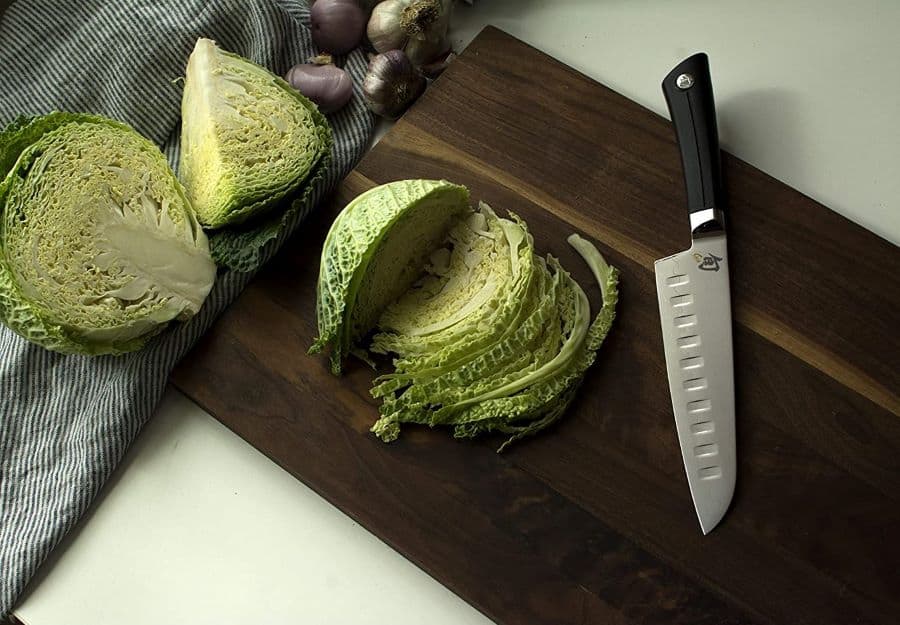 The Shun Sora 7-Inch Hollow-Ground Japanese Santoku Knife has all the versatile qualities of any chef's knife but it comes in a more agile and smaller form. It has a Japanese traditional style design and its handle is created from a Polymer textured PP/TPE blend that gives a durable, lightweight, and secure grip. It is easy and convenient to use.
Shun comes up with new cutlery innovations through its Sora kitchen knives series, by combining traditional techniques and designs with cutting-edge technology for high-performance and high-quality knives at affordable prices.
This knife is hand-sharpened at an angle of 16 degrees, this makes the blade an incredibly sharp one that retains its sharp edge for long. Shun provides re-sharpening at no cost when needed. This knife is a perfect gift item for a chef or any person who loves to cook. It can be presented as a gift to your friends, neighbors, dads, mums, newlyweds, homeowners, entertainers, and grandparents.
Pros
It remains sharp even after long use
It can be re-sharpened at no cost
It is agile but still versatile
Con
It is sharp but it isn't razor-sharp
Check Price
Customer Reviews
II. Japanese Santoku Knife Buying Guide
This buying guide has all the information you need to know about the features you should consider before purchasing a Japanese Santoku knife which will guide you as you shop for one for yourself.
Types of materials used to make the blade of the Japanese Santoku knife
The materials that are used to produce the blade-steel of Santoku knives are divided into two categories.
Carbon Steel: Many Japanese Santoku knife blades are made with carbon steel. Carbon steel is created by putting carbon into steel that is made from good iron ore.
Stainless steel: Stainless steel is formed in a similar way as the carbon steel is formed, just that they add chrome to the mixture. This new addition of chrome to the carbon and steel prevents rusting of the blade material. This makes it a famous knife construction choice
Features to consider before buying a Japanese Santoku Knife
These are the major things you should look out for when you are deciding which Santoku Japanese knife to buy.
The Steel used to make the blade of the knife
One of the very essential things you should consider before a purchase is the kind of steel the knife is made from. The steel of Japanese Santoku knife blades are renowned for their quality, edge life, sharpness, and toughness, but every knife is a bit different.
High-carbon steel (AKA white or blue steel) is more expensive and harder, but it can still chip off easily and they demand plenty of maintenance.
For a less expensive Japanese Santoku knife, you would most likely find a stainless-steel knife. These knives are a lot more durable; they also won't rust easily. It is better to start your Japanese knife collection with a "not too expensive knife".
The Handle of the knife
The balance of the knife and how the knife feels when you hold it with your hands determines whether the handle is good for you or not. It is very important for you to feel comfortable when you use your knife, this doesn't just make it easy to use also it helps to ensure accidents don't occur as you use the knife.
Ensure you hold the knife before buying it, so that you can ascertain if the handle is too small or big for your hand, if they are any of the two, they'll not be easy to control.
How long the blade is
You should also lookout for the length of the knife's blade. Is it too long or too short? It is better for someone that has a small hand to get a small blade for easy control and ease of use.
The overall appearance of the knife:
When shopping for a Japanese Santoku knife something you should consider is if its design and look is good enough for you. Do you prefer an engraved blade or a plain one? Although the designs on a knife won't directly influence or affect its sharpness or durability, a knife that looks good to you and works well is better than the one that works well but you don't like the look. It is important to find a balance between effectiveness and aesthetics.
III. Frequently Asked Questions
Here are some of the questions often asked by people about the Japanese Santoku knife.
How can I keep my Japanese Santoku knife safe?
There are basically simple things to do to ensure the safety of this knife. They should not be placed in a dish washer. After use, wipe the knife clean, dry it and store it. A wooden magnetic knife rack is perfect for safely storing your knife.
How can I sharpen a Japanese Santoku knife?
To avoid chipping and removal of too much steel material, it is best to sharpen a Japanese Santoku knife with a Waterstone made in Japan. You can as well add rough and finer grits to your sharpening tool-set later to add a nice polish to the blade.
How do you use a Japanese Santoku knife?
Using a knife the right way makes it safer, easier to use, and more efficient. The Santoku knife is lightweight, thin, and small so it is generally easy to use. But please take note that different cutting techniques should be used for different ingredients.
Conclusion
The Japanese Santoku knife is an all-round kitchen knife. They are ideally suited for precision works because of their narrow and light blade. This blade also allows for thinner cuts because it doesn't need to push so much food apart as the blade makes its way easily through the food ingredient it is cutting.
These knives are essential for every kitchen, both home cooks and professional chefs find them very useful. You can as well purchase one for your kitchen. Having read this article, you should be equipped with all the information you need to buy the best one for you.