You must have been overthinking about choosing one of these two top Japanese knives – the Kiritsuke knife and the Santoku knife for your vast kitchen needs, right? Or,  if you are reading this article, you basically know the best uses for the Kiritsuke knife and its rival the Santoku knife, isn't that the case?
First, you need to understand that Japan has sets of knives that each are best preferred for a specific task. These knives also do come in different sizes and even traditional designs. This is because Japan has tons and tons of traditional foods as compared to the West. They always eat more fish and less red meat. To be able to easily prepare these diverse foods, they require several types of knives that perform different cutting mechanisms such as cutting, slicing, mincing and even peeling.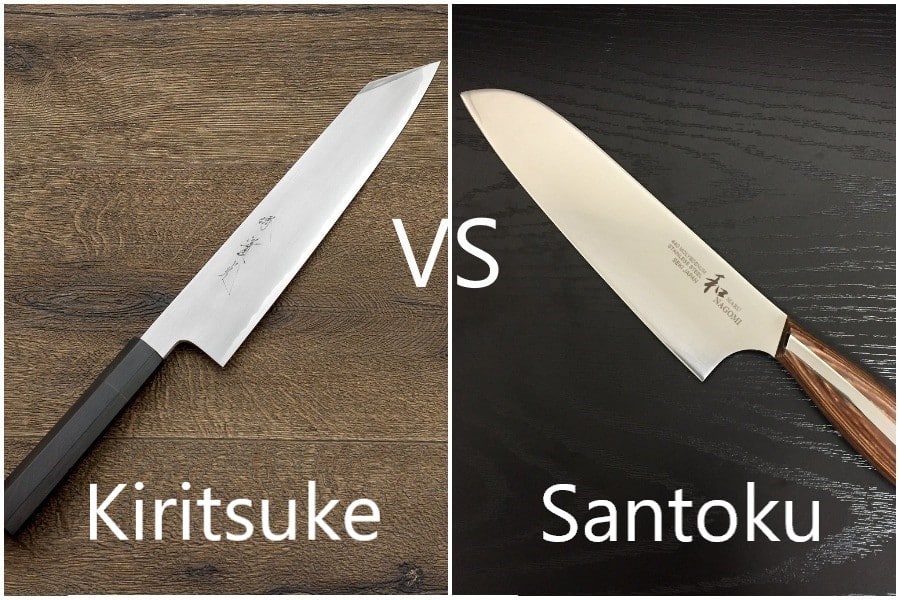 In this article, we are going to compare the Kiritsuke knife and one of its own, the Santoku knife. We will firstly discuss the best uses of each knife before proceeding with comparing which is better in multiple areas to be mentioned.
With much said, let's dive in and find which of the two knives will perfectly meet your kitchen needs! Hope you'll enjoy reading this article.
Overview of a Kiritsuke Knife
Do you know about the Kiritsuke knife? If so, have you ever tried using it? Well, there are high chances that you have answered the previous questions with a big NO! This is mainly because the Kiritsuke knife is one of the least popular Japanese knives available in the market today. The fast feature that you need to know about this knife is that it's vouched for as the coolest knife among all the Japanese knives! That must be a great advantage, right?
As opposed to several Japanese knives, a Kiritsuke knife is also known for being very long. It has a length of about 8" to 10" and also boasts of a tall – flat blade. This knife is just unique to its counterparts since you can find one that is made of high – carbon steel that is hardened to about HRC60+.
The Kiritsuke knife is popularly designed to aid in cutting large vegetables, but is also not preferred for the rocking – chop method. When you look at this type of Japanese knife for the first time, you are more likely to like it since it's visually appealing. Again, other longer versions of this knife can tend to look like a sword.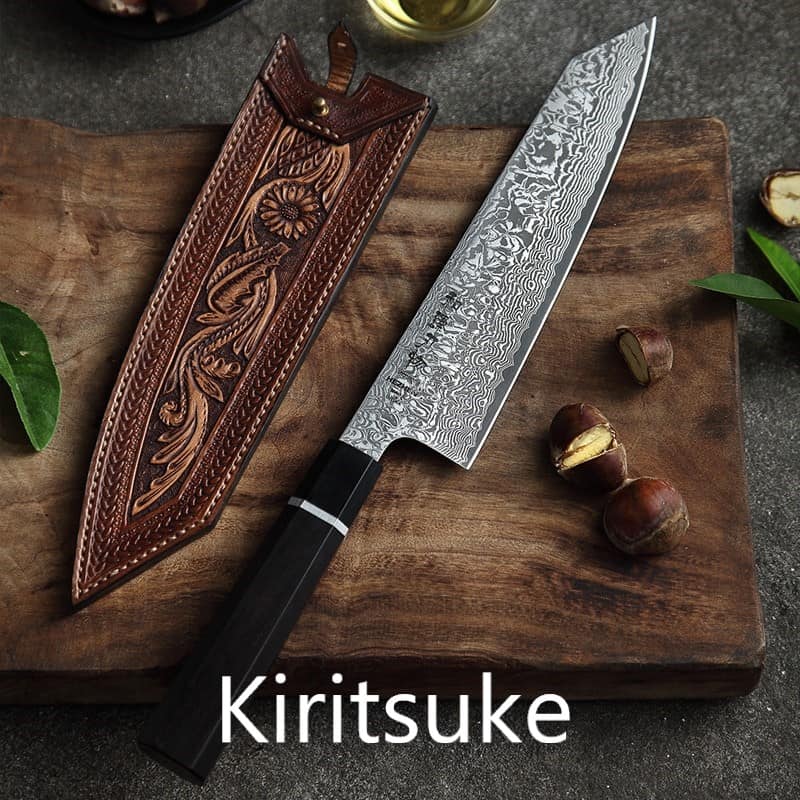 Overview of a Santoku Knife
It's a clear guess that you have heard about this knife or even used it before! This is mainly because it has won the hearts of many who do like preparing meals and also in the past years, it has been popularized by several professional chefs in the United States who gave it shout outs on TVs. All you need to know is that this is a general purpose knife that many have in their kitchen. Santoku knife is known for being the immediate rival of the Chef's knife. This knife is also preferred whenever you have limited space in your kitchen.
Many kitchen enthusiasts and chefs have been talking about the thinner blade of the Santoku knife that makes it one of the best knives when you want to slice something or where accuracy is needed. Many also find this type of knife to be of light weight as compared to other several kitchen knives. The flat blade is also vouched for when it comes to slicing, dicing, chopping and even mincing foods such as fish, meat and even vegetables.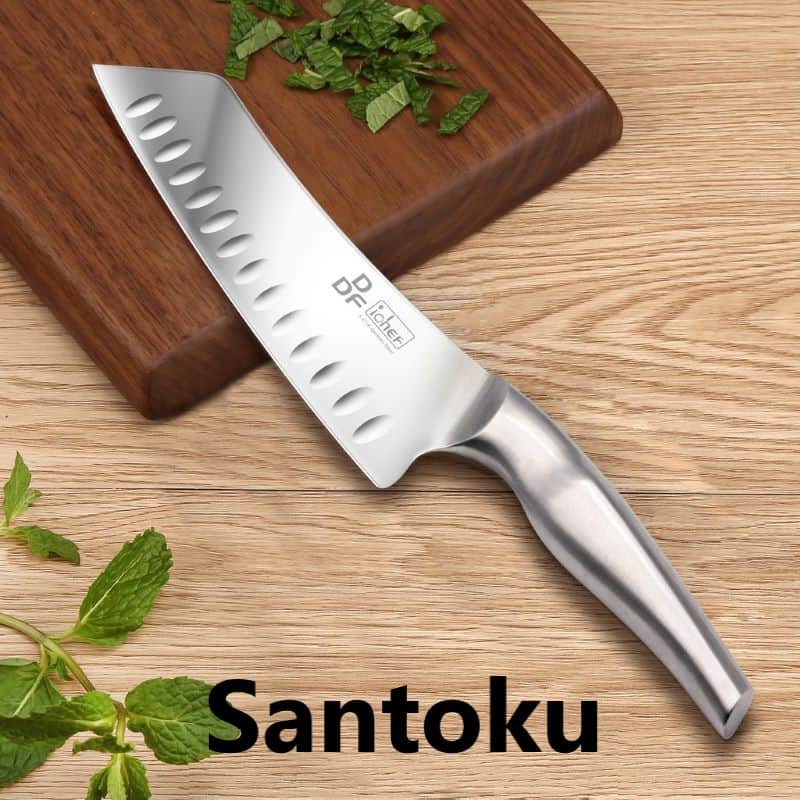 Kiritsuke Knife vs. Santoku Knife
It's now time to compare these two knives. The first area that we are going to discuss is about the point of these knives. When you keenly look at a Kiritsuke knife, you will notice that it's flatter on the bottom and back to the front side of the blade than a Santoku knife. You will also conclude that its tip gives it a more squared appearance that makes it look like one of its kind. A Kiritsuke knife is more unique than any of the knives that you will come across.
The major drawback with the nice looking flat front side of the Kiritsuke knife is that it's not functional as it appears.
Kiritsuke Knife Benefits:
Visually appealing
Best in chopping large vegetables
The longest Japanese knife that has a length of about 8" to 9"
Made of high end carbon steel that is hardened to HRC60+ to last longer
Without a biased opinion, the Santoku knife is the most vouched for Japanese knife when it comes to usefulness in the kitchen. Santoku has gained popularity for being preferred with professional chefs and millions of other kitchen owners. This is because this knife is of a light weight and has thinner blades making it able to be sharpened such that its sharper than most of the knives. The Santoku knife blade is also thinner that guarantees accuracy whenever you want to slice a bread or even other foods.
Santoku Knife Benefits:
Has grantons to prevent friction
Cheaper
Best for slicing, cutting and even peeling fruits and nuts
Shorter of about 7" hence saves on space
Which knife is better – Kiritsuke or Santoku?
In your own opinion, which side can you vouch for? Should the dice land on the Kiritsuke or Santoku knife? Well, that's up to you to decide but in many forums and public opinions, the Santoku knife is the most preferred.  It's advisable that if you're after performance, then you opt for a Santoku knife because you will just like it on the first use. However, all the above discussed factors make each of the knives a good choice but not all perfectly matches everyone's  vast and different needs.
The Verdict
Don't get confused after reading this article. If you are after making your kitchen amazing and you are after a showpiece then the Kiritsuke takes an early lead. But if you want to make good use of each of your dollars spent, then you have to go for the Santoku knife. Choose any that best meets your desires. Good luck!