Did you hear about a Nakiri knife and a Santoku knife and you are wondering which of the two knives you need to buy for your kitchen use? Do you know much about these two knives? What are some of the major differences? The above questions are just the tip of the iceberg! If you want to know everything about Nakiri knife and Santoku knife then continue reading this article!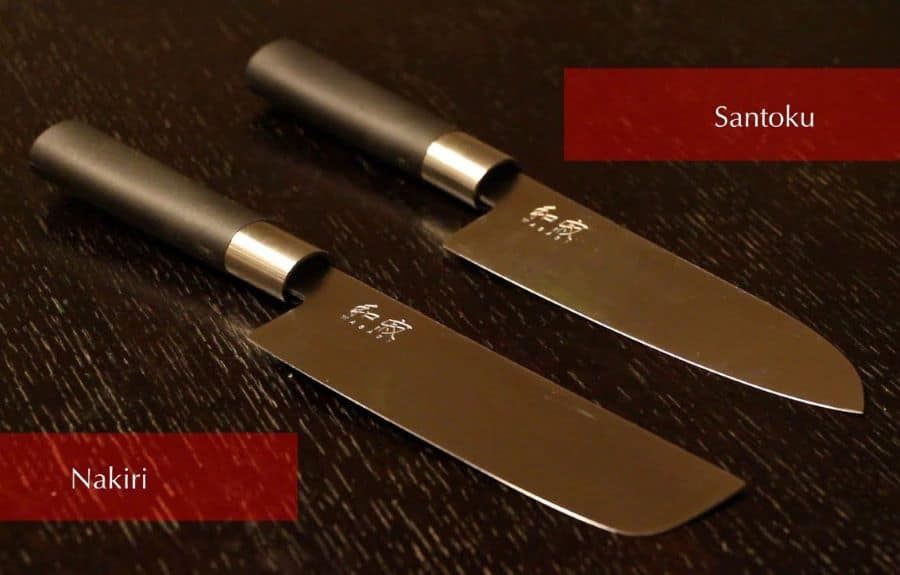 > You May Also Want to Read:
What's the major difference between a Nakiri Knife and a Santoku knife?
The Nakiri knife is purely designed for chopping vegetables. This is because of its straight edge, a round tip and a rectangular blade. This is opposed to its rival – the Santoku knife that is a general purpose knife that has a straight edge, pointy tip and also a sheepsfoot – shaped blade.
There are major secrets that you need to know about these two knives. Let's find out!
1. Nakiri Knife Definition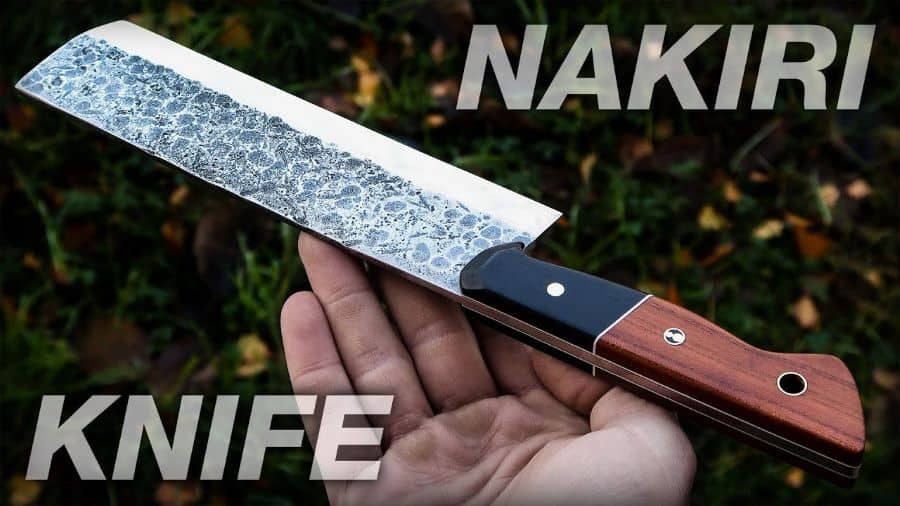 A Nakiri knife is known to have been designed in the 17th century and it originates from Japan where it was completely designed for cutting vegetables. This knife has retained its design in the last 400 years – that is a rectangular blade that has a straight edge and also a squared tip.
This knife is mainly designed for straight up and also down chopping as opposed to the Chef's knife where one can cut with a rocking motion. When using this knife, you can slice your desired ingredients with just a smooth vertical cut than pulling and pushing the knife.
When you choose to buy this knife, you will also notice its light weight and it's also thin, making it easy to facilitate quick and efficient cutting.
Benefits of Buying a Nakiri Knife:
Fast: If you are working in a place that needs speed then you'll like this knife! This knife was designed with speed in mind since it allows the clean chopping motion that is faster than the rocking motion that is in the Chef's knife.
Clean cuts: With a flat edge, Nakiri knife makes a full contact with your cutting board that ends up in cleaner cuts. With a Nakiri knife, you'll forget about Onion sticking together.
Even slices: The Nakiri knife design also supports thin and also uniform cuts. If you are after a ribbon or julienne vegetables then you need to give Nakiri knife a try!
2. Santoku Knife Definition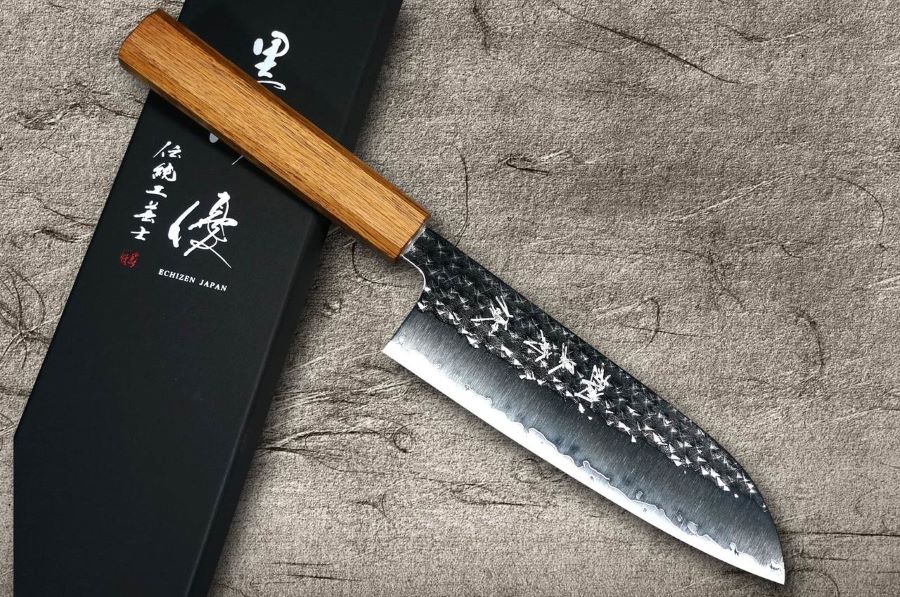 Santoku knives are newer as compared to the Nakiri since they were designed in Japan in the 1940s.  This knife traces back during World War II where the Japanese chefs wanted to come up with all-purpose knives that could be used in preparing vast Japanese foods.
The Santoku knife later became popular in the United States during the early 2000s. This was triggered by Rachael Ray who was a celebrity chef after she vouched for a Wusthof Santoku knife during her popular cooking show.
Santoku knives are described as having a straight edge while some also have a subtle curve that allows for the rocking technique.  Santoku knives are also known for being more versatile than any other knife since they can handle any food and any desired cutting technique.
These knives are also highly vouched for when it comes to slicing and also peeling of foods such as vegetables, nuts, fruits and even cheese since they boast of a sharp straight edge.
Differences between Nakiri knife and Santoku knife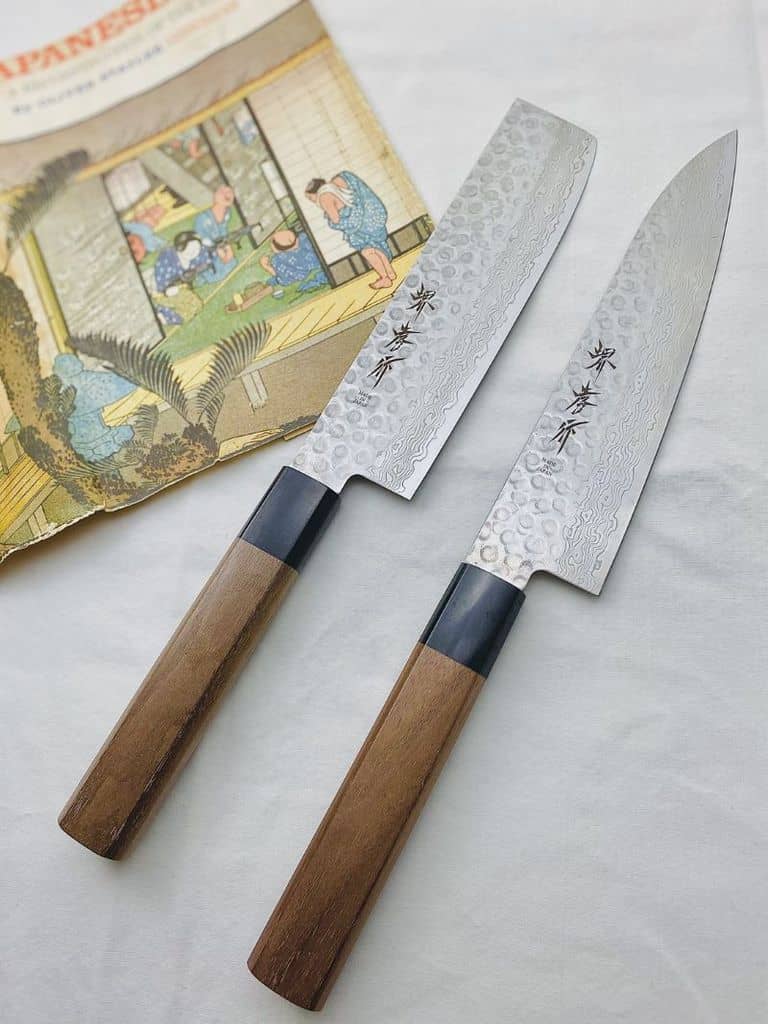 These are some of the differences of these two knives:
1. Uses
Just as earlier mentioned, Nakiri knife is basically made for chopping vegetables and it does the task so perfectly. This is because it boasts of a flat, straight edge blade that cuts deep thus making full contact with the chopping board in just a single cut.
Unlike the Nari knife, the Santoku knife is mainly designed to be a general purpose knife. Being versatile, it can perfectly slice, dice and even mince with a lot of ease.
2. Blade Size
The Nakiri knives are always shorter than Santoku knives because they are used in cutting vegetables. They are always of 5 inches but can go up to about 5 to 7 inches.
Santoku knives are known to be shorter as much as 3 inches but the common ones are always about 7 inches.
3. Weight
In terms of weight, the Nakiri knives are always heavier as compared to their rivals, the Santoku knives though you will agree with this when you consider their intended tasks. Since the Nakiri knives are used in up and down chopping, the more weight is needed to leverage a stronger gravitational pull.
Santoku knives being used for several different cuts and ingredients, a light weight is much preferred in this area.
4. Sharpness
Regarding sharpness, Nakiri knives are always sharpened to about 30 degrees in total, this means 15 degrees for each side. This is enough to support precise cuts.
Santoku knives are sharper than the Nakiri knives because they can be sharpened at about 20 degrees total; this means that each of the sides is sharpened at about 10 degrees.
5. Blade Design
Here, Nakiri knife boasts of a thin, flat blade that has squared edges. It lacks a point at the tip and its blade is narrower as compared to that of Santoku knives.
Nakiri knives are known for a hollow edge or a unique end that is mainly for preventing food from sticking on the blade.
The Santoku knife similarly boasts of a flat edge but with a curved spine that faces down and tip resembling a shart just where the edge and the spine come into contact. These knives are also slightly thicker as compared to Nakiri knives thus making them best suited for meat. The Santoku knives also have hollow edges that are usually made of Damascus style steel and aids in food release.
6. Price
Well, expect to spend the same amount for either of the two knives, but you need to know that they are of different brands. Again, expect the Santoku knives to be slightly more expensive as compared to the Nakiri knives.
The Verdict
It's advisable to choose and opt to buy a double – beveled Santoku knife since it can do all that a Nakiri knife does with much more. Still the decision still lies on you, choose whatever you think will perfectly meet your needs! Good luck!