Many people use camping as a form of unplugging while leaving the paced lifestyle behind. There are multiple other benefits of camping, such as developing problem-solving abilities, improving the mood, releasing stress, and fixing a sleep schedule.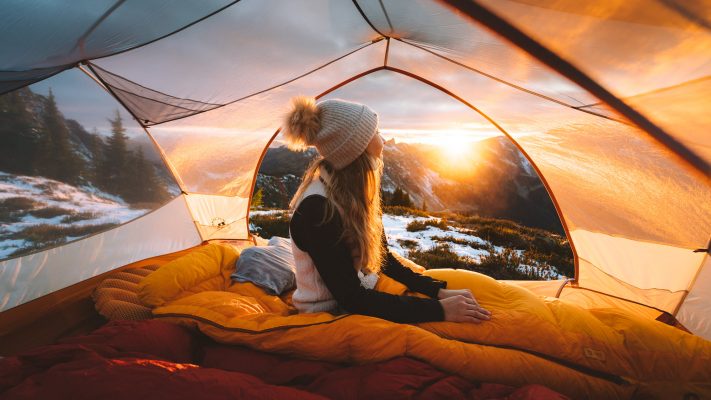 Regardless of those benefits, plenty of outdoorsmen are struggling when it comes to sleeping while camping, particularly during the initial night since it takes time for the body to adapt to this immense change. But what if we told you that it's possible to sleep like a log while camping? With the right approach and gear, anyone can do it.
We are here to present you with guidance on how to get a good sleep while camping.
Get Busy
Reaching the camping spot and setting up a camp is a form of exercise since you'll most likely have to engage in some physical labor to make your camping pleasant. But this shouldn't be all, get involved in all forms of physical activities like hiking, exploring, swimming, or climbing. Fill an entire day with actions, and make your camping adventure lively.
This way, you'll eventually get tired and catch some z's when the sun goes out.
Have A Proper Gear
Without bringing proper gear to your camping, sleeping will be nearly impossible no matter how exhausted you are. That is why you must know what to bring, and if you don't, we are here to help you.
Some of the essential gear to include is:
Adequate Sleeping Bag
When we say adequate, we mean a sleeping bag ideal for the climate conditions and weather of your camping location.
As you'll be sleeping in it, you don't want your sleeping bag to be too warm or too chilly, so always research what type of sleeping bag you should bring.
Self-Inflating Air Mattress
Forget about having to bring a pump or even having to blow the mattress yourself. Those days are long gone, and that's why you should pick the state-of-the-art self-inflating air mattress instead. Sleeping while camping CAN be as comfortable as sleeping at home, and it doesn't take that much to accomplish that.
If you are unfamiliar with them, check out the list of the 15 most high-grade self-inflating mattresses for a camp out of your dreams (pun intended).

Pillows
You are probably not used to sleeping on a flat surface, and you should never experiment while camping.
Preferably, stick to the good old pillows and choose a small memory foam pillow that won't take much space, but will make your sleeping more comfortable.
Eye Mask And Earplugs
They can both be pretty effective if there is plenty of light and noise interfering with your sleep. The last thing you want to hear while camping is your camp buddy snoring, or being awakened as soon as the sun rises, because of the light.
Choose A Camping Spot Wisely
The location of your tent and the whole camp will hugely impact whether you'll sleep well or not. Always check if the surface is flat and not too wet and make sure that the ground's clear of anything lumpy. Avoid picking spots directly under a tree and consider your surroundings too.
Have A Sleep Schedule
Just like at home, make sure to always go to sleep and wake up at the same time as you don't want to disturb your body's internal clock.
If you are unable to fall asleep, try reading a book and if possible, focus on listening to the natural white noise such as river flow, waves, or breeze.