There used to be a misconception that healthy food isn't tasty food. That simply isn't true; more and more restaurants are adding delicious and nutritious items to their menus. The vegan diet is becoming more popular around the world, especially in cities like Portland.
Creativity is the key; Portland's vegan restaurants have tons of innovative appetizers and entrees on offer. We're going to share a vegan friendly guide to Portland today. Don't forget to use a luggage storage service to stow your extra bags before you grab some grub.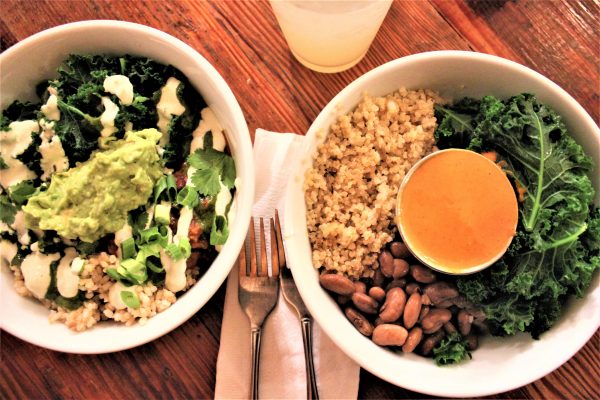 Aviv
We love Middle Eastern cuisine; kebabs, hummus, pita bread, falafel — our mouth is starting to water just from writing about it. Middle Eastern cuisine can be incredibly healthy already. Aviv offers these classic dishes with a vegan twist.
The entire menu is packed with vegan versions of classic dishes. There's also a slew of unique items that can't be found anywhere else. The Beet Salad, Israeli Salad, and Falafel Bowl are must-tries to first-time visitors.
Ditto
Great things can come in surprising packages. A person might think that grandiose, expensive restaurants are the only places that serve amazing food. However, food trucks and food carts can offer meals that are just as good, or even much better, by comparison.
Ditto is a vegan sandwich lover's dream come true. This humble food truck serves some of the tastiest sandwiches in the city. Plenty of non-vegans recommend Ditto. Items include vegan friendly versions of grilled cheese sandwiches and the meatless "Early Burger."
Fermenter
Cooking is a very scientific process; finding the right temperatures for grilling, adding and mixing ingredients together — the line between a chemist and a chef is very thin. Hyperbole aside, cooking is a craft. That's something Fermenter ardently believes. 
This vegan establishment bills itself as a "beneficial bacteria emporium". As its name implies, Fermenter relies on wholly organic ingredients that taste great and work miracles on your digestive system. Food here doesn't just taste great, it feels great.
What's on Fermenter's menu? Amazing items like Spicy Cauliflower Sandwiches and Plant-based Sausages. Does Fermenter deliver? Yes, and certain items can even be shipped. This restaurant makes healthy eating very accessible. 
Homegrown Smoker
Imagine if someone created a vegan barbecue joint. Thanks to Homegrown Smoker, you don't have to imagine that idea — you just have to stop by and order some of their amazing food. Each dish is 100% meat free and 100% tasty.
Homegrown Smoker offers an innovative take on classic comfort foods. Buff Thwings, Smoked Chikn, Seitan Short Ribs, and a heaping helping of vegan sides complete this mesmerizing menu. Best of all, everything can be ordered online.
Ice Queen
Portland is a city where pioneers and entrepreneurs thrive. If you've got a crazy idea and tons of determination, you can make your dreams a reality in Portland. Ice Queen is proof of that; it's one of the first vegan popsicle stores in the entire world.
The vibe here is very laid back. Rebecca Smith is the founder of Ice Queen. She aims to continue building her business as an employee-centric store. Popsicle flavors vary, from Toasted Coconut to Watermelon Sourpatch Kids.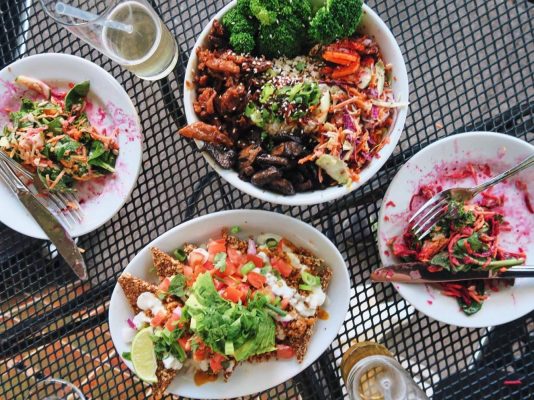 Ichiza Kitchen 
It's not every day that you find a vegan restaurant that's named after a Zen Buddhist principle and specializes in Pan-Asian cuisine. Then again, Ichiza Kitchen is a one-of-a-kind restaurant that specializes in Dim Sum dishes and tea.
Ichiza Kitchen takes beloved Asian dishes and gives them an amazing vegan makeover. Chili Oil Wontons and Turnip Cakes are two appetizers that have rave reviews. However, things get very interesting when it comes to Ichiza's "Big Bowls".
These immense entree items include Buldak Korean Fire Chicken and Adobo bowls. Factor in a healthy selection of teas and sake, and it's no wonder why Ichiza is so popular. This establishment is great for anyone who's never tried vegan food before.
El Nutri-Taco
Forget waiting until Tuesday, there's never a bad time for tacos. These delicious dishes are incredibly customizable; you can edit everything from taco shells to toppings. El Nutri-Taco offers a vegan alternative to this beloved Mexican staple food. This establishment offers a wealth of vegan options, allowing guests to transform almost every dish into a meatless masterpiece. The same goes for the Mexican sandwiches on offer. We can't recommend this eatery enough.
Sweetpea Baking Company
Alright, now it's time to sate our sweet tooth. There are quite a few vegan friendly desserts at local stores and supermarkets. However, it's hard to find a great tasting vegan cake. Or at least it used to be until the Sweetpea Baking Company opened for business. 
Everything here is 100% vegan friendly. Iconic items like Vanilla Cloud Cakes and Confetti Cakes are huge draws. Sweetpea also does weddings and is happy to cater to your next big event. We'd be remiss not to mention the sandwiches and salads for sale.
Virtuous Pie
Pizza and tacos are fairly similar dishes; both are extremely customizable imports from other countries. Both also have extremely delicious vegan alternatives. In fact, Pizza is probably one of the most vegan friendly dishes out there. 
Because of that, you'll find tons of vegan pizzas on sale at the store and at local food trucks. Virtuous Pie, however, gets our endorsement today. This modern restaurant prides itself on serving specialty vegan pizzas and seasonal ice cream.
Virtuous Pie has a slew of Starters, Entrees, and Happy Hour specific items. Their pies are all vegan and clock in at a healthy 10 inches. Even non-vegans will feel right at home at Virtuous Pie. The menu is accessible, the staff is kind, and the atmosphere is great.
Vtopia Cheese Shop and Deli
If a vegan utopia ever sees the light of day, we hope they name it Vtopia. We also hope that the Vtopia Cheese Shop and Deli is the first restaurant to open for business. "Homemade vegan comfort food" is the name, and accessibility is the game.
Familiar items like vegan sandwiches and Mac & Cheese deck out the menu. Vtopia is also ready and willing to deliver your food as quickly as possible.
Sources
https://www.ichizakitchen.com/#home-section
https://www.elnutritacopdx.com/