If Pork Gyoza crossed your mind then you need to make it a reality! Wait, how did you hear of pork gyoza? Can it be from friends, workmates or even online? If you have never had a bite of pork gyoza then am sorry to say that you have been missing one of the most delicious meals ever!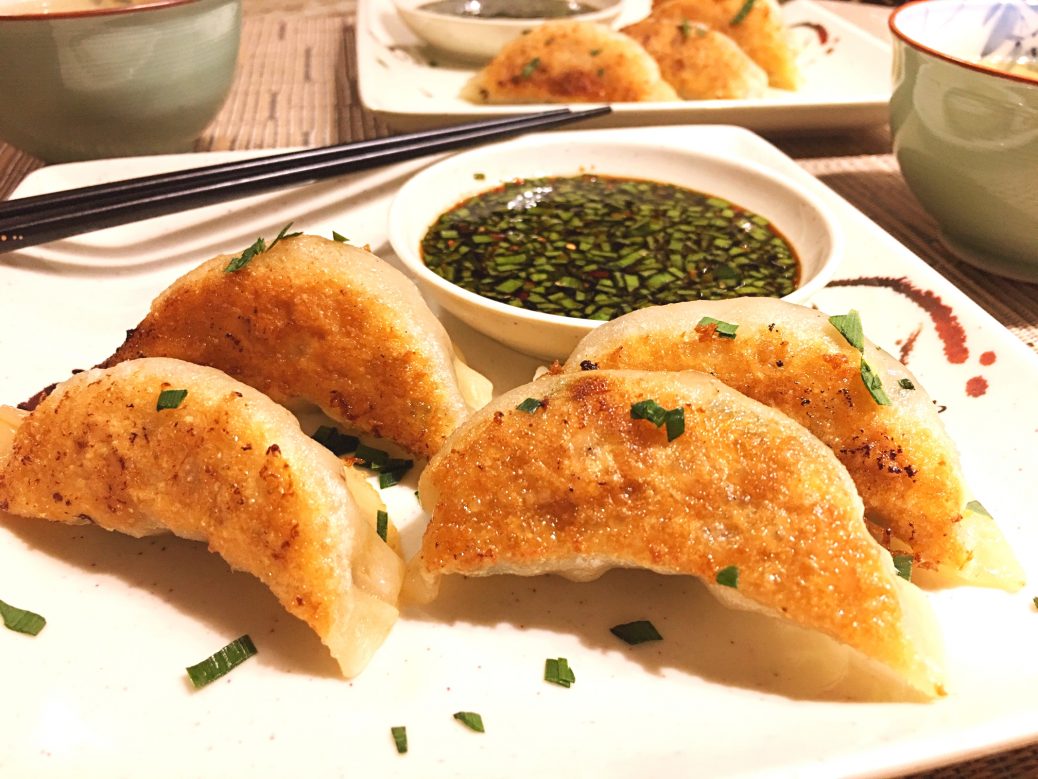 > You May Also Want to Read:
All is not lost still, in this article, we are going to discuss what pork gyoza is, detailed guided steps on how to prepare one on your own and also everything you need to know about this dish! With much said, let's get down to business.
Hope you will enjoy reading this article!



What is Pork Gyoza?
Well, if you have been wondering what pork gyoza is then you are the right place! Just from the common definition of gyoza – gyoza is always a dumpling that is made using a seasoned vegetable and meat or even just vegetable filling.
Gyoza can be made in many ways such as being boiled, steamed, fried or even boiled – steamed and then fried such that they are always tender but also crispy at the bottom.
Gyoza is at times called dumplings or even potstickers.  They are just the same thing with slight regional differences and names. Back to our case, pork gyoza is just made of pork and vegetables. Now you understand the meaning and the confusion that you might have run into, right?
Can I Use another different meat for Pork Gyoza?
Are you thinking about using another different meat for pork gyoza? Well, if pork is not your taste, then you can still choose to use another type of meat such as ground turkey or even chicken. If you swap pork with another meat, then you should also note that the name changes too since it will no longer be made of pork!
Another filling that you can use instead of pork is mincing some fresh shrimp that will also give you amazing results. You can use your desired filling but you only need to ensure that whatever you choose is chopped or even ground into a super fine texture to enable it to cook quickly in the gyoza.
Freeze Your Pork Gyoza
If decided to retain pork as your desired filling or even thought of something else, once you finish filling and folding your gyoza you can opt to freeze them. This means that you can choose to keep gyoza on hand and pop a handful in a skillet any moment craving hits.
So, you don't have to worry since you can make a big batch and then reap the benefits later. When you want to freeze the gyoza, you only need to lay them on a parchment lined baking sheet to ensure that they are not touching, go ahead and freeze until solid, and lastly move them to a heavy duty freezer bag for longer storage.
You should also know that the frozen gyoza can be dropped straight from the freezer into a pot of boiling water so that they can cook. You need to wait for them to boil for about 2 to 5 minutes or you can always wait for them to begin floating and then fry them!
Save some pennies on the dollar by preparing Pork Gyoza
Just to echo the cost…if you chose to use pork, the expensive ones will cost you about only $0.18 each. Unlike if you choose to order for your pork gyoza from a restaurant, you will spend about $6 to $8 and know how many you will receive?
Can you guess it? Maybe about six! If you calculate this, you will realize that you will spend $1 for each when you choose to buy pork gyoza.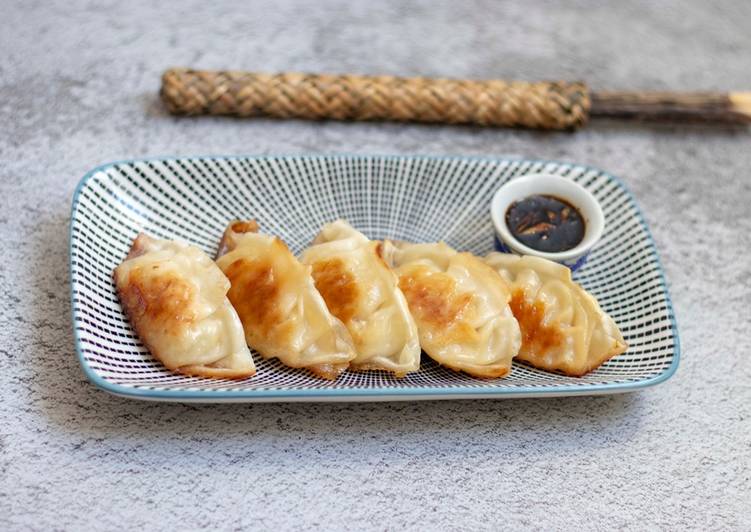 Pork Gyoza Recipe
Do you want to know how pork gyoza is prepared? If so, this is one of the best recipes that will make you and your loved ones have a taste of the most delicious pork gyoza ever in their lifetime! You will also realize that preparing pork gyoza does not only save your money but is also fun.
Total cost: $9.01 recipe/ $0.18 serving
Prep Time: 45 minutes
Cook Time: 15 minutes
Total: 1 hour
Servings: gyoza
Pork Gyoza Ingredients
These are some of the ingredients that you need to put in place before starting to prepare your pork gyoza:
3 green onions
2 tablespoon canola or vegetable oil
4 cups of finely shredded or chopped cabbage
2 cloves garlic
50 gyoza or wonton wrappers
1 tablespoon grated ginger
½ tablespoon soy sauce
1 tablespoon sesame oil
½ lb. ground pork
Pork Gyoza cooking Instructions
For best cooking of pork gyoza, keenly follow these instructions:
Sauté the cabbage with 1 tablespoon canola or vegetable oil in a large skillet over a medium heat until it wilts to half volume. Move the cabbage to another bowl.
Proceed by slicing the green onions, mincing the garlic, and then grating or chopping the ginger. Add the onions, ginger, soy sauce, sesame oil, and then the ground pork to the bowl that has the sautéed cabbage. You now need to massage the mixture using your hands until its all evenly mixed and also slightly sticky or tacky in texture.
The next move is to spoon about one teaspoon of the pork mixture into the center of a wrapper. Dip your finger in water and then wet the outside rim of the wrapper. Lastly fold the wrapper over the filling and then pinch the edges to close. You can explore and choose you desired folding style on YouTube.
Are you now ready to cook the pork gyoza? If so, heat up 1 tablespoon canola or vegetable oil in a non-stick skillet over a medium heat. Add the pork gyoza with the seam side up, and then fry until you notice the bottom is golden brown and crispy. Use the lid as a shield and then pour about ¼ to 1/3 cup of water into the skillet and then quickly put back the lid on top to contain the steam and splatter.
You should then wait for about 1 to 2 minutes for the pork gyoza to steam or until most of the water has evaporated. Lastly, remove the lid and then allow the pork gyoza to cook for about one minute more until the bottom becomes crispy once more. Serve when hot.
Recipe Notes
Usually, gyoza is served with a sauce made of a 2:1 ratio of soy sauce and even rice vinegar. You can choose to also add red chiles for a better gyoza!
Last Thoughts
Pork gyoza speaks for itself! The article has deeply explained what it is and also guided detailed steps for a successful cooking of pork gyoza. What are you waiting for? Buy the above listed ingredients and surprise your loved ones with this amazing dish! Hope you enjoyed reading this article and happy cooking!