Winter is about snow and rain, but outdoor enthusiasts love to stick with their adventures despite the challenges. If you are an avid biker, you need not worry about slippery roads and snowy trails. You can invest in a fat-tire bike to pedal fearlessly, all winter long. The vehicle can carry you everywhere, from snow-packed roads to mountain trails. But enjoying winter bike riding depends on preparedness and safety. You need not do a lot to have the best fat-bike riding experiences during this time of the year. Here are some tips that make them safe and enjoyable..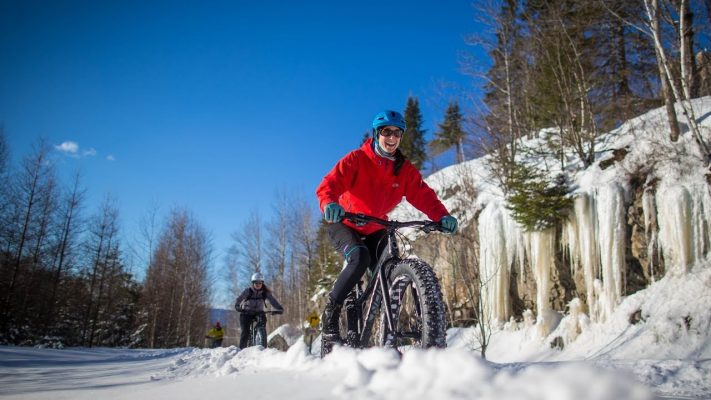 Curb your expectations
Before setting out for the venture, you must have realistic expectations about the ride. Think of fat biking as an exploratory and adventurous experience, and be ready for the work it takes. You may require a lot of effort to pedal fat tires, even more, as a first-timer. Moreover, things can change as the conditions change. A few degrees of temperature difference can slow you down. Realistic expectations can help you enjoy the challenges rather than worry about them.
Learn how to layer
Preparing for winter biking is also about learning how to layer. It is trickier than you imagine because climbs can make you super hot, and descents are cold and fast. Finding the perfect balance is challenging. You must wear just enough to save yourself from the cold but not get you too hot. Start with a lightweight and breathable wool layer, and add a wind jacket on top. A weather-resistant tight over standard bike shorts are enough for the bottom half.
Invest in the right vehicle
Consider upgrading your vehicle this season if you want to spend more time on the trails. Electric bikes are a great choice if you plan to upgrade. Look for the best electric fat tire bike as it makes an excellent investment for the years to come. Consider factors such as weight, tire width capacity, and frame geometry to pick the one that works for you. Stick with a reputed brand to get durability and value for money. Research the options and seek recommendations to pick the best one.
Drop the tire pressure
Riding on the snow becomes much more enjoyable if you choose an optimal tire pressure. Ideally, you must drop the pressure, if you want to churn up the soft winter snow. Dropping the pressure flattens out your tire. With more rubber making contact with the snowy ground, the ride gets smoother than you imagine. However, you must be careful because low pressure leads to more rolling resistance. 
Mind your pedaling torque
Another helpful tip for winter biking with a women's fat tire bike is to mind your pedaling torque. . Doing too much will dig your bike tires into the snow, making the ride harder. You will end up getting slower and feeling tired sooner than you expect. The best way to ride is to find a pace, settle in, and enjoy without doing too much. You will have a good time without sweating out a lot. 
Winter fat biking can be a great experience, provided you follow these tools. The right gear is essential, but you must also prioritize an easy mindset, correct technique, and physical comfort.