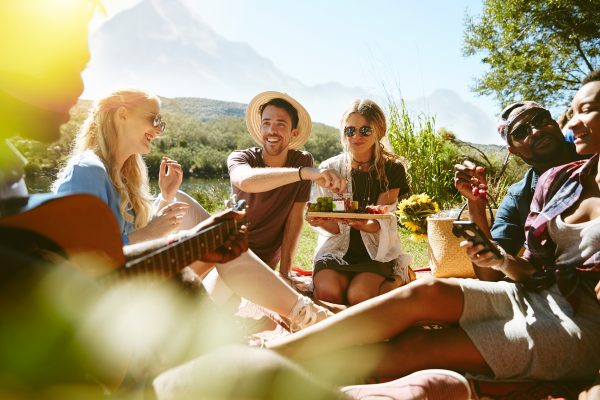 One of the best things about living in the United States is the vast difference in terrain, people, and cuisine! Everything from delicious Maine lobster to southern California's fish tacos, now's the time to combine a love of food with the love of the road. Researching auto insurance quotes online to be certain you are getting the best coverage for the lowest possible price is a great way to start your trip. America is waiting for you!
Cape Cod
There's nothing quite like Cape Cod in the summer time – riding the buggies on the dunes, whale watching, sailing, and of course, the fabulous seaside restaurants. You might expect popular cuisine to reflect this amazing area's location – right on the ocean – and you'd be right! Some popular regional delicacies include:
Lobster Rolls

Oysters

Fresh Tuna

Mussels

Crispy Shrimp Platters
And that's just the start of it. Cape Cod offers a number of other treats for foodies who would rather skip the seafood altogether, including good old-fashioned steak, pizza and burgers. 
Las Cruces Green Chile Trail
If you love hot and spicy food, the Las Cruces Green Chile Trail should be on your road trip bucket list. The "Walk of Flame" is another name for this trail in Las Cruces, New Mexico that offers up all sorts of dishes that involve, you guessed it, green chiles. Try one or more (if you can take the heat!) of the following:
Green Chili Posole

Pecan-Encrusted Green Chili Strips

Green Chile Chicken Wontons

Green Chile Sausage Soup

And all types of other products made with these piquant peppers such as marmalades, dips, chocolate bars, and popcorn.
Highway One in Southern California
The beauty of road tripping in Southern California is that you get the best of both worlds, great food and great views. What could be better than driving along the Pacific Coast Highway and then stopping at restaurants that offer mouthwateringly delicious dishes? Make sure to try these:
Fresh Fried Fish

Baja-style Fish Tacos

Chipotle Marinated Snapper

Salmon Bisque

Heavenly Tofu Dishes
The Heart of America – Route 66
Although the vintage 'Route 66' no longer technically exists, you can still drive 85% of it and boy does it have a lot to offer. Extending through multiple states, you'll have to eat somewhere, right? Keep an eye out for the best homemade pies in the country, corn dogs, enormous burgers that melt in your mouth, and chicken fried steak. 
Texas Hill Country
Texas is enormous, and the state itself offers so much by means of terrain, people, and of course, cuisine. Texas Hill Country refers to central and south Texas. It is loosely considered the borderline between the American Southeast and Southwest. And, what is Texas best known for? Cattle. So be prepared for lots of meat delicacies such as Fatty Brisket and Jalapeno-Studded Sausage. You'll find a fusion of Mexican and Southwest American food, with a healthy influx of fresh coastal seafood.
Kentucky Bourbon Trail
If you appreciate bourbon, you'll want to steer your car toward Kentucky because in Louisville, that's what they're all about. You'll find Kentucky Bourbon Trail souvenirs among the bourbon-infused foods of all kinds. 
Mint Juleps

Bourbon Smoked Citrus Pepper Brined & Deep Fried Turkey

Bourbon Brittle

Breaded Catfish

Fried Chicken Livers
Finger Lakes
While there are many more than five of them, the Finger Lakes is aptly name because on a map, they resemble fingers along the countryside. The Finger Lakes region is known for its wineries, but you'll also find a bevy of delights here to please the palate.
Grape Pies

Garbage Plates (these are basically picnic fare piled onto a plate covered with hot or meat sauce)

Chicken French

Homemade Maple Syrup
Coast of Maine
When you think of the coast of Maine, what comes to mind? Rugged coastline, harbors, and fishing boats. This location is hands down the best place for whole steamed lobster. Don't forget the corn on the cob and a ramekin of drawn butter. You'll also want to sample the New England clam chowder, fresh scallops, crab, and blueberry and strawberry pancakes, pies, muffins, jams, and cobblers.
The Midwest – Illinois, Wisconsin and surrounding areas
It might not seem like this area would have any cuisine to write home about but that's simply not true! If you're traveling in the Midwest, you must seek out some of these hometown regional dishes including:
Deep Dish Pizza

Cheese Curds

Reubens

Pan Fried Walleye

Juneberry Pie
Wherever you choose to travel this summer, make it epic by combining your destination with new and different cuisine you'd like to try along the way!