Although you may be excited at the thought of exploring the architecture and natural beauty that Siciliy has to offer, you can't forget about the delicious food that you can also enjoy along the way.
Any Sicilian travel itinerary wouldn't be complete without tasting some of the incredible local delicacies that the Italian island has to offer.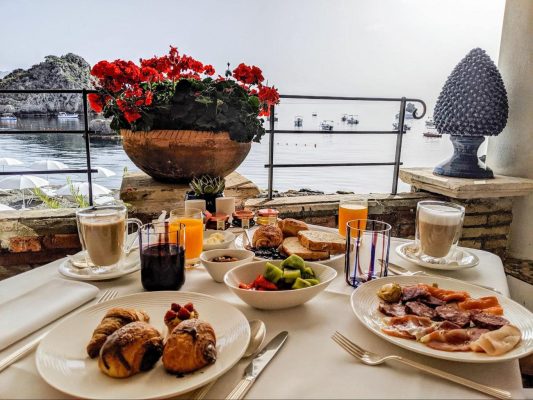 If you're planning a trip to the region any time soon, it's worth brushing up on your culinary knowledge before you arrive so you can tick off all the must-have foods that the area is famous for.
From caponata to arancini, there's a lot you won't want to miss. Here are the 5 best Sicilian foods that every tourist must try when they visit.
Top 5 Sicilian Food for Tourists
If you're planning a trip to Sicily soon, you should already be getting excited about all of the amazing food you're going to get to sample on your travels.
The whole of Italy is known for its incredible food, but it's Sicily that's become known as one of the foodie capitals of the country.
Here are the 5 foods we recommend every tourist try during their trip.
Caponata
You may already be familiar with the delicious dish that is Caponata as it's often found on menus in restaurants across the continent.
The dish centres on key ingredients aubergine, pine nuts, raisins and vinegar. However, the recipe will change a bit depending on the restaurant you visit.
The aubergine is fried and then added to a warm tomato stew and flavoured with a mixture of ingredients. It's then served at room temperature as an antipasto.
Pasta alla Norma
If you're not eating pasta every day in Italy, you're doing something wrong.
Pasta alla Norma is one of the most popular pasta dishes in Sicily as it uses traditional Sicilian ingredients like aubergine, garlic, basil and salted ricotta. 
The simple yet tasty dish is best paired with a Sicilian white wine and can be enjoyed in many of the restaurants on the island.
Arancini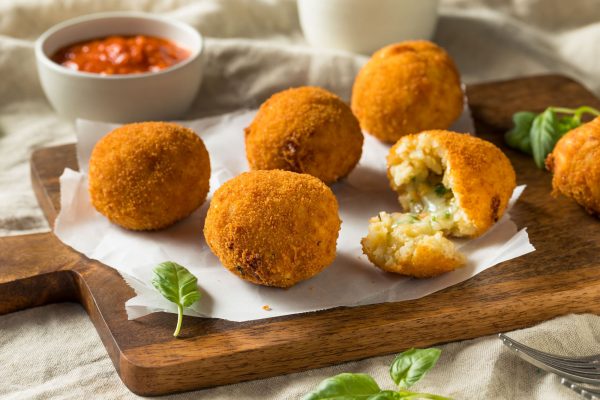 Who doesn't love the sound of deep-fried balls of creamy risotto rice? Arncini is one of Sicily's best-loved dishes that makes for the perfect side dish or snack as you explore the island.
The small mouthful-sized balls can be found in most cafes and restaurants in the region, and are filled with various ingredients that offer an authentic taste of the Mediterranean.
Sfincione
If you like pizza, Italy is one of the best places that you can travel to. However, if you've had enough of the traditional-style pizzas you can find in most restaurants, it's time to introduce your taste buds to sfincione.
It's a common street food that can help satisfy a roaring stomach as you're exploring the sights of the sunny island. 
The biggest difference between sfincione and normal pizza is that the base is a lot thicker. It's like a deep dish pizza pie that's topped with some of the most delicious local ingredients like anchovies, onions and cheese.
It makes for a fantastic snack to enjoy in between meals on a busy day full of exploring.
Pasta con le sarde
Because Sicily is surrounded by the ocean, it's obvious that many of their local dishes would be inspired by some of the incredible seafood they have right on their doorstep.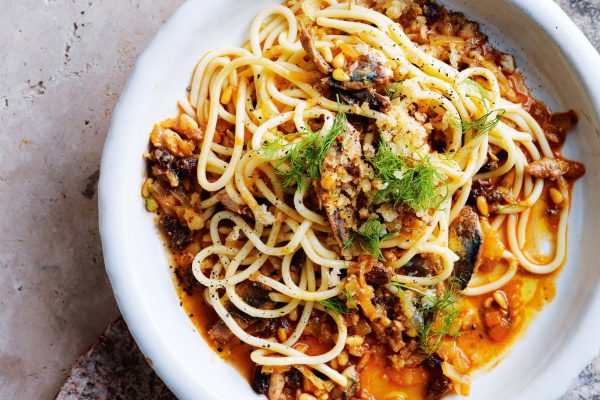 Pasta con le sarde is a fishy alternative to the famous Pasta alla Norma as it's made with fresh sardines and salted anchovy fillets.
You'll commonly find this dish made with beautiful spaghetti and served with some crispy breadcrumbs on top for an irresistible texture.
Pack your Bags!
Now that you've learnt all about some of the best dishes that Sicily has to offer, it's time to pack your bags and start getting excited about your upcoming trip
Although the 5 dishes we shared with you are the most popular in the region, you still have plenty of choice when you get there.
From rich puddings and tasty treats, you'll never go hungry when you're holidaying in Sicily. So, prepare your stomach and look forward to all of the culinary delights you're yet to experience in the Mediterranean's largest island.