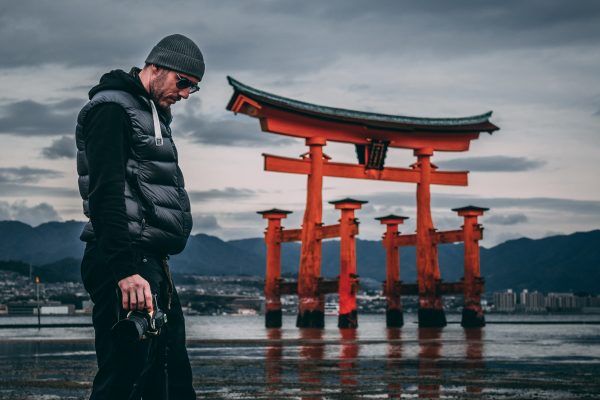 Japan is a country of contrasts. The country mixes rich cultural roots with a modern, tech-forward ethos. It blends tranquil scenery with frenetic urban excitement. The temperature reaches sweltering highs and biting lows. You can find some of the finest high-end meals in Japan, and some of the most comforting street food. 
It's an exhilarating mix – one that makes Japan a high-demand country on most people's travel bucket lists. But it also makes the country a little tricky to pack for. 
How do you fit all of those possibilities into one bag? In this article, let's explore a few tips for how to pack light on a trip to Japan. 
Dressing for the Weather, Cultural Customs and Style
As you choose your travel wear, consider three things: the weather, cultural customs and style. 
The weather can be finicky in Japan, so it's best to pack layers. The best material here is undoubtedly merino wool, which is insulating in warm weather but breathable in the heat. Pack a few hoodies and sweaters from Unbound Merino, along with merino t-shirts and button-downs (for more formal scenarios). 
In general, Japan places emphasis on looking put-together. If you plan on visiting temples, for instance, don't pack slovenly shorts and a tattered t-shirt. Buy something new, sophisticated and sleek for your trip. Also, avoid wearing all black as this is associated with funerals. 
Staying Connected in a Tech-Forward Country
The power outlets in Japan are the same sockets as in North America, so everything should fit. However, the voltage is different; some people recommend packing a voltage converter to keep your electronics safe. 
Many guesthouses and hotels in the country rent portable wi-fi devices, but it's easier (and cheaper) to bring your own. They come in handy when you're trying to navigate the labyrinthine streets of Tokyo!
If you want to keep up with those green texts (and make the occasional phone call), pack a prepaid SIM card or buy one on arrival. 
Other Considerations
Besides clothing and electronics (plus the obvious toiletries and documents you always pack), here are a few other considerations: 
A Phrase Book: English isn't widely spoken in most of Japan. Therefore, a phrasebook comes in handy for everything from directing a taxi home to ordering at a bar. It's especially essential if you have allergies and dietary restrictions you need to convey at restaurants. 

Gifts: Japan

is a gift-giving culture

. If you plan to meet locals or business associates, it's wise to bring a few gifts from home. Nothing expensive – just a token of your respect. 

Camera: Japan is obviously a beautiful country, so a good camera is a must!

Medication: It might not be easy finding your prescription or even OTC medication in Japan. Always come fully stocked for your trip. 

A Waterproof Day Pack: Rains come fast and hard in most parts of Japan. Bring a waterproof day bag to protect your documents, camera and other electronics. 
To recap: pack versatile, appropriate merino wool clothing; consider a voltage converter, portable wi-fi and SIM card; and throw in a phrasebook, gifts and a few other handy items for good measure. Bon voyage – or should we say, kiyotsu kete!