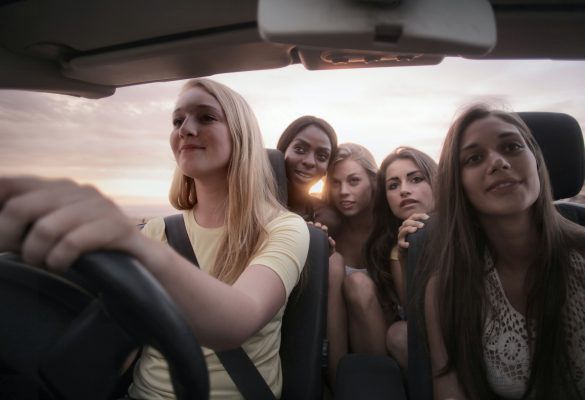 Are you and your friends planning a weekend getaway after months of hard work at your jobs? Are you all looking forward to the annual girls' trip you promised you'd do to catch up with everything going on in your lives? There is no better destination for you than Gatlinburg and the diversity of activities that it offers. The best thing about Gatlinburg is that everything is either within walking distance or a quick drive away. It provides eye-catching attractions and the loveliest restaurants that provide a great dining experience. Your trip to Gatlinburg might just be one to remember forever.
With that being said, here are seven tips to make the most of your all-girls trip.
A hike at the Great Smoky Mountains
Regardless of time constraints, this location must be at the top of your list. Even if you are not a fan of hiking, you are destined to fall in love with The Smoky Mountains. You can have a good time at this place, no matter the season. If you visit during the spring, you can take in the fragrant scent of the wildflowers that line the trails. In autumn, you can let your soul feel the scenic picture that the fallen scarlet-red and honeycomb-gold leaves paint. In the winter, the crisp breeze will sharpen your senses. And in the summer, you can follow the fresh mountain streams that lead up to the waterfalls.
Where are the Smoky Mountains, you ask? The Great Smoky Mountains are located in the eastern part of Tennessee and stretch all the way to the western part of North Carolina. 
Hiking up the Great Smokys might be the best way to take a break from your monotonous lives and reconnect with each other.
A scenic drive through the Great Smoky Mountain Range
The Smoky Mountains offer a 400 km long drive-through track. The track is lined on either side by various types of oaks and hickories, as well as sweet birch, red maple, sourwood, mountain silverbell, and black locust. To make your experience better-rounded, you can opt for an off-road tour on the open-air Pink Jeep Wrangler, customized to suit your preferences and timings. Your tour guide will ensure you do not miss any worth-seeing hidden spots, historic locations, free wildlife, or photography-worthy spots along the way. 
Visiting Anakeesta Theme Park in the Smoky Mountains
If you are a fan of outdoor adventures, you cannot miss out on visiting the Anakeesta Theme Park, where guests are welcomed with an open heart. The admission fee covers unhindered ride access via the Ridge Rambler or the Chondola. They finally lead up to Firefly Village with a remarkable atmosphere and magic in the air. 
You can also take a slow walk along the 14 bridge Treetop Skywalk with hanging bridges. Or you can feel on top of the world atop the AnaVista Tower, claimed to be the highest point in Gatlinburg. The special thing about it is its spectacular aerial view of the Smoky Mountains.
For a more thrilling adventure, you can rejoice in a Dueling Zipline Adventure roaring through the trees or go wild on the Rail Runner mountain coaster.
If that is not enough, Anakeesta boasts its observatory grounds that enable you to walk amongst the stars. Astra Lumina is said to be the first-ever Lumina Enchanted Night Walk in the United States!
At Anakeesta, you will feel as if you are one with nature. 
Satisfy your cravings
Are you a foodie and are always on the lookout for new cuisines? Gatlinburg is just the place for you! With its continental delicacies, famous pasta dishes, and fresh bakeries, you will have an unforgettable culinary experience.
Go out for breakfast with your girls at The Buckhorn Inn Restaurant. It sports an ever-changing menu of palatable dishes. Located at a bed and breakfast, it sets the perfect cozy ambiance overlooking beautiful landscapes. It plays with natural light and lovely art décor to set the mood. Try their famous roast beef tenderloin or savory chicken breast served with white wine and tarragon sauce.
Head over to Tennessee Jed's to enjoy their indoor and outdoor dining areas when you need a break from shopping to recharge.
The Red Oak Bistro is the best choice for a fancy night out. It is a European-style restaurant catering to your savory needs with a patio and grand fireplaces to complement the theme.
If you are in the mood for seafood, try the Chesapeake's Seafood and Raw Bar. With their exquisitely assorted platters and their live bar, you are bound to have the time of your life. 
Exploring the best shopping deals
No girls' trip is complete without a shopping spree. In Gatlinburg, you will find exclusive picks at local boutiques and brand stores. You can shop for lovely hand-made quilts, hand-painted pottery, and hand-dipped scented candles to make improvements to your homes. Make your way to exquisite art galleries and studios to look at the work of The Great Smoky Arts and Crafts Community. This includes magnificent paintings, sculptures, bronze pieces, and hand-woven crafts created with intricacy and world-standard craftsmanship. These artists use century-old methods for their crafts that ensure that the piece you own is one of a kind. While you are here, pick up a souvenir to take back for your family members back home.
A Relaxing afternoon at the spa
One of the primary purposes of a getaway is to give your mind and body the rest they haven't had in a while. 
Take your girls for a relaxing day of facials, manicures, pedicures, and full-body massages. De-stress your muscles and detox your mind in a sauna. And while you are at it, take the opportunity to get a fresh haircut to switch up the look you've been sporting for the past few years.
The spas at Gatlinburg will help you rejuvenate. With that, you can head back to your routine with a fresh perspective and new-found energy to invest in various fields of life.
Wine tasting at Gatlinburg's wineries
Another activity to look forward to at Gatlinburg is a sophisticated day out tasting Gatlinburg's finest wines. Tennessean wineries are amongst the oldest producers of fine-quality, premium wines. Choose your favorite vintage bottle to bring back to your lodge or hotel room to savor with your girlfriends over a gossip session.
Conclusion
If you are debating whether to opt for Gatlinburg for your next all-girls trip, this guide will help you make up your mind. Put these tips to use to elevate your trip to the next level. Form a well-calculated plan to ensure you have ample time to visit all worthy places. And you will not regret your decision.