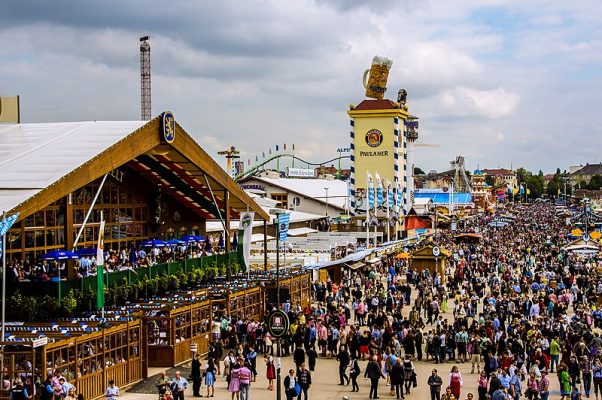 Held in Munich, this festival is a great way to experience German culture and traditions. If you're planning on attending Oktoberfest for the first time, there are a few things you should know to make the most out of your experience.
First things first, if you're not familiar with the festival and need help planning your trip, tour agencies can help you plan the whole thing. They can help with everything from booking your flights and accommodations to organizing your itinerary, so you can fully enjoy the festival without worrying about the logistics.
What is Oktoberfest?
Oktoberfest is held annually in Munich and typically runs for 16-18 days, beginning in late September and ending on the first weekend of October. The festival originated in 1810 as a celebration of the marriage of Crown Prince Ludwig and Princess Therese of Saxe-Hildburghausen. It is one of the most famous events in Germany and the world's largest fair, with more than 6 million people from around the world attending the event every year. The festival is held on the Theresienwiese, a large open field in the city, and is home to a variety of beer tents and rides.
Beer everywhere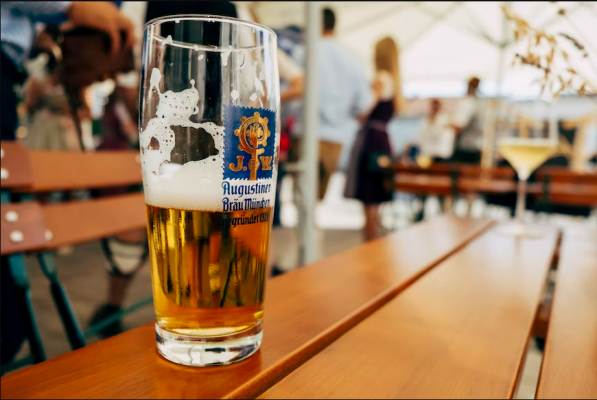 One of the main attractions of Oktoberfest is beer. Each tent at the festival serves a variety of beers, all of which are brewed by the Munich Brewery Association and must adhere to strict guidelines. The beer served at Oktoberfest is typically a stronger, richer version of the traditional German beer, known as Oktoberfestbier.
What traditional German dishes can be found at Oktoberfest?
Brezen (Pretzels): Large, soft pretzels that are often served as a snack or with beer.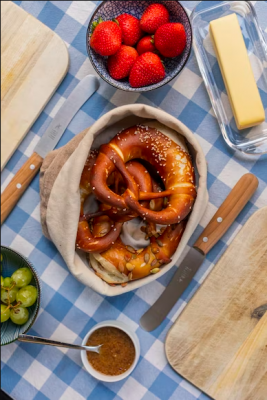 Hendl (Roast Chicken): Whole roast chicken that is seasoned with herbs and spices and often served with a side of gravy.
Schweinsbraten (Roast Pork): Slow-cooked roast pork that is often served with gravy, dumplings, and red cabbage.
Leberknödel (Liver Dumplings): Large dumplings made from liver and flour, and often served in a rich gravy.
Rindfleisch (Beef): Roast beef, often served with gravy, potato dumplings, and red cabbage.
Kartoffelsalat (Potato Salad): A traditional German potato salad made with potatoes, mayonnaise, and often other ingredients like bacon or pickles.
Apfelstrudel (Apple Strudel): A sweet pastry made from layers of flaky dough filled with a mixture of apples, sugar, and spices.
Wurstl (Sausages): Different varieties of sausages such as Bratwurst (grilled sausage), Weißwurst (veal and pork sausage), and Nürnberger Rostbratwürste (grilled sausages from Nuremberg).
Plan your visit
Oktoberfest is one of the largest festivals in the world and attracts millions of visitors each year, so it can get extremely crowded. To avoid crowds and ensure that you have the best experience possible, it's best to arrive early and plan to stay for the whole day. The festival grounds open at 9 am, and the beer tents open at 10 am, so arriving early will allow you to explore the festival before the crowds arrive.
Another important thing to keep in mind is to make reservations at the beer tents in advance, as they can fill up quickly. Many of the beer tents are open-air and have limited seating. The tents are also divided into different sections, each with its own atmosphere and crowd. Some tents are geared towards families and offer a more relaxed atmosphere, while others are known for their live music and lively crowds. Making reservations in advance will help you to secure a spot in the tent that best suits your preferences.
It's also a good idea to plan your day around the peak hours, which are usually from mid-afternoon to early evening. During these times, the festival and the beer tents can become very crowded, making it difficult to move around or find a seat. By arriving early and leaving during peak hours, you'll be able to enjoy the festival with fewer crowds.
Dress Code
The dress code for Oktoberfest is not strict, but many visitors choose to wear traditional German clothing, such as lederhosen for men and dirndls for women, to get into the spirit of the festival. Lederhosen are a type of breeches that are traditionally made from leather and have suspenders. They are worn with a traditional shirt and knee-high socks. Dirndls, on the other hand, are traditional dresses worn by women. They comprise a corsage, blouse, skirt and apron. They are often worn with a blouse and an apron tied at the waist.
German vocabulary that is useful to know when attending Oktoberfest
Prost – "Cheers" or "To your health"
Bier – Beer
Maß – Litre (of beer)
Wiesn – The colloquial name for the Oktoberfest festival grounds
Bierzelt – Beer tent
Brezen – Pretzel
Hendl – Roast chicken
Schweinsbraten – Roast pork
Leberknödel – Liver dumplings
Rindfleisch – Beef
Kartoffelsalat – Potato salad
Apfelstrudel – Apple strudel
Schlager – German pop songs
Biergarten – Beer garden
Prost! – Cheers!
Final thoughts
Overall, Oktoberfest is a unique and exciting experience that should not be missed. With a little bit of planning and an open mind, you're sure to have a great time at this annual celebration of German culture and traditions. Just remember to book your tour with a reputable agency like ThirstySwagman, arrive early and make reservations, and don't forget to wear your traditional German attire. Prost!