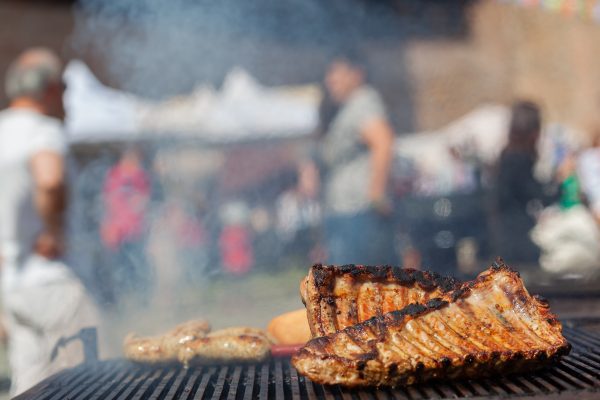 Pigeon Forge, nestled in the mountains of Smokies, is a charming city that attracts millions of people every people. The city is known for its vibrant culture, exhilarating activities, and stunning scenery. However, one thing that often goes overlooked is the delicious food scene in Pigeon Forge.
You can find a wide range of mouth-watering delights, from Southern classics to BBQ and sweet delicacies. Whether you enjoy local cuisine or are a food enthusiast, Pigeon Forge has something for everyone.
In this article, we list must-try foods you absolutely cannot miss during your visit to Pigeon Forge. 
1- Biscuits and Gravy:
A classic comfort food, biscuits and gravy are a staple of Southern breakfasts.
Hop up in any local diner or breakfast spot in Pigeon Forge to enjoy biscuits and gravy. Plenty of restaurants in the area serve this classic Southern dish with their unique blend. Top it with chocolate or munch on it as a side dish. And if you're feeling adventurous, try making it yourself. 
All you need is simple ingredients and a recipe to follow carefully. Take a bite, and you'll know why families have loved this dish for generations. 
2- Quesadillas:
A popular Mexican dish, quesadillas are a tortilla filled with ingredients and melted cheese.
Originating from Mexico, quesadillas are now famous all around the world, and you can find this delicacy in Pigeon Forge as well. From local food trucks to Tex-Mex and American-style diners, you'll find a variety of options. Try quesadillas from a Mexican restaurant in Pigeon Forge, and you'll feel like you're roaming the streets of Mexico City. 
And here's the fun part. You can customize quesadillas that suit your taste buds. While it usually serves with melted cheese on top, you can mix the vegetables, or if you are a meat lover, adding steak is also a viable option. 
3- Pancakes:
There isn't a better way to start your day than with a delicious pancake in Pigeon Forge, whether you prefer breakfast or just want a sweet treat.
Pancakes are a local specialty, perfected by restaurants for years. Some of the area's breakfast restaurants specialize in homemade pancakes with high-quality ingredients.
Why try pancakes in Pigeon Forge when you can try them anywhere? Well, pancakes in Pigeon Forge are not ordinary. They are notorious for their fluffy, buttery texture as well as a wide range of distinct and delectable flavors. From classics like blueberry to more exquisite options like chocolate chip and gluten-free, the combinations are endless. Whip cream on top of it or add maple syrup to make it more flavorful or occasionally devour it with bacon or eggs. 
4- Fried Chicken:
If you are visiting Pigeon Forge, do not forget to add delicious crispy fried chicken to your list, one of the most iconic dishes in Southern cuisine.
Imagine you are served a plate with a golden brown crispy piece, tender on the inside, with a blend of secret spices. It has a perfect balance of flavors, tickling your taste buds and leaving you wanting more. With mashed potatoes or green beans complimenting it, you can enjoy this heavenly dish at any restaurant in Pigeon Forge. 
Do remember that not all fried chicken is equal. Every restaurant has its unique style; some prefer a spicy kick of paprika or cayenne pepper, while others choose a simple seasoning of salt and pepper. There are also secrets hidden within every restaurant's fried chicken recipe.
5- Barbeque:
You absolutely cannot leave Pigeon Forge without trying some of the smoked ribs they offer.
Pigeon Forge has several excellent BBQ joints that serve up smoked ribs, which have been a staple of Southern cuisine for centuries. This slow-cooked meal is an essential dish in Pigeon Forge for BBQ fans. The slow cooking infuses the flavor into the meat, resulting in an incredibly tender and juicy piece. Special herbs and spices will create an explosion of flavors in your mouth. Some joints also glazed the ribs, giving them a sweet texture.
Pair the ribs with some classic sides. Coleslaw and ribs go hand-to-hand, but you can order baked beans or cornbread.
6- Fried Catfish:
Another famous Southern cuisine that you cannot miss in Pigeon Forge is fried catfish. 
This freshwater fish is abundant in the United States, with a sweet and mild flavor that pairs perfectly with the crispy coating. Seasoned to perfection and served with a variety of sides, including hushpuppies and creamy coleslaw, which lend a delightful crunch to the crispy and tender fish.
There is a special place in Southern cuisine for this dish, as it symbolizes the city's culinary heritage. Pigeon Forge's fried fish offers more than just a delicious meal. It also provides insight into the city's history and culture.
7- Fudge:
Pigeon Forge also offers sweet delicacies, and one of them is fudge. 
A blend of rich chocolate, creamy butter, and fluffy marshmallows, this fudge will melt in your mouth. Generational recipes are used, with each batch handcrafted to ensure consistency. Various flavors are available, from classic chocolate to maple and peanut butter. 
You'll find it at various shops and markets in Pigeon Forge, most often luring you with its sweet aroma and tempting scent. After taking a bite, you won't be able to help buy some for your family as well. 
8- Pecan Pie:
Few classic Southern dishes can rival the famous pecan pie. With a buttery crust filled with a rich, nutting filling, you'll find this dessert on many Southern dinner tables, complimenting savory. 
If you're going to visit, put pecan pie on your list of must-try dishes. Several bakeries sell this exquisite dessert with their spins on the basic recipe, such as a splash of bourbon or a scoop of homemade vanilla ice cream on top. 
9- Moonshine:
While not a food, moonshine is a significant part of Southern culture. If Pigeon Forge is on your destination list, trying moonshine should be a part of the things-to-do list.
Several local moonshine distilleries in Pigeon Forge provide free sampling and tours. You can learn a lot about the history while chugging on different flavors. From classic corn whiskey to fruity blends like apple pie and peach, there is something for everyone to enjoy.
Conclusion:
If you are a food enthusiast, add Pigeon Forge to your list. Home to numerous restaurants and famous for Tex-Mex dining cuisine, you can find plenty of food options. 
There is something for everyone, from Southern staples like fried chicken and BBQ to Mexican favorites like quesadillas burritos. And don't forget to indulge yourself in heavenly desserts.