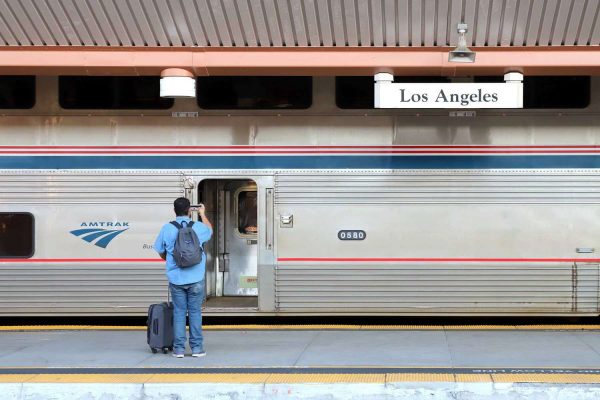 Whether you're a native or visiting, there's no denying just how big the United States is. America is a vast country with so many sights and experiences to take in. If you have the travel bug and want to explore, you may forego flying in favor of hopping on a train. Traveling by train is a great way to get around the country. What's more, it can work out far cheaper than air travel.
Although the country's national rail operator Amtrak won't take you everywhere, it is rather extensive. In fact, there are dozens of routes that travel to hundreds of destinations across 46 states. If you're going on a trip and have decided to go via rail, here is a beginner's guide to taking the train and getting the most out of your experience.
Research Routes in Advance
Amtrak has an interactive route planner you can use to help find a route. Using this tool can make mapping out your trip that little bit easier. There are lots of routes to pick from that can be short distance or go across the entire country! If you're looking to go between Boston and Washington, DC, why not take the Amtrak Acela? This is a luxury high-speed rail line the company runs on the Northeast Corridor. The Acela is extremely popular with business travelers too. 
Look Into Rail Passes
For those looking to go on a seriously long-distance rail trip, you may be looking at ways to keep costs down. If this is the case, why not look into a rail pass for the journey? They can start from below $500 for a maximum of 10 journeys. Some rail passes allow you to take these journeys in a 30-day period to over 500 destinations. This means if you're wanting to go on several trips, rather than buying them individually, opting for a rail pass could save you hundreds of dollars.
Book Ahead
After deciding where you want to visit in the country, it's advised to book your train tickets well in advance. This allows you to reserve a seat of your choice. Also, the earlier you buy your ticket, the more chance you have of saving money. A saver fare for instance is the lowest available fare. However, it has limited availability, so make sure to book early to take advantage of the best deals. There are other fares to look into including value fares, flexible fares, and premium fares. Naturally, the latter is the most expensive. Although, the Acela First Class comes with complimentary food and beverage services onboard. 
Pack Accordingly
Wherever you're heading to in the United States, you'll need to make sure you've packed accordingly for the train ride. If you head on an Amtrak service, it's important to bear in mind the temperature of their coaches are uniformly regulated all year round. This means even if you're traveling through the desert, your cabin is likely to be on the chillier side. If you plan to have a sleep while on board, it's wise to bring a sweater with you to keep warm and comfortable. Also, try not to pack too much as you need to be aware of other passengers! 
Consider Sleeping Options
Speaking of sleep, there is the option to get an overnight train to your destination. If this interests you, there are several accommodation options to consider. You have the option to either book a bedroom or roomette or simply rough it in coach. Roomettes are compact double cabins. Some of them feature an in-cabin toilet too. The bedrooms are considerably larger with more room to stretch your legs. Coach seats on the other hand may be the cheapest option of all. However, you may struggle to get a good night's sleep. It's wise to look into the pros and cons of each option before deciding. 
Prepare for Delays
If there's one thing you can't control, it's train delays. Amtrak trains tend to share their tracks with ginormous, mile-long freight trains which are given priority. Therefore, if you're going on a long route, delays are a given. It's wise to download the Amtrak App so you can be notified of delays in advance. Also, be aware that your 2-hour train ride could just be a tiny section of a much longer, multi-day route. With this said, try and avoid tight connections, otherwise, you may encounter unexpected bumps along the way.
Put Safety First
When traveling on public transport, you must put your safety first and foremost. While rail travel is one of the safest ways to get around the country, it still pays to be vigilant and aware of your surroundings at all times, particularly during the night. Simple actions like keeping an eye on your bags and having expensive possessions in zipped-up pockets can add an extra layer of protection. Having your wits about you and trusting your gut feeling is a must when traveling via train. 
Keep Entertained
If you're embarking on a long-distance rail journey, you need to think about how you're going to keep yourself entertained throughout the duration. While you may be okay for the first hour, if you have many more ahead of you, boredom can quickly set in. Thankfully, there are plenty of devices and gadgets you can bring along to make the trip more bearable. For example, why not bring along a Kindle to do a spot of reading? Your smartphone can be used to listen to music to pass the time away. Some people like listening to podcasts as a way to speed up the journey.
Traveling by train across America enables you to take in some magnificent landscapes and see slices of America you never knew existed! Whether you're only going short distances or across the states, it's clear to see why more and more people are looking into traveling via rail over buses and planes.
We hope the guide above gives you more clarity on rail travel, as well as what to pack and know before your journey kicks off.