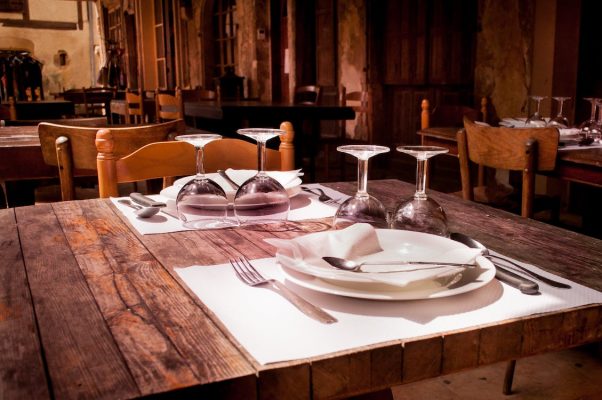 Are you ready to embark on a culinary adventure in Pigeon Forge that will tantalize your taste buds like never before? 
From lip-smacking jumbo wings to finger-licking fall-off-the-bone ribs, Pigeon Forge has got it all when it comes to all-American comfort food.
But wait, there's more! If you're in the mood for international cuisine, unique breakfast dishes, or even rare seafood delicacies, the resort town in the heart of Smokies has got you covered. Imagine devouring a piping-hot, hand-tossed pizza while enjoying some live music or savoring a creative pancake before embarking on a day of exploration.
With an array of local food scenes, Pigeon Forge is also one of the popular tourist spots to spend your vacation with family or friends. 
So, if you are on a vacation in Pigeon Forge, read on and explore the seven best places to eat in this beautiful city. Buckle up and prepare to satisfy your cravings at these dining destinations.
Hatfield and McCoy Dinner Feud
The Hatfield and McCoy dinner show is a one-of-a-kind dining experience that will transport you back in time to the infamous feud between the Hatfield and McCoy families. 
The dinner boasts a delectable Southern-style spread featuring crispy fried chicken, tender pulled pork, and creamy mashed potatoes. Along with a variety of mouth-watering sides, you better save room for Granny's Famous Specialty Dessert. Moreover, the food is served family-style, allowing you to pass around the dishes and sample a little bit of everything — it's all-you-can-eat! And if you have any dietary restrictions, don't worry — vegetarian and gluten-free options are available upon request. So gather your friends and family and prepare for a night at this dinner theater in Pigeon Forge for some good old-fashioned fun and scrumptious food. 
Blue Moose Burgers & Wings
Blue Moose Burgers & Wings is a sports bar and restaurant in Pigeon Forge. With 30 flat-screen TVs showing the latest local and national sports, you won't miss a single game while dining.
The menu at Blue Moose Burgers & Wings includes gourmet burgers and award-winning jumbo wings in 16 flavors, such as the delectable Honey BBQ, Sweet Thai Garlic, and Sriracha Ranch. 
The bar offers various cask ales and lagers, including local and international favorites. So whether you're cheering on your favorite team or just looking for a satisfying meal, you can visit this place.
Housed in a charming 19th-century mill overlooking the Little Pigeon River, The Old Mill is a family-style Southern diner that offers a unique dining experience combining local history and culture with mouth-watering homemade dishes.
Indulge in classic Southern favorites like pot roast and country-fried steaks, all made with the freshest ingredients and perfectly cooked. Take advantage of the Old Mill's signature corn chowder, which pairs perfectly with freshly baked bread.
And the culinary delights don't stop there – the on-site shop offers a tempting selection of confectionery, jams, jellies, stone-ground grains, and even pottery. It's the perfect place to pick up a souvenir or gift for yourself or a loved one.
Nestled in the mountainside, Elvira's Café is a true gem serving Southern American cuisine with a distinctive Russian twist. Locals flock to this spacious restaurant for its legendary breakfast menu, featuring fluffy homemade crepes, French toast, and the classic bacon and eggs combo. Lunch and dinner options are also available and equally delightful. The café's signature prime rib is a must-try for those looking to indulge in a flavorful and filling meal.
It's best to arrive early and secure a table with a picturesque view of the mountain vistas. Although the main tourist area is approximately 20 minutes away, the locals highly recommend the journey, as it is well worth it.
The Pigeon Forge Deli is a family-owned restaurant with a quaint and homely ambiance. It is popular for its freshly cooked sandwiches, confectionary goods, and daily baked pies.
The menu offers an incredible selection of specialty subs, salads, and traditional grilled cheese sandwiches that please even the pickiest palates. Try the tomato basil soup matched with an open-faced pot roast for an amazing meal that will leave you feeling warm and satiated. Moreover, people with unique dietary needs need not worry because numerous options are accessible for vegans and people who need gluten-free substitutes.
Whether you're a seafood lover or just looking for a unique dining experience, Huck Finn's Catfish is the place to be. This restaurant's menu is brimming with classic seafood favorites, including succulent Mississippi catfish, tender trout, shrimp, and haddock. For those who prefer grilled options, savory pork loin and boneless chicken breast are also available.
But what sets Huck Finn's apart is its all-you-can-eat dinners, which are reasonably priced and perfect for those with hearty appetites. For a culinary adventure, try some of the restaurant's more unique offerings, such as gator tail and crispy fried frog legs. 
Holston's Kitchen is a restaurant that offers a unique dining experience, evoking the ambiance of the Old West with its preserved appearance. They source almost all of their fare from local suppliers. From hand-cut ribeye steaks to produce, sauces, and desserts, every ingredient is carefully selected to ensure the freshest and most delicious dishes possible.
The menu in Holston's Kitchen offers a range of Southern American favorites, including Hawaiian chicken, sirloin steak, and fish and chips. However, the restaurant's juicy prime ribs are highly recommended. The signature strawberry shortcake is a must-try to end your meal on a sweet note.
Conclusion
So, there you have it! Pigeon Forge is a foodie's dreamland, bursting at the seams with various restaurants and dining options that will satisfy every craving. From traditional Southern cuisine to quirky takes on classic dishes, you will surely find something to please your appetite. So, next time you're in town, be sure to check out some of the best places to eat, especially the Hatfield & McCoy Dinner Feud. It is a one-of-a-kind experience in which you will get to enjoy a fun-filled show and a scrumptious dinner with family and friends.