Although it's not traditionally a Chinese holiday–Hong Kongers love to celebrate Christmas. Forget decking the halls, the whole city becomes transformed with giant Christmas trees, holiday lights and mall displays galore.
Many of the most popular tourist places also hold special Christmas events.
And while you certainly won't find a White Christmas here, you won't find a lack of Christmas spirit either.  It's no wonder CNN listed Hong Kong in the Top 10 Places to Spend Christmas.
So if you have yet to book your plans for this holiday season, why not consider Christmas in Hong Kong?
> You May Also Like:
HERE ARE SOME OF THE MANY EVENTS IN HONG KONG TO BRING YOU CHEER THIS CHRISTMAS SEASON:
A BRILLIANT TIFFANY HOLIDAY
This Christmas, Statue Square is yet again being bedazzled by Tiffany's diamonds and signature blue color. This year they will feature an 18-meter tree as well as the beloved fantasy carousel.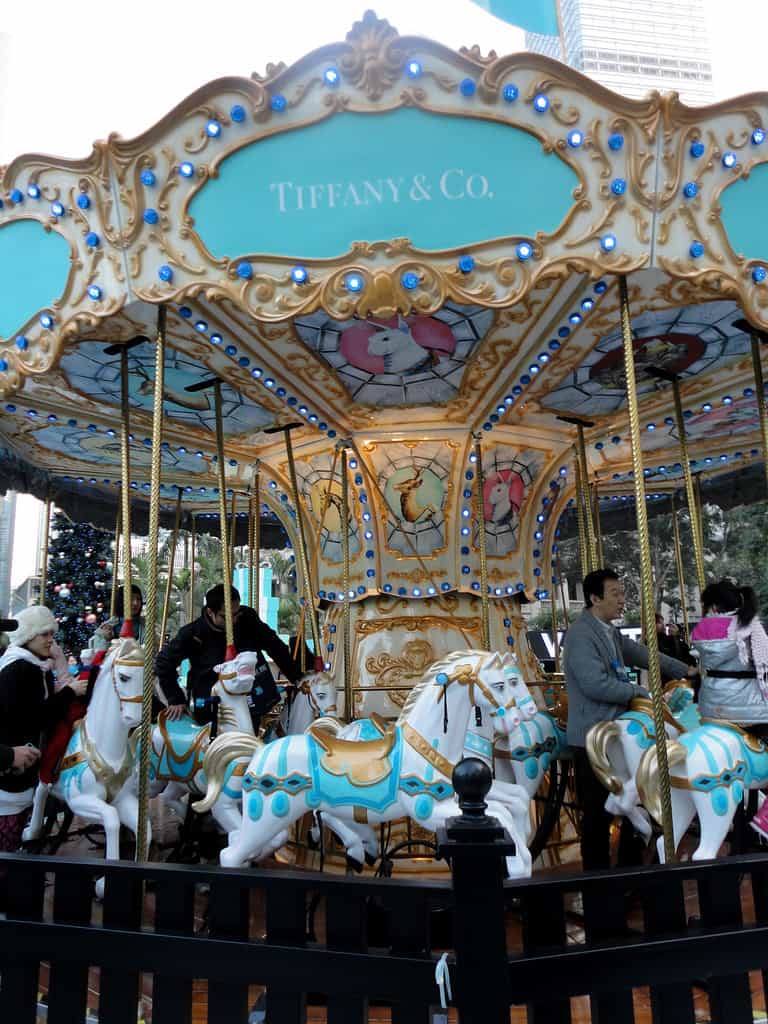 Similar to last year, there will be other activities such as Santa's House, Bridge of True Love, Tiffany Funland and Tiffany Candyshop–all for a fee. There will also be various entertainment performances held there throughout the Christmas season.
Time: 3:00 pm – midnight
Where: Statue Square, Central
How to get there: MTR Central Station Exit K
BLING BLING CHRISTMAS IN THE SKY AT SKY100
Sky100 already offers a stunning 360 view of Hong Kong's skyline, but with all the Christmas lights shining bright, it's even more a reason to visit. Last year sky100 was a Christmas sweets paradise, but this year they're going to bring the bling.  At the top of the observation tower there will be plenty of "bling" decorations including the Bling Bling Sparkling Ferris Wheel, Bling Bling Christmas Avenue and Bling Bling Santa Chair.
Where: ICC, Kowloon
How to get there: MTR Kowloon Station Exits C and D
LOVE CHRISTMAS AT THE PEAK
The Peak is always romantic, but this Christmas it will be even more so with love-themed decorations everywhere. Don't forget to make a wish at the lovers heart-shaped stand!
Where: Mid Levels, Hong Kong
How to get there: MTR Central Station Exit J2. Walk north to the Peak Tram Terminus 
HONG KONG DISNEYLAND SPARKLING CHRISTMAS
Main Street U.S.A. has transformed into a winter wonderland. Come see Mickey and the gang during the "Toy-riffic Street Party" or stay for the magical tree lighting ceremony. As usual, Disney has a variety of street performers and entertainment, as well as an assortment of holiday gifts and festive food.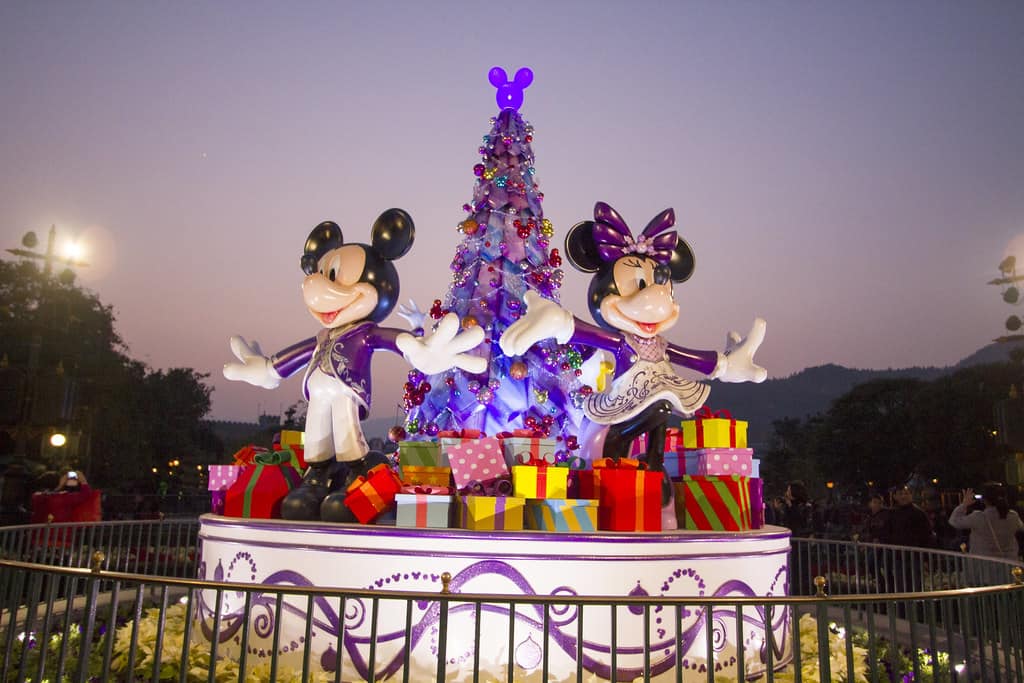 Where else can you see it snow in Hong Kong?!
Where: Hong Kong Disneyland, Lantau Island
How to get there: MTR Disneyland Resort Line
NGONG PING 360 MUSICAL WINTER WONDERLAND
Ngong Ping Village will turn into an outdoor music festival. Here you can enjoy many performances from choirs, a cappella groups, and the like, all while taking in beautiful nature scenery.
Where: Ngong Ping, Lantau Island
How to get there: MTR Tung Chung Station
NOAH'S ARK HONG KONG CHRISTMAS POPPING FUN
Noah's Ark will celebrate Christmas through sensory overload. There will be carolers and dance performances to feast your eyes and ears on. If it's a feast for your stomach you're looking for, you can take part in building gingerbread houses and eating popcorn with your loved ones. From coffee to mango, there are 30 unexpected popcorn flavors to try!
Where: Ma Wan, New Territories
How to get there: MTR Tsing Yi Station Exit C. There is a bus terminus that services Noah's Ark.
OCEAN PARK CHRISTMAS SENSATION
Santa Cosplay is the highlight of this year's Ocean Park celebration. Here you can meet Santas from around the globe, as well as a few uniquely dressed Santas. There will also be a few Christmas themed shows such as Santa Academy and family activities such as the DIY Penguin Christmas House Dessert Making Workshop.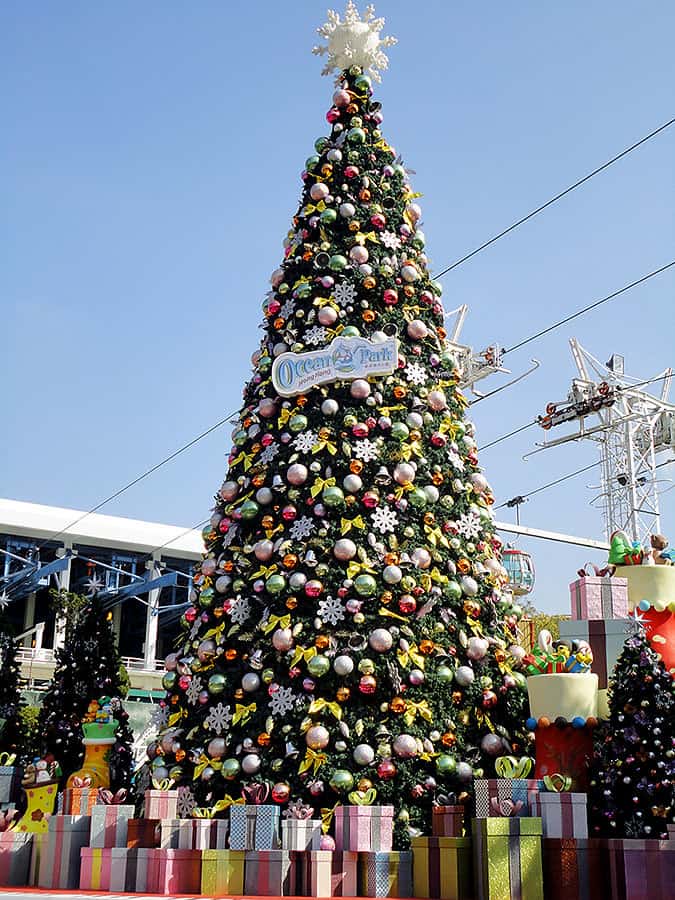 It's fun for the whole family–so why not join Whiskers and his friends to celebrate Christmas this year!
Where: Aberdeen, Hong Kong Island
How to get there: MTR Admiralty Station Exit B. Take the 629 bus to Ocean Park.
SPARKLING MALL DISPLAYS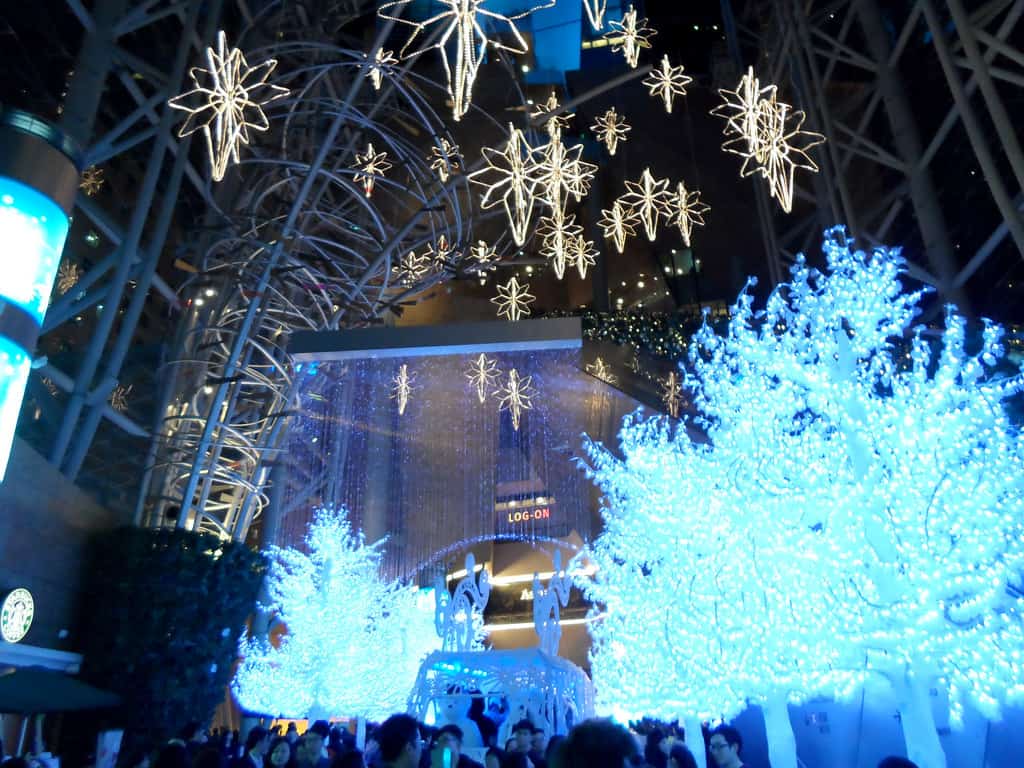 Here are some of the best malls and places to check out extravagant Christmas displays:
NEW TOWN PLAZA
How to get there: MTR Shatin Station Exit A 
HARBOUR CITY
How to get there: MTR Tsim Sha Tsui Station Exit A1 
1881 HERITAGE
How to get there: MTR East Tsim Sha Tsui Station Exit L6
TIMES SQUARE
How to get there: MTR Causeway Bay Station Exit A
LANGHAM PLACE
How to get there: MTR Mong Kok Station Exit B2 
IFC
How to get there: MTR Hong Kong Station Exit F
OTHER CHRISTMAS POINTERS…
If you'd love to hear some Christmas carols but maybe can't afford tickets to professional performaces, don't fear! There are schools who put on free Christmas performances and plenty of groups who wander the streets Christmas Eve caroling. Just follow your ears and enjoy the free show.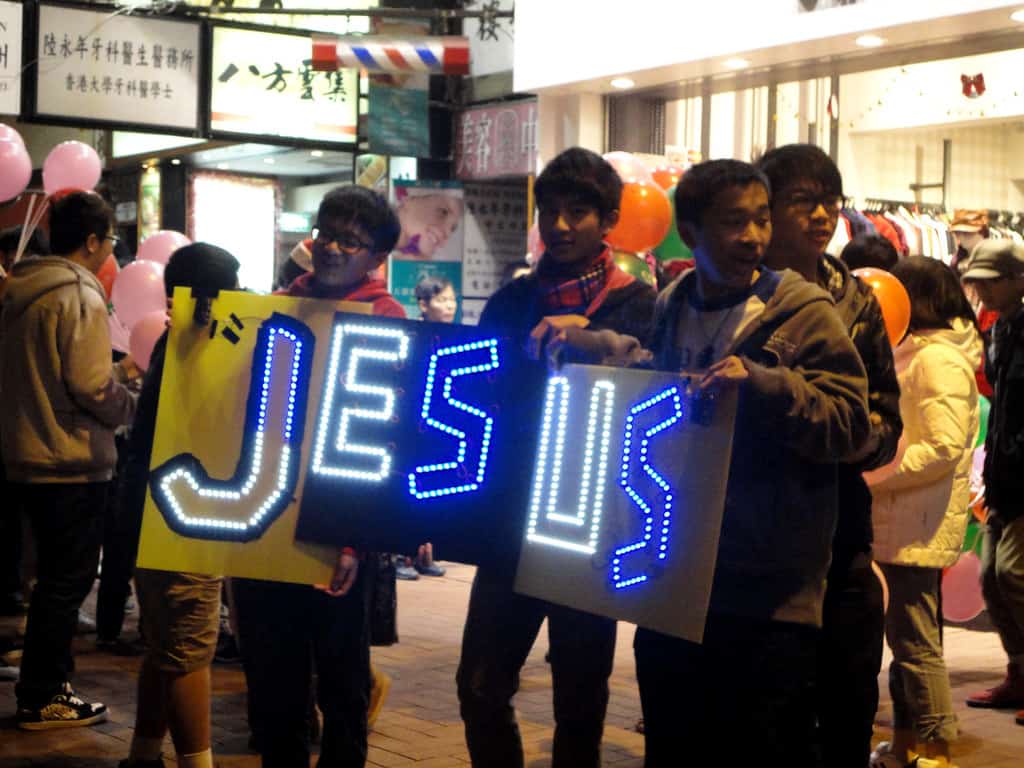 With all of the Christmas lights on skyscrapers, the Victoria Harbour skyline shines even more brightly during Christmas. Even if you've seen the skyline before, take another look. Symphony of Lights also incorporates the Christmas lights making it even better than usual. (Honestly, the first time I saw Symphony of Lights was during Christmas and I was pretty wowed. The next time I saw it was in July and I was hardly impressed–Christmastime makes all the difference!)
That being said, go on a Symphony of Lights cruise, Star Ferry or The Big Bus Night Tour to get a better view of all the lights and decorations.
Hong Kong is always a big shopping destination, but don't expect any Christmas deals! Unlike in the US, prices actually increase right before Christmas in HK. So if you're planning to hit up the malls, go to enjoy the Christmas displays rather than actual shopping. And if you need to buy Christmas gifts, try shopping at smaller stores or markets instead.
Hong Kong restaurants also change their menu to embrace the holiday season, so enjoy some of the seasonal specialties!
WHAT FUN CHRISTMAS EVENTS ARE TAKING PLACE WHERE YOU LIVE? HOW WILL YOU CELEBRATE THIS SEASON?