Mount Fuji, the symbol of Japan.
An old Japanese proverb once said, "He who does not climb Mt.Fuji is a fool, but he who climbs Mt.Fuji twice is also a fool."  The ascent to Japan's highest peak truly is a once in a lifetime experience–  emphasis on the once since most wouldn't care to repeat it.
Mount Fuji is officially open only two months of the year: July and August. However, year round people travel from all over the world in order to try to catch a glimpse of the iconic mountain.
One of the easiest, and most popular methods of visiting is by taking a day trip from Tokyo.
It, too, had been my dream to visit this symmetrical beauty. So once we knew that we'd be spending a week in Tokyo, we also knew that we needed to make the journey!
Many tourism companies such as JTB, Viator and others offer various Fuji packages, bound to fit the needs of any traveler. Although a bit on the expensive side, we chose Viator's Fuji Day Trip because their itinerary was the most convenient for us.
The package we went with included transportation to and from Mount Fuji, a cruise on Lake Ashi, a ride on Mount Komagatake cableway and an English-speaking guide. And even though the lunch they offered sounded deliciously tempting, we opted not to have it included because it was an extra $20 USD per person. (Japan's already expensive, and we were trying to be at least a little budget conscious, come on!)
YOUR TRANSPORTATION
You'll be bused around on a giant motorcoach, with around 50 others.  But don't worry, the ride was comfortable with padded seats and air conditioning. There's no bathroom on board, but you'll be making stops every hour or so.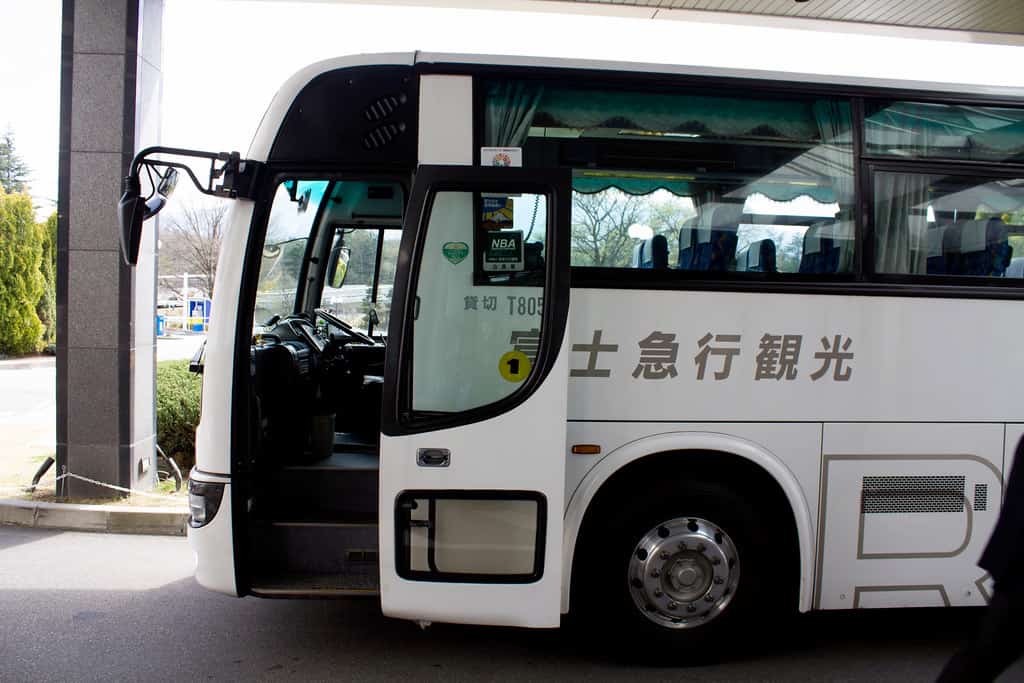 The journey home consisted of two options: continuing by motorcoach or taking the shinkansen back to Tokyo. We opted to ride the shinkansen because it was faster–and well, who wouldn't want to ride a shinkansen?
We were cutting it close to departure time, so everyone was just handed their tickets, which were unreserved seating mind you, and then it was a bit of a free-for-all running, trying to find seats. Don't expect to sit together with who you came. Just grab any seat available or else you may not get one at all. The shinkansen was far more comfortable than the motorcoach.
Inside felt like you were on an airplane… an airplane with a ton of leg room.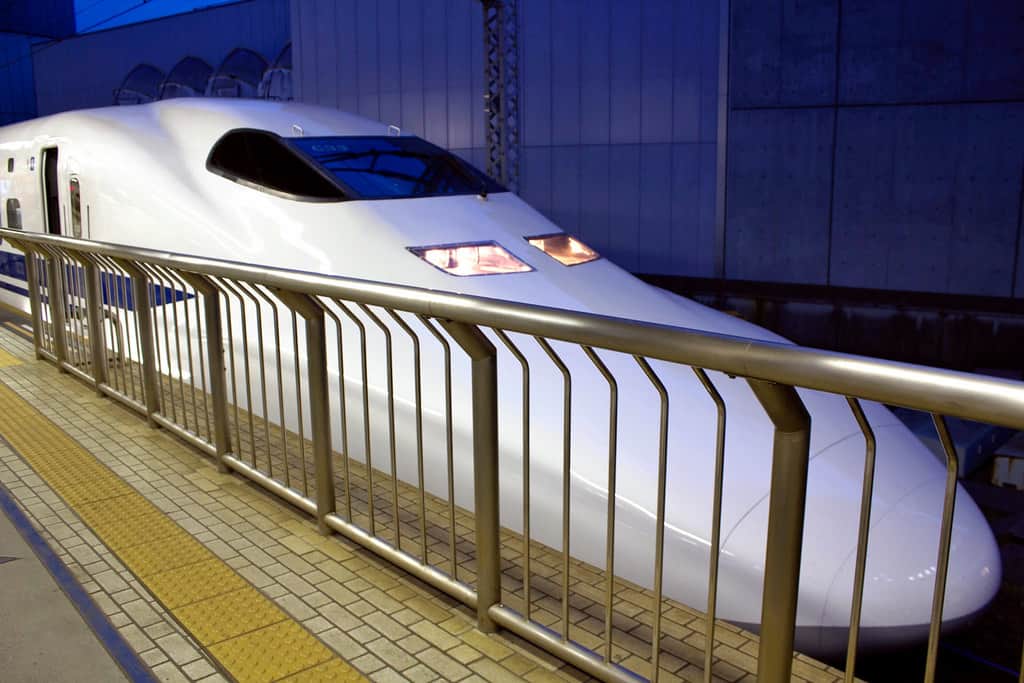 YOUR GUIDE
Viator uses a team of local guides—called "insiders"— who accompany you on your trip. You'll be assigned one guide for the whole duration of your trip and they will help facilitate your tour by providing cultural information and by making necessary itinerary decisions.
Our guide was a middle-aged man who spent most the trip providing us with fun and educational information about Japan. You could tell he really enjoys his job, he was funny and helpful– a great tour guide!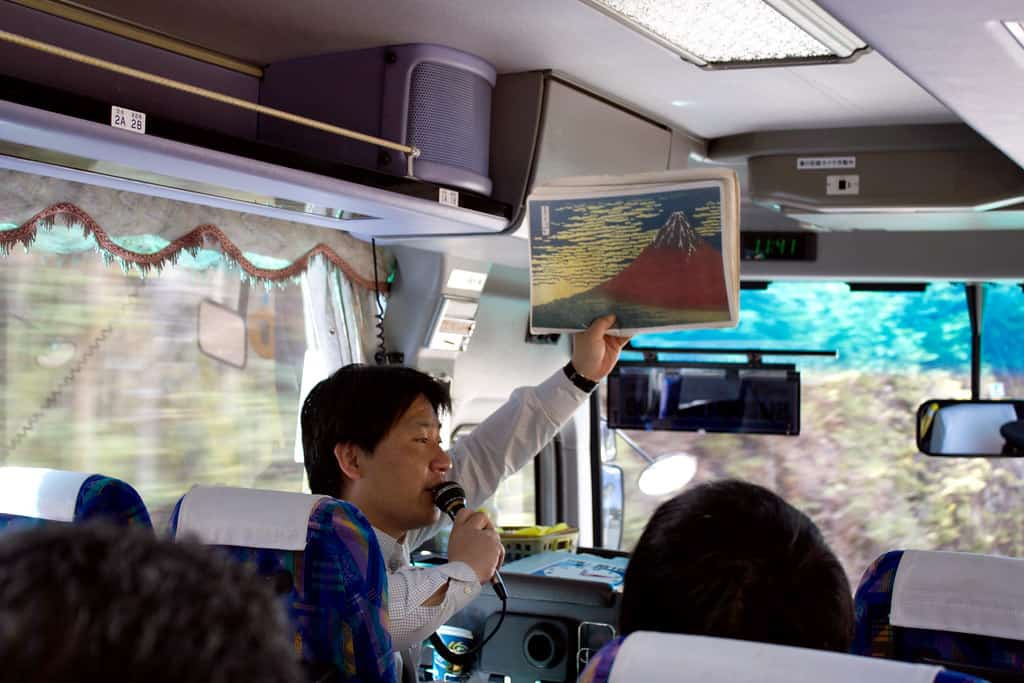 YOUR FELLOW TRAVELERS
You could be traveling with up to 50 others who all come from a wide range of countries. Upon request, Viator will provide guests with audio guides in a variety of different languages. Some people in our group spoke mainly Spanish, Italian, or Russian, among other languages– so don't expect that everyone will speak English!
But don't worry, there's still plenty of interaction to be had with one another, so have no fear if you're a solo traveler. We had plenty of those on our tour, as well as couples, families, and small groups of friends.
YOUR ACTIVITIES
The trip started out with a leisurely drive towards Mount Fuji. The drive took about an hour and forty minutes from downtown Tokyo (Hamamatsucho Bus Terminal), and our tour guide talked continuously for the entire hour and forty minutes! It was impressive. He told us all about Japan, it's culture and it's people. He would also point out significant buildings or places as we passed them. It was actually pretty interesting.
As we approached Fuji, we could only catch quick glimpses of the mountain– only for it to be hidden again in seconds. It was almost like a game, and people would start oohing and ahhing each time they could catch a glimpse.  In a way, it started to build even more anticipation to arrive at our destination.
And we finally did arrive at our first stop, Mount Fuji's Visitor Center. We only spent a short 20 minutes here, but it was the perfect place to get shots of Mount Fuji in the distance, and to see some cherry blossoms.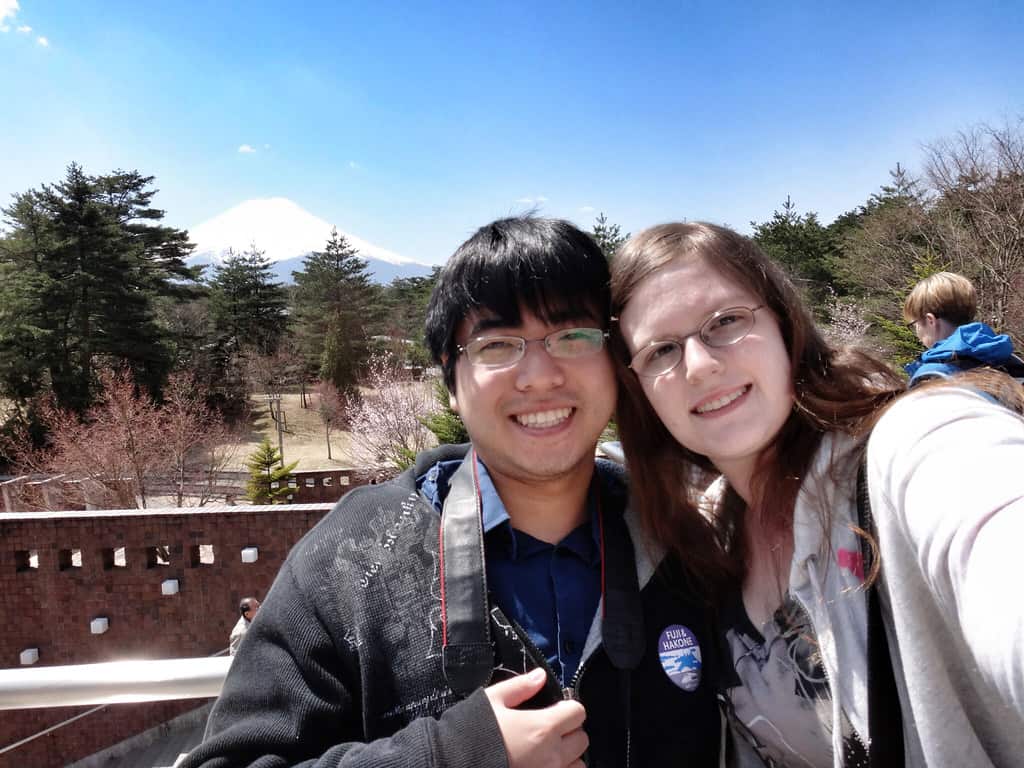 Once we all piled back on the bus, it was time to start our ascent up Fuji. Being early April, most of Fuji was still covered in snow. However, due to weather being abnormally warm this year, we were luckily able to reach the 4th station.
At roughly halfway up Fuji we were able to have quite the view looking out over Yamanashi and Lake Kawaguchi.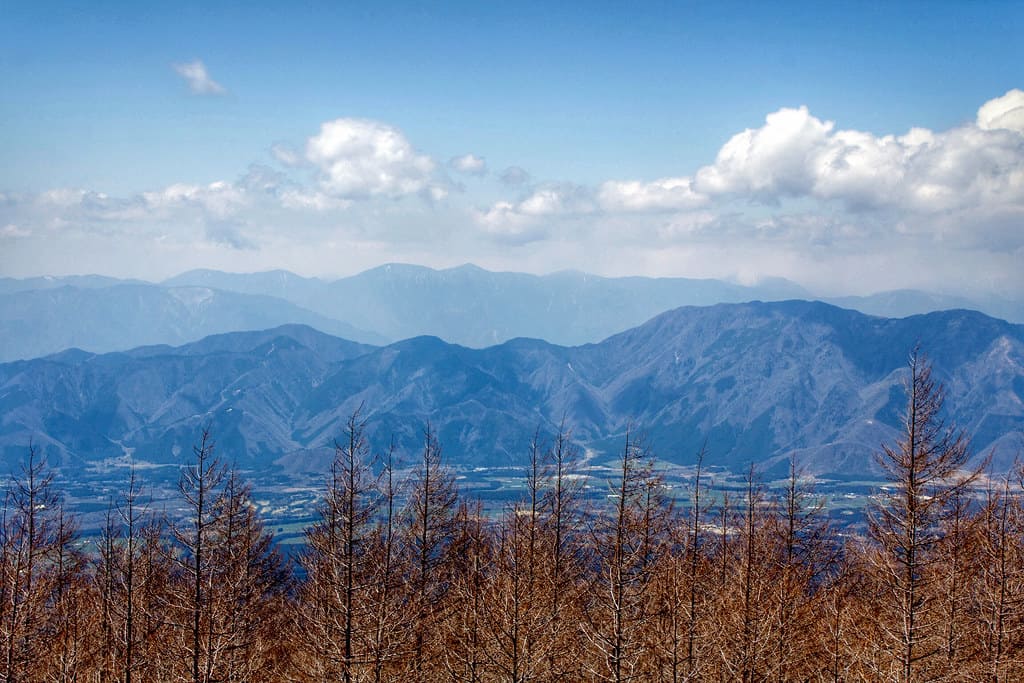 We spent only 20 minutes on Fuji. Although I wished the time spent there was longer, it was pretty cold outside (I can't ever seem to escape the snow!) so 20 minutes was plenty. It gave us just enough time to take in the views followed by scarfing down some delicious udon.
After, we headed back down Fuji to the hotel where everyone would eat. We had an hour of free time here before we got back on the bus for another hour drive to Hakone (pronounced: ha-co-nay).
Our first stop in Hakone was a short cruise on Lake Ashi– a crater lake that offers scenic views of Mount Fuji. Unfortunately for us, Fuji had already hidden itself in the clouds, where it stayed for the rest of our trip.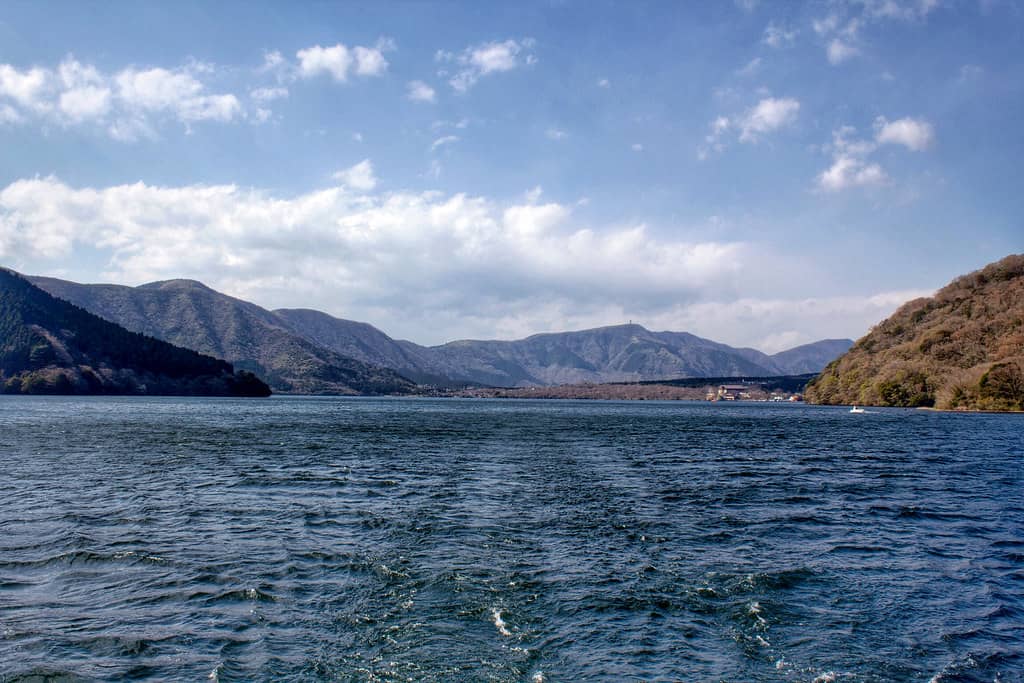 The cruise docked near the lower terminal of the Mount Komagatake Ropeway.
This normally would have been the next stop on the tour, except today the high winds had the ropeway shut down. Our tour guide quickly made a few phone calls and then announced to everyone that we would be going to Hakone Ropeway instead.
At first I was a little bummed because Mount Komagatake Ropeway is famous for striking aerial views of Hakone and Fuji, though with Fuji no longer being visible, I think we lucked out with a better option in the end. Hakone Ropeway took us to Owakudani, "Great Boiling Valley".
Owakudani has been a site of volcanic activity for the past 3000 years. It was pretty awesome to look down from our small cable car to see steam and sulfur leaking out from the Earth. And not only could we see the steam and sulfur, we could smell it too… the whole area reeked!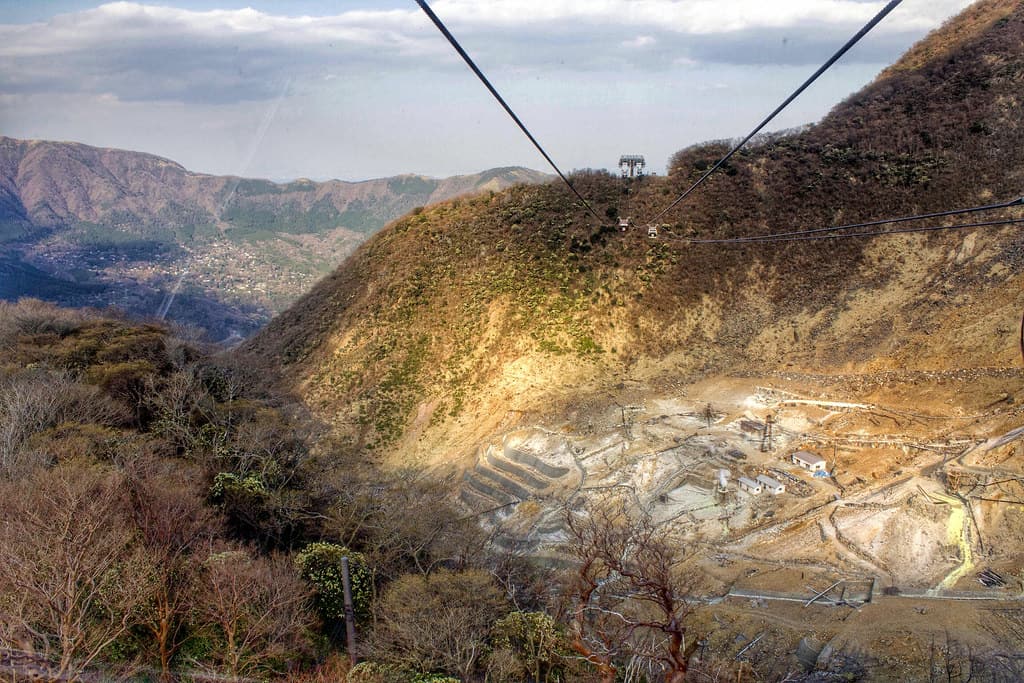 Once at the top we were given an hour to explore to area of Owakudani. We trekked up the valley to see the sulfurous hot springs. The water was murky, yet so blue. It was actually really pretty despite the stench.
It's here that the famous kuro-tamago, a regional specialty, is made. Every morning, eggs are hardboiled in the sulfurous hot springs until they turn black and odorous. Our tour guide encouraged us to try them since Japanese people believe that eating one is said to add seven years to your life.
They say you can eat up to two and a half for an extra seventeen and a half years… but eating a whole third egg is highly unadvisable!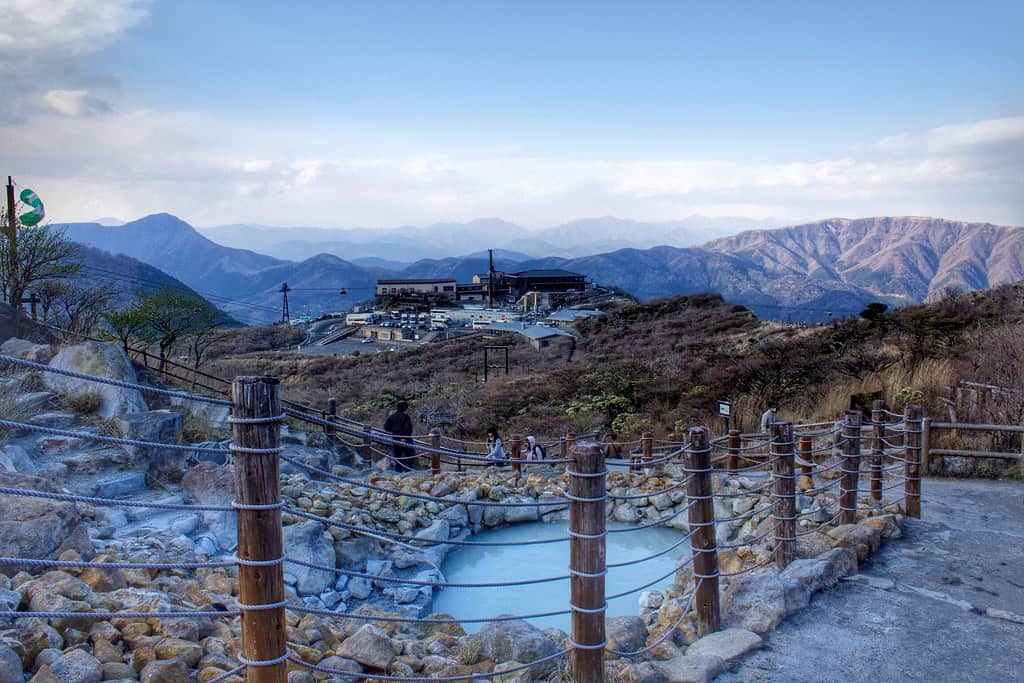 The sun was quickly setting, which meant our time at Owakudani was almost done. As we were headed back to our bus, Mount Fuji decided to show itself one last time.
Our ride to the train station was a little nauseating, and apparently a lot of people get car sick during the journey. Riding a bus barreling down a narrow mountain road is enough to make anyone sick though. Sometimes looking down was scary. But finally we were dropped off at the last of our destinations– Odawara Station. This is where we departed from the rest of the group who opted to take the motorcoach back. Since we were running late everyone quickly ran to catch the shinkansen, and then spent the next 30 minutes speeding straight to Tokyo.
YOUR MEALS
As I mentioned earlier, you can choose to have a meal included in your tour. If you do, you'll be eating traditional Japanese food at the hotel. If you don't want to pay the extra $20 USD for food, never fear! You won't go without food all day.
The cheapest option (other than bringing your own) is to actually eat at whichever Fuji station you visit. We ordered a delicious tsukimi udon and karaage, which fed both of us and was only  ¥800 (around $8 USD).
If udon isn't your thing, there are a few restaurants to choose from once you visit the hotel, but know they will be substantially pricier.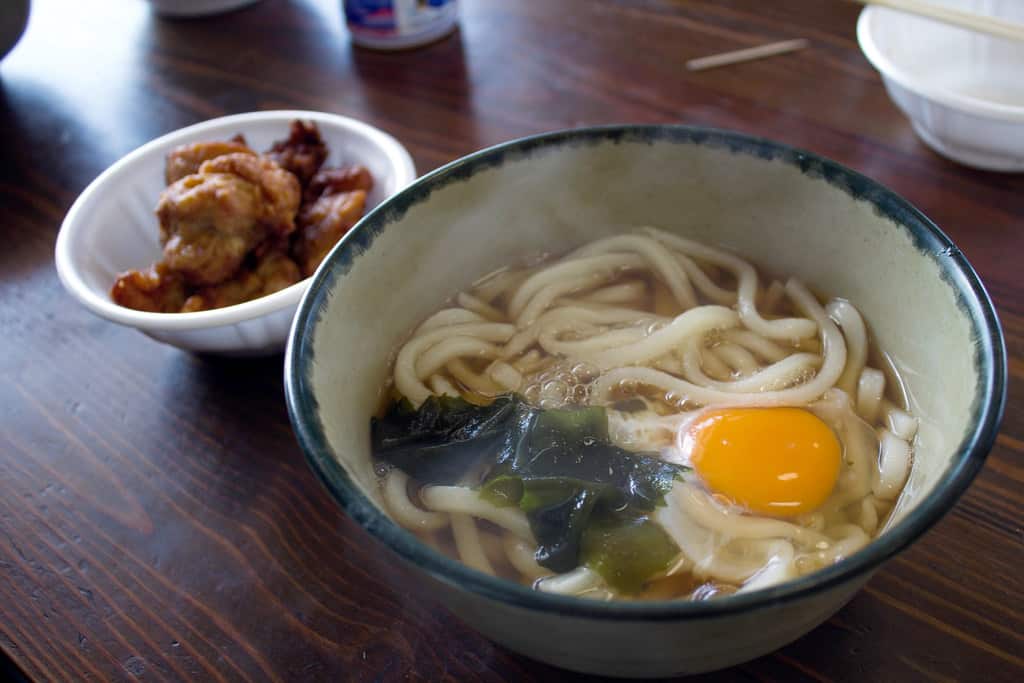 DRAWBACKS?
Apart from the whole stuck on a tight schedule problem that all tours have, the only real negative was the lunch situation. If you opted not to eat lunch with the group at the hotel, that was fine and you were able to spend the hour as you'd like. However… there was really nothing to do for an hour since you were stuck at the isolated hotel. Apart from wandering the gift shop or taking a nap, there was not much to do.
For us, most of the hour was spent waiting around (with a little gift shop browsing of course!). But it was an hour I would've much preferred spending at Fuji or even the visitor center for a bit longer.
WOULD I RECOMMEND THE TOUR?
Absolutely!
The tour is super-convenient for those who only have a short time in Japan. If we had visited Fuji on our own it would've been much more expensive and time consuming. Getting to Fuji on your own is doable, but a little difficult due to a lack of trains in the area. This was a perfect introduction to Fuji and Hakone, and made me want to go back someday to get to know them further.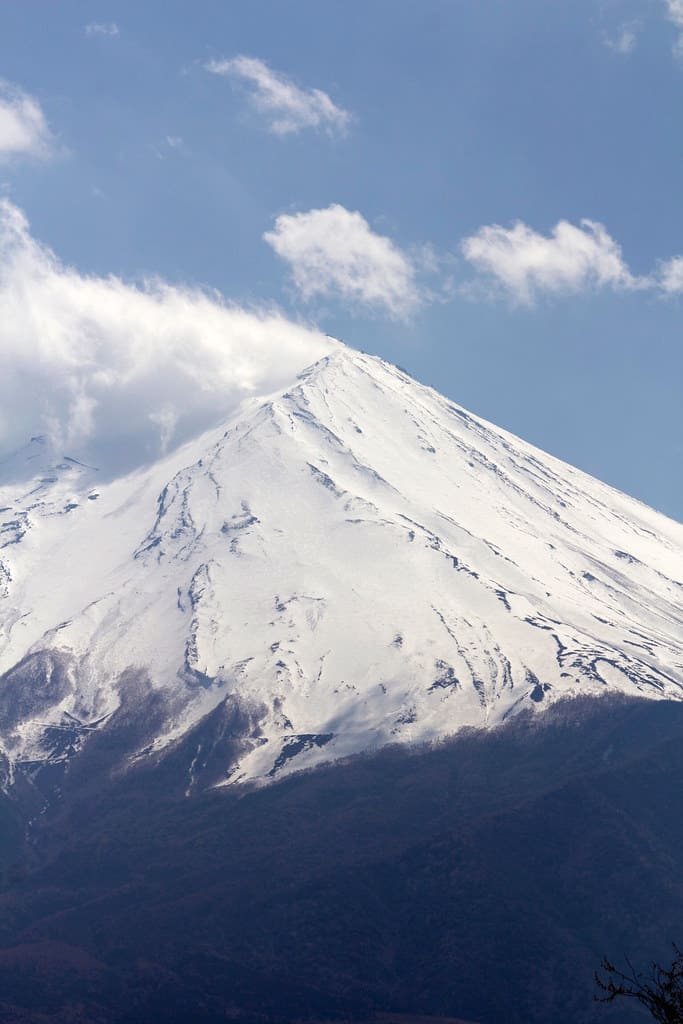 As for Viator, I would definitely recommend them. The itineraries are all planned to a T for you, which allows you to sit back and just enjoy the trip. Despite careful planning, sometimes unforeseen circumstances still arise. When a change needed to be made in our itinerary, I was pleased that they handled it very professionally. But best of all, I loved getting lead around by a local who was really passionate about his country.
I hope to experience more trips and tours through Viator in the future!
If you're heading to Japan and would like to experience the magic of Mount Fuji, I highly recommend this tour which runs all year round.
The tour offers a few different add-ons, such as bullet train tickets, lunch, or an overnight stay. Prices generally start at $120 per person, but it's SO worth it.
Visit Viator and book your tours today!
WOULD YOU LIKE TO SEE FUJI?
This post was not sponsored in any part by Viator. I paid full price because it was something I wanted to do! All opinions are honest and strictly my own.
> Some other articles about Japan that may interest you: