If you watch the world news, you've probably heard of Bohol. Located east of Cebu, Bohol is the 10th largest island in the Philippines, and was once a popular tourist destination for both local Filipinos and foreign visitors.
Tragically, in October 2013, it was devastated by a 7.2 magnitude earthquake. The whole region of the Visayas was affected, but Bohol was at the epicenter.
The area of Bohol was not at all built for, nor prepared for, any sort of earthquakes. It wasn't until this quake that scientists even discovered that there was a fault line there.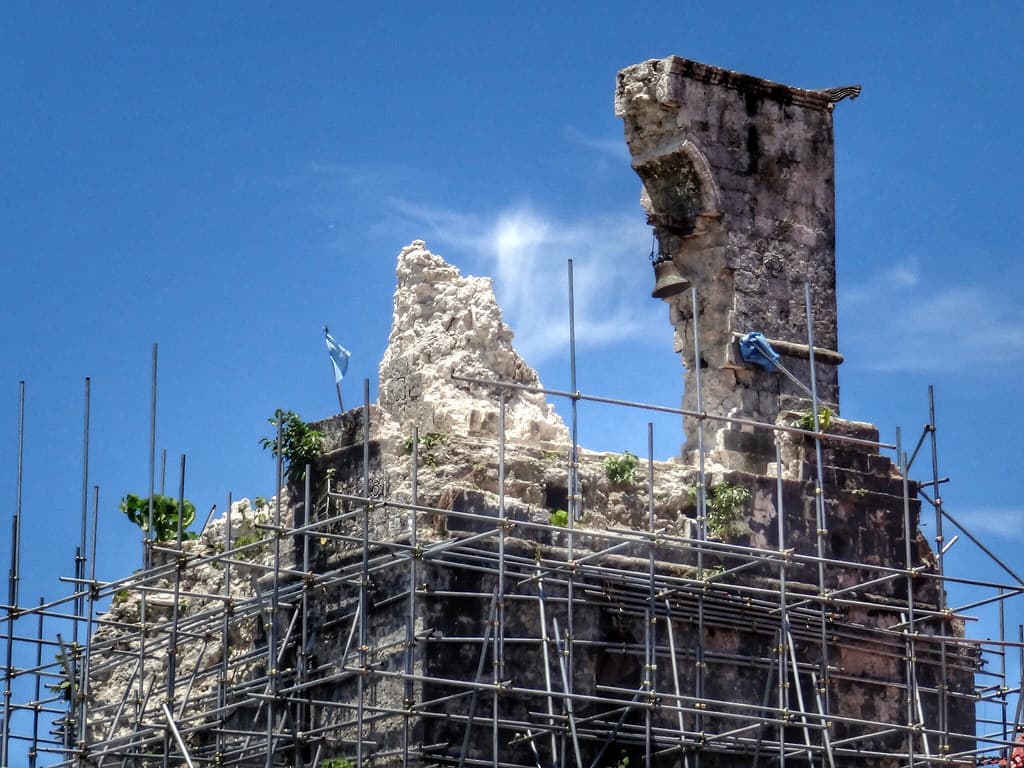 It was the deadliest earthquake in the Philippines in over 23 years, and the energy released was equivalent to 32 Hiroshima bombs. Talking to the locals who experienced it, they all thought they were going to die, and many tried running from the island as the surrounding water had pulled away from shore. People were worried they would become victim to a tsunami as a result of the severe aftershocks.
For over two weeks, many villages went without power and water supplies.
Many buildings were partially or completely destroyed, including many of their historical sites. The historic Loboc Church, pictured below, once was famous as one of the oldest structures in Bohol, is now unfortunately known as the Ruins of Loboc Church.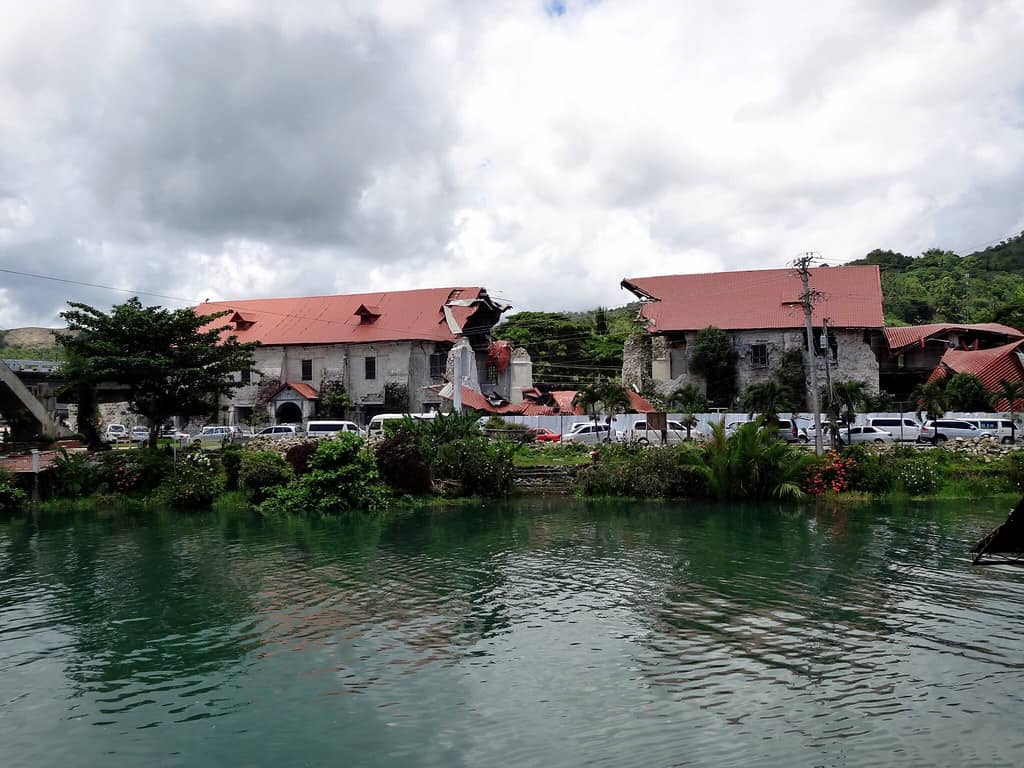 Today, the aftermath of the earthquake is very visible, buildings lying in multiple pieces, piles of debris, and destroyed homes, but the area is certainly recovering and is certainly accessible.
Hotels and resorts that used to require booking months in advanced for the Easter season remained empty even with heavy sales and promotion, which was disheartening. The tourism industry still hasn't quiet recovered, which is why there's no better time to visit than now. Help support tourism in Bohol. Help promote the beauty of the Philippines.
Bohol was an extraordinary tourist destination, with so much to offer visitors.
We visited for mainly two reasons, but found many more that made us want to stay longer– we didn't even get to experience the pristine beaches there! While we only got to experience one day in Bohol, we hope to soon return. So here's a look at what we loved about Bohol:
The Philippines Tarsier and Wildlife Sanctuary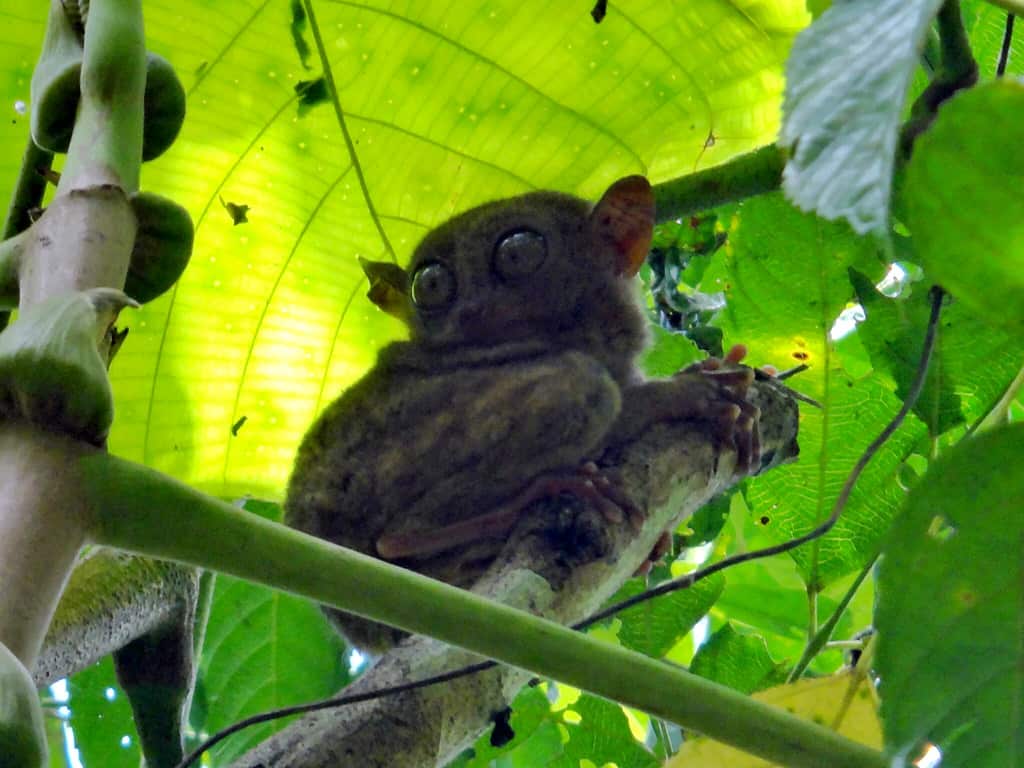 One of the main reasons we wanted to visit Bohol was for a chance to see the Philippine tarsier. Often called "the world's smallest monkey", the tarsier isn't a monkey at all, although it is one of the small primates on earth. It's so creepy with its long gremlin-like fingers and huge eyes that it's actually quite cute.
There are many different "conservation"areas around Bohol with tarsiers, but only one sanctuary. Please visit the sanctuary where there are tarsiers in a large area where they can come and go freely as they'd like. All the "conservation" areas simply kept tarsiers in cages for tourists to take photos of. Please, please, please, don't take part in this!
I'll be talking all about these bizarre animals— and why it's important to visit them only in the sanctuary, so I can guarantee this won't be the last time you hear of them!
The Chocolate Hills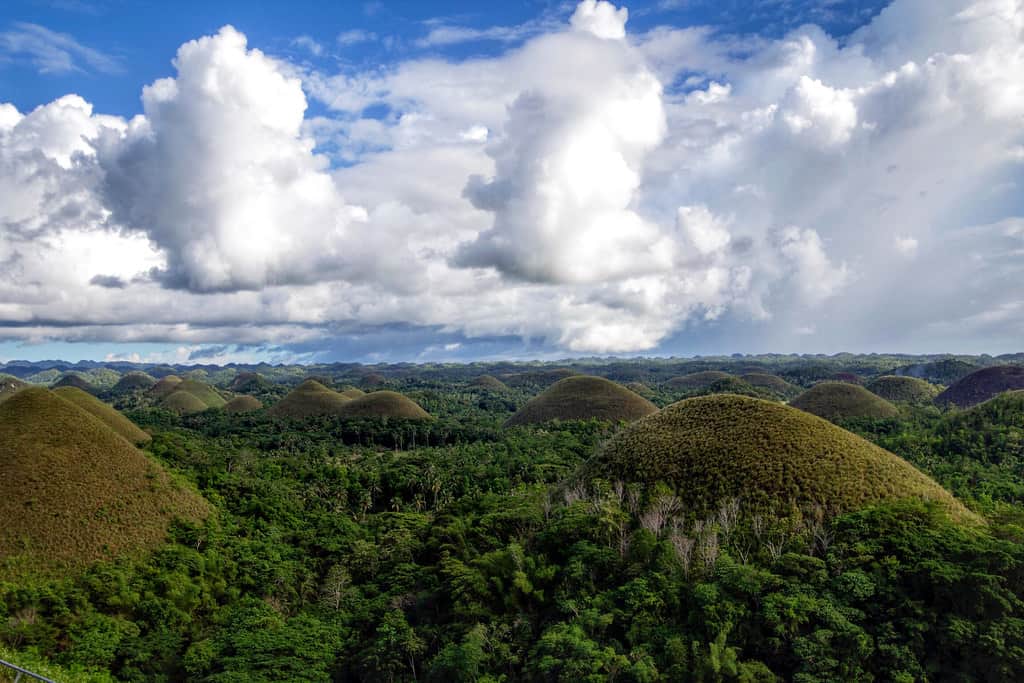 Probably what Bohol is most known for are the Chocolate Hills. Made from limestone, these formations were created long ago, completely naturally, by the uplift of coral deposits and the motion of rain water and erosion. There are an estimated 1,700 hills within 20 square miles, with some as tall as 400 feet.
So why are these grassy green hills called the "Chocolate Hills"? Well, in the springtime all the grass dries out and turns brown, making it look like a field of Hershey Kisses.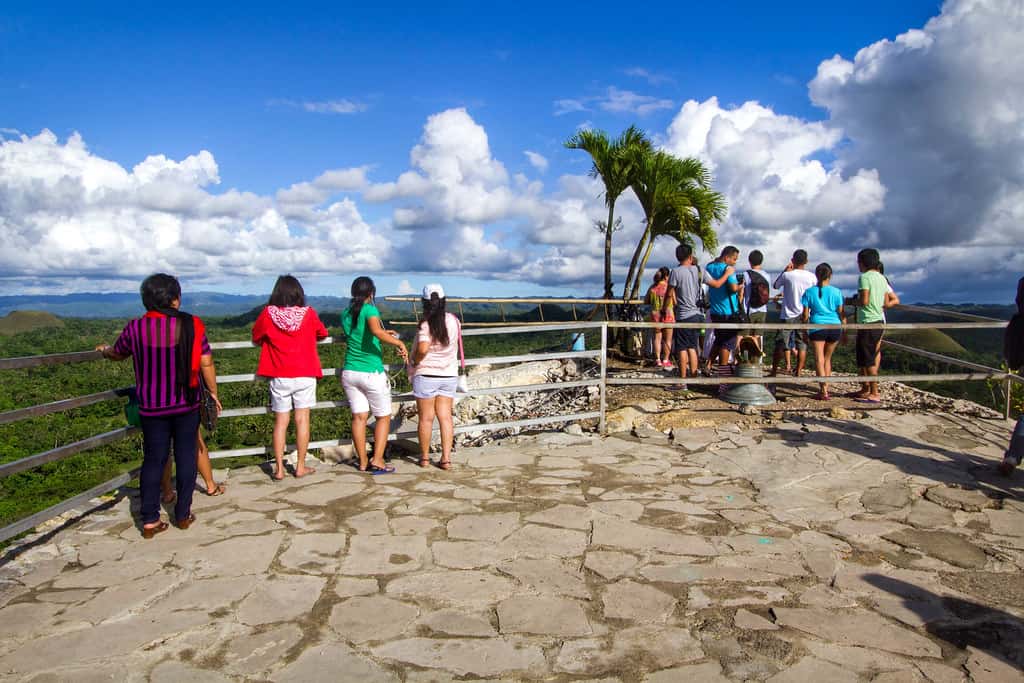 Prior to our trip we had heard that the Chocolate Hills were impossible to visit because the observation deck in Carmen was damaged during the earthquake. While yes, a portion of the deck was damaged, a majority is still standing and it is possible (and safe) to still visit. So please, do not let that stop you from visiting; this is Bohol's most famous attraction for a reason and it deserves to be seen!
Cruising down the Loboc River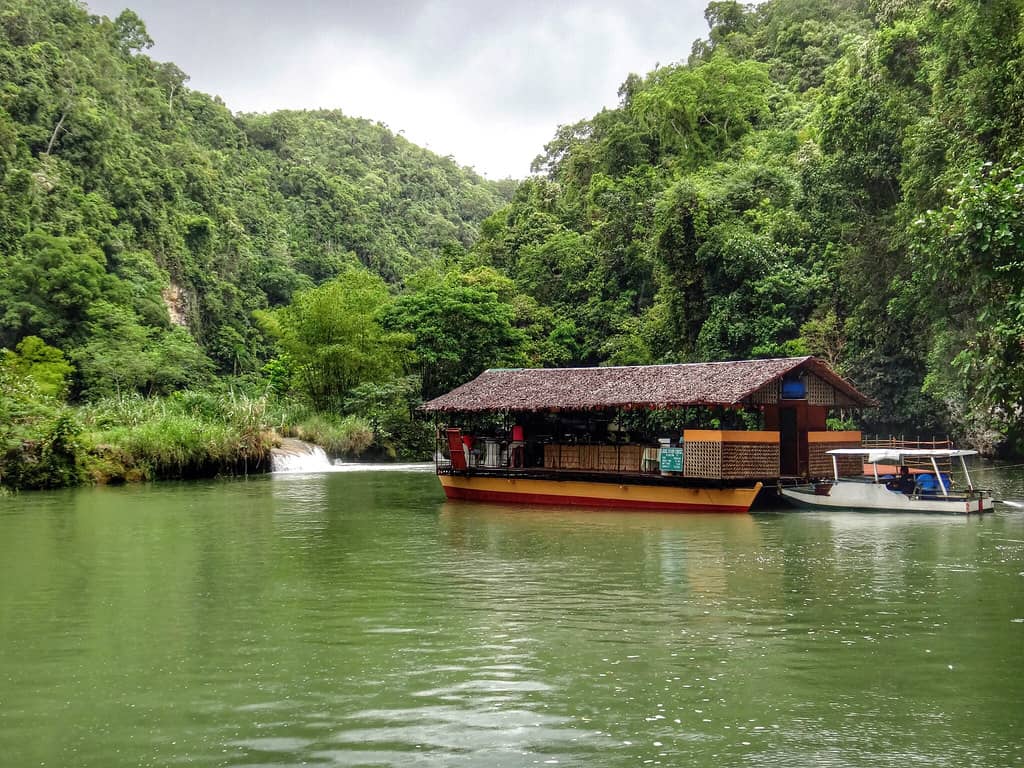 Another popular tourist destination in the Loboc River, which is incredibly green, and surrounded by lush jungles. The cruise itself is actually a floating restaurant. Made from two long canoes, the restaurant platform is balanced on top of the canoes, while the whole structure is then pushed by a third small boat.
The buffet we had there was absolutely delicious– some of the best food we had all trip (Although I've heard some boats have better food than others so you do need to be careful which cruise you take). There was a wide selection of seafood, traditional Filipino food, sweet fruits and other desserts.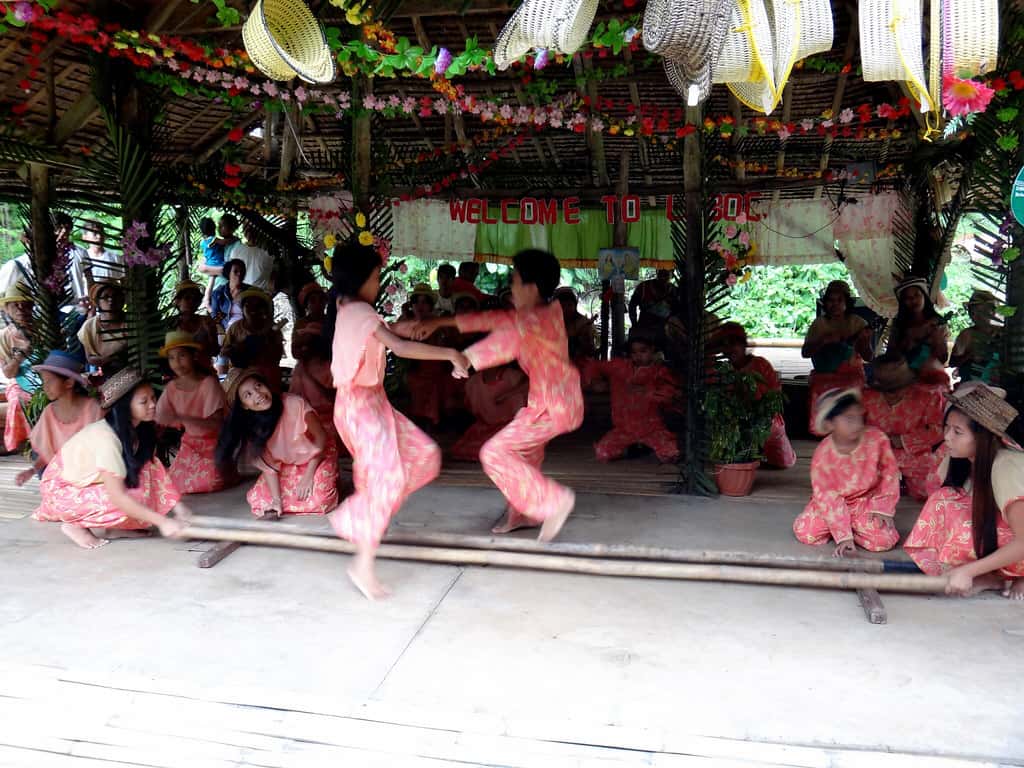 As the boat floated down the river, a live band performed and serenaded us with classic hits. During our return the boat stopped at a platform where members of the Ati Tribe performed a few songs on ukulele (a craft they are famous for making). While this aspect of the tour seems a bit commercialized, it was really cool to get to see the children perform traditional tinikling– where they dancing quickly, stepping over large bamboo poles.
Habitat Bohol
Bohol has over 300 varieties of butterflies, and most of them can be observed at Habitat Bohol. Habitat is a butterfly conservation center and it has an open butterfly garden.
I honestly didn't have too much interest in visiting this location, but while I was there I found it really interesting and I learned a lot I never knew about butterflies, and moths too. When we arrived it was pouring rain, but even still a guide took us around the grounds and gave us a great tour. He was extremely helpful and entertaining, which made our visit even better.
Although we could not see a ton of butterflies outside due to the rain, we still saw quite a few and even got to play with some when they landed on us!
The Blood Compact Site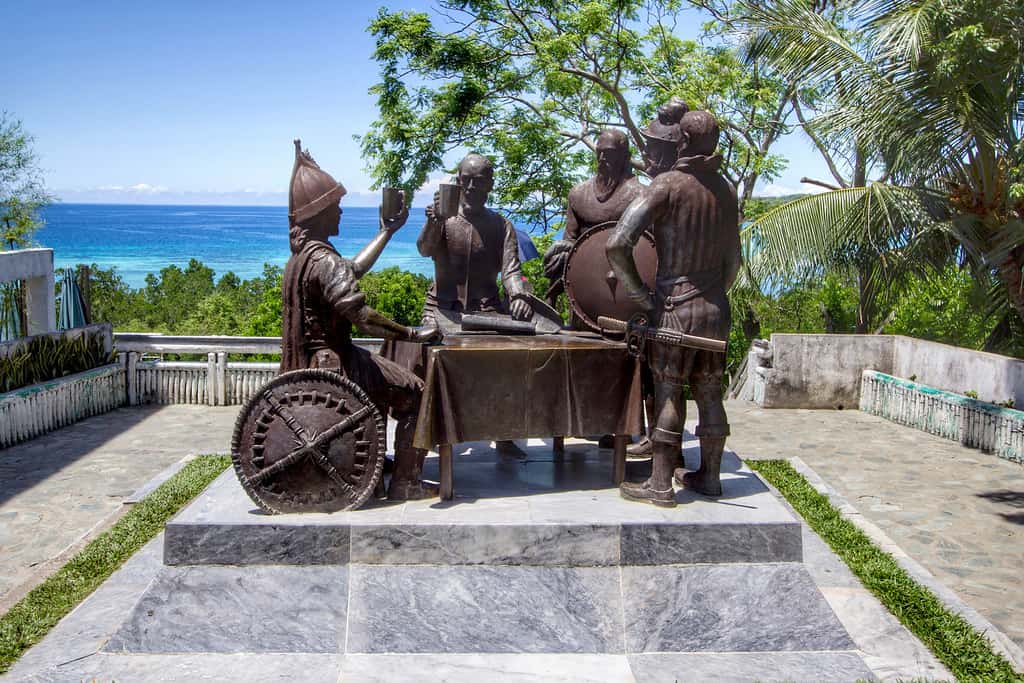 I knew Cebu had a lot of history, but I had no idea that Bohol did as well. Along with many churches and historical sites, the Blood Compact Monument is another interesting place to visit.
The monument is actually a shrine of sorts commemorating the Sandugo, which was a blood compact between the local chief of Bohol and the Spanish. Sealing their friendship, they each cut their arms with a dagger, followed by mixing their blood in a cup and drinking it. This is the first time this sort of tribal tradition was ever recorded. I have often heard of this ritual in various forms; however, I never knew it originated from the Philippines.
The large brass monument depicts this important historical occasion– and check out that water behind it! Next time I'm in Bohol, I'll visit the beaches for sure!
There are no international flights to Bohol. You have to fly via Manila or Cebu.
The fastest way to Bohol is by plane to Tagbilaran, the capital of Bohol. There are no international flights, so you will either need to stop in Manila or Cebu first. For flights I'd recommend Cebu Pacific Air.
From Cebu take a boat to Tagbilaran. The boat takes 2 hours. Price is around 550 PHP, one way, using Super Cat.