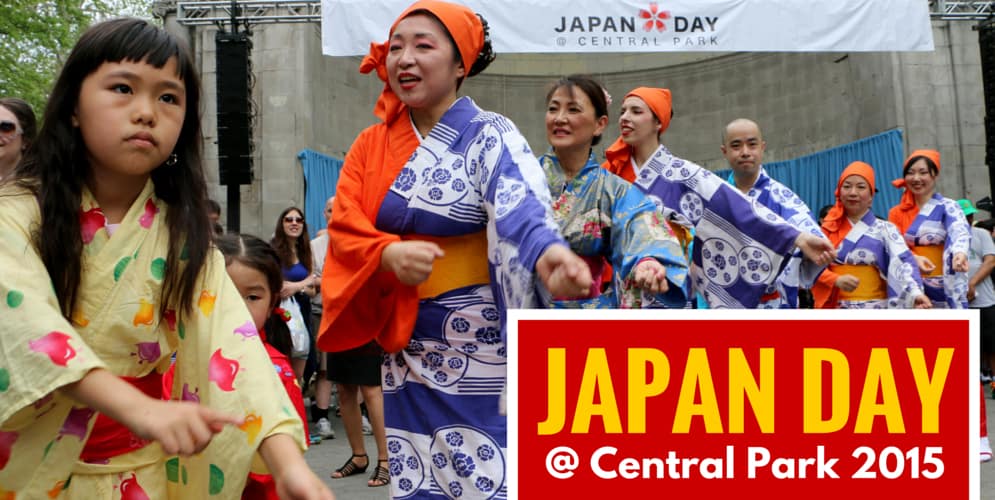 Japan Day @ Central Park is New York City's largest one-day celebration of all things Japanese. Having started in 2006, the festival only continues to grow even larger with thousands attending each year.
So continuing my trend of hitting up as many Japanese festivals as possible around the US, I packed my bags and flew to NYC.
The day kicked off with a 4-mile race, which saw almost 6,000 participants alone. I didn't exactly make it out there in time to witness any of that, but I did make it out for the important stuff– an entire afternoon filled with Japanese entertainment and cultural activities.
It was great to see people of all ages gathering to appreciate Japanese culture. Families taking mom out for an unusual Mother's Day celebration, group of friends, cosplayers, and even furry friends were out enjoying the beautiful weather and festivities.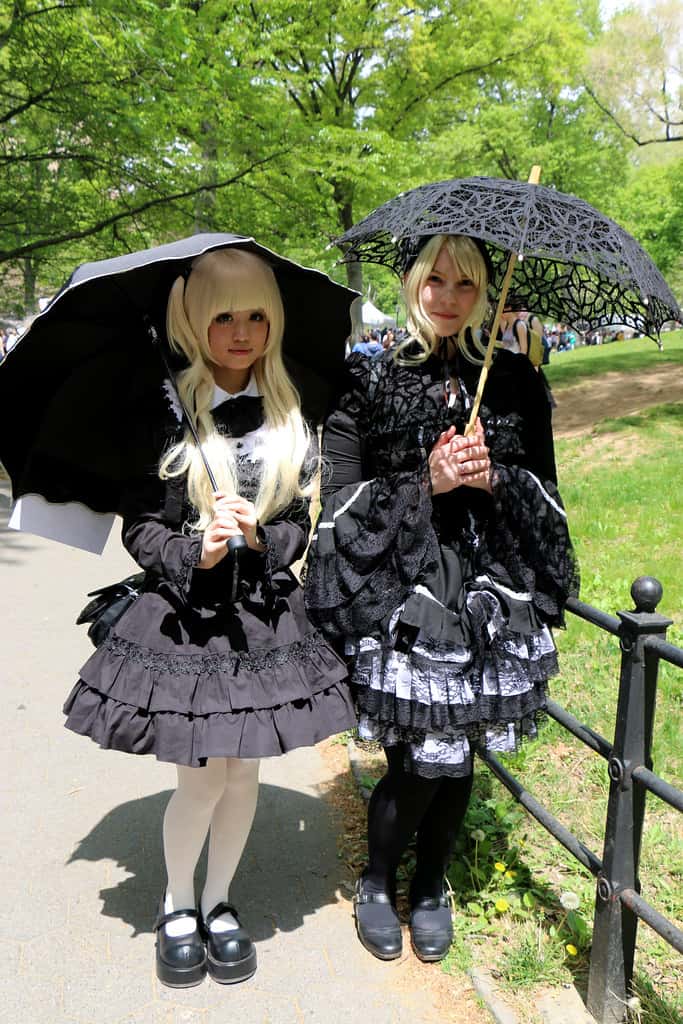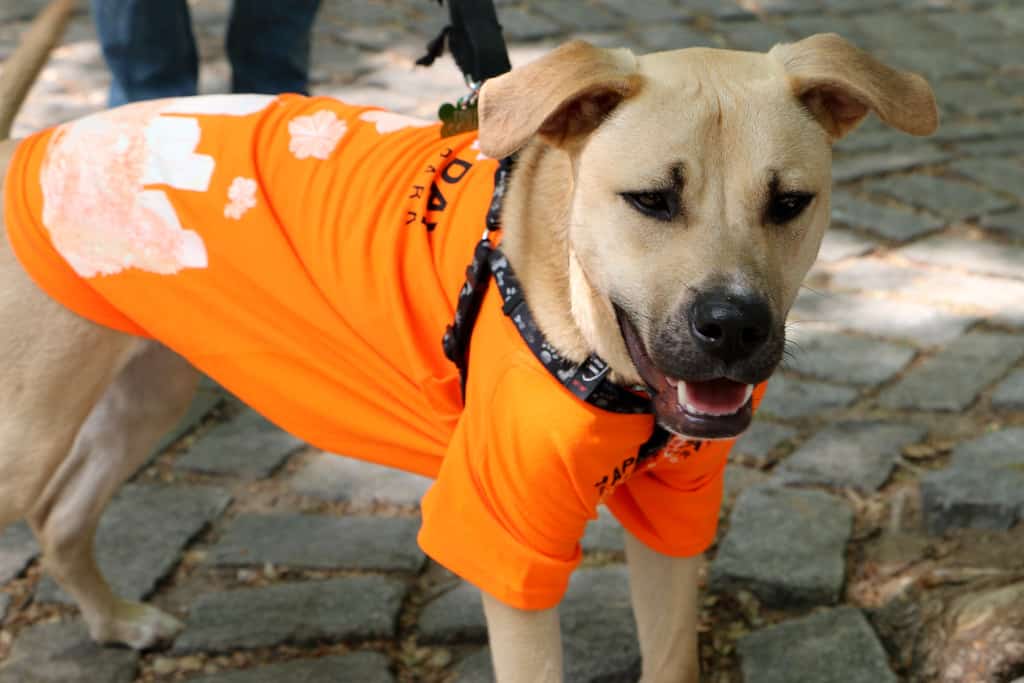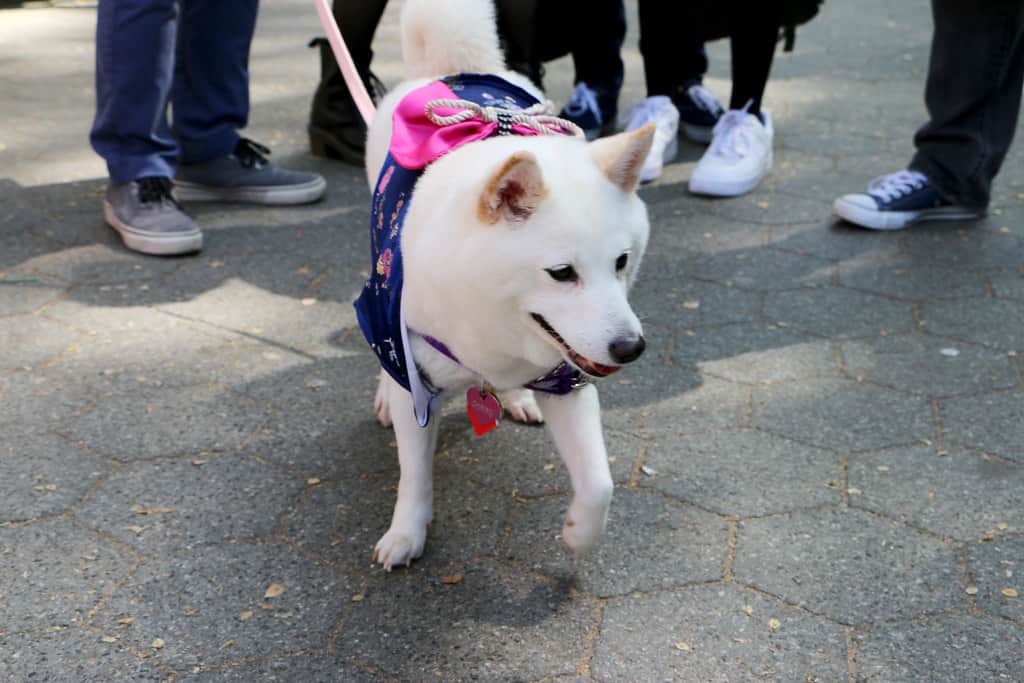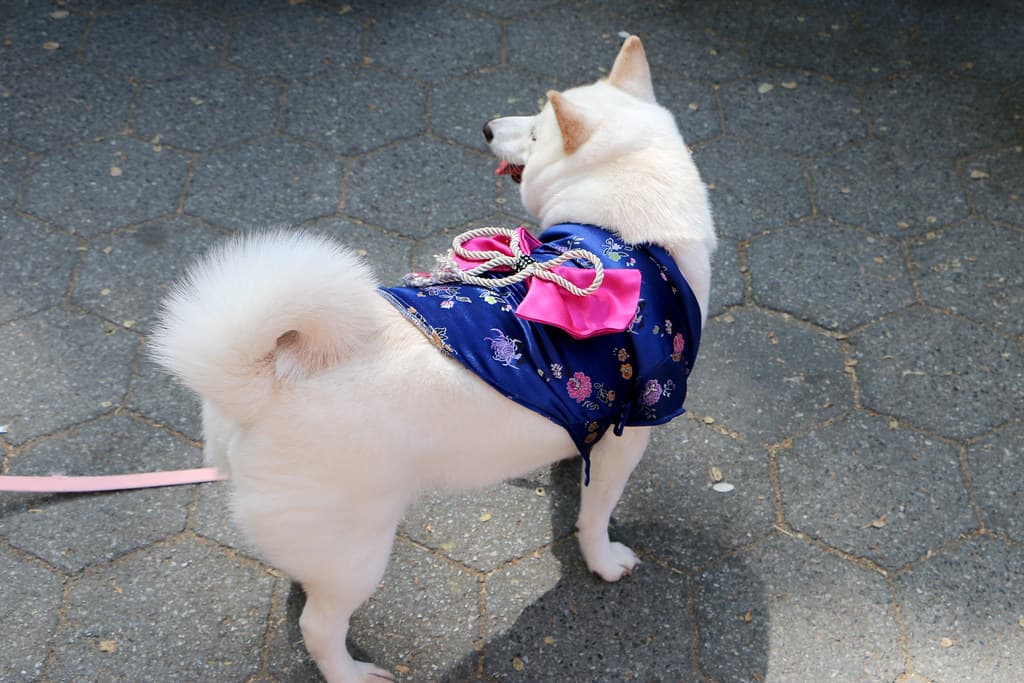 Booths were set up around Central Park's bandshell giving visitors a taste of traditional Japanese culture and typical Japanese festival games.
And thanks to JR Group, you were really encouraged to visit all them all so that you could collect stamps on your "Japan Rail Pass" and win prizes.
Smart, right?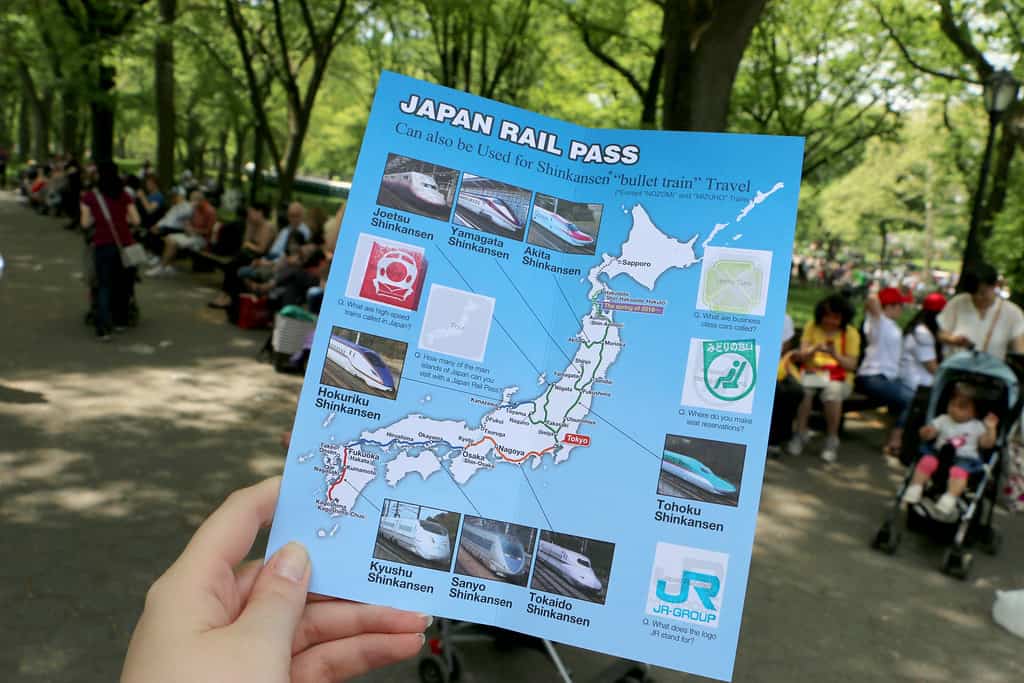 The first booth we checked out feature origami, the traditional art of folding paper.
Tables were set up for all different skill levels. Beginners learned to make basic animals that required only a few folds, whereas advanced levels worked their way up to make ornate boxes with the help of their instructor.
Next we stopped by a booth which focused on the art of sumi-e, or Japanese ink painting and calligraphy.
We were given strips of paper and asked to think of a word or phrase that we liked. Once at the front of the line, you could either choose to have someone write it out for you, or you could go to a separate table where they'd do their best to teach you how to write it yourself.
Even traditional theatre was implemented in the festival as participants got their faces painted like famous kabuki performers.
Of course if you didn't want full-face makeup they would have gladly given you a simple cherry blossom or kanji character on the cheek.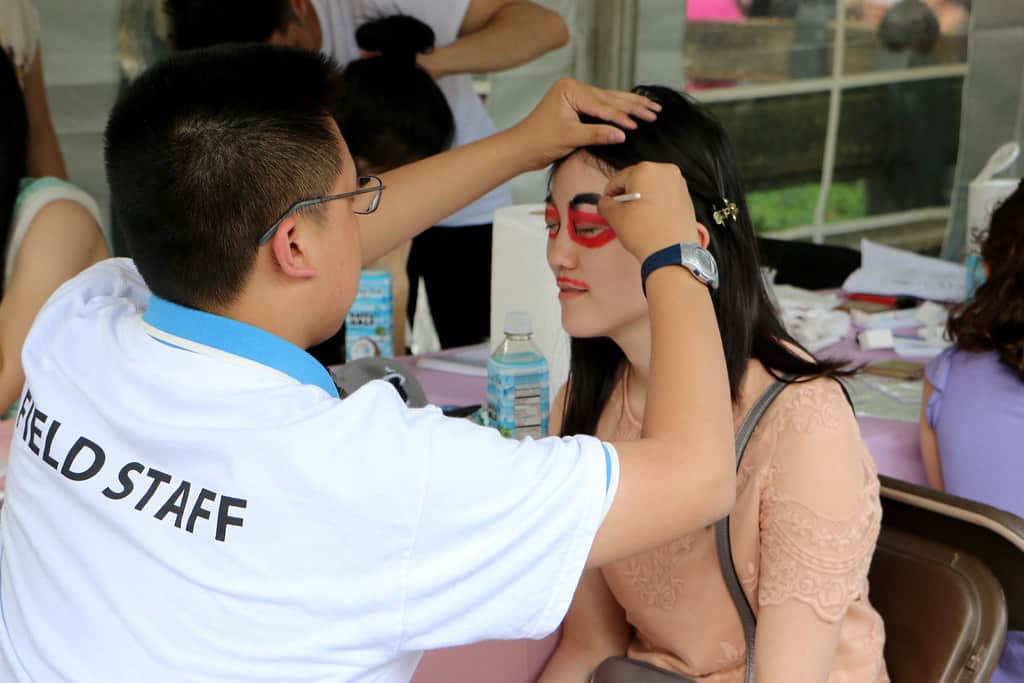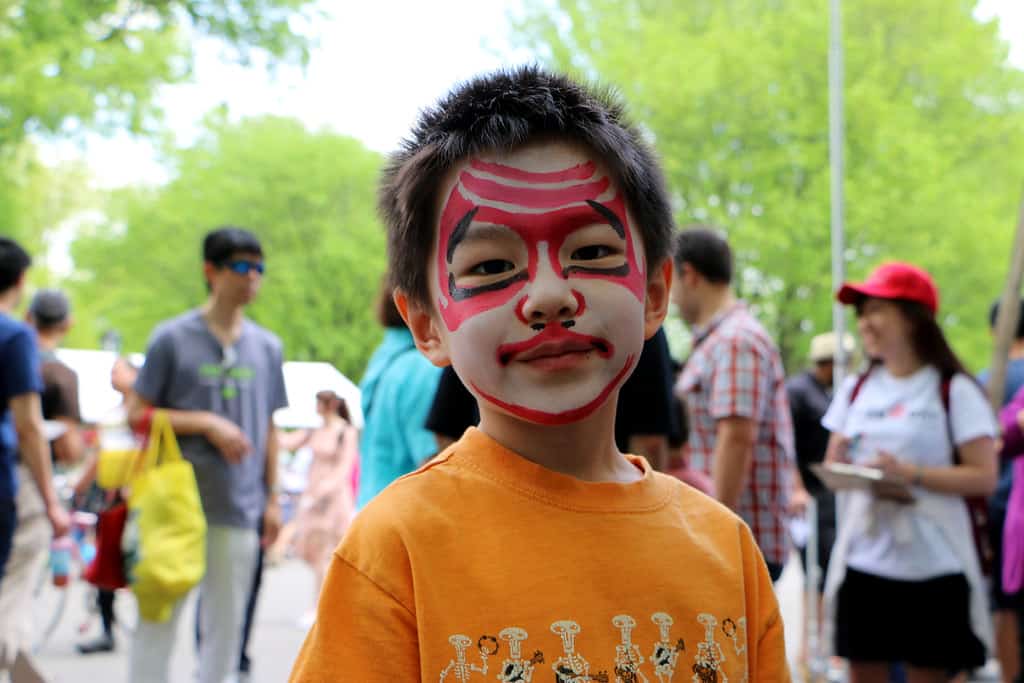 Around the corner they taught the art of kimono and had a variety of yukata to try on.
The line for this booth was probably the longest as many girls grabbed their friends to try them on for photos together. They had styles both suitable for guys and girls, but I don't think I saw any guys participating!
Apart from those they also had booths with very typical Japanese festival games such as the yo-yo balloon game, yo-yo tsuri (ヨーヨーつり).
Fun for all ages, these colorful water balloons are tied to a long rubber string. To fish for them, you need to be able to pull one out using only a paper clip attached to a piece of rice paper.
Of course as you keep dipping the clip in water, the fragile rice paper will get weaker and weaker, making it a bit of a challenge!
There were also booths where you could meet famous Japanese characters.
I skipped Hello Kitty in favor of reuniting NHK's Domo for a third time this month, after seeing him in DC at the National Cherry Blossom Festival and San Francisco at the Northern California Cherry Blossom Festival a couple of weeks prior.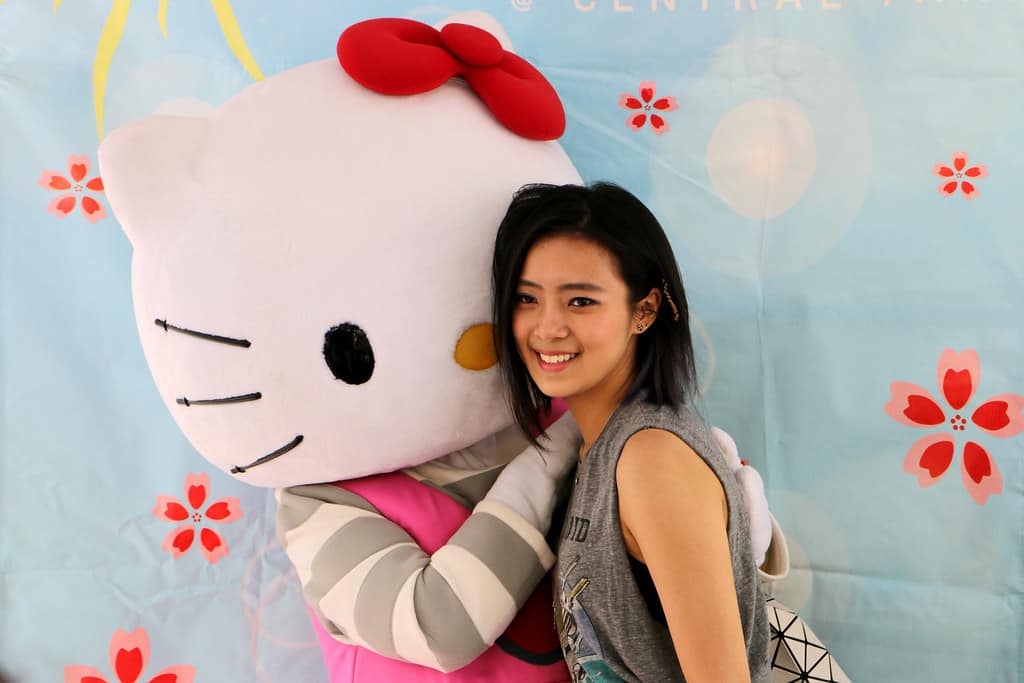 Another important aspect of Japan Day @ Central Park is their Cherry Tree Planning Initiative. This charity event has taken place since 2009, and is a partnership between the festival and the Central Park Conservancy.
Together they're working towards beautifying Central Park by planting cherry trees around the premises. Each year their goal is to raise enough for two new trees from festival attendees, which costs $5,000 USD.
We were lucky enough to still have the cherry trees in bloom that weekend and after spending time appreciating them, I knew I had to make a donation!
Plus, those who donate $20 or more to help support the initiative will receive a t-shirt featuring the winning original design from the Japan Day Art Contest.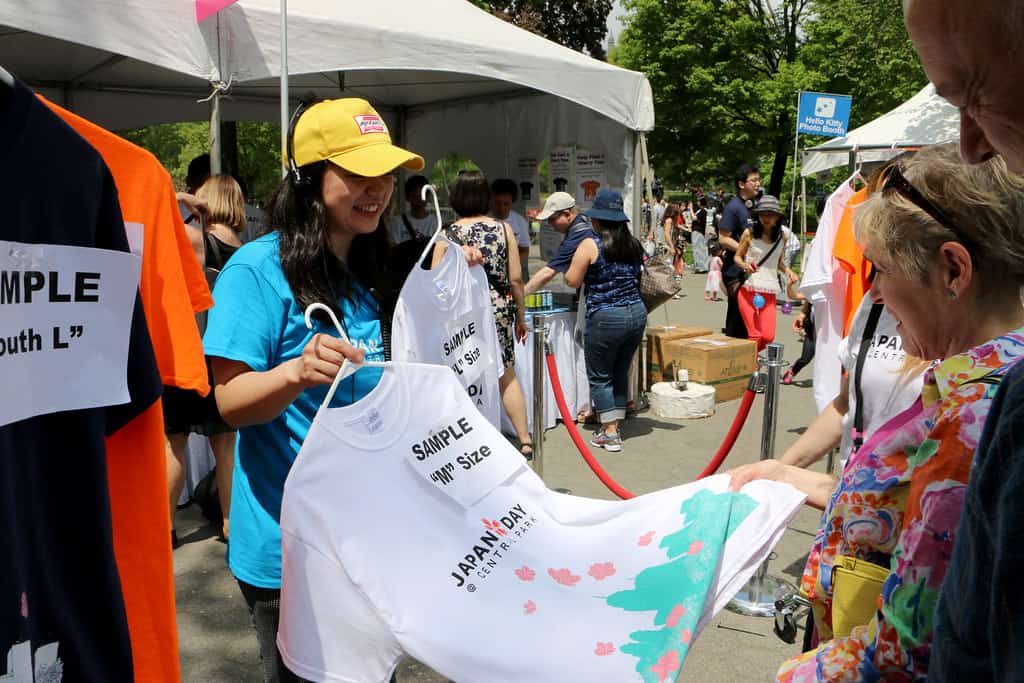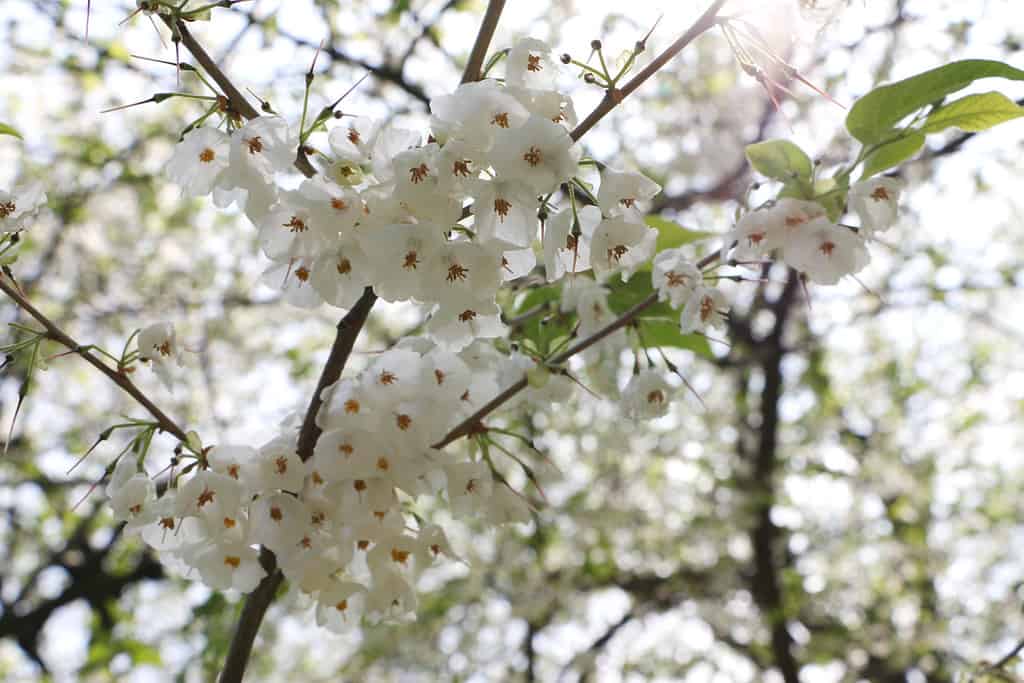 Back on the main stage, performances were taking place all day from traditional Japanese dance to more contemporary J-pop performances and video game song-playing bands.
The NY Ondo with The Japanese Folk Dance Institute of New York kicked off the beginning of Act II with their traditional Bon Odori. Soon, they had everyone, young and old, joining in the dance as they instructed bystanders on the fly.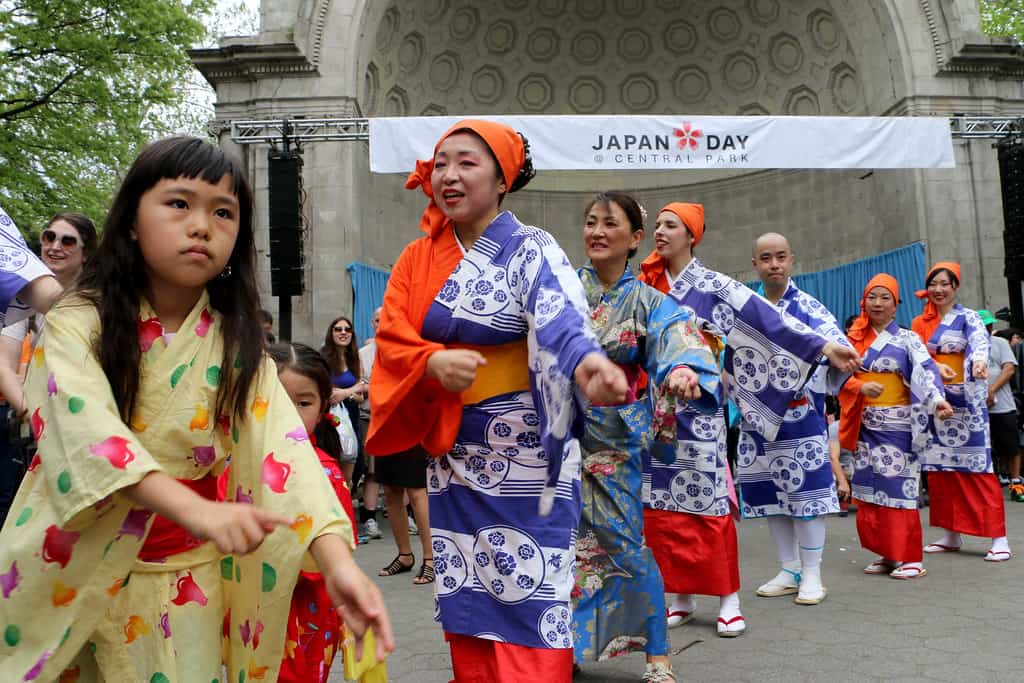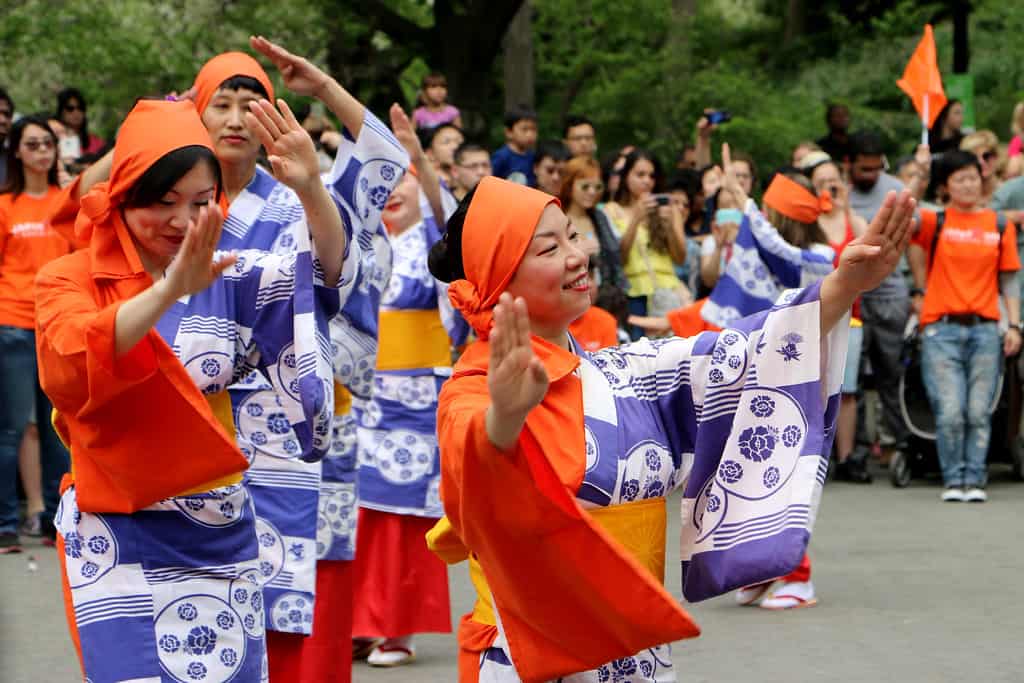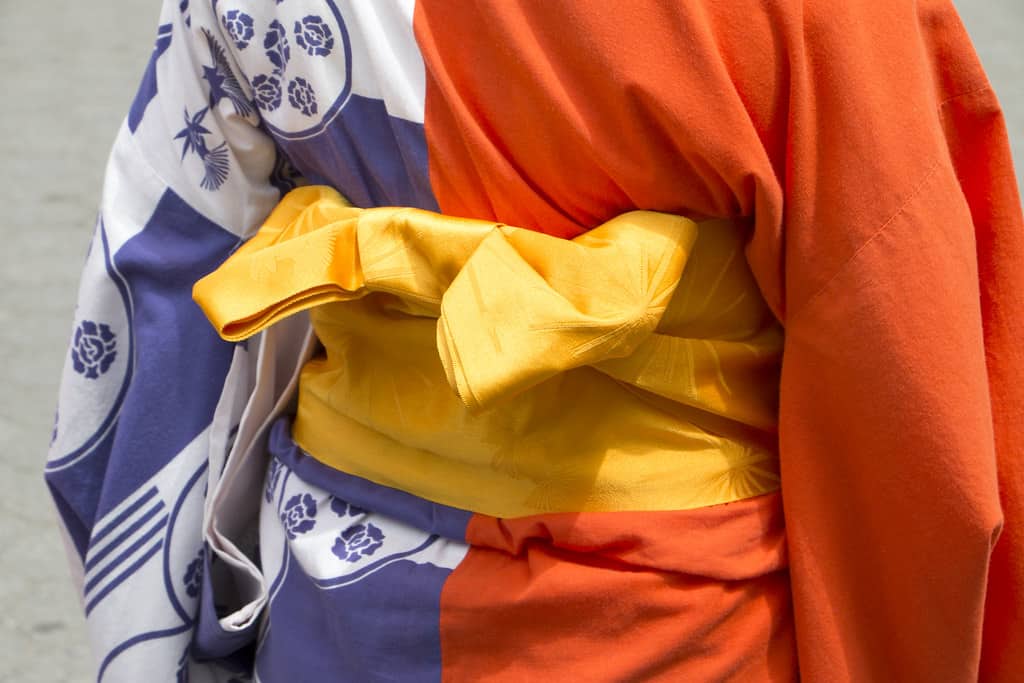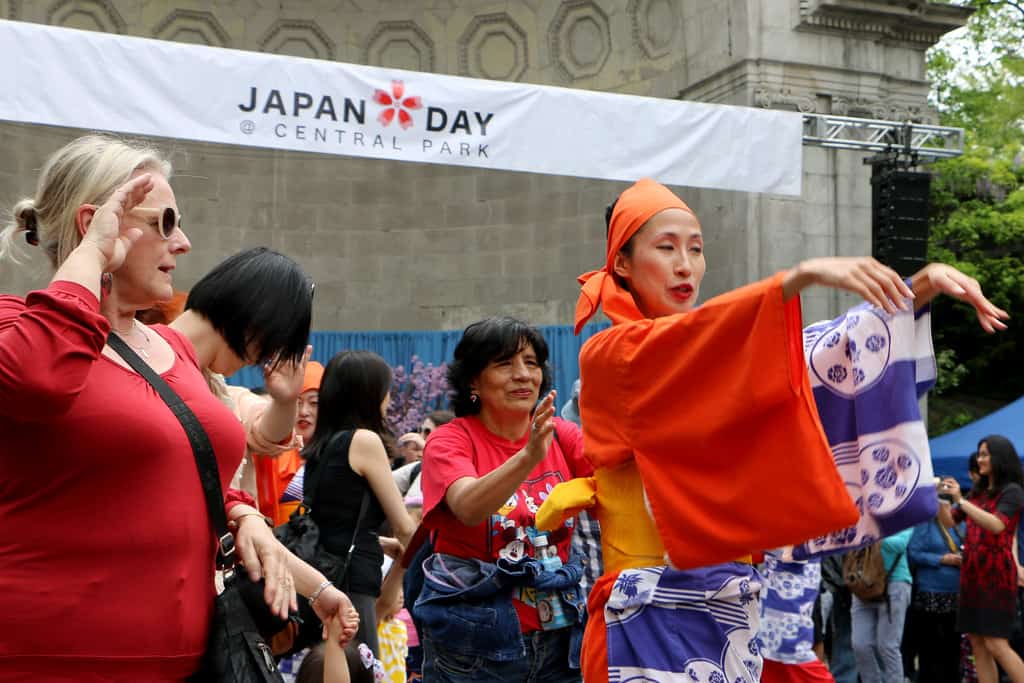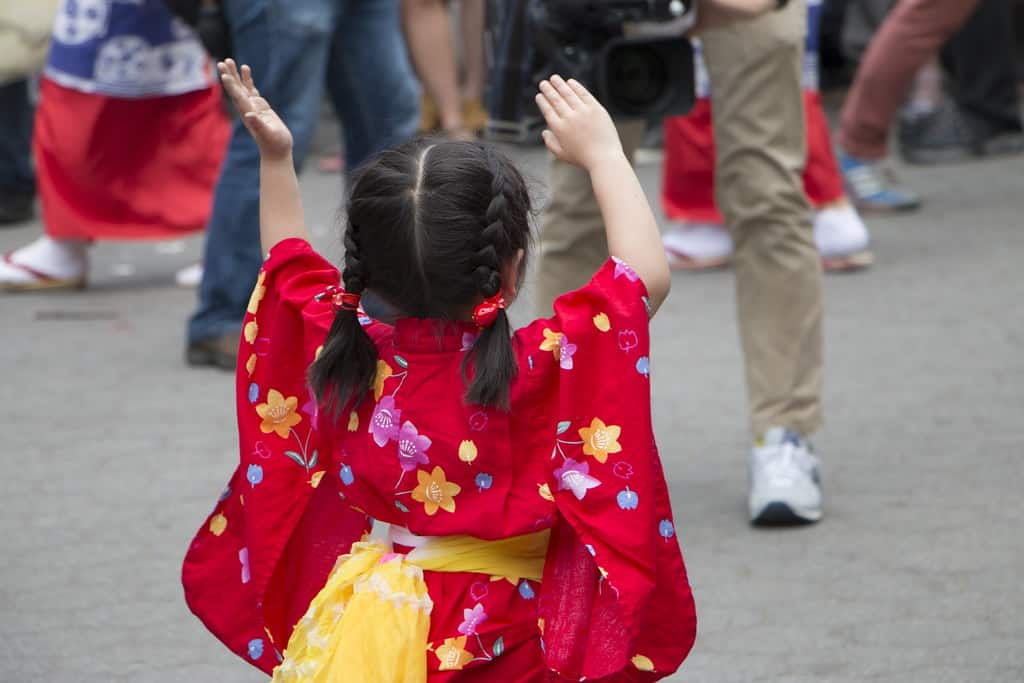 One of the highlights of the festival were the J-pop artists that they were able to fly in from Japan.
The first group to perform was EXPG Boyz, a group consisting of nine boys all from Japan who have recently relocated to NYC to break into the US music industry.
Despite never hearing of them before, they were pretty good. And their dance skills were right on par with any K-pop group!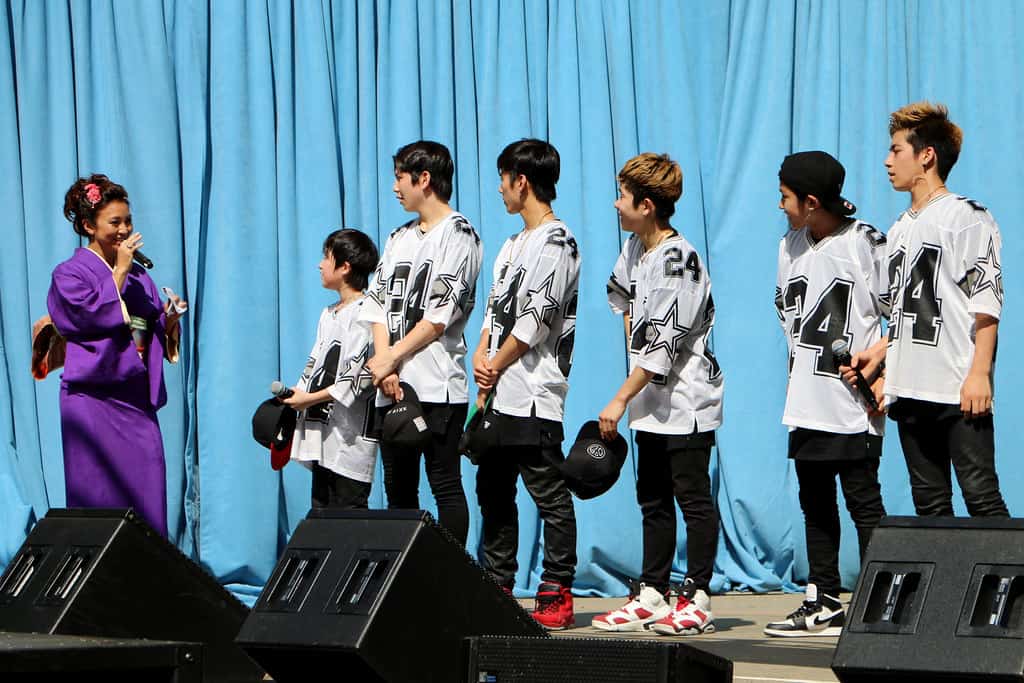 The real show stopper (and who I was most excited to see) was AKB48.
AKB48 is an all-girl idol group and they're a HUGE deal in Japan. Members of this group are seen all over TV, their songs are always topping the charts (they're the first group in history to ever release 20 consecutive albums; each selling over a million copies), and people (read: mainly creepy guys) spend all day lined up for the chance to visit them at the AKB48 Theatre in Akihabara.
So how did such a popular group come to perform at Japan Day @ Central Park?
Well, last year festival attendees created a music video to AKB48's hit song Fortune Cookie. The video kind of took off on YouTube and AKB48 actually saw it! They loved it and sent six members of the group to perform at Japan Day @ Central Park this year.
The members who flew in from Japan to perform were: Saho Iwatate, Rina Hirata, Haruna Kojima, Tomu Muto, Rena Nozawa, and Ryoka Oshima. They were so well received by festival attendees and had so many fans come out to support them.
Their performance was short (only five songs) but they at least performed all my favorites!
It was the perfect ending to a fun day appreciating Japanese culture. Next year will be the festival's 10th anniversary, so I can only imagine what they'll do to top this year. I know I'll be trying to attend, and I hope to see you there!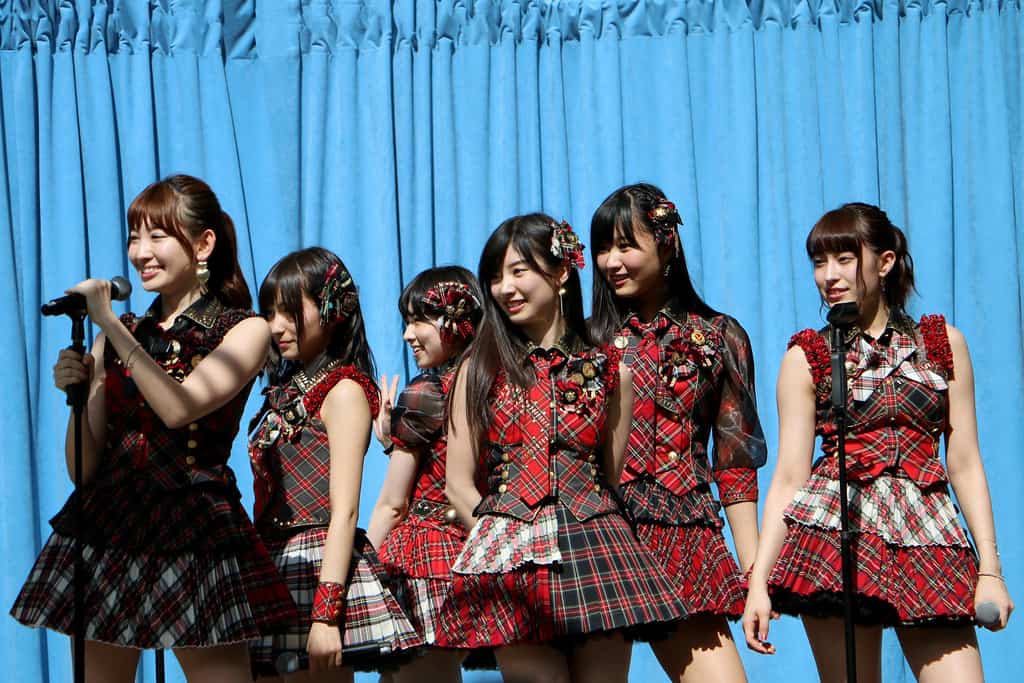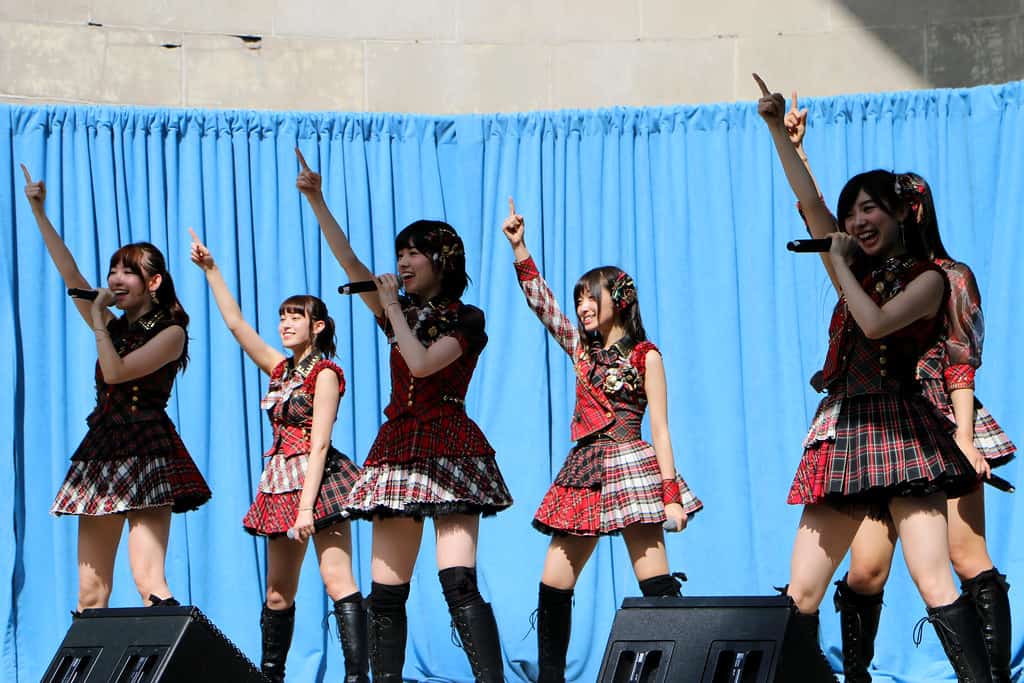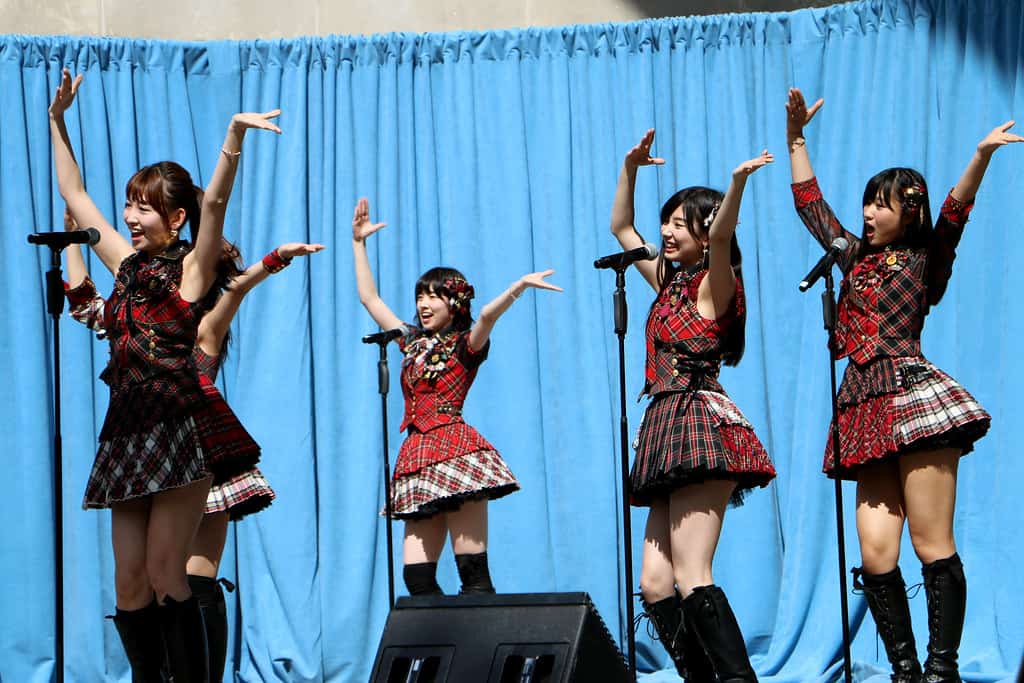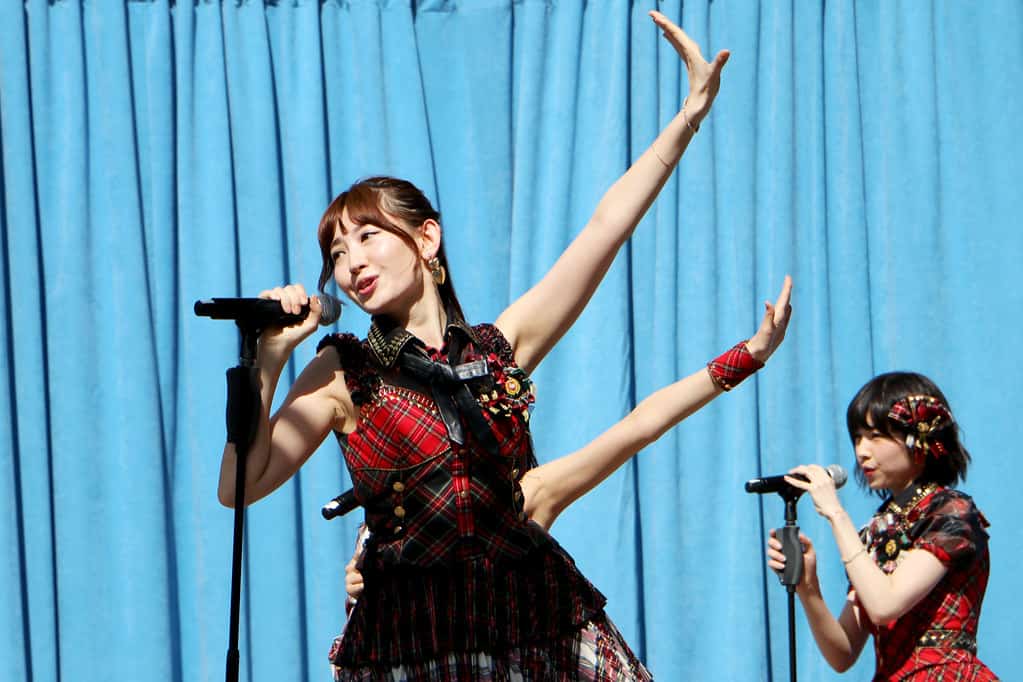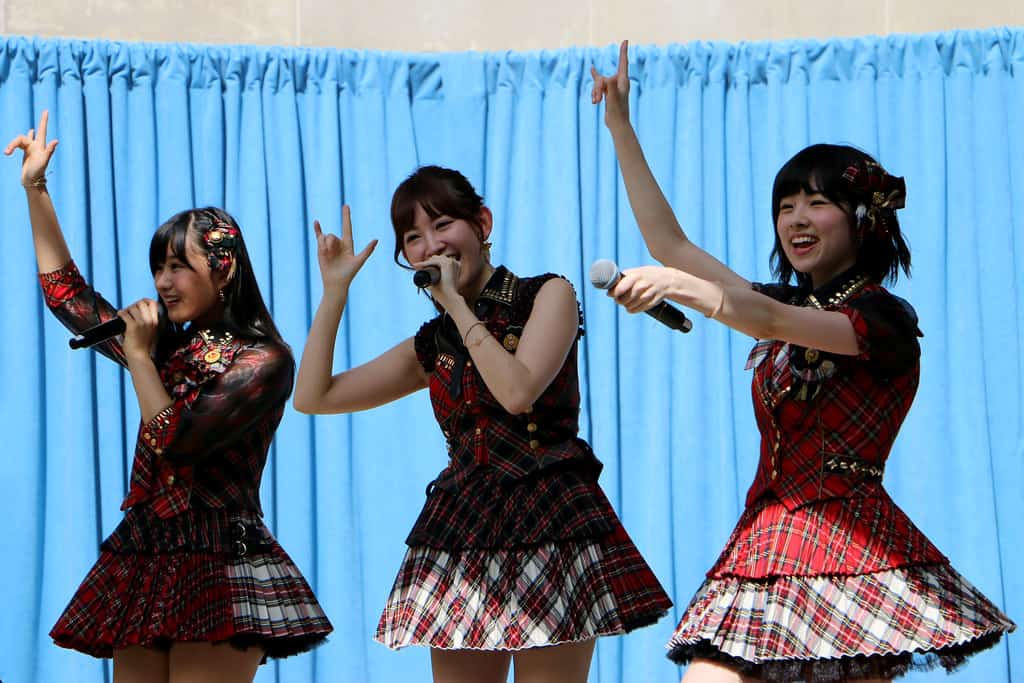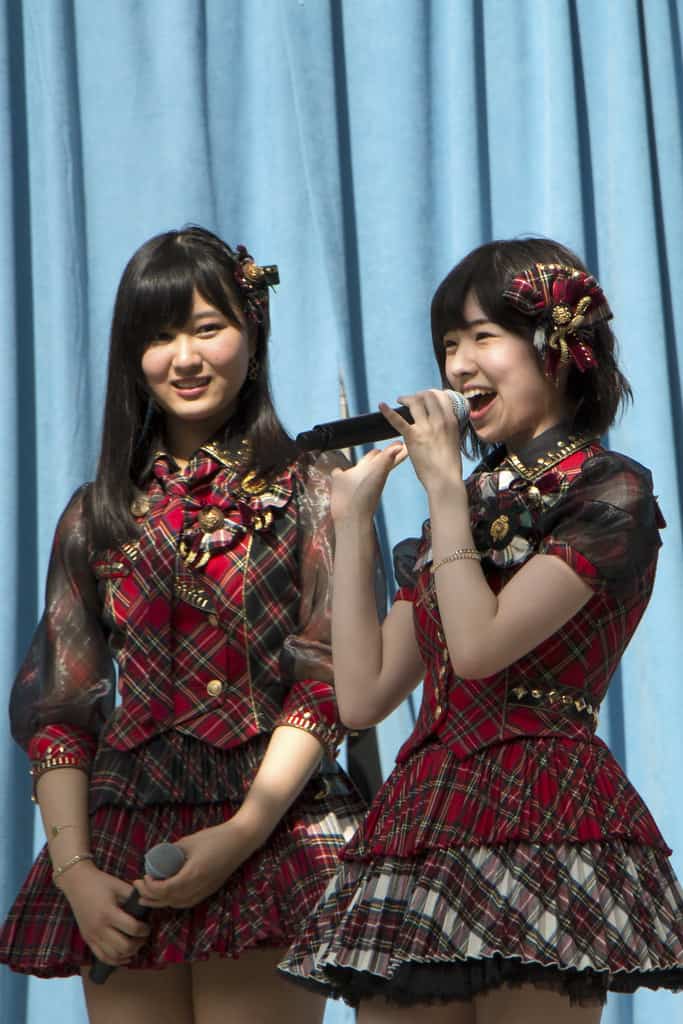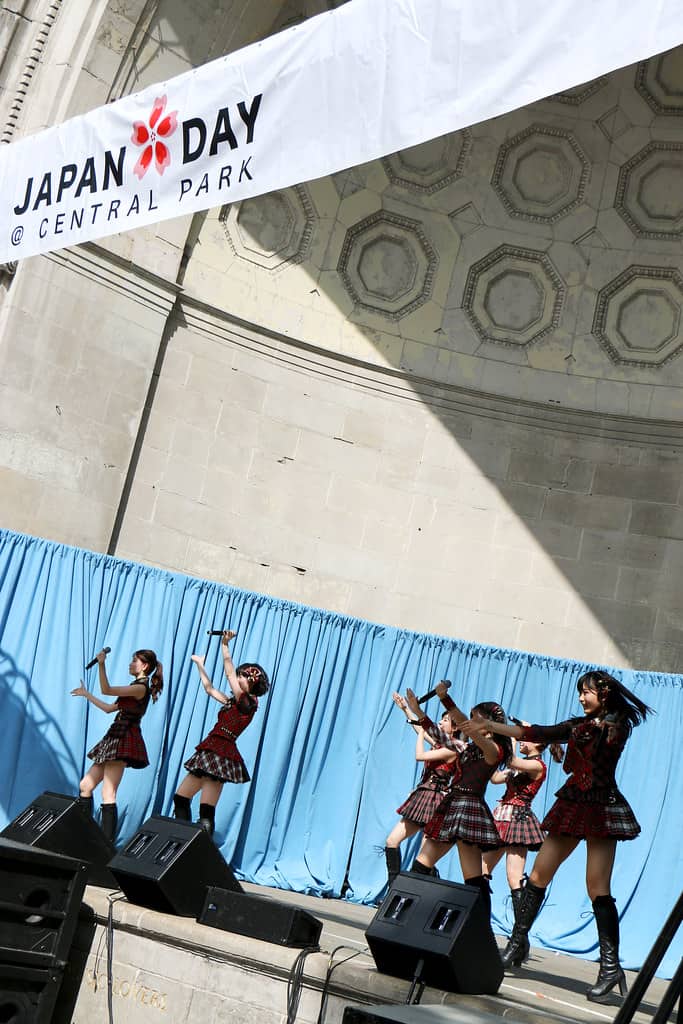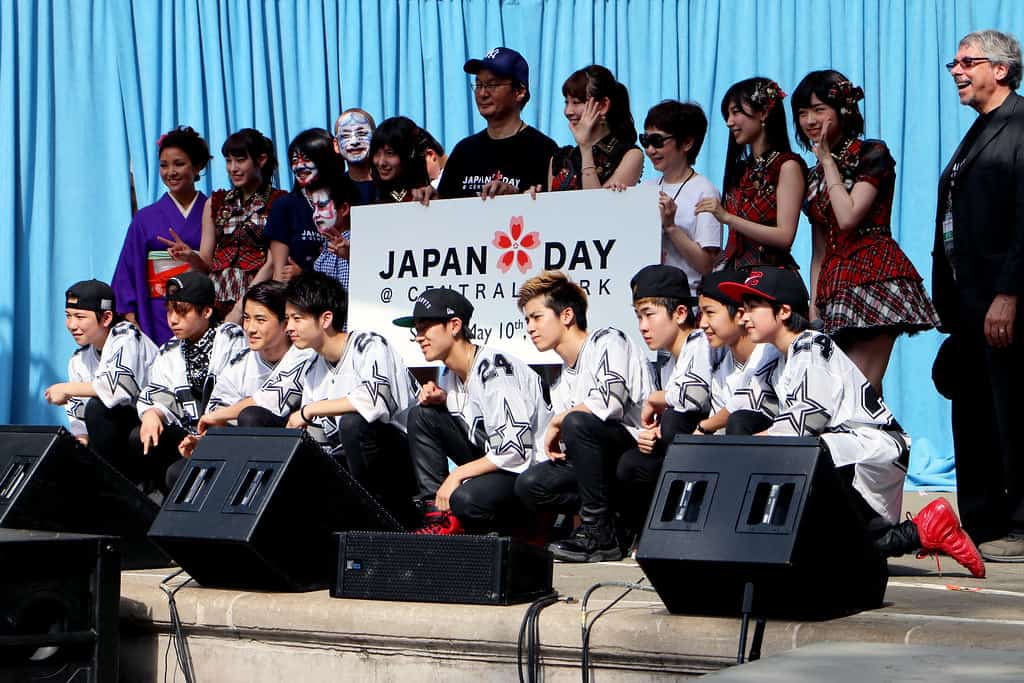 Have you been to Japan Day @ Central Park before?