In a lot of Japanese homes that are not in the major towns, rice paper lamps are commonly used to light homes. To have a lovely Eastern charm as an addition to your interior décor, the Japanese Shoji Lamps – the rice paper table & floor lamps will do just that for you and more.
These lamps have a different unique elegant style that serves as stunning decorative pieces for your home. They are also versatile sources of lighting that fit well in any corner of your room. One can be placed behind a couch or can be placed as your foyer's center point.
Rice Paper Lamps for Desks and Floors don't just save you from the frustration of installing a good lighting system, the warm ambience they create brings amazing and beautiful changes to your rooms. We have compiled the best ones for you in this review.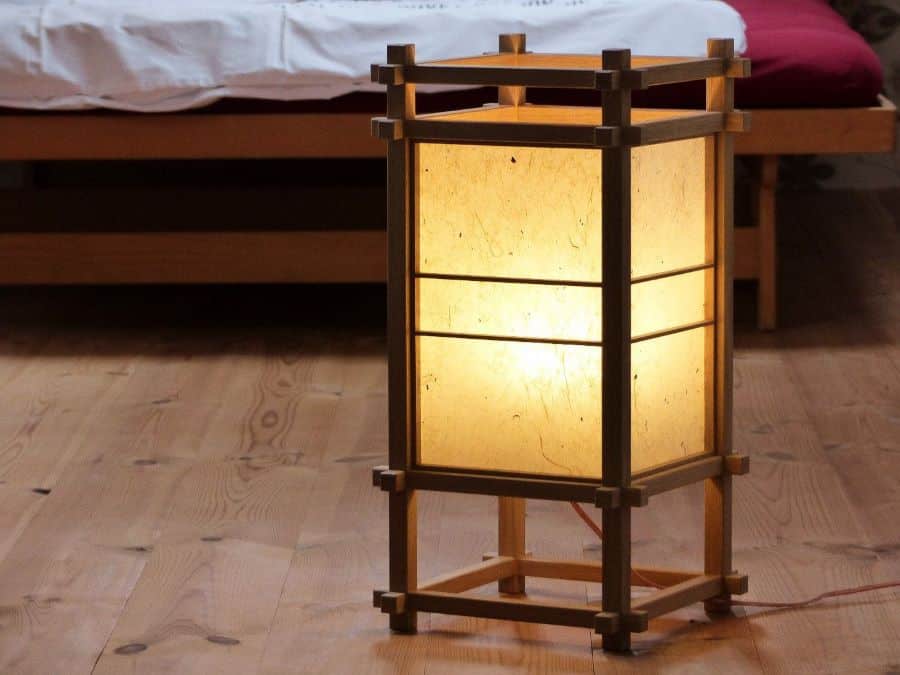 Some other articles you may want to read:
Japanese Shoji Lamps – the Rice Paper Table & Floor Lamps with Reviews
Adesso Home 8022-12 Transitional Three Light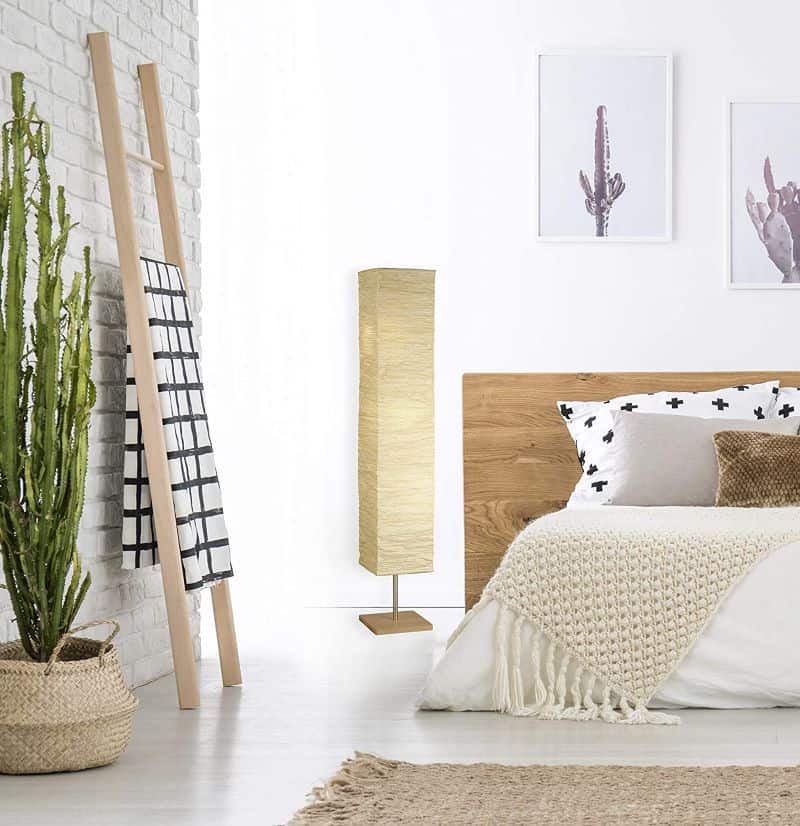 For a beautiful enchantment lamp that befits your home, the Adesso Home 8022-12 Transitional Three Light Japanese Rice Paper Lamp is a very good choice. The base is made of high quality natural wooden material which gives a touch of nature. The consistent natural crinkle collapsible paper shade clashes with the satin steel accent on the wood base.
This lamp has a footstep switch and it perfectly and beautifully illuminates a living space. Light is dispersed effectively by the lampshade everywhere in the room. This lamp is absolutely user friendly and can be easily installed.
It works well with a small outlet; it enhances the beauty of your space by giving it a dapper look. It perfectly fits any sophisticated interior decor. You can use it in your office, living room, or bedroom to beautify your space.
It's a very good house warming present for a family member or close friend. It is durable and it gives an unflinching modernization and originality with an unmistakably elegant look.
Pros
It is durable
Can be easily assembled
Modern, elegant, and sophisticated
Cons
More Details
ZEEFO Simple Japanese Rice Paper Table Lamp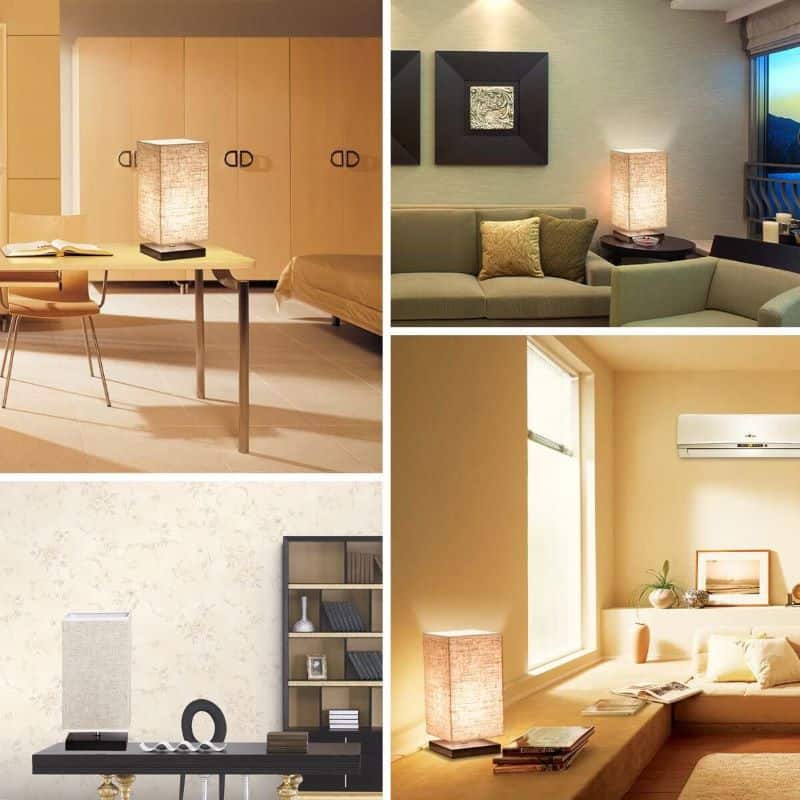 The ZEEFO Simple Japanese Rice Table Lamp is a suitable choice for you if you're searching for a decorative Japanese table lamp for your Office, Bookcase, Baby Room, College Dorm, Study, Living Room, or Bedroom.
The non-flickering, soft, and stable light is easy on the eyes, this makes you enjoy whatever you are doing for a long time. Because the light is warm, it will guarantee you a warm and peaceful night. It is a minimalist Japanese Style Tatami table lamp and this makes it perfect for bedrooms and all other rooms.
The bulb base is not the regular 60 Watts bulb base but E26. You can use 4W to 6W LED bulb, or 15W to 25W incandescent bulb, or a power-saving bulb of 8W to 11W. The lamp is energy saving because it consumes low power. It has a square solid painted wooden base which gives off a lovely natural feeling.
Pros
The light is eye-friendly
It's cute and chic and it fits well in any room
It is energy saving
Cons
Can't be used with 60 Watts bulbs
More Details
Japanese Rice Paper Floor Lamp, CHIPHY 64" Tall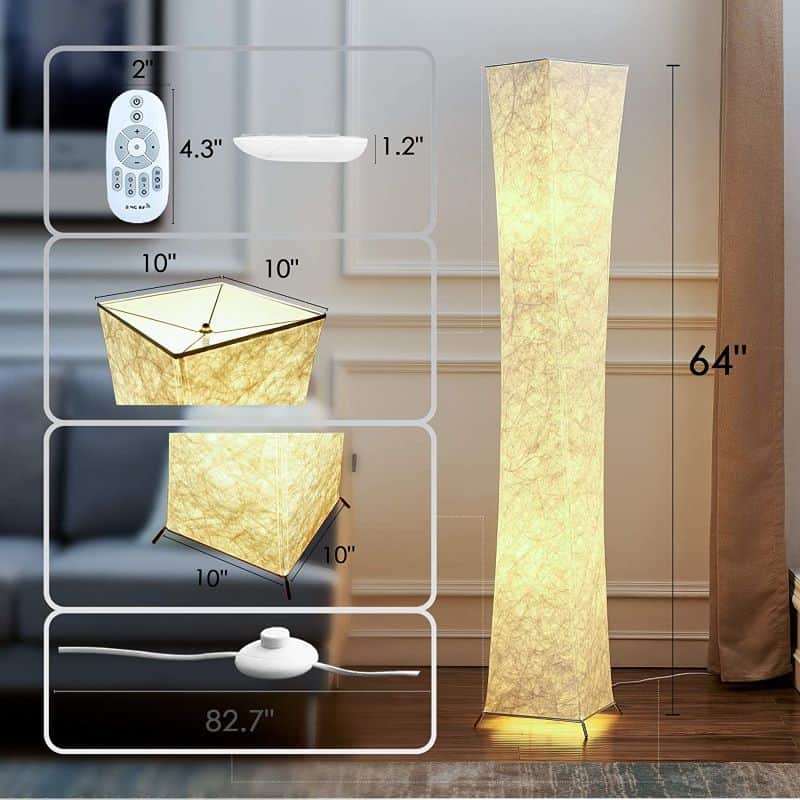 The Floor Lamp, CHIPHY 64" Tall Japanese Rice Paper Lamp is the perfect lighting solution for your living room. It makes use of two smart light bulbs and remote control. The color temperature and brightness (2500K to 6500K) of the smart bulbs are adjustable.
The 2 lamp bulbs are 12W and they give your room a light that is warm and white as well. The gentle and soft glow of the light gives a delicate appearance that quietly complements any room decor. Whilst you talk or watch TV it gives your dark living room or bedroom a soft ambience.
The 2.4GHz remote controller has many options, it controls the two smart light bulbs of the standing lamp either separately or together. The remote features a timer too and the timer has two options 60 minutes or 30 minutes.
The lamp is lightweight and can be easily moved about, it also has a sturdy base.
Pros
Has two light bulbs
Brightness can be controlled with the remote control
It has a timer
Cons
Too long for just two bulbs
More Details
ZEEFO Bedside Japanese Rice Paper Table Lamp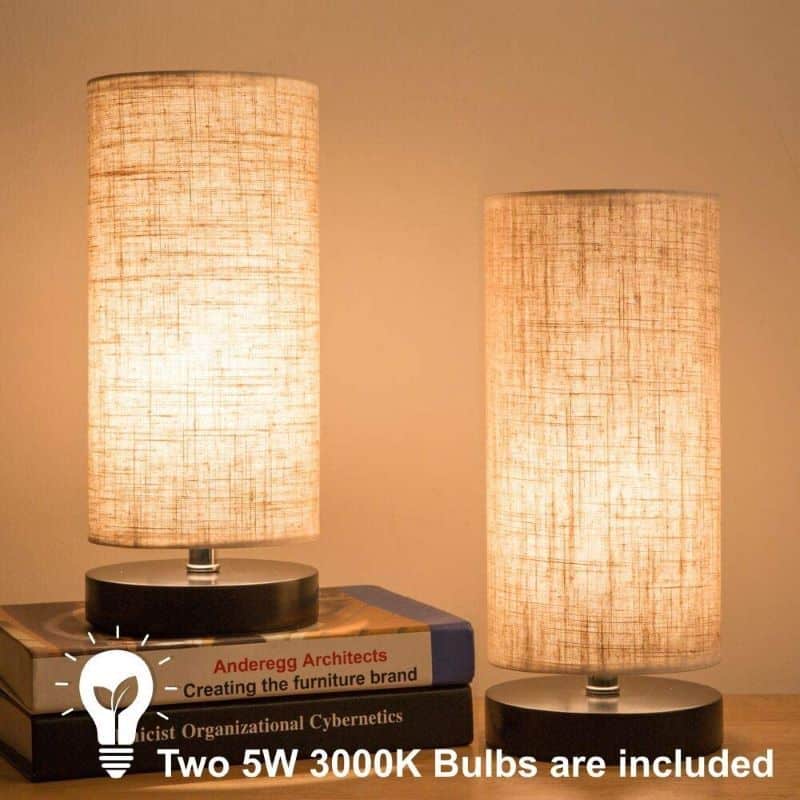 For a cute bedside lamp, the ZEEFO Bedside Japanese Rice Paper Table Lamp is an amazing choice. It has a cylindrical fabric shade and a black base. It's easy to install and use. It's a good gift item for your friends and family members and also a chic lovely decoration to any room in your home.
The lamp uses two E26 light bulbs and the package comes with two 5W 3000K light bulbs. It provides soft warm bright light of 3000K color temperature which is suitable for office, study, living room, guest room, bedroom, and anywhere in your home.
This product is made with standard quality materials. The plug, socket, and cord are all American standard. The lamp doesn't flick, dazzle, or buzz. The lamp weighs 2.68 pounds, the length is 4.90 inches, the width is 4.90 inches and the height is 11.60 inches. It has a beige shade color and a black base color this makes it fit well with any decor.
Pros
It can be easily assembled
It is lightweight
Durable and can be used in any room
Cons
Too bright when used with LED bulbs
More Details
Archi Japanese Rice Paper Standing Lamp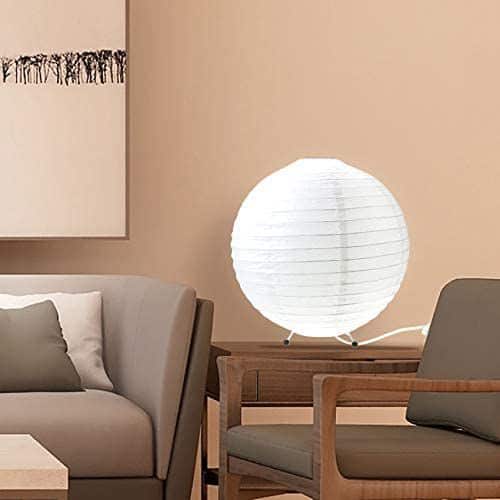 The Archi Japanese Rice Paper Standing Lamp has an elegant design that fits any interior decoration style. It has 12.30″ Height by 11.81″ diameter. Has a strong metal body and good quality paper shade.
The lamp has a UL certification so it's totally safe for you to use. It is a lovely sleek piece of decor in any dorm room, bedroom, or small apartment. The bulb of this unique modern paper lamp can be easily replaced anytime.
The lamp is very durable, the LED lighting design of the lamp makes the lamp last long and endure for years and more money can be saved on electricity bill in comparison to using regular incandescent light or standard halogen lamp.
This rice paper floor lamp provides an inviting and warm beautiful look that you and your guests would love. This cozy warm lighting will really make your family and friends feel comfortable and relaxed at home.
Pros
Has a step on, floor switch
It is energy saving
Can be used in any room
Cons
The package doesn't come with light bulbs
More Details
Buying Guide
In this buying guide is all you need to know about Japanese Rice paper table lamps s. This will be of help to you as you choose the most suitable one for you.
Types of Japanese Shoji Rice Paper Lamps 
There're two main categories of Japanese Shoji Rice Paper Lamps.
The Standard: This lamp looks like the lamp that you're used to. It has a lampshade and a lamp. The lampshade is crafted using rice paper. It can be used for task lighting or for ambient purposes.
The Spherical: The shape of this Japanese rice paper lamp is round-like. It has circular strips of wire or bamboo that supports the paper. This brings out the elegant texture the Japanese rice paper is popular for.   
Features to consider when choosing your Shoji Lamps
These are the features you should keep in mind when you are buying your Japanese Rice Paper Table Lamps s.
Color temperature and brightness considerations:
You will find below good tips that will assist you as you make your choice of the lamp that will fit your lighting needs and fit your interior décor well.
Task Lighting:
For task lighting the most appropriate Japanese Rice paper table lamp will be the one that will enable you to see every little detail of what you're looking at. You need lighting with efficient brightness, which should be 4000K at least and it has to be cool white.
You can also go for a 6000K if you're interested in getting a blue tint with some of the cool white. This lighting range is close to daylight, so it will trigger an energetic and alert feeling in you.
Reading Nook:
You need something imagination stimulating, cozy, and bright for this. You'll need a correct amount of balance of lighting that will help you read small printed letters and will not be too upsettingly bright for you as you read. A light-yellow light of 2700K color temperature or a white 4000K will be perfect for any reading nook.
Living Room:
A living room needs a great energetic atmosphere being the very heart of any home. This is where your friends are welcomed, you play with your kids and relax after you've had a stressful day. So, a temperature between the range of 2700K to 3500K will be perfect for your living room.
Frequently Asked Questions
Below are the frequently asked questions, people asked usually asked about Japanese rice paper table lamps.
How do I match a Japanese rice paper table lamp with my interior decor?
If the décor in your home is minimal, then you should opt for a Japanese rice paper table lamp that has some prints and strong bold color. And if your living space is ornately decorated, a lamp that is subdued will perfectly fit your décor. Simple streamlined lamps are a perfect fit for modern and contemporary spaces.
What are the types of bulbs rice paper table lamps use?
Various types of bulbs can be used with rice paper table lamps s. The LED bulbs are energy-efficient, though they are more expensive, they lower energy costs. An incandescent standard light bulb is popularly used because it is affordable and it gives an inviting and warm light output. It doesn't save energy as much as the LED but it works well. You can also use fluorescent lights though some consider its blue-toned lighting effect as ''harsh''.
Can I dim my Rice paper table lamp?
Yes! You can dim it, but you can only dim a rice paper lamp that comes with this option because not all of them come with this option. Some of these lamps have only a setting (non-dimmable), while some can be dimmed by touch and some have automated brightness and color temperature adjustments. While shopping for one, keep in mind that those that can have the dimming option usually have a dimmable or three-way bulb.
Conclusion
Rice paper is a delicate and beautiful material that has been used for many home appliances such as doors and windows and its versatility makes it possible for it to serve as a shade for a table or floor lamp. Japanese rice paper lamps provide warm, bright, cozy lighting that makes people feel at home in their homes.
These lamps are also stunning decorative items for your bedrooms, living rooms, offices, or study rooms. Their presence in your home gives it a new inviting atmosphere. The shade of this lamp is really amazing and worth's giving a try.