It is absolutely no secret, some of the main reasons that people visit Edinburgh is the beautiful culture of an old, magical city. Amazing food, strong whiskey and luxury shopping are just a few incentives for tourists around the world to visit Edinburgh. But Scotland is also notorious for its picturesque landscapes, and most people who visit Edinburgh don't really consider that this gorgeous scenery is right on the doorstep! So what are you waiting for? It may be worth enquiring about car hire in Edinburgh, because here are 5 gracious mountain ranges, located just outside the spellbinding city of culture.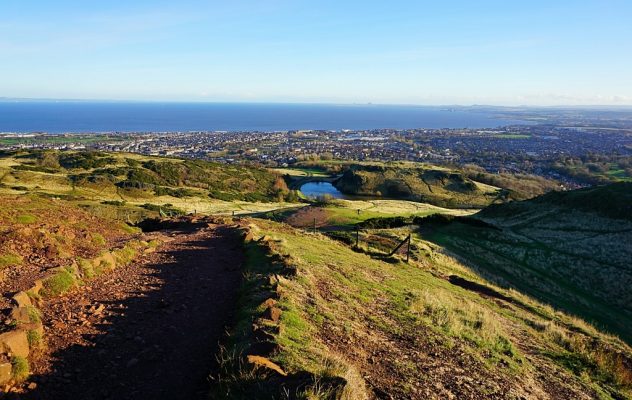 Arthurs Seat
First on the list, and probably the closest to the city, is Arthurs Seat. With a peak of 822ft, Arthurs Seat is definitely the most well-known range out of the list. Living up to its iconic name, you can literally 'sit' on the edge of the summit, looking over the magnificent skyline of Edinburgh city centre. Situated in Holyrood Park, the grass covered hill has quite the history. The mountain is actually the remains of what happens to be an obsolete volcano that erupted around 350 million years ago! If you're a keen runner, then this is the route for you. Alternatively, if you're a cyclist, you can only cycle on the path alongside the Galloping Glen, and not on the greenery. Rightly so, this is to protect plant-life and archaeology.
Dunsapie Loch
Similarly to Arthurs Seat, Dunsapie Loch also occupies Holyrood Park and is located slightly more western, away from Edinburgh. The obvious selling point is the 'loch' itself. The reservoir is home to not only some of Scotland's finest picture points, but also a vast variety of wildlife including; geese, swans, mallards and even pochard. A perfect place for a family picnic, Dunsapie Loch has full parking facilities and on a hot day you may be tempted to go for a quick dip. However, refrain from this as the reservoir is a nature reserve and this puts wildlife at serious risk.
Blackford Hill
Located south of Edinburgh, and approximately a 20-minute drive (3.3m) from the city centre, Blackford Hill offers a delightful walk. Combining the nature reserve of the Hermitage of Braid, with the incline of Blackford Hill, the reward of Scottish perspective and scenery is unrivalled. This stunning patch of countryside is something to cherish so close to a busy capital city, and it would be hard to find another country in the world that offers this raw, natural service. It is definitely a go-to spot!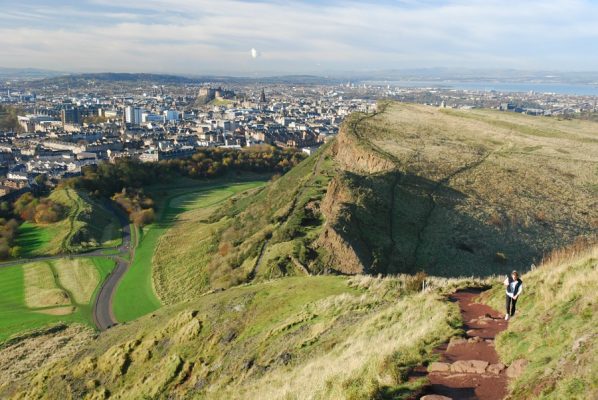 Scald Law 
If you continue your journey around 12 miles south of Edinburgh, you will hit the Pentlands. More specifically, you'll hit Scald Law. This mountain peak definitely offers much more of a challenge than most, with the summit being around 1900ft. Only attempt Scald Law if you are a comfortable hiker and don't mind a bit of rambling. You'll need the equipment, attire, and (most importantly) the weather. We all know how temperamental Scottish weather is, and be sure to always check the wind before attempting to get to the top of this rocky beast. The trek is worth it, though. When reaching the top, you are greeted with some of Scotland's finest greenery, and a true sight to behold.
Allermuir Hill
Finally, and continuing the Pentland rendezvous, Allermuir hill is a very chilled out hiking area with some high inclines and a panoramic view of Edinburgh at the summit. On top of being a family friendly voyage, Allermuir Hill simply has one of the best spots to see Edinburgh in all of its glory! With on-site parking and toilet facilities available, the enthralling hilltop takes between 2 and 3 hours to complete with a total distance of around 3.5 miles, and will have your kids sleeping on the way home without a doubt! Exercise is something that can be easily dismissed when visiting Edinburgh, and a small hike like Allemiuir Hill can definitely combat that!
So, what's stopping you?
These are the memories and views you cannot get anywhere else in Edinburgh, and sometimes you have to go the extra mile (or 12) to appreciate the city you are visiting.