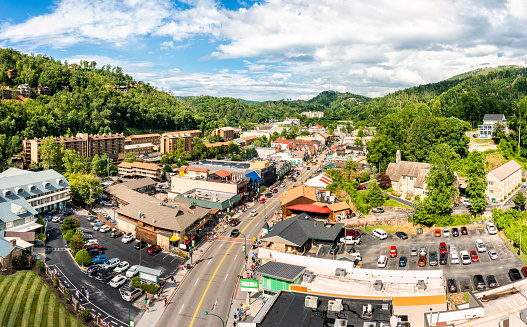 Plan a weekend getaway to Gatlinburg and gear up for the year's most exciting adventure. You won't find a dull moment during your getaway because your weekend will be full of adrenaline-pumping rides, the most mesmerizing views, delicious cuisines from all over the country, live entertainment, festivals, and a comfortable stay. 
Use this blog to guide your ultimate weekend getaway itinerary to Gatlinburg. Traveling from the South, you can't miss the excellent mountain adventure of living near the Great Smokys.
Explore hiking trails, visit the Gatlinburg Space Needle, go shopping or a picnic, explore uncountable museums, art centers, theatres, live concerts, and explore sea life.
Do not miss Dollywood, Knoxville, The Island, and Nashville while you are there. These places are close to the Great Smoky Mountains and are known for their tourist adventures and hotspots.
This blog will also guide you to the best places to eat with your family. Bring your entire gang and people of all ages for the most exciting weekend.
Day 1
Check-In and Relax
As soon as you reach Gatlinburg, unpack and relax by checking into a cabin through Gatlinburg cabin rentals, where you'll have all the amenities you'll ever need. You can find cabins ranging from two to eight bedrooms, an indoor swimming pool, Jacuzzi, a game room, a kitchen, a dining room, and a TV room. 
You can spend the morning of the first day sorting out your things and taking the time to organize before heading out.
Head for Breakfast
Start your vacation the right way by fueling up with a heavy breakfast of pancakes, waffles, eggs, bacon, fresh juices, tea or coffee, croissants, teacakes, and other breakfast delicacies from the Pancake Pantry, Wild Plum Tea Room, Coffee & Co., or any other nearby breakfast spot. 
Visit the Great Smoky Mountains, National Park
The first thing to do on your very first day is to visit the National Park among the Great Smokys. Go hiking or take a scenic jeep ride to explore ancient communities and animals along the way. You can also catch a cable car to the SkyLift Park, a 500-feet long ride to the top of Crockett Mountain. 
Once you reach the top, get off SkyDeck, offering panoramic mountain views and a place to hang out, take pictures, grab a snack and walk along the Gatlinburg SkyBridge, the longest pedestrian bridge in North America, before riding back on the SkyLift to go down. 
Stop for Lunch
After getting off the SkyLift, head for lunch to Bennett's Pit BBQ for barbecues, steaks, and Tennessee-style dishes served for over 25 years. 
Visit Ripley's Aquarium of the Smokys
Visit the top aquarium in the country housing stingrays, penguins, sea turtles, jellyfish, starfish, and sea lions, among many others. Kids can also interact with particular creatures by feeding the penguins, petting the sea turtles and jellyfish, and you can take countless pictures of the animals. 
Explore Hollywood Star Car Museum
If you are a car enthusiast or love to learn more about them, this is the perfect place to visit during your getaway. You will see cars featured from Hollywood in recreated settings. It will include the infamous Batmobile, General Lee from the Dukes of Desert, and cars from the Fast & Furious franchise. 
Have Dinner
End your day by enjoying dinner and a show in one of the restaurants in Gatlinburg. Enjoy live entertainment and fill your stomach with mouthwatering dishes worldwide.
Day 2
Have Breakfast
Wake up early the next day since you only have 24 hours left and devour a breakfast of eggs and bacon, pancakes and waffles, salads, juices, coffee or tea, sandwiches, cakes, biscuits, or anything else you can grab from a nearby breakfast spot.
Explore the Village Shops
You will find affordable options in the shops in the Village. Buy a souvenir, a gift for someone back home, or art pieces to display. You will find multiple shops in the Village, like boutiques, Donut Friar, Pepper Palace, Celtic Heritage, The Spice and Tea Exchange, and The Cheese Cupboard.
Visit Anakeesta
Anakeesta is an outdoor adventure park in Gatlinburg with zip-line courses, roller coaster rides, and the longest tree bridge in North America. Walk towards the Vista Gardens for a relaxing picnic and have snacks in the botanical gardens. 
Then, head over to the Overlook for gorgeous mountain views. Do not forget to visit Anakeesta Mountain for the ultimate mountain experience. 
Spend the rest of the Afternoon at Fannie Farkles
Fannie Farkle encompasses an excellent blend of food and games. Go for driving games and competitions, arcade games like Pacman, and Skee Ball, among many others. 
If you were traveling with kids, this place would be heaven for them. You can join them in the games, sit for lunch, and try the legendary Ogle Dogs and other dishes.
Attend Live Shows in the Evening
Spend the evening of your last day enjoying live shows and concerts. Several shows grace Gatlinburg, with streets packed with costumed performers, dancers, singers, and artists. You can even join them and interact with them.
Head towards Sweet Fanny Adam's Theatre if you are a music lover. Alternatively, visit the Iris Theatre at the Space Needle for magic shows and indulge in wonderland. 
Have Dinner
End your day with dinner at The Crystal Creek Restaurant and Grill for smoked ribs, Italian cuisine, live nightly entertainment, and views of gardens and koi ponds. 
Alternatively, head towards The Peddler for a variety of seafood, chicken dishes, and salad bars. Here, you can enjoy your meal by the Little Pigeon River.
You can also visit Calhoun's for the best ribs in town. You will find burgers, steaks, and a variety of barbecue dishes here.
Relax in the Cabin
After dinner, head back to your cabin to relax and prepare to leave the next day. 
Conclusion
For the perfect weekend at Gatlinburg, spend your first day exploring the Great Smoky Mountains National Park, visit Ripley's Aquarium of the Smokys, and explore Hollywood Star Cars Museums. You will find several places to eat for breakfast, lunch, and dinner, or you can grab a snack and picnic in the park.
For your next day, explore the Village shops, Anakeesta, and Fannie Farkles, and attend live shows throughout the city. You will find several entertainment spots and eateries along the way. 
Head back to your cabin by the end of your second day to relax, kick back, and start packing to leave the next day. If you feel like staying in, use this time to unwind at a cabin overlooking the Great Smokys. There is always something for everyone at Gatlinburg.