Dotonbori–the symbol of Osaka, the epitome of kuidaore, nestled along the canal of the Umezu river.
If there were ever a place to simultaneously exhibit both traditional and modern Japan, it would be here. An area loved by both tourists and locals alike, Dotonbori seems to have something for everyone.
If you're going for a more traditional trip you can catch a Bunraku (traditional puppet theater) performance nearby or visit Hozen-ji Temple for a quieter atmosphere. Want a more modern adventure? Dotonbori is filled with exciting shops, restaurants, bars, and boat rides down the canal. It's no wonder this area has been famous since its establishment in the early 1600s.
> You may also like: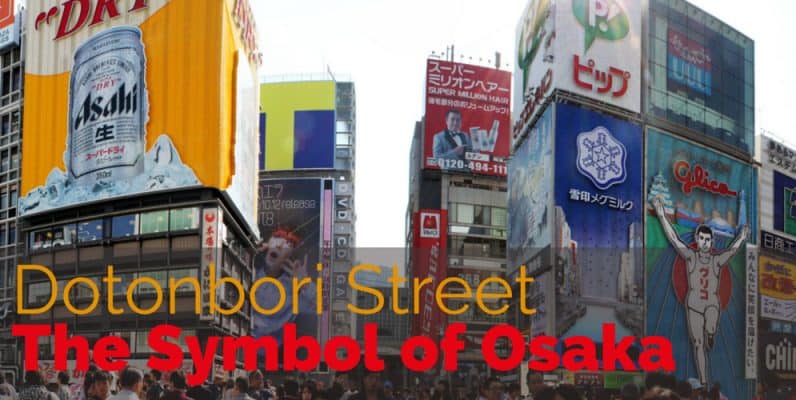 Did you know?
Dotonbori used to be a former pleasure district, filled with traditional Japanese theaters. However, as interest in traditional arts declined, so did the number of theaters. By the start of WWII only a handful of theaters remained, and by the end of it, sadly none of them had survived the bombings.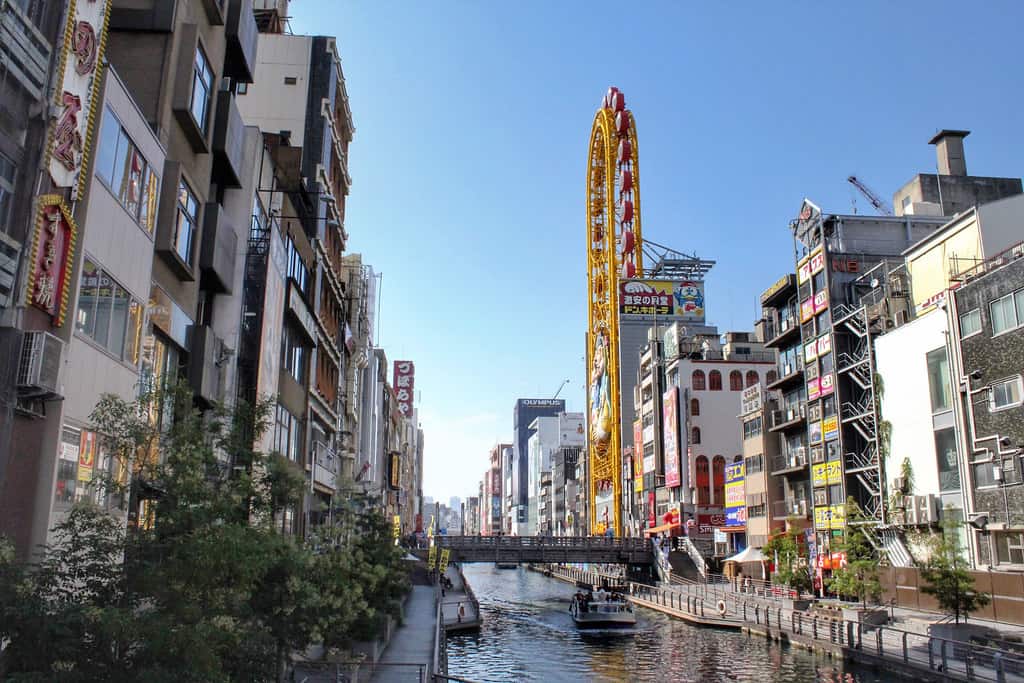 What to Do?
Shopping in Dotonbori is great. If you're looking for souvenirs, it is very easy to find anything you could ever want to bring back here—beautiful food gift sets, t-shirts, fake food displays– you name it, they'd have it. But do remember, just because the restaurants and bars are open late here doesn't mean the shops are! Like most other Japanese stores, the shops here all close by 8pm!
What to Eat?
Hungry? Dinner? Lunch? Or how about just a snack? There is no shortage of food in Dotonbori. Shops line the street with some of the most creative billboards you can imagine.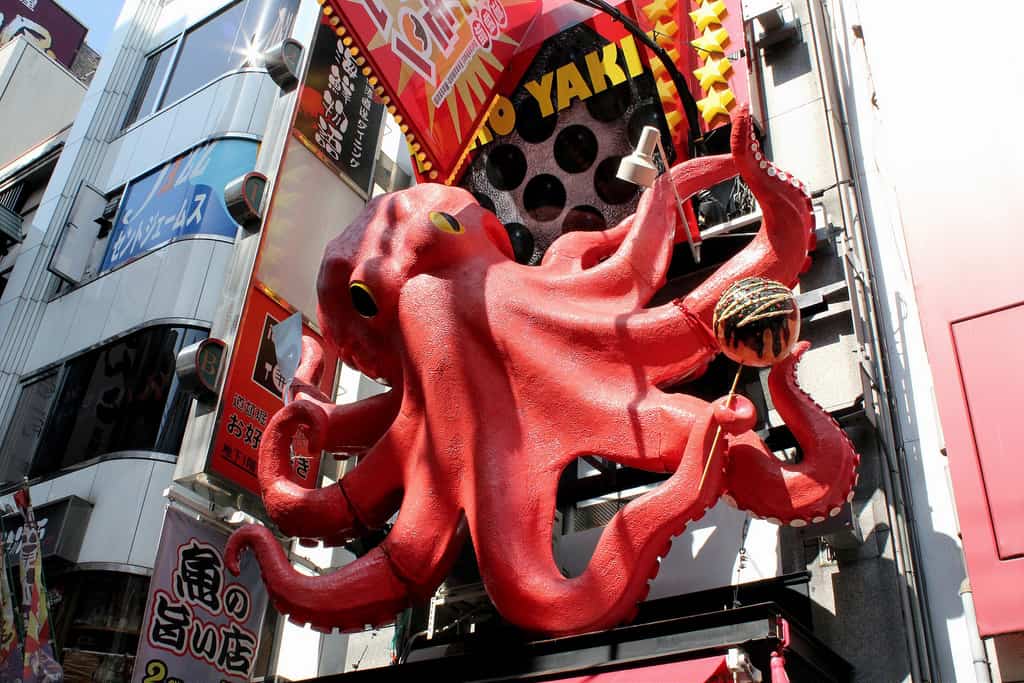 The Japanese word 食い倒れ (kuidaore) can be translated as "to eat oneself bankrupt", and comes from the phrase 大阪の食い倒れ (osaka no kuidaore or "eat till you drop in Osaka").  This word has become associated with Dotonbori specifically.
There are many great places to find any of the above but I will briefly mention three that are definitely worth checking out.
#1) Kani Doraku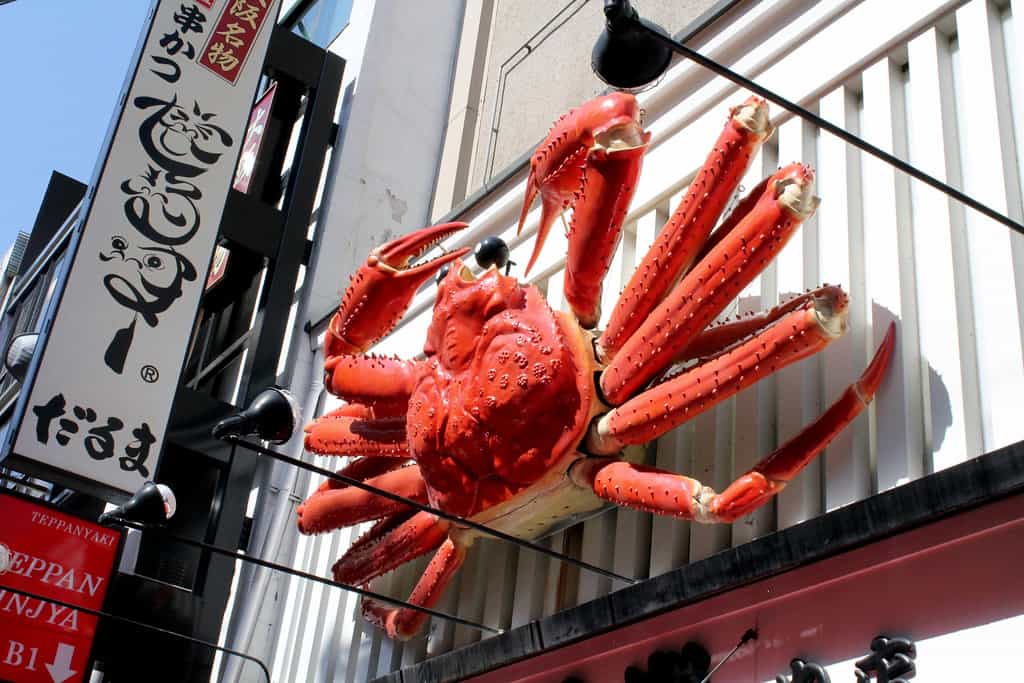 Out front of the store is where you can find the famous billboard of the mechanical crab, one of the first of its kind when debuted in 1960. Inside you will find a nice atmosphere with delicious crab cuisine.
#2) Zuboraya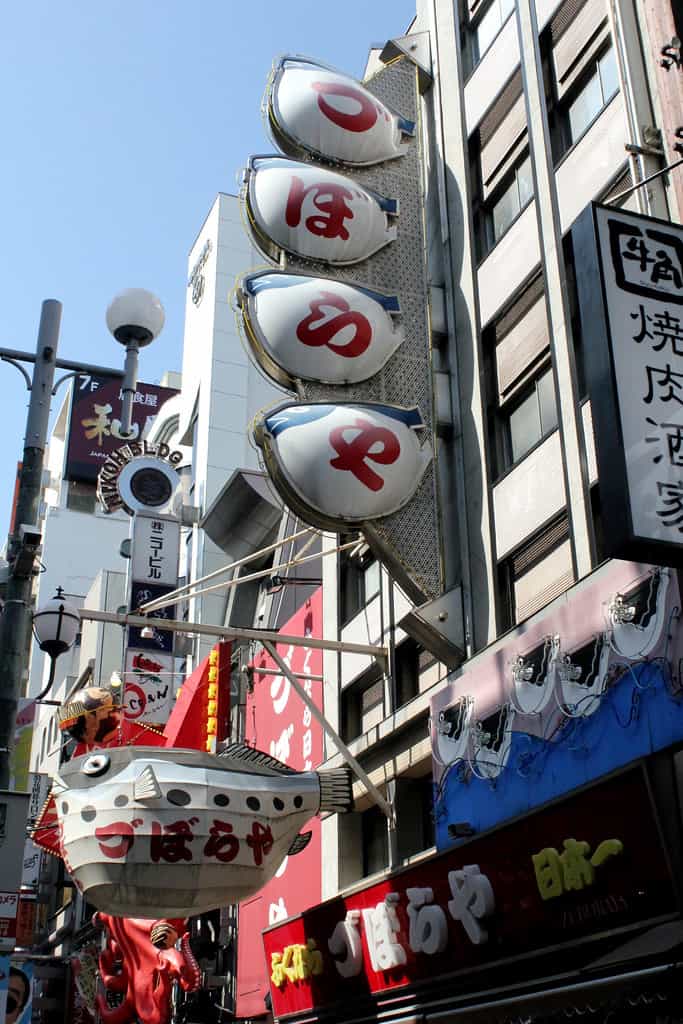 Another restaurant easily identifiable by the décor out front.  Bright blue walls with a giant lantern blowfish hanging outside, it is a restaurant that is hard to miss.  Come here if you want to try the delicious, yet dangerous, Japanese delicacy of fugu, also known as blowfish. Only allowed to be prepared by chefs with special licenses, fugu is a must-try while in Japan.
#3) Bikkuri Donkey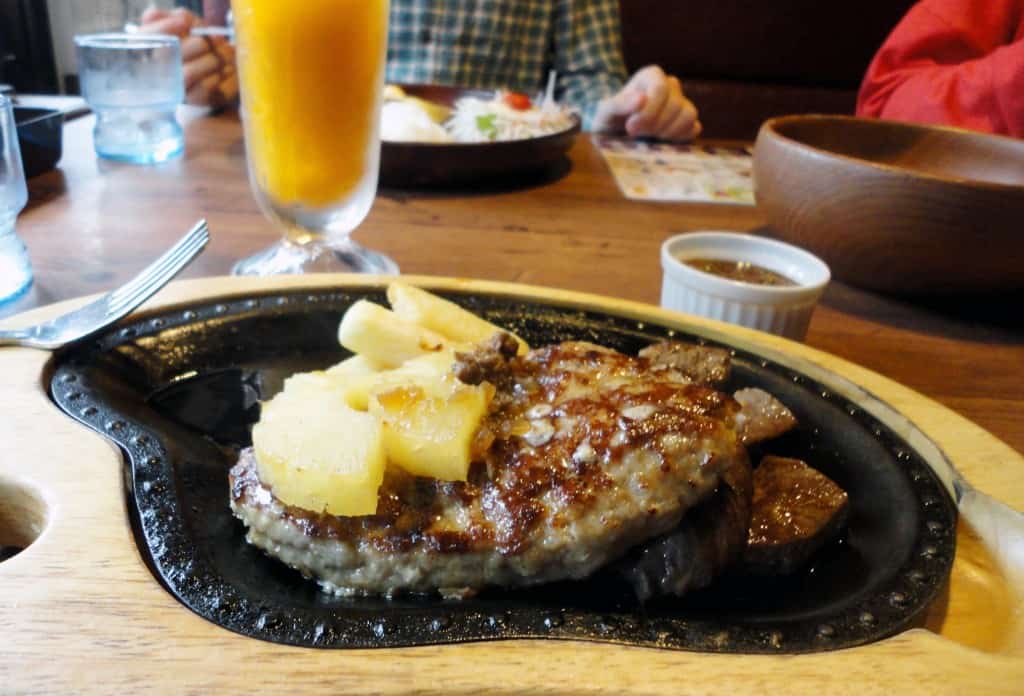 Although it's not a Dotonbori-specific specialty, it is a relaxed atmosphere enjoyable to dine at. Famous for hamburger-steaks and other meat delights, it's a great place to grab a quick lunch, especially for those longing for beef dishes. This is usually the top restaurant of choice for many of the foreigners I know residing in Japan.
If you're not hungry enough for a full meal– just grab a nice snack at one of the many food vendors lining the streets. Be sure to try either takoyaki or okonomiyaki—both regional specialties of Osaka.
What's Nearby?
Dotonbori is close to many other great attractions as well, making it an easy place to visit on your trip to Osaka. Just north is Shinsaibashi, an area with a giant shopping arcade full of great clothing and accessory shops, as well as cheap game arcades. To the south is Namba, which is famous for "Den Den Town"—a miniature Akihabara filled with electronics and anime goods.
Being only a short 5-minute walk away from Namba Station or Shinsaibashi Subway Station, it is easy to spend the day exploring the rest of the city before heading to Dotonbori for some nighttime fun.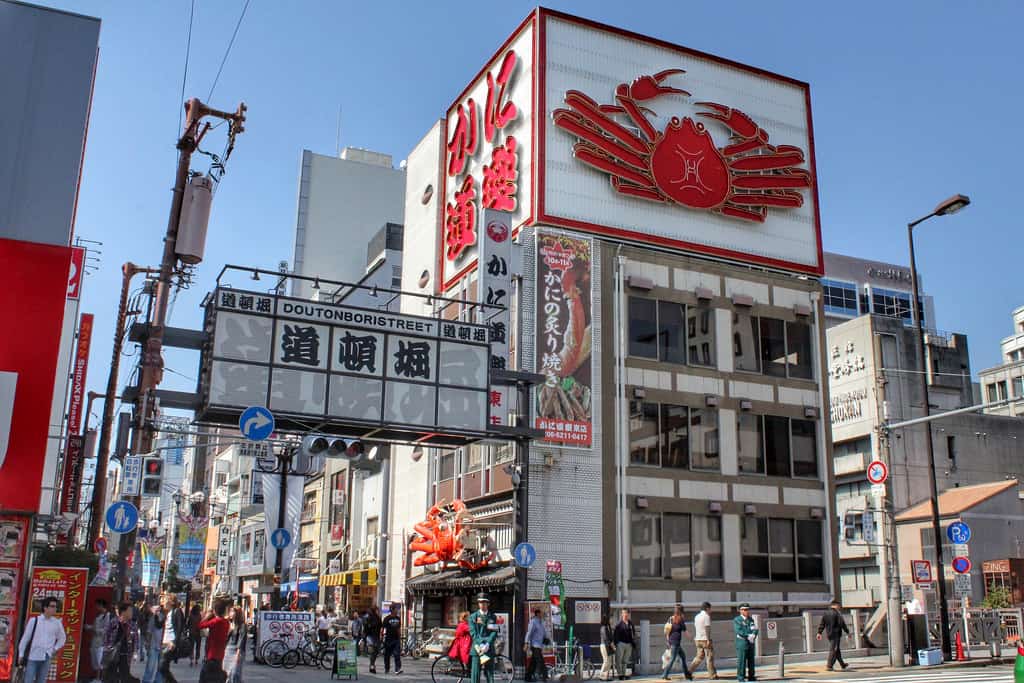 My Recommendation?
 Make sure to visit Dotonbori at night to see the symbol of Osaka at its finest. The buildings on both sides of the canal are lined with neon advertisements, including the most famous 1935 Glico Olympic runner, which all make for attractive nighttime photography.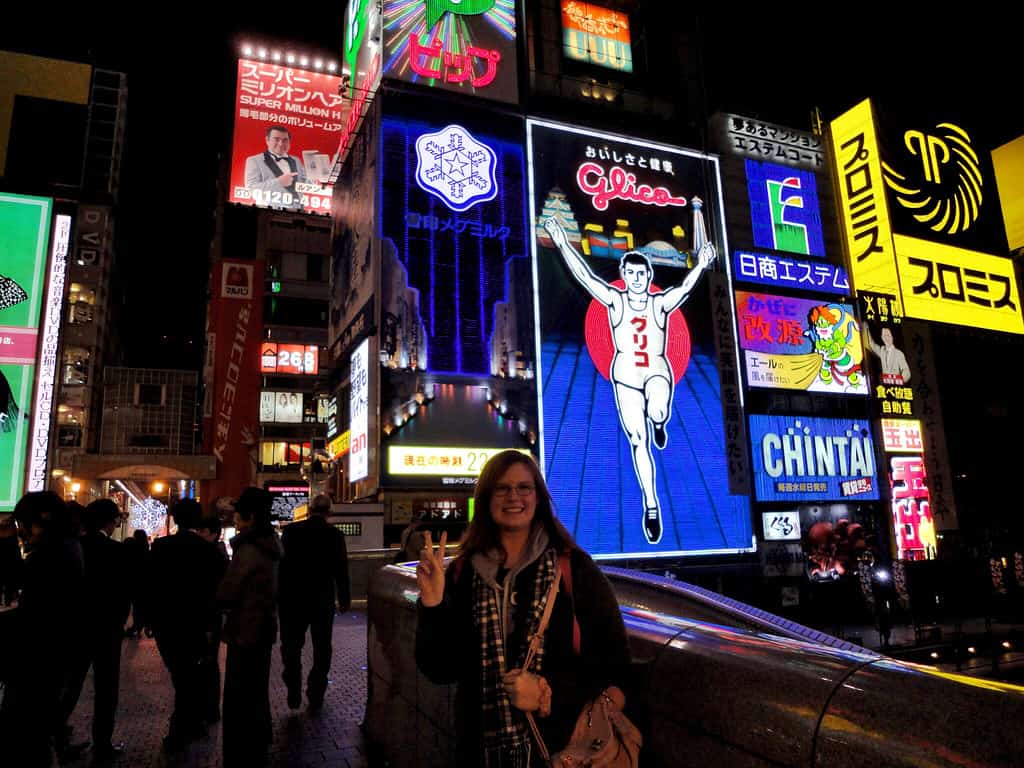 Even when it is getting close to the last train of the night, Dotonburi is still filled with people taking in the nightlife. Bars, nomihoudai , clubs, karaoke—everything you could ever want for an exciting night out all within a few steps of each other.
Final Thoughts
When people think of Japan they often picture flashy neon lights, large crowds of people and delicious restaurants lining the streets—and that's exactly what you'll get at Dotonbori.
How to get there:
From Tokyo (Tokyo Station):
 Take JR Tokaido Shinkansen Line for 2 hours and 30 minutes from Tokyo Station to Shin-Osaka Station. Next hop on the subway  from Shin-Osaka Station to Namba Station.
From Osaka: 10 min. walk North from Namba Station on Subway Midosuji Line or Subway Sennichimae Line
5 min. walk North from Hanshin Osaka-Namba Station