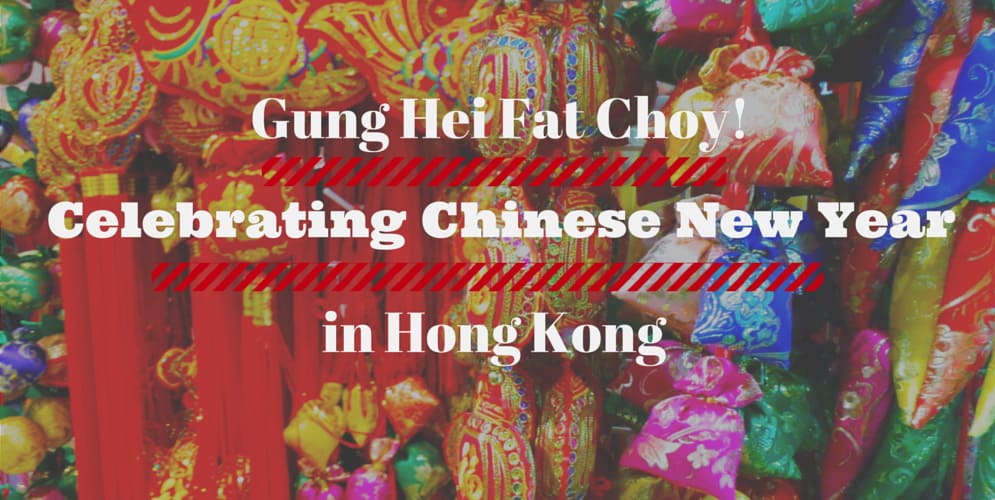 Gung hei fat choy!
The shops have all started selling red and gold decorations, lanterns and red envelopes galore…and that can only mean one thing– Chinese New Year is just around the corner here in Hong Kong.
Time to brush up on those Chinese New Year phrases!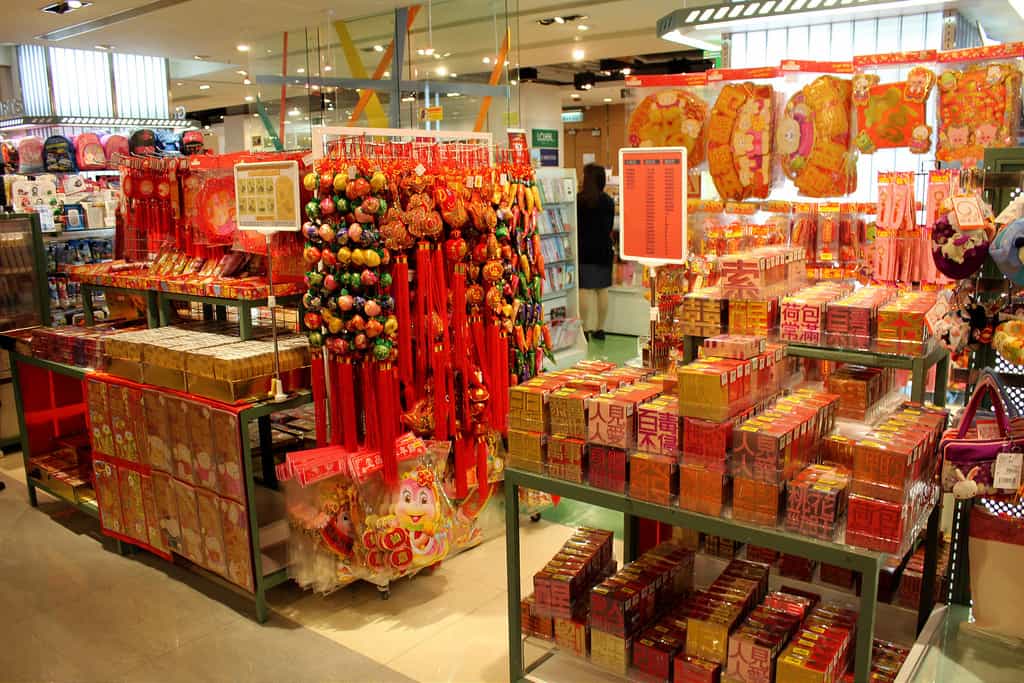 Chinese New Year typically falls between January and February depending on the Chinese calendar. The celebration lasts 15 days and will be filled with auspicious foods, family and astonishing fireworks.
Asia's world city welcomes the Year of the Snake (my year!) with the perfect blend of modern and traditional events–and as many people will be traveling to Hong Kong during this time, it's time to start planning how you will celebrate!
Chinese New Year's Eve
New Year's Eve is spent finishing up spring cleaning and putting the final touches on the decorations. Afterward, everyone engages in family reunion dinners to ring in the New Year.
Chinese New Year Day (Day 1)
New Years day is often spent paying respect to ancestors and then going out to see the parade at night.Cathay Pacific International Chinese New Year Night ParadeThe night parade is one of the favorite parts of Chinese New Year. The world-famous parade will be filled with floats, dragons and other performances.If you miss the parade, the beautiful floats will be on display the following week at various locations throughout Hong Kong.Time: 8:00 pm – 9:30 pm
Where: The parade route goes from Hong Kong Cultural Centre Piazza in Tsim Sha Tsui and circles around to the Sheraton Hong Kong Hotel and Towers
How to get there: MTR Tsim Sha Tsui Station Exit L6
Day 2
The second day of New Year is a time for women to return home to their families to have a reunion meal and at night the best firework display of the year is held.Lunar New Year Fireworks Display Similarly to Western New Year, Chinese New Year is rung in with fireworks. And with China being the inventor of fireworks, this is a show you won't want to miss!Time: 8:00 pm
Where: The harbourfront
How to get there: MTR Tsim Sha Tsui Exit L6 or East Tsim Sha Tsui Exit J
Day 3
Chinese New Year Race Day (Horse Racing) Called 'chec hao', this day is considered a time when arguments are likely to happen. People try their best to avoid any arguments and instead spend the day out at the racetrack.Hong Kongers love to gamble, so everyone loves to head over to Sha Tin Racecourse hoping to kick off the New Year with a win! Others head to Che Kung Miu Temple for their New Year's visit. Time: 12:00 pm – 6:00 pm
Where: Sha Tin Racecourse
How to get there: MTR Fo Tan Station 
Day 4
Everyone returns to work this day and some shops reopen–but the celebrations don't stop here. There are still 11 more days to celebrate.For the sports fans, The Asian Challenge Cup football finals are held this night.
Day 7
The seventh day of Chinese New Year is called "Renri", which is the Common Man's Birthday. So wish yourself and all of your loved ones–or anyone you see, a happy birthday on this day!
Day 15
Lunar New Year Lantern CarnivalChinese New Year ends with a beautiful display of lanterns throughout all of Hong Kong.There are larger displays at the Hong Kong Cultural Centre Piazza, but you can also find smaller displays set up in almost any community or storefront.Time: 6:00 pm (sunset) onward
Where: Hong Kong Cultural Centre Piazza
How to get there: MTR Tsim Sha Tsui Station Exit L6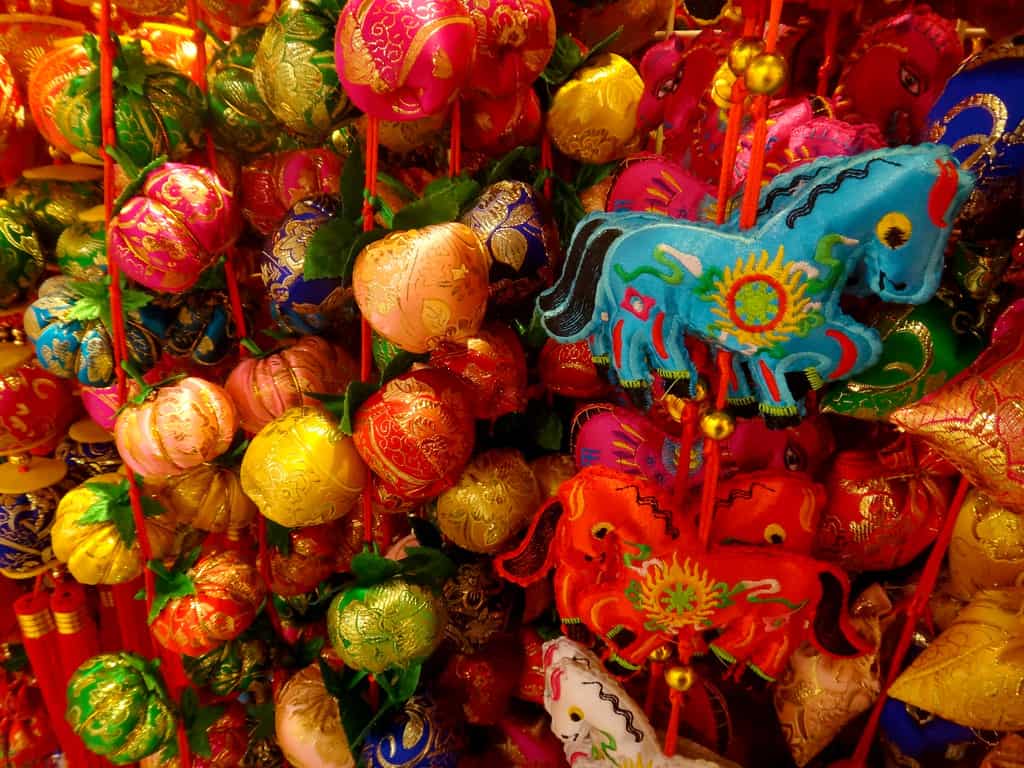 OTHER WAYS TO CELEBRATE CHINESE NEW YEAR…
CHINESE NEW YEAR FLOWER MARKETS
Special flower markets open in anticipation for the New Year. People search for the perfect flowers to use as decorations and as gifts. If you can bear the crowds to pick up some flowers, some of the plants that are considered auspicious include mandarin trees, willows and bamboo.
Time: early – 9:00 pm
Where: Victoria Park
How to get there: MTR Causeway Bay Station Exit E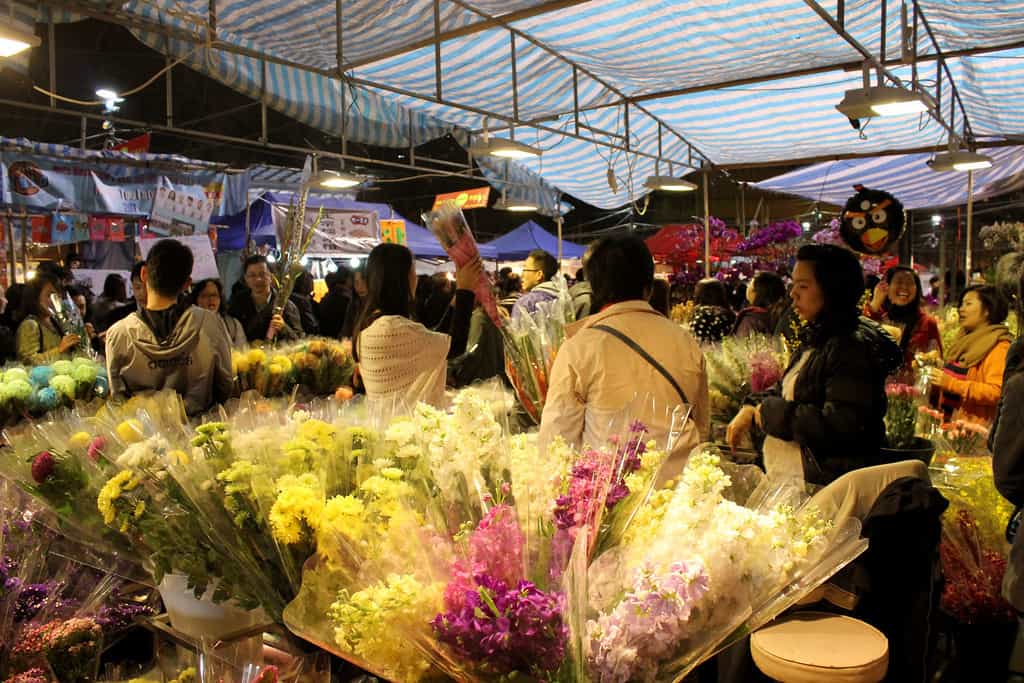 HONG KONG WELL-WISHING FESTIVAL
People travel from all over to participate in the Well-Wishing Festival. There are two main ways to make a wish for the New Year: the Wishing Trees or the Wishing Lanterns.
Write your wish on a piece of paper tied to an orange with a string. Throw it into the Wishing Trees and if it catches on the branches, your wish is said to come true.
There will also be ceremonies throughout the festivities for releasing Wishing Lanterns into the night sky– just don't forget to make your wish before you let go!
Time: All day
Where: Lam Tsuen, Tai Po
How to get there: MTR Tai Po Station. Exit the station and take the 64K bus to Lam Tsuen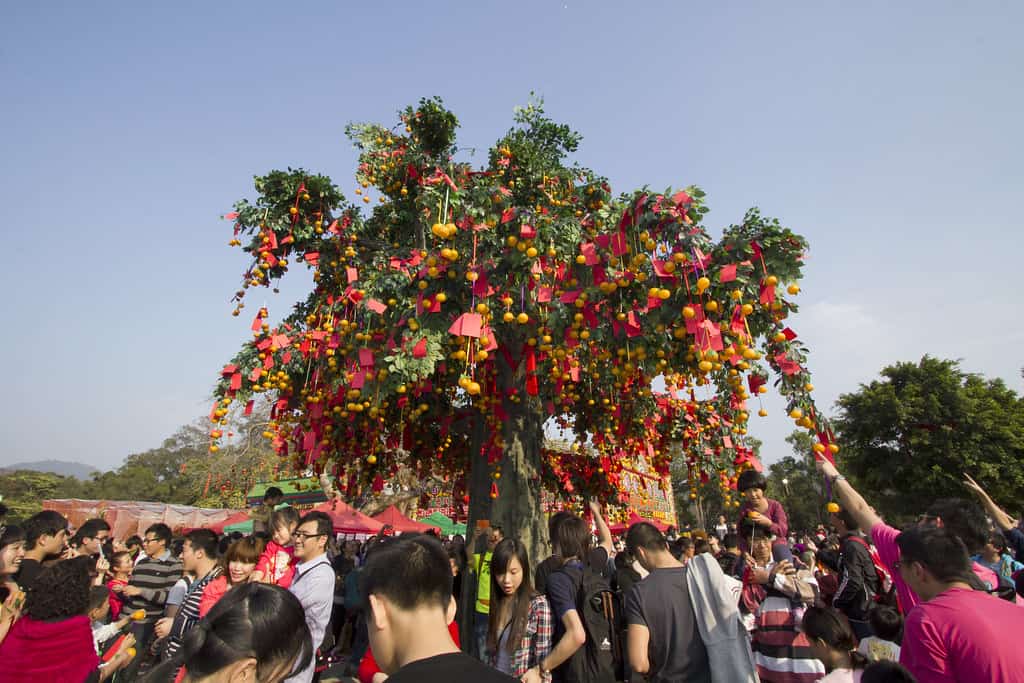 HONG KONG DISNEYLAND'S CHINESE NEW YEAR CELEBRATION
Hong Kong Disneyland will soon be filled with gongs, red envelopes, lanterns and lion dances in celebration for the New Year.
Characters will be dressed in traditional Chinese clothes and one special character will become this new year's representative. For Year of the Rat it was Mickey, for Year of the Tiger it was Tigger and for Year of the Dragon it was Mushu … who do you think will represent this year's Year of the Snake?
Time: 10:00 am – 8:00 pm
Where: Hong Kong Disneyland, Lantau Island
How to get there: MTR Disneyland Resort Line
THE PEAK TOWER'S WHEEL OF FORTUNE
See beautiful sights while getting lucky with the "Wheel of Fortune" at The Peak!
Where: The Peak, Central
How to get there: MTR Central Station Exit J2, the walk north to the Peak Tram Terminus
SKY-HIGH 360-DEGREE GOOD FORTUNE WALK
The Chinese say that if you walk in a circle good fortune will follow–so try your luck at the Good Fortune Walk while taking in beautiful 360-views of Hong Kong.
Where: ICC, Kowloon
How to get there: MTR Kowloon Station Exits C and D
NGONG PING 360 WELCOMES THE NEW YEAR WITH A LION DANCE
Watch colorful lion dances throughout the Ngong Ping Village to celebrate the New Year.
Where: Ngong Ping, Lantau Island
How to get there: MTR Tung Chung Station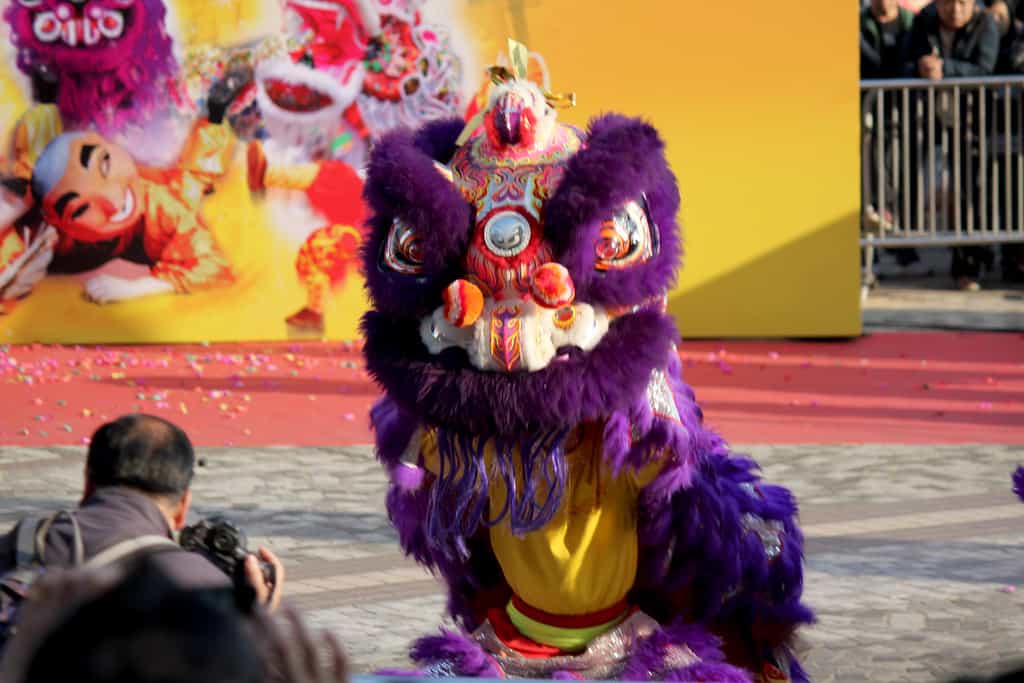 EAT LUCKY FOOD
Food is a large part of Hong Kong culture and during Chinese New Year is no exception. There are many foods that are specially prepared during the celebrations for their symbolic meanings.
Tong Yuen- Sweet rice balls filled with sesame or peanuts. The name sounds similar to the word "reunion", which is also symbolized by the roundness. This is a popular treat to eat during family reunion dinners.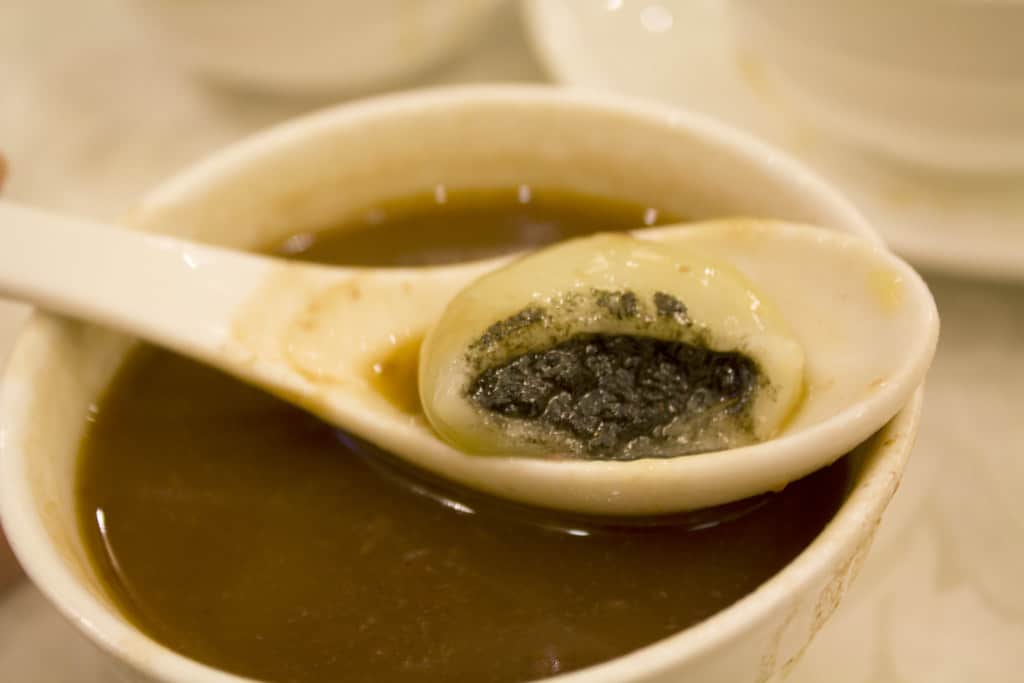 Mandarin Oranges- are often being handed out during Chinese New Year because their name is a homophone for luck and wealth.
Sticky rice cake- "Nin Go" is similar to "high" or "tall", which symbolizes raising yourself higher each year.
Black moss- "Fa cai" sounds the same as "fat choy" or prosperity.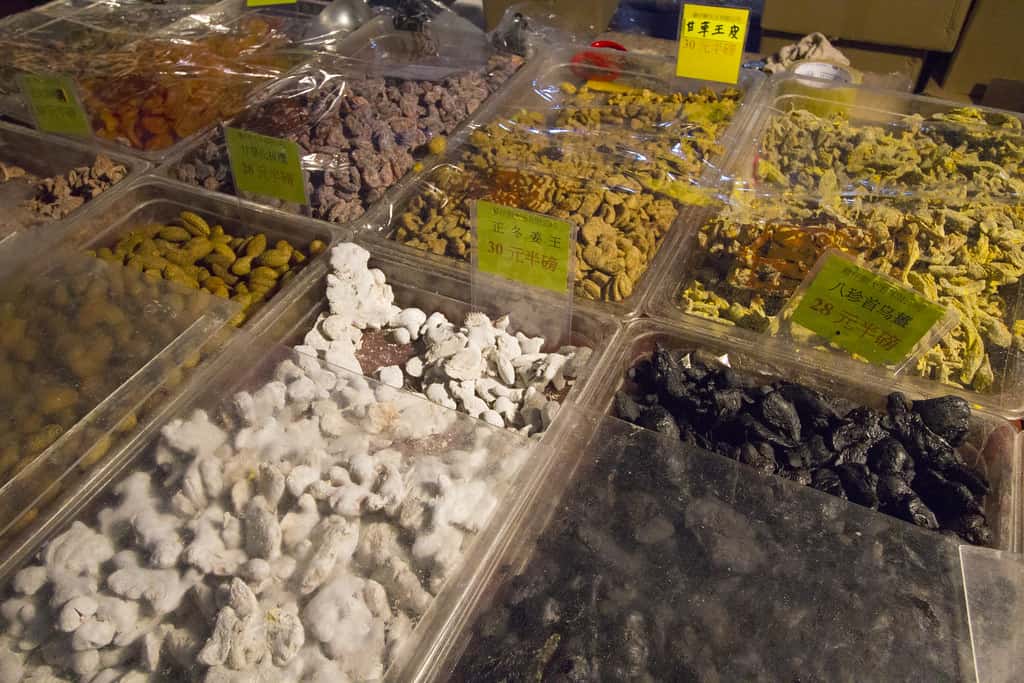 Dried Oysters- the word for these oysters "hao shi" sounds similar to the words "good business", a must-have for a financial hub like Hong Kong.
Congee- called "zuk" in Cantonese, sounds like the word "satisfaction". To show that people are satisfied with what they have, it is a common dish to eat on the 7th day of Chinese New Year (Renri) for the "Common Man's Birthday".
HOW WILL YOU CELEBRATE CHINESE NEW YEAR?