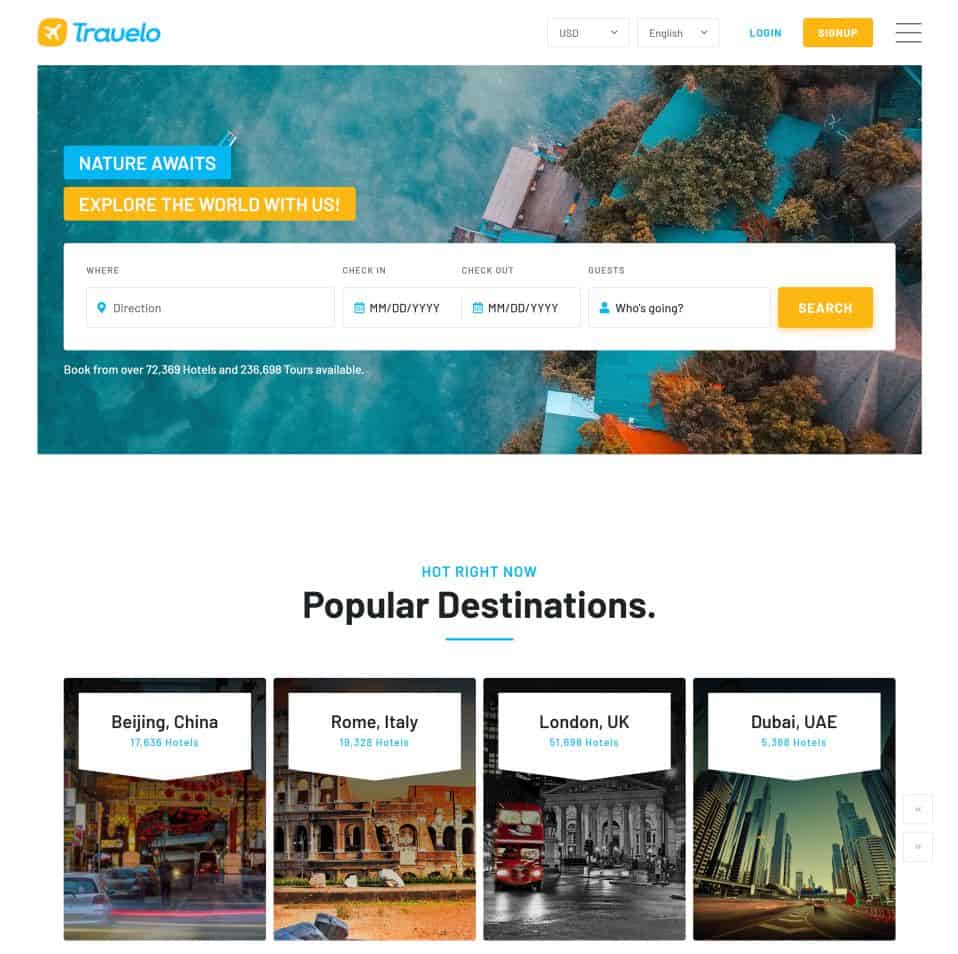 Building your first website is an intimidating process. A website plays a crucial role in any business. In the process of building your website, WordPress is a name you'll undoubtedly come across. It's a robust system that helps you customize and manage your website.
People rejuvenate themselves through a weekend getaway or an overseas trip. Travel enthusiasts frequently look at blogs or websites for inspiration or information. The industry is growing every day. Their online presence is more prevalent than ever.
If you work in this industry, you need to learn how to tap into this process. WordPress offers a wide range of flexible content and features. You can customize websites as you please. The Travelo WordPress theme is one of the best in the market.
It offers a pre-designed template perfect for hotel or tour booking websites. The Travelo theme has a simple yet stylish layout. It immediately catches your eyes with the bold color scheme and highlighted images. The design is comparatively flat. It adds to the professional tone a website requires.
Let's take a look at the highlights!
Website Layout of Travelo WordPress Theme
A website's layout defines the user experience. It clears the path for navigation within your website's pages. The structure helps present the necessary information in the most accessible way. With the Travelo theme, you can keep the important elements of your website right where you need them.
It's perfect for travel, tour, or booking websites because of its professional design. The theme is filled with rich features that glorify the experience. The Travelo theme also comes with a professional payment and hotel booking system. It's also equipped with multiple shortcodes that help optimize the speed.
One of the best things about this theme is that fits both desktop and handheld devices. You don't have to worry about time lag while the website readjusts itself to a smaller screen. It has 10 site screens, 8 header styles, and 6 footer skins. The blog integration is top-notch too!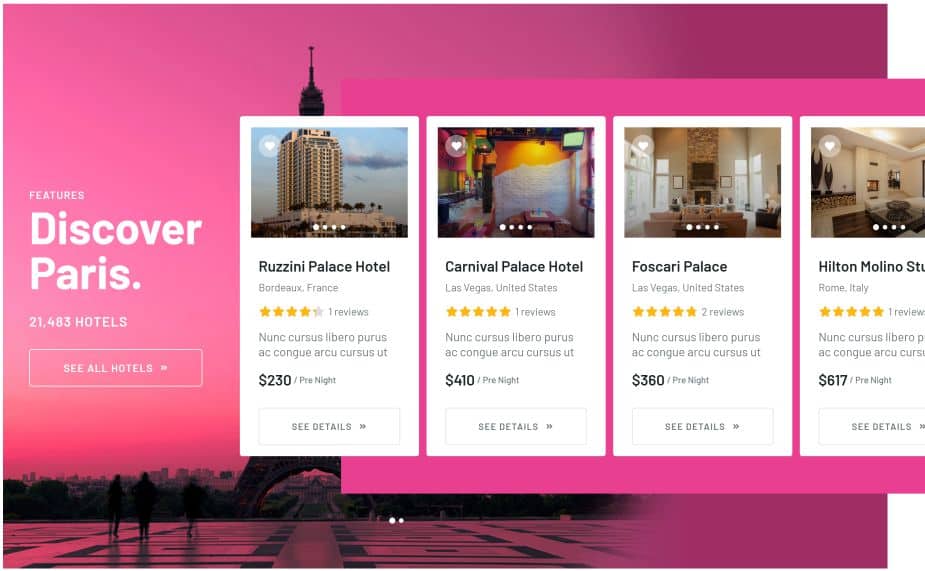 The Best Features of Travelo Theme
The Travelo Theme has several useful features in its arsenal. It showcases all the important business details properly. The navigation is straightforward. It's extremely secure. Your website will be able to integrate social media applications with ease. Let's look into some others.
1. It doesn't require coding.
You don't have to be a professional coder to install this theme and to set up this website. It's fully based online. All you have to do is click on the install button. The content will follow.
2. It ranks well.
WordPress strives to provide the best websites in the market. Part of the reason their products receive such good feedback is because of their SEO plugins. The Travel Theme is also equipped with the necessary plugins. These ensure your brand stays at the top of the ranks.
3. It's easily customizable.
Even though the Travelo Theme comes with templates, you can customize it however you wish. You can modify every section to bring a personal touch to the theme. This includes the sidebar, sections, pages, widgets, and even the services you offer!
4. It has wonderful translation capabilities.
The Travelo theme is compatible with the WordPress Multilingual Plugin. This means your website can translate its content to multiple languages. This helps reach a more diverse audience.
5. It has a unique theme description.
If you want your niche to stand out, Travelo theme helps. It has an excellent collection of templates. Your feature area, social icons, or blogs are highlighted appropriately. With this, you can both create and manage your customer appointments.
How to Make the Most of Travel Theme
Every travel company website has a unique element. The building blocks are more or less the same. It ultimately depends on your needs and your business. Are you a small-time operator? Do you own a hotel? Are you a part of a large, international travel organization? Every brand needs something different.
So you should shortlist your needs first. How many sections or pages do you want? What functions do you want to highlight? What sort of services are you providing? Everything needs the right placement. More importantly, you need to figure out how to present your story.
That's the first thing a potential customer will see. It sets the impression. So the landing page needs extra care. Travelo theme offers multiple templates that you can customize yourself. Try to integrate a blog too. Sharing your own experience will assuredly attract more clients.
The next thing you need to pay attention to is enabling online booking and reservations. Whether it's for a hotel room or a flight, this feature is a must-have. Your clients should be able to scour their options from their homes. They prefer it! So an immediate reservation or purchase option is a huge plus for your website.
It's a good thing the Travelo theme comes with PayPal integration. This makes the transaction process much easier. There's also a modal sign up option. This allows your users to generate their passwords. This theme also has the Woocommerce Ready in case you want to incorporate e-commerce too!
Conclusion
A website reflects your story in a few glimpses. Travelo theme will build the perfect one for you. The end product will act as the perfect guide for your viewers. If you own a hotel, add a Layer Slide that highlights nearby tourist spots. A travel agency website should create a blog that focuses on travel experiences.
The Travelo theme uses a mix of widgets ideal for the tourism industry. Build your dream website with these and the unparalleled customization feature. Use the Visual Composer to make your images pop! Make use of proper keywords to find your website at the top.
Use Travelo theme to share about your adventures and lure others to join you too!