Mooncakes are everywhere. In Hong Kong, you can't walk more than a few feet without seeing a shop that sells them or an advertisement enticing you to buy them. As soon as the 
Dragon Boat Festival
 ends, the mooncakes start to appear.
Many people during the Mid-Autumn Festival these traditional pastries are enjoyed. It is customary to give boxes of these treats to almost anyone and everyone. At least one box per household for relatives should be given and companies relying on these cakes for better business relations give expensive boxes worth up to $300 USD.
According to famous Kee Wah Bakery in Hong Kong, 90% of mooncakes bought are given to others.
High-end mooncakes often sell out a month before Mid-Autumn Festival even begins. With so many of these cakes being bought, they account for 1/3rd the revenue for local bakeries in Hong Kong… an amount that is down from previous years.
So are these treats that worth the money and waiting in lines to obtain? Not really.
Each year about 2.5 million mooncakes are thrown away in Hong Kong. Traditionally made of duck egg yolks and lotus seed paste, one can be 1,000 calories per piece. Most Hong Kongers admit they don't even like the taste but they still take part in the tradition, simply because "they're Chinese".
With majority of the younger generation disliking the taste of mooncakes, today many bakeries have placed modern twists on these traditional treats to further increase sales.
We took the challenge to try as many as we could find (and afford), so here's our review on the top seven treats we tried.
> You May Also Like: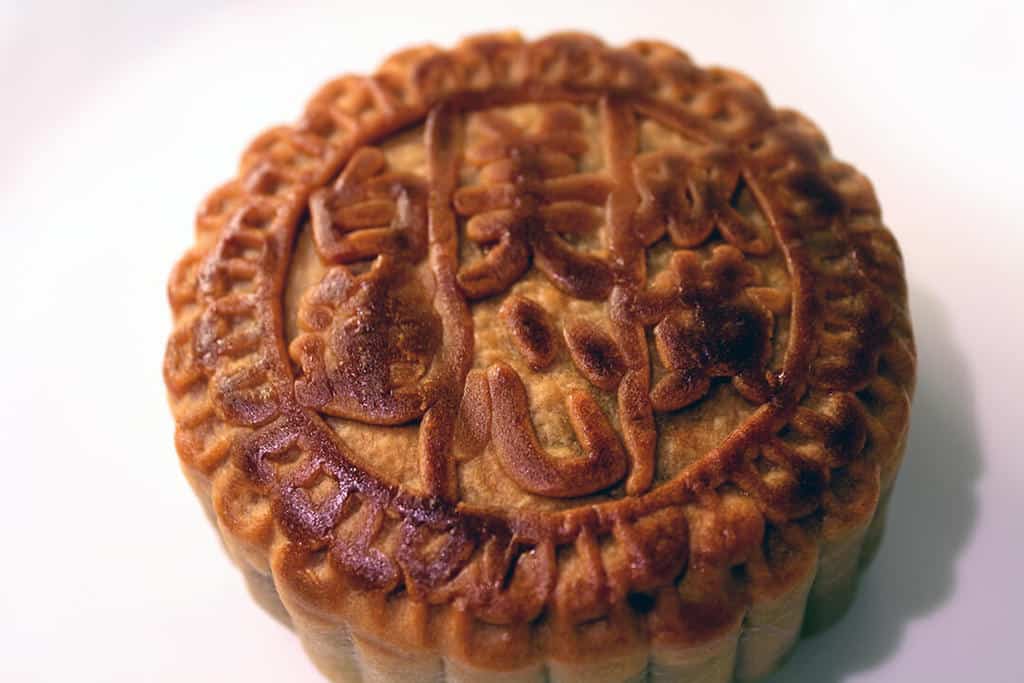 7. SAINT HONORE CAKE SHOP'S CHARACTER MOONCAKE
Buying into the gimmicky side that seems to haunt any holiday, a majority of big bakeries now make mooncakes in the shapes of famous, loved characters. From Angry Birds to Hello Kitty mooncakes, it's all found in Hong Kong. Saint Honore Cake Shop was no exception and jumped on the bandwagon when they introduced their Rilakkuma mooncakes.
This two-mooncake set includes two unique flavors, "Chocolate & Marshmallow" and "Mango Yogurt". The mango yogurt was all right, but nothing to rave about and the chocolate and marshmallow was just… no.
Price: $74 HKD for the set, but it at least comes with a cute Rilakkuma souvenir bento box!
Overall: Would I purchase again? Maybe. The cakes were pretty dry, although I did like the texture the marshmallows gave, and they weren't overly tasty… but they did have cute Rilakkumas on them and gave me my new lunch box that I use daily.
6. SAINT HONORE CAKE SHOP'S SNOWY MOONCAKE
Snowy mooncake filled with mango, pomelo and sago
Snowy mooncakes, or icy-skin mooncakes as they're sometimes called, are a fairly new creation.
Not needing to be baked, these treats have a white mochi-like skin that needs to be kept cold, thus the name snowy mooncakes. The inside is filled with a variety of flavors: mango, pineapple, chocolate, green tea, and many other options.
A lot less calories than traditional mooncakes, these cakes are a popular choice amongst many mooncake buyers.
Price: around $26 HKD for one; $36 HKD for two.
Overall: Would I purchase again? No. The mochi covering was good, but the inside was completely dry. I had a really hard time eating the whole thing. Maybe I got a bad one or maybe one of the other flavors would've been better, who knows, but I probably won't be trying this variety again anytime soon.
5. HÄAGEN–DAZS ICE CREAM MOONCAKE
The first of its kind, Haagen-Dazs created a deliciously, modern ice cream mooncake.
The gift set we got, compliments of Johnny's work, included four mooncakes. The first two mooncakes we ate were berry ice cream covered in a milk chocolate shell, which were really good. The second two in the set were chocolate covered in a dark chocolate shell, which I didn't really like because I don't like dark chocolate nor chocolate ice cream.
Price: $48 HKD per 2 piece set

Overall: Would I purchase? Probably not. They were cool as a gift, but they're not much different than just buying an ice cream bar. I'd rather have something a little more traditional to the Mid-Autumn Festival.
4. MAXIM'S TRADITIONAL MOONCAKE 
The 1,000-calorie hockey puck
Traditional mooncakes are… interesting to say the least.
I think like most Asian traditional "sweets", red bean, lotus paste etc., it's an acquired taste. The first time I tried it I wasn't that fond of it. (Which was okay by me considering the calorie count!) I still can't finish one by myself, but I can at least tolerate and appreciate them.
Despite not overly loving the taste, I found myself liking these better than some of the more modern variations. Call me traditional, but it just makes more sense to eat these (or at least ones somewhat similar in nature) during the Mid-Autumn Festival rather than eating what's basically an ice cream bar that has no cultural significance– no offense Haagen-Dazs.
Price: Prices for these vary considerably. These are the variation found almost everywhere and can range from $100 HKD – $2000 HKD for a box of typically 4 or 8.
Overall: Would I purchase again? Luckily you only eat them once a year. So for traditions sake, yes.
3. AROME'S SNOWY DELUXE MOONCAKE
Their mooncake comes in cute bunny shapes!
As delicious as they are cute, Arome's Snowy Deluxe Mooncakes were easy to put in my top three. These mochi-covered cakes were filled with paste like the traditional variation. Although it wasn't lotus seed, it was made from mung bean which is equally, if not more delicious. A very light taste compared the unhealthy, heavy traditional mooncake.
Like other snowy cakes, these have many filling to choose from including green apple, pineapple, melon and more fruity flavors. Of course Johnny and I chose mango, and it was delicious. I would've bought more had they been cheaper.
Price: $33 HKD for 2. They did have a deal where if you used $1 HKD in reward points from your Octopus card you could get them for $22 HKD, which made them a bit cheaper for us!
Overall: Would I purchase them again? YES! I wish they were still selling them in stores. I'm a sucker for anything rabbit shaped or cute…but on top of the alluring presentation, the taste was very good and I learned something new I like to eat–mung bean.
2. KEE WAH BAKERY X OCEAN PARK EGG CUSTARD MOONCAKE
While spending the day at Ocean Park, we noticed that even they were selling mooncakes. At a pretty decent price, we decided to pick up some egg custard ones since we enjoyed that variation from The Peninsula so much.
Made from famous Kee Wah Bakery, they were just as rich and custardy as The Peninsula's … but these had a cute panda on them! Although they're not world-famous mooncakes, they're a close substitute and for every box sold, $5 HKD will be donated to Ocean Park Conservation Foundation, Hong Kong.
Price: $108 HKD for 4 custard mooncakes.
Overall: Would I purchase again? Of course! These were just about as delicious as the famous egg custard cakes from The Peninsula, they came in a cute panda tin with pandas on each cake, and I like that they donate some of the proceeds to protecting animals! What's not to like about these mooncakes?
1. THE PENINSULA CONNOISSEUR ASSORTED MINI MOONCAKE
The famous king of mooncakes
Want to create the best impression with a client? It's go big or go home, and we're not talking the size of the cake. Due to high demand, The Peninsula Boutique's mini mooncakes always sell out at least a month before Mid-Autumn Festival. Made from the world famous hotel, The Peninsula is said to have been the first bakery to create egg custard mooncakes.
If you want to try these decadent confections, prepare to wait in long lines and fork over lots of cash.
The custard is sweet and the outside is buttery. It's hard to eat a full cake by myself, and I wouldn't recommend it even though they are nothing compared to the giant regular mooncakes. Let's just say I wasn't surprised when I found out that one of these rich mini-cakes is around 500 calories. Don't let their tiny size fool you!
The Peninsula also sells traditional style mooncake, which were also good. If you're looking to try both, I recommend the assorted box as pictured above.
From a luxury hotel comes a cake of similar luxury, it's no wonder people consider these mooncakes #1.
Price: $286 HKD for the assorted egg custard and traditional cakes
Overall: Would I purchase? Yes!
There you have it, a look into the world of mooncake madness.
Happy Mid-Autumn eating everyone!