Mid-Autumn Festival takes place on the 15th day during the 8th month of the lunar calendar.
The Chinese believe this is the day when the moon is its roundest and brightest; with round implying a time for family reunion. Therefore, Mid-Autumn Festival is a time when people return home to gather together with their families.
Also a harvest festival, it is somewhat similar to western Thanksgiving, and is the second most important holiday after Chinese New Year.
If you're lucky enough to be in Hong Kong for this celebration, there is plenty to see and do. However, beware if you're traveling. With everyone trying to return home, the travel prices can be quite expensive and with having a long public holiday, the main tourist attractions are crowded during this time.
So what do we do during Mid-Autumn Festival?
> You May Also Like:
Gift Giving
It's the season of giving this autumn. Like most other Chinese festivals, before the holidays begin you are required to give family members gifts. In this case, it's a box of mooncakes, at least one per household of relatives. For elderly members of the family you can give them pocket money and lanterns for the children.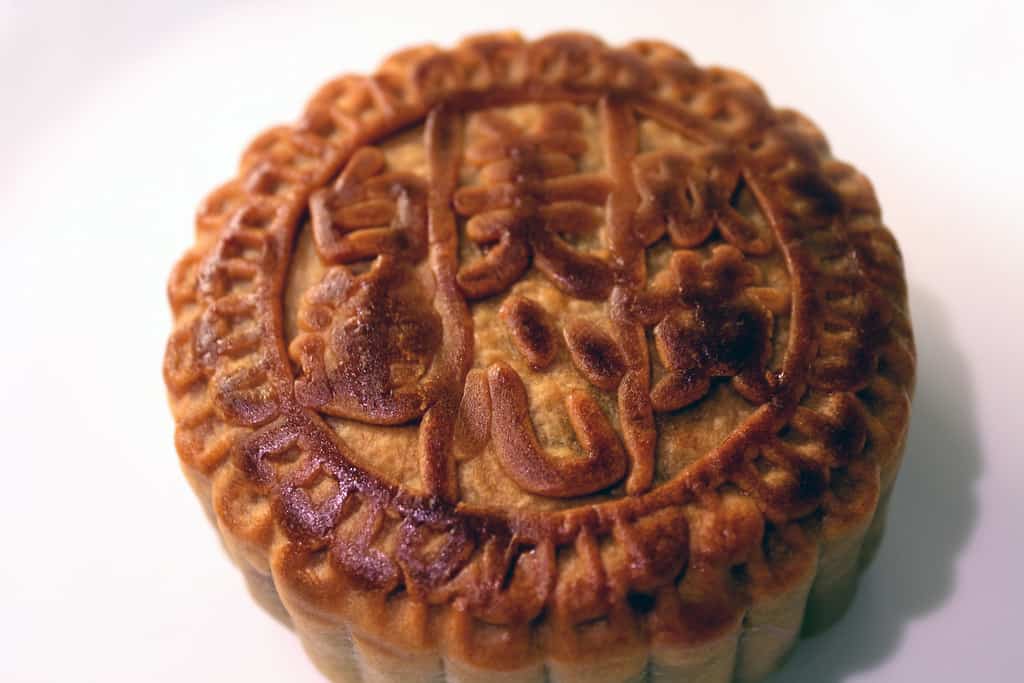 Lanterns
Families used to gather together to light lanterns and gaze at the full moon during the festival. Today most people go to "lantern carnivals" across the city. There are various lantern carnivals in Hong Kong.
Tsim Tsa Tsui Thematic Lantern Exhibition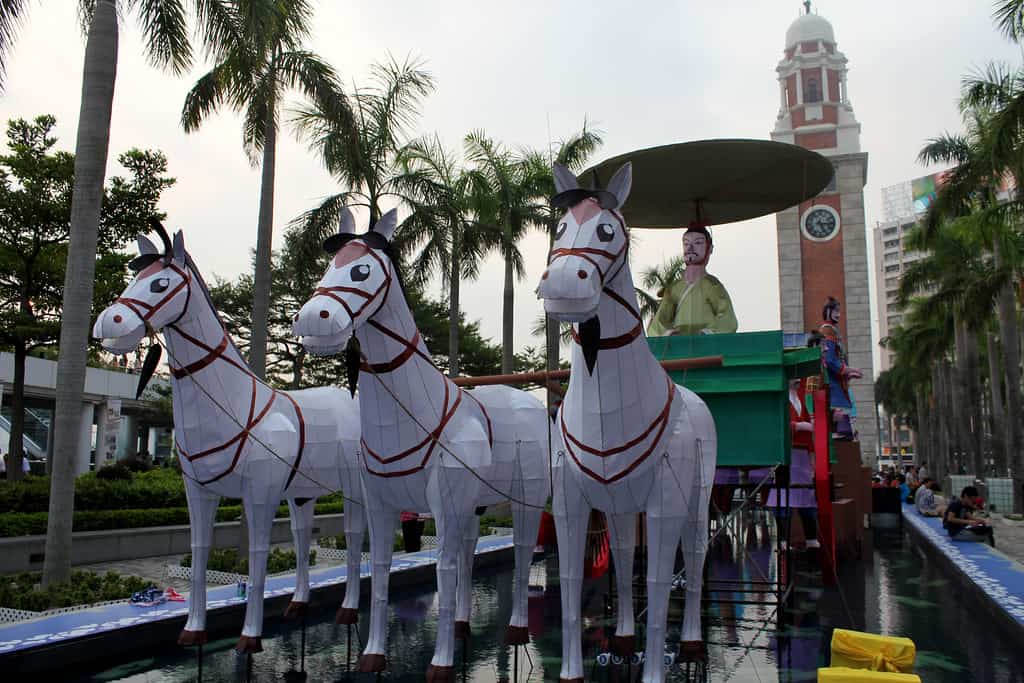 The theme of the lanterns change each year. This year was "Terracotta Warriors of the Qin Dynasty" which goes along with the current exhibit at the Hong Kong History Museum where you can see a few of the actual terracotta warriors from Xi'an.
This lantern carnival is the easiest to view as it runs the longest and is in the convenient TST Promenade next to the famous clock tower.
Want to see the lanterns yourself? You can!
Date: Until the last day of Mid-Autumn Festival
Time: 6:30 pm – 11:00 pm
Where: Hong Kong Cultural Centre Piazza, Tsim Tsa Tsui
How to get there: MTR Tsim Tsa Tsui Station Exit L6
Lee Kum Kee's Lantern Wonderland
This lantern carnival features thousands of individual lanterns and showcases a centerpiece chosen from a design competition organized by the Hong Kong Tourism Board.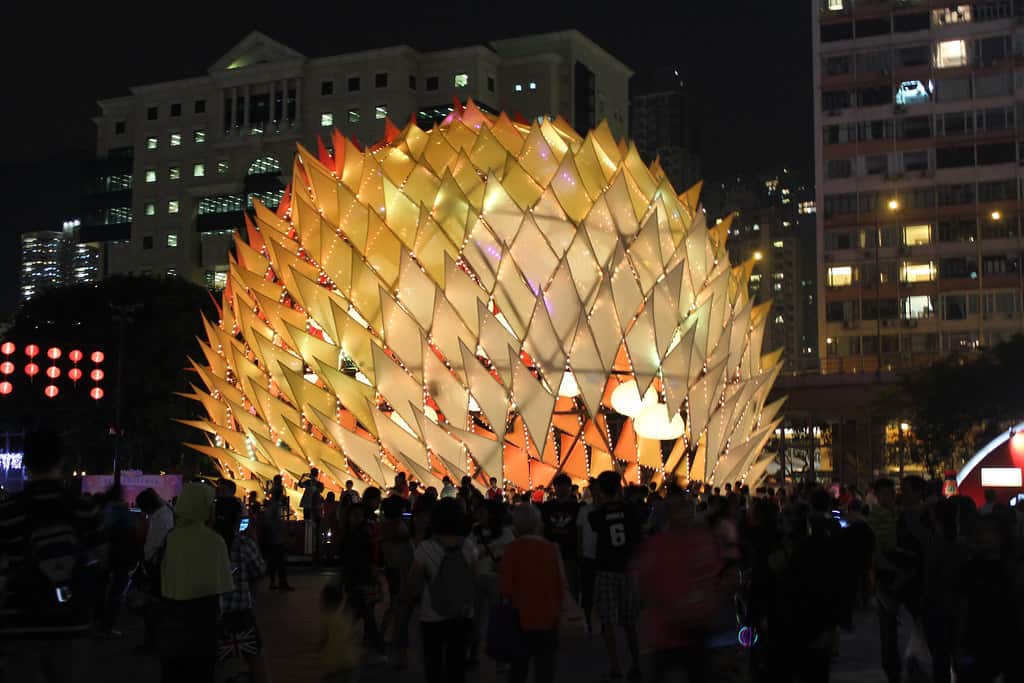 The centerpiece, called Golden Moon, was a structure built out of bamboo, metal, fabric and 10,000 LED lights. It stood 18m tall by 21m wide. The whole structure was fully equipped with a sound and light show that would begin every 15 minutes.
Apart from the Golden Moon, there were many other "China" themed lanterns illuminating throughout Victoria Park.
Many people walked through the park with friends and loved ones, stopping to take photos of the lanterns along the way. I'm sure you can imagine how crowded it gets.
People stay out during this time for hours and hours. Children are allowed to stay up late so that they can play with their hand-lanterns in the park under the full moon.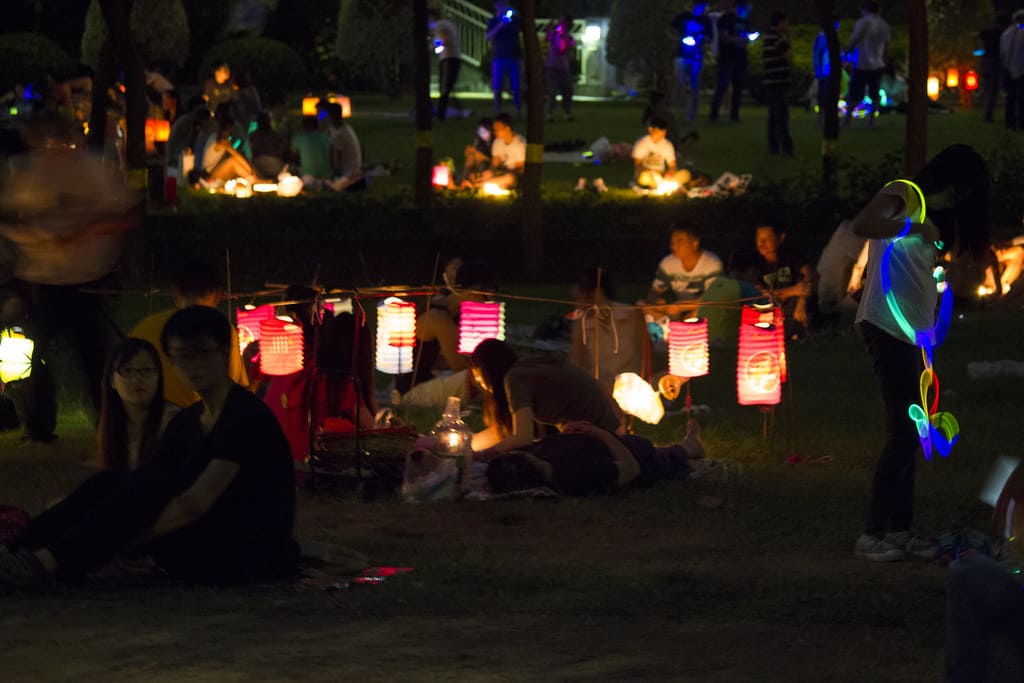 The theme of this year's Lantern Wonderland was "Hong Kong: Asia's World City". Towards the outskirts of the park they had these really cool lanterns, that I would've taken home if given the chance.
How can I get one of these??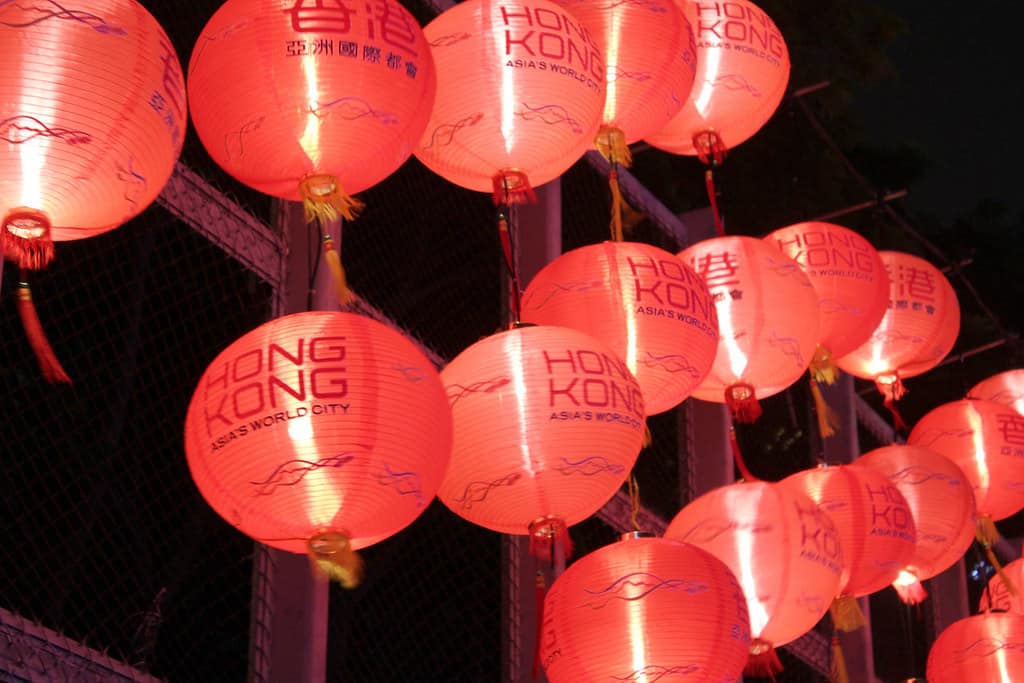 The Lee Kum Kee's Lantern Wonderland is a bit more difficult to see, only because of timing. The lanterns are only set up a few days before and after Mid-Autumn Festival, until like lanterns at the HK Cultural Centre Piazza.
Lee Kum Kee's Lantern Wonderland
Date: During Mid-Autumn Festival
Time: 6:00 pm – 11:00 pm
Where: Victoria Park, Causeway Bay
How to get there: MTR Causeway Bay Station Exit E. Walk down Great George Street -or- MTR Tin Hau Station Exit A2
Tai Hang Fire Dragons
Said to have stopped a plague in the 19th century, the tradition of the fire dragon dance still lives on today. With hundreds of performers and thousands of incense joss sticks, the dances take place over a three day period.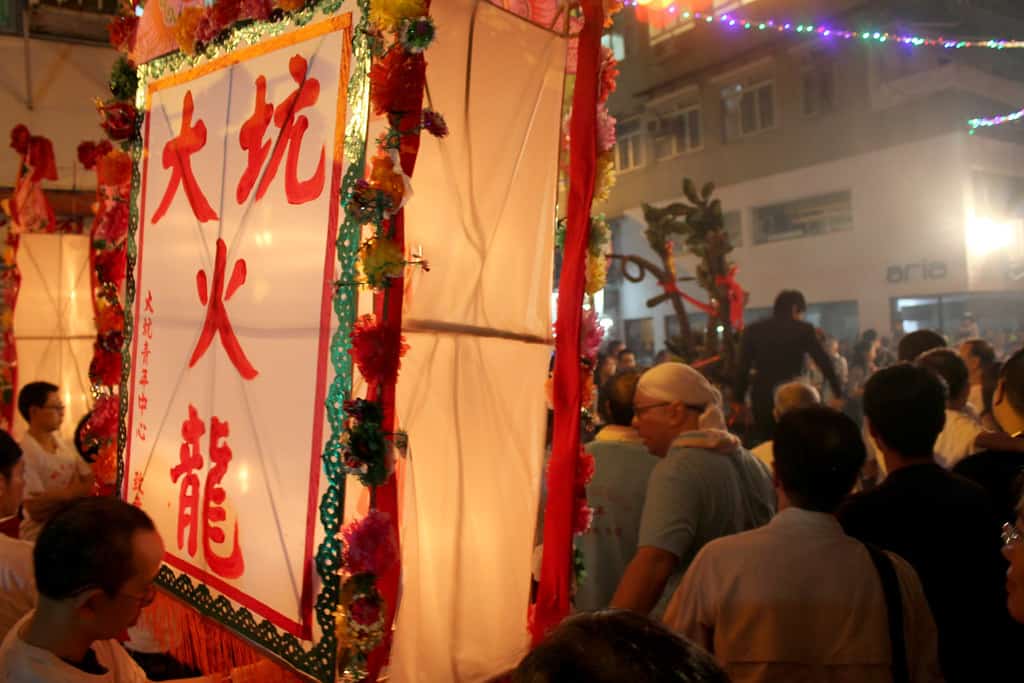 The fire dragon starts off as a 220 ft. long straw structure, made up of 32 parts. It kind of reminded me of the Yule goat we put out every Christmas.
I guess this was a yule dragon!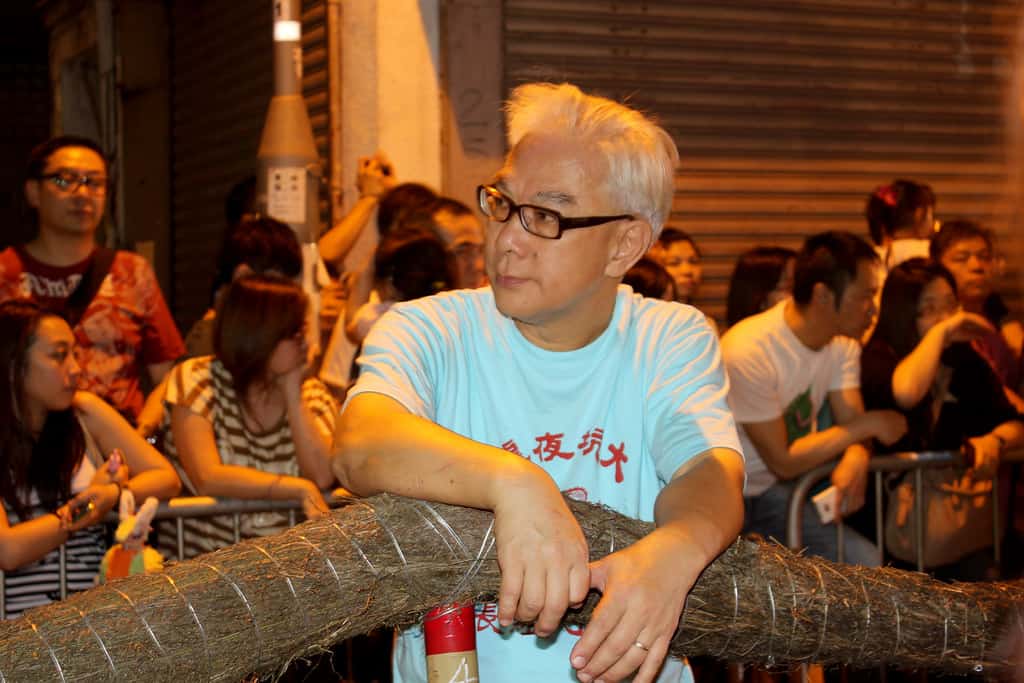 After consecrating the dragon, the head is decorated with various auspicious items such as red ribbon and paper cutouts. One by one people come up to add a ribbon to the dragons head while getting their photographs taken.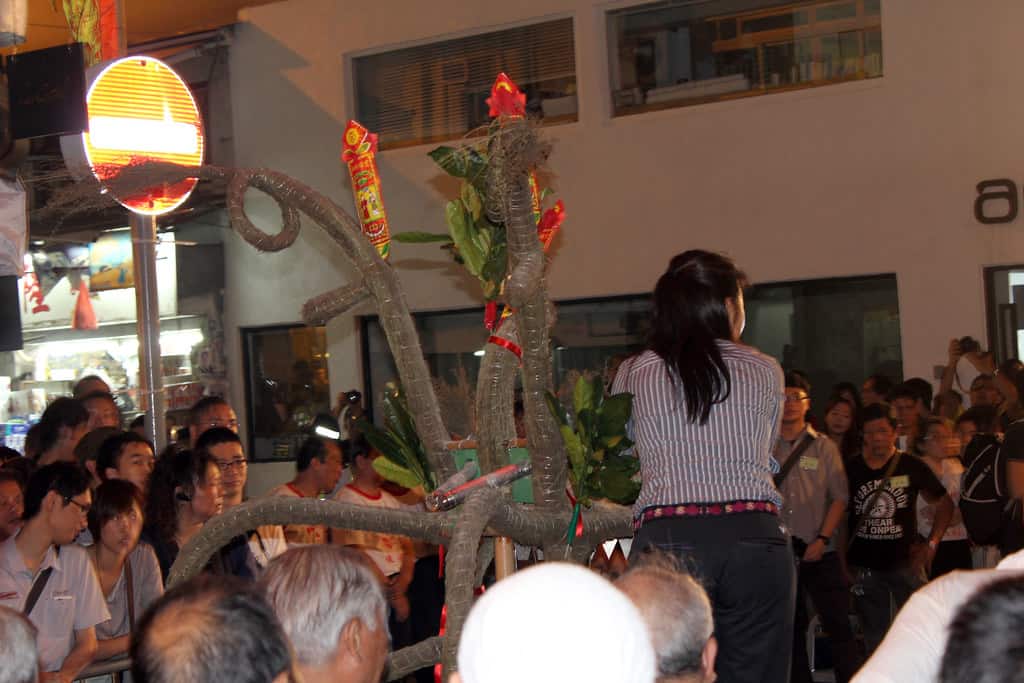 The adornments are removed and the long process of stuffing the dragon with joss sticks begins. Thousands upon thousands of incense sticks are used. The process of sticking them on the dragon took a good twenty minutes even with so many helpers.
The whole alley filled with smoke as more joss sticks were continually lit. It got to the point that I couldn't even see what I was photographing and taking videos of because my eyes burned so badly. Squeezed shut and filled with tears, I fired away with my camera trying to get good footage.
Jammed pack with incense, finally, the dragon was ready.
It was the time everyone was waiting for. The man with the responsibly of carrying the dragons head was given a quick rub on his shoulders, and the dragon dance had begun. Being lured by two swirling fire pearls, the dragon danced its way down the street to the beat of drums and cheering.
Being the third day of the performances, after the dragon was done dancing, it got paraded through the Lantern Wonderland at Victoria Park where it was tossed into the ocean.
Date: 29 September – 1 October 
Time: 7:30 pm – 9:30 pm
Where: Tai Hang
How to get there: MTR Tin Hau Station Exit A2
Want to try to watch the Tai Hang Fire Dragon next year? Make sure to go early to get a good spot. We arrived way too late, but lucky found them assembling the dragon in the alley near the dance site. TIP: Don't wait for them to parade to Victoria Park in hopes of seeing some fire dragon action, by then all of the incense sticks will have been removed due to being a fire hazard.
Reunion of Families
The most important aspect of Mid-Autumn Festival is reuniting with your family over a big dinner. As mentioned before, often people will travel home for this occasion even if it means flying across the Pacific. Unfortunately that's pretty costly for people my age, so it becomes a little unrealistic to do every year.
We gathered together with Johnny's family and with his brother flying in from the US, it was the first time in 8 years they were all together.
Happy Mid-Autumn Festival everyone!!
Have YOU celebrated Mid-Autumn Festival?