The two biggest Halloween events in Hong Kong would have to be Disneyland's Haunted Halloween and Ocean Park's Halloween Bash. Held at the two best theme parks in Hong Kong, they are each other's biggest competition.
The following is my review on both.
> You May Also Like:
HONG KONG DISNEYLAND'S HAUNTED HALLOWEEN
Until 31 October, guests were able to see Hong Kong Disneyland transform into a haunted wonderland.  Main Street U.S.A held a clash of evil as the "choose your dark side" campaign took over once the sun went down. Werewolves or vampires, who would win?
Our vote was with the vampires.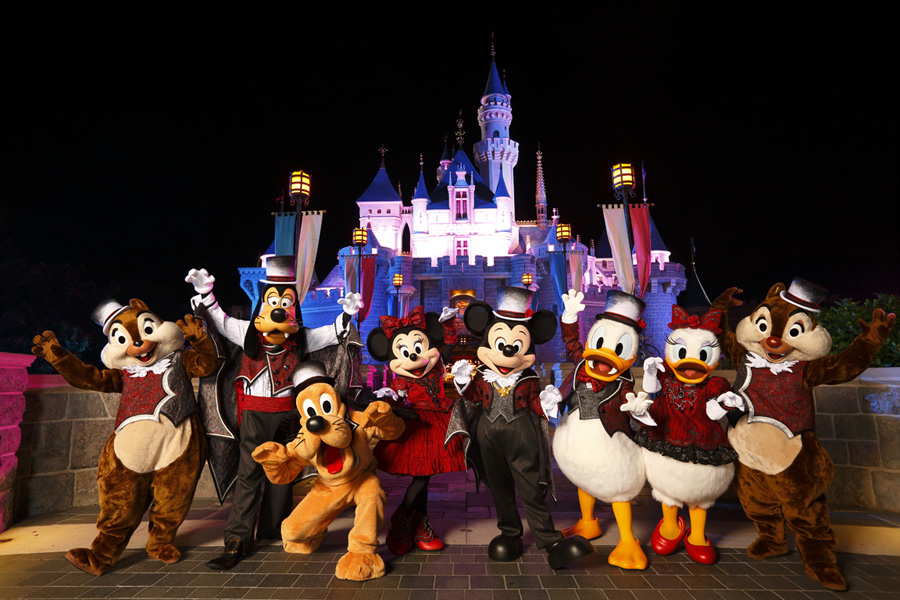 Mickey and the gang were dressed in their Halloween best. This included pirate costumes for during the parade.
The rest of the time they were dressed in Halloween-esque clothing. I loved Minnie's dress!
Disney was obviously more focused on the kids compared to Ocean Park–but don't let that fool you! They still have plenty geared for adults as well, especially when compared to other Disneyland Halloween events elsewhere in the world.
They had different stations set up for trick or treating where you could take pictures with their favorite Disney characters while getting candy. Almost all of the kids we saw were dressed in Halloween costumes as well.
It was so sweet to see little Jack and Sally meet their idols. The kids were so shy, but left with some lipstick marks from Sally on their cheeks. After they had finished getting their photos taken, I had to track them down to take my own photo of them since they were just too cute!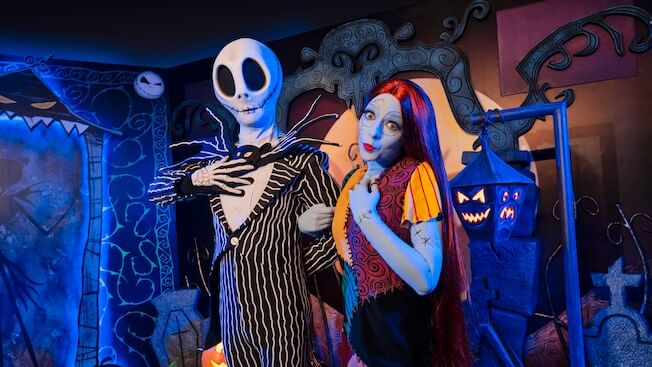 The shows for Halloween were all good. The Glow in the Park Parade led by Jack Skellington and his Pumpkin Men was one of the highlights.
Disneyland only had two haunted houses, "Graves Academy" and "Revenge of the Headless Horseman", but the sets for both were well done. They were very elaborate and more expensive looking than the Ocean Park ones.
Johnny and I didn't find either particularly scary, but it had every child in our group crying by the end–so I think that meant they did it right.
Disney even changed its famous ride "Space Mountain" to be Halloween themed. They shut down the ride a few days before the Halloween event to restructure the track. They made the ride a lot faster with actual hills and drops (unlike the usual spiraling downward), plus it was all in the dark.
It was pretty awesome.
If scary rides and haunted houses aren't for you, Disney set up plenty of extra sideshows for your enjoyment.
Duncan Yo-Yo's crew was out and about performing, there were random music performances, and Tomorrowland became a party zone where they held light shows, dance performances and more.
Disney even had a few celebrities make guest appearances. The stage featured a few shows from the Asian girl-band BLUSH, as well as hosting Hong Kong's own celebrity, Sammy Leung.
He hosted a few funny games that Johnny got to be a part of and in the end gave us his armband!
Lastly if none of the above is for you, there are a lot of specialty foods you can enjoy while your kids are off playing in the park. Dinners or desserts made into famous Halloween characters or drinks complete with werewolves fingers or eyeballs, Disney had thought of it all.
Who knew eyeballs could be so delicious?
Overall I would say Disney's Haunted Halloween is worth going to. It was a lot of fun and made people want to come back–which we did, about 5 times.
Beware that it can get pretty crowded. On the weekends some of the lines, especially for haunted houses, can be around 3 hours. Hong Kong Disneyland is the only Disney park that holds Halloween events geared more towards the older crowd, so it's no surprise why people travel from all over the world to visit during this time.
OCEAN PARK'S HALLOWEEN BASH
Ocean Park boasts having the biggest Halloween bash in all of Asia, so is it really worth all the hype?
Unfortunately even if you do have a season pass to Ocean Park, it doesn't allow you entry to the Halloween Bash, so we still had to pay. I would say it's worth your money, especially if you don't have a pass to Disney, on account of all that they have to offer there.
This year they had 8 haunted houses, one of which claims to be "5D", as well as 14 stage shows so there was always something to see. To be honest, when we went we didn't even bother riding anything or visiting the animals–we had no time!
With semi-long lines we decided to only wait for one haunted house. We chose the "5D Journey to the Underworld" because we wanted to see what all the fuss about and find out how it was 5D. But the only thing frightening about this haunted house was the punch line.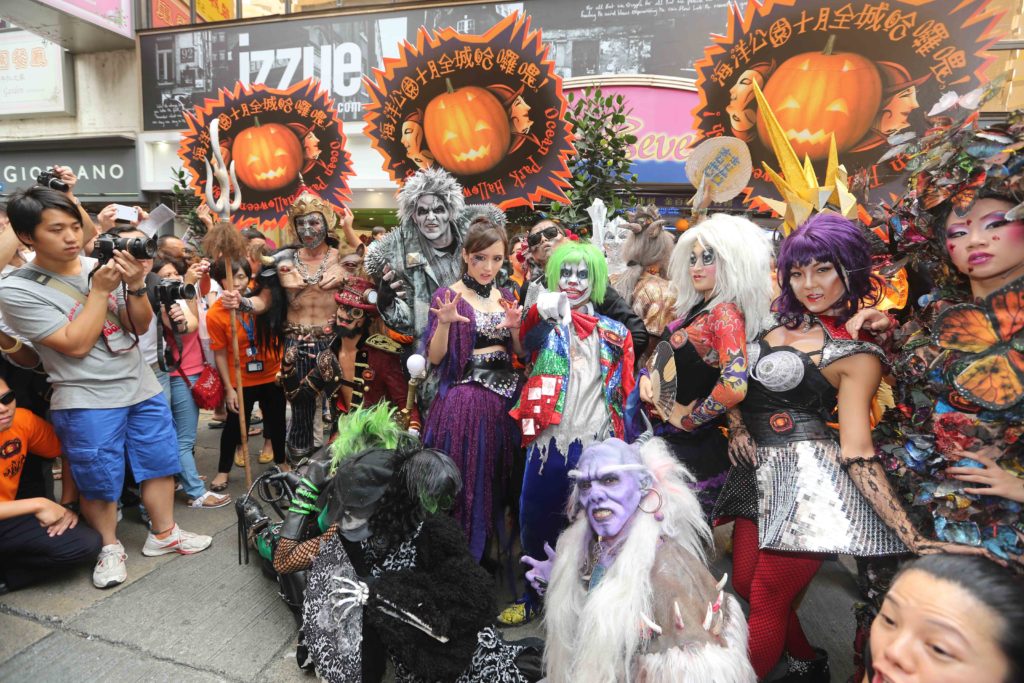 Although we still don't know how it was "5D", the haunted house itself was well done. The sets were not as elaborate with self-spinning desks as they were at Disney, but I would say this haunted house was a bit scarier.
At one point they pumped so much fog into the narrow hallway, you couldn't see more than 2 inches in front of you. It made it pretty hard to navigate and not run into performers.
Through the middle of the haunted house you get stopped to put on 3D glasses, so it did have multi-dimensions to it.
The best part about the haunted house was the subtle punch line. At the very end you find yourself in a hospital delivery room with bowls of "soup" for forgetting your past life all around you. You then are forced through a very narrow passageway that has what's like red plastic couch cushions on both sides.
From there you're out of the underworld and at the exit where you are free to enjoy the rest of the Halloween bash.
I wonder how many people realized they were re-birthed.
We decided we had enough hilarious haunted houses and decided to watch some of the live performances. "Rock Out Live 2012" was the biggest show held on the main stage at the waterfront.
Similar to Disney, Ocean Park also was able to get some Hong Kong celebrities involved. Law Lan performed in the "Rock Out Live 2012" show and afterward a few guests were able to run to get in line for a photo with her.
Even the sideshows were pretty good– most of them comprised of music or dancing, also similar to Disney.
Also on the main stage they showcased a haunted fashion show. This year famous Hong Kong designer, Wyman Wong, who also stared next to Law Lan in "Rock Out Live 2012", designed all of the costumes.
The fashion show was a little weird, yet interesting nonetheless.
With the Halloween Bash not starting until dark each day, the audience was definitely more for adults than for little kids. While we were there we barely saw any young kids, but we did see a ton of people our age dressed up. Like Chinese people dressed up as…well, Chinese people?
With everyone dressed up, it was sometimes hard to tell who was apart of the show or not. The performers had no bounds when it came to scaring people–no area was safe.
With all the outfits being designed by famous Hong Kong fashion designers, I must say all the performers did look pretty good.
Also like Disney, you were more than welcome to take photos with the performers, which we did on a couple of occasions.
With over 1,000 additional staff it's no wonder why Ocean Park claims to have the biggest Halloween bash in all of Asia. Compared to Disney it was a bit scarier overall, but both have their own merits.
I personally enjoyed my time spent at both, but I think I'll always choose Disneyland Halloween. Either way, I can't wait until Halloween makes its return to Hong Kong in following years, because these two famed events will only get better.